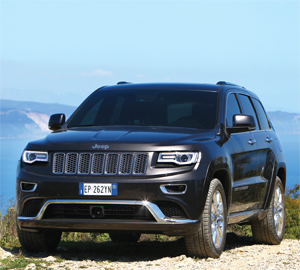 The new upgrades to the Grand Cherokee have been announced earlier than many would have expected. They are significant, designed to make a positive impression
Words: Hils Everitt Photography: Hils Everitt, Jeep
It was way back in 2011 that Jeep, under the auspices of Fiat, gave us the WK2, a remarkable and impressive improvement on the rather disappointing WK Jeep Grand Cherokee that ambled along in 2005. The 70th anniversary year WK2 has done well, but Fiat is not content. Oh no, already it has decided that its flagship 4×4 born in the USA needs an upgrade, and not only that, to quote the big bosses in the US, has leaped a couple of upgrades in one go.
In other words… well, the way we read it, they feel it is a bit ahead of its time. Not sure we can concur with that, but it definitely has gone up a significant notch, and is even more ripe as a credible alternative to rival luxury SUVs when you look at the price you are now paying for a seriously well-equipped, capable and impressive off-roader. And now the revamp has been designed to make this serious off-roader a more impressive on-road drive.
Okay Land Rover fans, get on your high horses about the brilliance of the new Range Rover and Sport, but how much do you have to pay for those? And how enormous are they both? As a family-sized luxury SUV with practicality and ability, it's hard to put the case for the Solihull products (which we do still love, by the way) above that of the new Grand which is just better value all round for the non mega rich.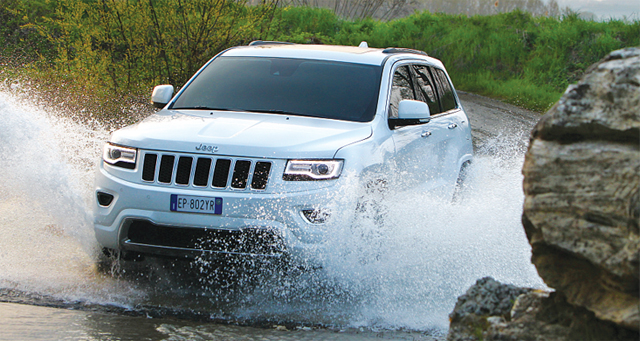 To increase its attractiveness, Jeep has improved fuel consumption to 38mpg and decreased those all-important dirty emissions to 198g/km, and it's on the right track although, 'there is room for improvement', according to a Jeep spokesperson. Well, it's all good news and onwards and upwards in mpg and downwards in CO2. That is great and we commend it, but there are many other things that have happened to the new Grand.

To read the full report, including spec, see the July 2013 issue of 4×4 Magazine.