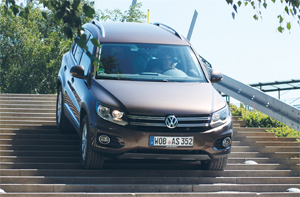 Volkswagen's baby 4×4, the Tiguan has been treated to a significant upgrade, and the
off-roading Escape model is a winner
Words: Hils Everitt
The SUV market is so competitive at the moment and no manufacturer can afford to sit on its laurels and watch the rest of the world go by with its updates and facelifts. Like the world of celebrity with which popular culture is so obsessed, the SUV market has to keep returning to the cosmetic surgeon and teccy guys to keep everything fresh-looking and keep their brand on the map and in the news.
So, what do we have for the Touareg's little brother? Well, to start with there are 2WD variants, so we'll just ignore that and leave them to the undiscerning SUV buyer who hasn't really thought about the predictions for another severe winter in the UK. Let's move on. The good news is that the 'Escape' version is very much still in the line-up, so anyone wanting more off-tarmac capability won't be disappointed by the new Tiguan.
As with the outgoing model there is a choice of engine output. There are three petrol options, but we didn't drive one on the launch; well, we let the European journos enjoy those as we are far more into fuel efficiency and wallet-preserving.
More practical for the UK market are three diesel options all based on the 2.0-litre TDI but with three output levels, 110, 140 and 170PS – being a German vehicle that is how they are badged, so in bhp terms that's almost on a par.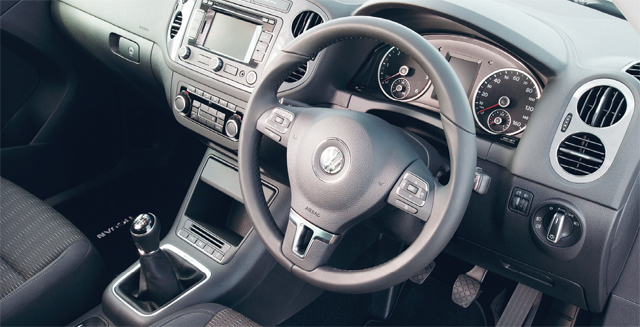 There is a degree of increased refinement over the outgoing Tiguan on the road, and the bigger output engine demonstrates plenty of grunt when you want it and the six-speed manual gearbox is slick enough around the mountain roads without causing too much angst. Then again, we were cruising on well-kept German/Austrian roads without the usual potholes and poorly-patched-up excuses we have to put up with for highways here in the UK, so it will be interesting to see how a right-hand drive performs once it sets foot over the Channel.
VW Tiguan TDI
Price: £21,000-27,500
Engine: 4cyl/1968cc turbodiesel
Transmission: six-speed manual
Max power: 140/170bhp@4200rpm
Max torque: 236/258lb ft@1750-2500rpm
Top speed: 117/125mph
0-62mph: 10.2/8.9 secs
Economy: 47.3/44.8mpg
CO2: 167/158g/km
4WD: 4MOTION; 'Off Road' mode with Escape
Suspension: double wishbone, front; leaf springs, rear
Brakes: discs front & rear
Wheels/tyres: 61/2Jx16 alloys/215/65 R16
Lgth/Wdth/Hgt: 4426/1809/1703mm
Kerbweight: 1695/1675kg
Payload: 660/620kg
Load volume: 1510 litres
Approach angle: 18° (28) (Escape spec)
Departure angle: 25°
Ramp breakover: n/a
Turning circle: n/a
Max towing weight: 2200-2500kg
We like: design, ride comfort, Escape model, towing ability
We dislike: the price of the Escape version
Verdict: The revamped baby VW 4×4 is a pleasant road-going SUV with a nippy engine and good comfort levels. Off-road Escape is excellent for its class, but the price may hinder sales – 7/10
To read more about the Tiguan see the October 2011 issue of 4×4 Magazine.