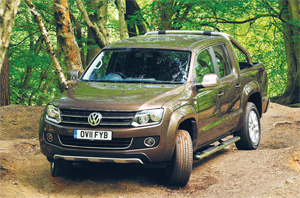 It's finally here in the UK and VW's highly anticipated foray into the highly-competitive pick-up sector with the Amarok has got the 4×4 pulses racing with its excellent new 4MOTION system that simply rocks off-road. Oh, it's not bad on-road either…
Words: Hils Everitt Photos: VW and Hils Everitt
Let's cut to the chase. No beating about the bush: Volkswagen's new pick-up truck is brilliant off-road. Just forget the length of the thing for a moment and its mediocre departure angle when fitted with all sorts of chrome accessories, and those intrusive sidebars, we're talking about VW's new 4MOTION system.
The latest technology from VW has made this new foray into the fiercely-contested pick-up market the best of its genre in off-road ability. So far, the pick-up market has demonstrated good old-fashioned 4×4 credentials with the majority offering just part-time 4×4 with low 'box operated by a transfer lever.
VW has upped the ante with the new version of 4MOTION. It allows the Amarok to tackle steep, greasy and nasty descents in neutral together with Hill Descent Control to make a mockery of the worst of slopes and treacherous wet gloop. It works on the off-road ABS and once you get used to inching down a steep slope in neutral with no driver input whatsoever, it's damned impressive and reassuring.
Agility in a long pick-up is always going to be compromised, but in a particularly tight corner with axle twisters hovering menacingly you'll find the truck will haul itself around admirably and smoothly, feeling half its weight. It really is an impressive piece of kit. There's also Hill Assist which, if going up a steep ascent you take the foot off the throttle/brake it will hold solid for a few seconds, allowing time to apply the brakes or resume power. This will be particularly helpful on-road also when towing large loads or during difficult manoeuvres.
And so onto the performance generally. So, the first thing you might notice if you glance at the tech spec at the end of this piece is that the Amarok is powered by a 2.0-litre turbodiesel. It has caused a few raised eyebrows – particularly among those who were constantly moaning about the Toyota Hilux's lack of grunt with the 2.5-litre unit. So does a mere 1968cc prove too lightweight for a tough pick-up truck?
Well, to start with there are two options – a 122 or 164bhp unit which offer max torque of 340/400lb ft at useful low revs. To look at the VW pick-up you'd think that a 2.0-litre might not be man enough, but it is. Okay, so when pulling away it does take a moment or two to feel the punch, but once there it runs well and smoothly and feels plenty powerful enough at cruising speeds. The downside is the rather notchy and lumpy manual gear 'box. The action matches its rather heavyweight design of the stick. There is no auto option sadly, which may have improved things.
VW Amarok
Price: £17,830-22,410 OTR plus VAT
Engine: 4cyl/1968cc turbodiesel
Transmission: six-speed manual
Max power: 122/166bhp@4000rpm
Max torque: 340/400@1750-2250/1500-2000rpm
Top speed: 100/112mph
0–62mph: 13.7/11.1secs
Economy: 37.2/35.8mpg
We like: interior, exterior design, engine, road ride at speed, economy, awesome off-road ability
We dislike: Slightly woolly steering, wind noise, suspension on poor roads, notchy gearbox
Verdict: 8/10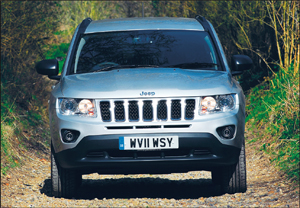 Jeep Compass
Price: £23,595 – £23,995
Engine: 2.2-litre CRD
Transmission: six-speed manual
Max power: 161bhp@3600rpm
Max torque: 320Nm@1400rpm
Top speed: 125mph
0-62mph: 9.8secs
Economy: 42.8mpg (Combined Cycle)
We like: new interior design, engine response, diff lock
We dislike: somewhat bland exterior, not being able to drive off-road yet!
Verdict: 6.5/10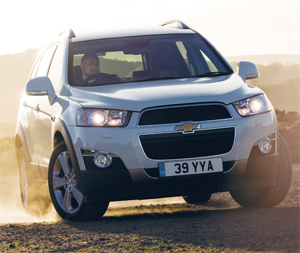 Captiva 2.2 VCDi AWD
Price: £27,695-£31,845
Engine: 4cyl/2231cc turbodiesel
Transmission: six-speed manual/auto
Max power: 181bhp@3800rpm
Max torque: 295@2000rpm
Top speed: 124/118mph
0-60mph: 9.3/9.8 secs
Economy: 42.8/36.6mpg
We like: new engine, seven seats, interior
We dislike: manual 'box, ride, price
Verdict: Although the new engine is a big improvement and you are offered seven seats, the AWD version commands a high price, the opposition probably don't have too much to worry about. Not enough class for the cash. 6/10

To read more about these 4x4s see the July 2011 issue of 4×4 Magazine.