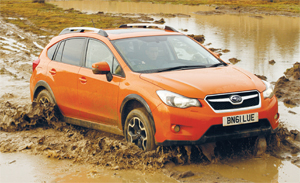 After a disastrous year, Subaru returns to the 4×4 market with the all-new XV. The company needs this model to be a success. How will it match up?
Words and photography: Nigel Fryatt (and photography from Subaru)

The Subaru XV is claimed to be 'the company's first foray into the highly competitive crossover market'. We beg to differ. Yes, it is indeed highly competitive, but in our opinion, it's not Subaru's first foray. In fact, you could argue that the niche Japanese manufacturer actually created the market segment. It's just that, at the time, no one gave it the stupid title of 'crossover'.
Twenty-five years ago this magazine published a 10,000 mile long-term test of the Subaru GLF Auto Estate. The author, a staunch, opinionated and serious off-roader concluded: "I have to acknowledge that this is an excellent all-road machine, and not at all bad off-road either, within the limitations of the design." Damned with faint praise? Not quite, as 4×4 Subaru Estates had a good reputation, owned by farmers and vets apparently. Audi quattro estates and the odd Ford Sierra 4×4 apart, there was nothing on the market like them. Yes, they rusted badly and remarkably quickly – but so did most mass produced saloons of the 1980s. The Subaru Estate was a halfway house between a family saloon and a pukka off-roader. A bit like a crossover, perhaps…
We were therefore very interested in the new Subaru XV, a vehicle that has a lot of pressure heaped on its four smart, alloy wheels. The XV is, according to UK managing director, Darren James, "relaunching Subaru". Last year, they sold a meagre 2600 units in the UK, which James honestly admitted was "nowhere near enough". While a significant set of reasons included the dreadful disasters in Japan, there was a less than obvious hint that the model range was also not good enough.
That situation has changed. Japan is rebuilding, and Subaru now has a 4×4 model that is more than good enough. If it's not the best 'soft-roader' on the market just yet, it has all the necessary dynamic qualities to take that title. A weakness might be that it is niche, it is a somewhat 'quirky' brand, and the reputation of the off-roading estate of the 1980s has long been supplanted by the tyre-squealing roar and turbo back-beat of go-faster hooligans in garishly body-kitted Imprezas. But times are changing at Subaru; for the better.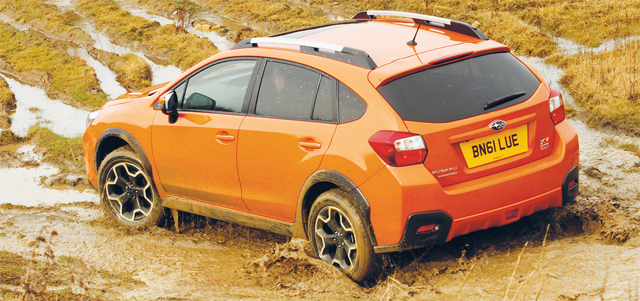 Tech Spec
SUBARU XV PRICES
(Selected Subaru on the road prices)
2.0i SE (petrol) £24,295
2.0D SE (diesel) £26,295
2.0D Lux Premium £29,995
OVERALL
We like: Diesel engine, build quality, customer support package
We dislike: Unimaginative styling, lack of hill descent, no turbo!

To read the full report including complete tech spec see the May 2012 issue of 4×4 Magazine. Buy the issue or subscribe here