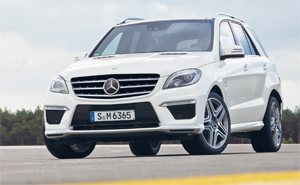 With the new Range Rover reputedly going to have a potential £100,000 price tag, how does the prestigious German competitor Mercedes-Benz ML 63 AMG stack up? It's a snip at only £94,255…
Words: Nigel Fryatt

The expression 'if you've got it, flaunt it' has always appeared to me to being somewhat crass. There's far more class when you ignore the need to flaunt, keeping the knowledge to yourself. In the case of motor vehicles, the German trend to offer cars without the full model name badges on the rear bootlids has always impressed. And you have to say that there's little overtly flash about most of the Mercedes-Benz 4×4 range. Of course, the utilitarian shape of the G-Class is in itself a kind of reverse flaunting. I mean, how could something that looks like a builder's van be on the market at that price? But for the more fundamental ML-Class, there's little that's flash at all. Indeed, for many, it's a design that is, well, somewhat bland. Functional, efficient, prestige and certainly exceedingly well built, but still, somehow, just plain dull.
Bearing that in mind, walking up to the latest, at-the-very-top of the range ML 63 AMG for our First Drive, it didn't visually excite. It's a further subjective opinion perhaps, but the Citrine Brown metallic paint didn't help; old man's trouser's brown, in fact. But then we turned on the ignition, and blipped the impressively purposeful throttle pedal…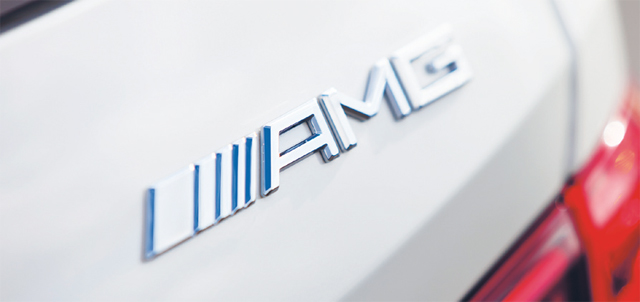 What is it about a V8 engine that is so mellifluous to the enthusiast's ear? Who knows, but you could sit for ages just listening to the rumble from under the bonnet of this machine. It's not throaty open carb American V8 growl, much more a subtle, confident, mechanically sophisticated rumble. Of course, having checked the specification before climbing on board, we knew that this was a 5461cc twin turbocharged monster power plant, burbling away, waiting to unleash no less than 525bhp, and a Range Rover matching 700Nm of Teutonic torque. And all this was thanks to AMG, having breathed on the unit.

To read the full report, including tech spec, see the December 2012 issue of 4×4 Magazine. Buy the issue or subscribe here