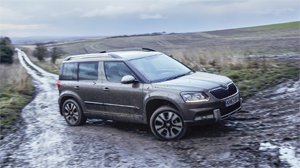 The Yeti has proved an impressive sales success for Skoda and the latest revised version is likely to gain more converts, thanks to the fifth generation Haldex clutch

Words: Nigel Fryatt
It seems Yeti sightings are becoming a lot more common. Indeed, unlike the fabled 'big foot' itself, it's now quite common to spot one, since a quarter of a million Yetis have been built since the launch in 2009. And after sightings in China, Russia and Germany, the UK is the Yeti's most popular home with just under 30,000 having been sold. That makes it a popular SUV, and in its 4×4 mode it has achieved our Highly Recommended Award in its class for the last two 4×4 Of The Year group tests. It's a very popular machine, and owners tend to be extremely enthusiastic, this is one SUV that you make a decisive decision to buy. In looks alone, this is not another 'copycat' SUV design and for 2014 the Skoda Yeti has received a facelift, which actually goes a lot further than just tarting up the somewhat idiosyncratic exterior. It's the changes underneath that interest us.
For 2014, there are now two specific variations of Yeti; one for the urban 'jungle', offered with 4×4 but not expected to go off-road, and the Outdoor versions, which in 4×4 mode are specifically equipped for some decent mud-plugging, as we discovered during a particularly glutinous test drive in the partly submerged Cotswold countryside.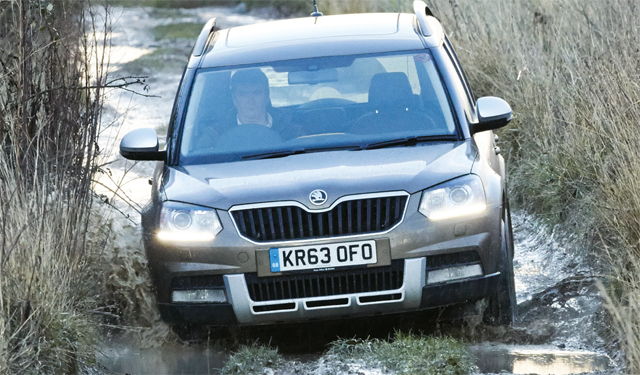 The 2014 Yeti and Yeti Outdoor are clearly distinguishable. Both models have new front and rear bumper designs, new headlights and front fog lights, radiator grilles and the new design Skoda bonnet badge. The Outdoor 4×4 versions also have improved approach and departure angles (19deg for the front and, an impressive 32deg at the rear) which is obvious from the new front design treatment. The overall look of the Yeti has always been something of a subjective affair, and to this writer the model has never appeared a 'good looking' SUV. These new features are a little fussy to my eyes, but also do raise the overall appearance to a more premium model, and thus matching the on-the-road prices, more of which later.
---

To read the full report see the April 2014 issue of 4×4 Magazine. Buy it here