Jeep's flagship 4×4, the Grand Cherokee, has a new model, designed and built by the Chrysler Street Racing Technology (SRT) team. And it's an absolute belter, with a 6.4-litre V8 Hemi and jaw-dropping on–road performance
Words: Hils Everitt Photography: Hils Everitt and Isuzu
Normally speaking, heaving a huge great 4×4 round tight mountain roads with wicked hairpin bends is quite a chore, even with a sophisticated automatic box. The sheer effort of dragging that long body through the corners and feeling the inevitable body roll is energy sapping.
Not, however, with this latest SRT edition of the Jeep Grand Cherokee. This is the best-handling Jeep ever built, as was demonstrated superbly on our test drive, booming along the motorways and cruising around the hillsides of the Italian region of Langhe.
The gorgeous on-road performance comes courtesy of the advanced new Active Adaptive damping suspension and Selec-Track traction control system, developed by the SRT team at Chrysler. Mated with the excellent auto 'box, that just effortlessly flicks up and down the gears, it enables the Grand to glide around those hairpins with the smoothest of rides.
There is a manual paddle shift, on the left of the sports-style steering wheel with its flat bottom edge, for when you fancy some fun on more sedate winding country lanes. And you can switch between manual and auto very easily, just by moving the auto shift to the right or pushing the manual paddle forwards for a few seconds. The redline is electronically controlled. If you are in manual mode and happen to hit the redline, the auto instantly kicks in to change up so the 6.4-litre Hemi maintains its momentum.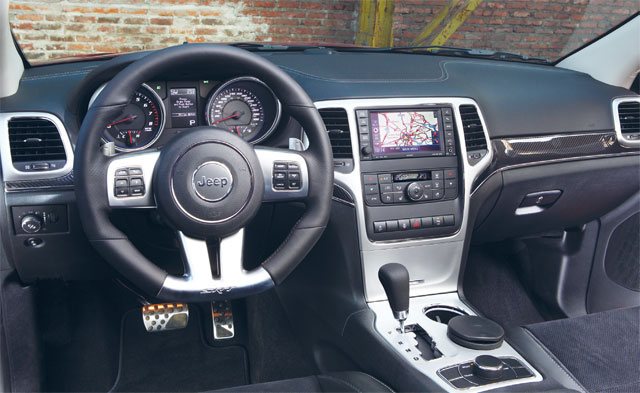 The old SRT had a 6.1-litre lump, but this new Hemi is fantastic. It literally sings at you, in a hearty bass-baritone, as you push the throttle to the floor. Overtaking on the Italian motorway was sheer jaw-dropping ecstasy and always produced a huge grin on the faces of both driver and passengers. It belts out 468bhp and 465lb ft of torque and, boy, do you know it.
All that torque would be fantastic off-road, but this isn't really designed to be an impressive, highly-articulated off-roader. Nevertheless, it does have the standard Quadra Trac active on demand 4×4 transfer case that detects tyre slippage and can transfer 100% torque to one rear wheel with better grip and regulate torque between the axles.

To read the full report, including tech spec, see the September 2012 issue of 4×4 Magazine. Buy the issue or subscribe here