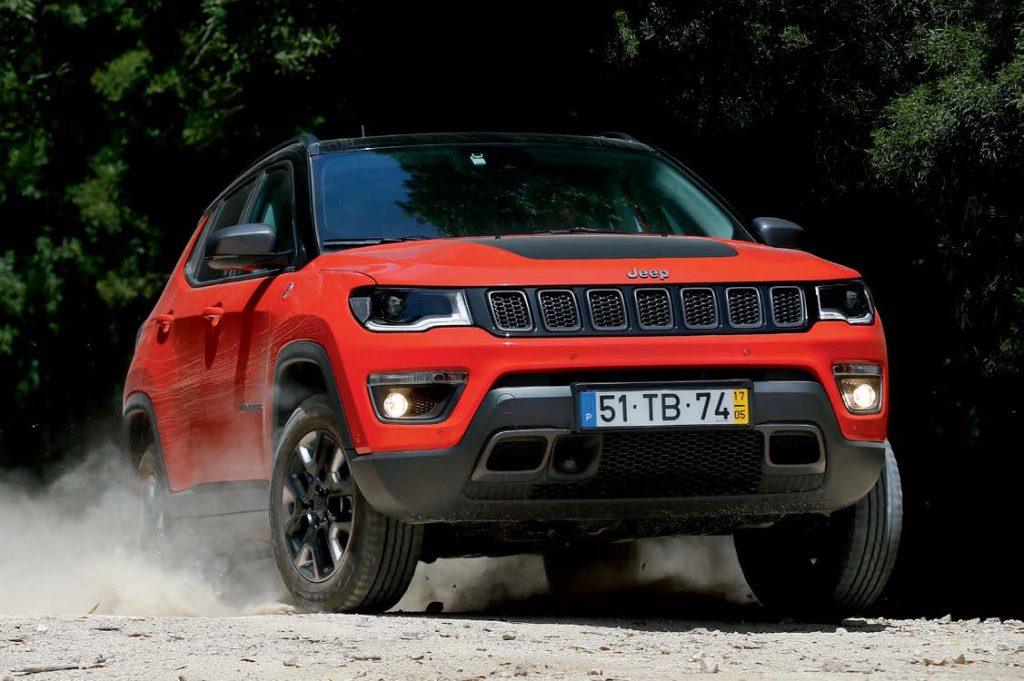 First time Jeep launched a vehicle called the Compass, it was a bit rubbish. It was 2006, and the company felt like it could do nothing wrong – so it brought a deeply American vehicle to Britain and figured it would sell, because back then everything sold.
What followed was a financial collapse that ended up with Jeep becoming part of the Fiat empire. And however cynical you might feel about that, the result is that today's Jeeps are properly global products.
The Renegade was first, and its sales have been astronomical. So much so that having sold 300,000 vehicles in 2009, Jeep shifted 1.4 million last year.
Now, aiming to play the same game, here's an all-new Compass. It's halfway in size between the Renegade and bigger Cherokee – and it's set to give Jeep an extremely serious presence in the compact SUV market when it goes on sale at the end of the year.
If you doubt Jeep's global credentials, you might be interested to learn that UK Compasses with be built in India. You don't need to spend much time inside the vehicle to see that it's distinctly European in character, too.
Jeep says the Compass will be the 'most capable' vehicle in its segment. Backing that up is the presence of a Trailhawk model in the range, bringing with it dual-ratio gears – and the 'Trail Rated' badge that says Jeep considers this vehicle worthy of its off-road heritage.
As with the existing Renegade and Cherokee, the Trailhawk model will be a niche seller. But all Compasses will have a decent level of off-road ability built in, with 3mm metal underbody guards as standard and a rear suspension setup allowing 20cm of articulation.
So this is going to be more than just another me-too model in an already crowded segment. You could argue that real off-road ability is irrelevant to most buyers here, and by extension that it's a gimmick, but Jeep clearly believes that its brand means something, even to people who buy soft-roaders. And amen to that.
First and foremost, though, this is a family car. Entry-level models won't even have four-wheel drive. Obviously we'll leave those to one side; assuming you want the real thing, your choice will be between a 1.4-litre petrol engine and a pair of 2.0-litre diesels producing 140 and 170bhp. All 4×4 models will get a nine-speed auto box as standard.
There are three main trim levels, with Trailhawk out on its own as a specialist model. All are well equipped, with the range-topping Limited giving you an exceptional kit list including a particularly impressive multimedia system.
We drove a Limited with the 170bhp diesel engine, as well as a similarly powered Trailhawk. The most obvious difference aside from the off-road stuff is that the Limited has a full leather interior; the leather itself is less than entirely plush, but does feel hard-wearing.
There are some hard, scratchy and cheap-feeling plastics around the cabin, too, particularly to the lower dash surfaces and rear door trims. The dash itself is good and stout, however, though the floor console is a bit flappy – give it a couple of years and we'd be listening out for creaks and squeaks from it.
It's easy to get into a good driving position, however – and even with the front seat set all the way back, a six-footer can still slide comfortably into the back. That's a very pleasing surprise in a 4×4 of this size – though in the Limited we drove, a full-length sunroof meant headroom in the back was badly lacking. The Trailhawk was just fine in this way, however, though a high waistline and rather eagerly positioned C-post means the view out is nothing to write home about.
So your kids might not be overly enamoured of the Compass. They'll like this, though: when Jeep's designers were coming up with a 'look' for the vehicle, they took inspiration from sources including none other than Iron Man. 'Machine with character' is the phrase they like to use, and you'd be hard pushed to say the Compass lacks it.
It doesn't lack for cargo carrying skills, either, thanks to rear seats which fold acceptably close to flat. They don't leave any step to get your stuff over, either, and loading up in the first place is aided by a good, low lip with a hard-wearing plastic covering.
On the move, the Compass is impressively quiet. The diesel engine is quiet at all speeds and the ninespeed box is as smooth as you like, meaning progress in stop-start city traffi c is hassle-free. Our test route included a lot of urban driving, which was completely undramatic – even when the surface got broken up and pot-holed, the suspension dealt with it more effi ciently than we expected, with crashy responses almost completely absent.
We didn't really get the chance to experience the Compass' handling, however we can say that its ride and refi nement are genuinely impressive – as is its braking. Off-road, the Limited dealt tidily with rough, unsurfaced tracks – and the Trailhawk demonstrated a strong level of climbing ability, whether over loose stones or bigger, axle-twisting rocks. We found that even in low box, however, it was necessary to use Hill Descent Control to keep on top of its speed on even quite shallow drops – putting the auto box into manual mode and dropping it into fi rst did prevent revs from building up in some situations but, once the vehicle was already descending on HDC, switching it off provoked an immediate lurch forward.
Overall, however, there's no doubting that with the extra hardware Jeep has given the Compass, it's going to add something new to the compact SUV market. It may not be the most sophisticated vehicle in its class, but not a lot will be able to match it for standard kit – and Jeep says that its price will be pitched in to the middle of the market.
There's more to life than just kit, though – which is one of the lessons Jeep learned from the original Compass. This time, the vehicle itself has been designed to appeal to European tastes – showing that of all the lessons they've learned, the main one is that the Renegade worked like a charm.
Like it or not, Jeep would be mad not to follow that formula. The Compass does just that – but the need to demonstrate real off-road skill shows that this is a formula that's unique to Jeep itself. It's one they've got right before – and thus far, everything points to them having done it again.