It's big, black and booming. Meet an ex-military Limited Hummer H1 that was driven overland from the Middle East to the UK before undergoing a transformation to take on the tough world of desert racing. Introducing… Aretha
Words: Hils Everitt
An ex-military Hummer H1 is a pretty rare sight here in the UK but, in recent years, I have come across two. Both black, both ex-US military, and both owned by huge enthusiasts; but that's where the similarity ends.
The first one was featured in the magazine in 2009 and was shiny, pristine, and extremely under-used. It spent most of its time on the owner's driveway, but was a magnificent specimen. The second is, as you can see, also black, but filthy, well used and an equally fine example, albeit in a very different way.
Both big, beefy, black H1s have had bundles of cash spent on them and they are their owners' pride and joy, but this Limited Edition model is very special. Not only has it been driven overland from the Middle East to Cambridgeshire, but it is also a highly successful rally car, taking part in impressive events such as the Tuareg Rallye. Its owner is a pretty remarkable guy, too. Henry Cole Stage – known as 'Cole' to his friends, which, we are happy to say, includes 4×4 Magazine – is a retired US Navy military intelligence officer, who now works as a civvy military intelligence instructor for the US and British military and NATO here in the UK at RAF Molesworth.
Cole spent his honeymoon driving across the States from coast to coast in a Series IIa ex-RAF Land Rover Ambulance. Some might consider this a somewhat brave adventure to attempt. But then we are dealing with a military intelligence officer who has lived a pretty 'interesting' life, and for whom coping with an aged Land Rover over an enormous distance is pretty much a stroll in the park.
Of course, during our visit there was an attempt to get him to divulge some tasty military, juicy anecdotes, but, as you would expect, his lips were tightly sealed – and if he did let anything slip he would have to commit homicide. Actually, that's not strictly true anymore: "They've changed the rules: now we can drop a hint, and then just beat you up…!"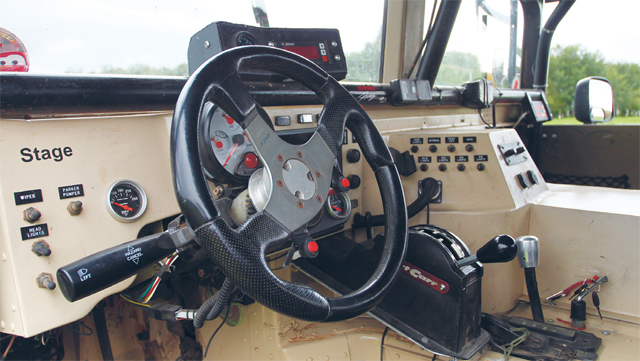 Before the HumVee came into the colourful stage school of 4x4s, Cole owned a 101 Ambulance and various Series IIIs; he converted a Series II V8 into a Carawagon and also had an 88in with no doors or windscreen, which he regularly drove to the RAF base for work in the UK. Cole had been planning, with some friends, an overland trip from the UK to Morocco via the Atlas Mountains and the western edges of the Sahara desert. The Stage coach for the three-week journey was a Series 1 V8 Land Rover Station Wagon, while his mates' transport included a 101 Forward Control Ambulance (orange with tiger stripes), a Defender 110 and a Defender 130 with black and white spots.
MODIFYING ARETHA

Engine
• Whipple supercharger
• 18:1 low compression ceramic coated pistons
• Head studs
• Crank girdle
• Water injection system
• Custom captured polybush motor mounts and radiator mounts by Brad Falin Racing
Suspension
• Six custom remote reservoir shocks hand built by Brad Falin Racing
• Two Light Force bump stops
• Custom wound racing springs from Rod Hall Racing
• Six Dick Cepek Fun Country II 37in tyres on custom milled Hummer H2 17in rims
Miscellaneous
• Six KC Daylighter off road lights
• Two back up/work lights
• Explona Dakar Rally computer
• PCI Race Intercom
• Art Carr gated racing shifter
• 32 (US) gallon racing fuel cell
• On-board air compressor
• Centred differential
• Custom built race safety cage
• Custom ali dash and tunnel by Team Plant
• Custom wiring by Team Plant
• Momo quick disconnect steering wheel
• Police horns
• HID headlights

To read more about the Hummer see the November 2011 issue of 4×4 Magazine.