For years, Ford's Raptor nomenclature has referred exclusively to the too-big-for-Britian F150 truck. But last year it was announced that the company was getting set to give the Raptor treatment to the Ranger, too.
And now we've driven it.
With uprated Fox shocks and a dedicated Baja mode for dune-bashing and high-speed off-road exploits, the Ranger Raptor is a certified thrill seeker. Safe to say that on an introductory test drive in West Sussex, we didn't come close to exploiting its full skill set.
One of the key factors in the Raptor's character is its engine. Ford has introduced a 2.0-litre four-pot diesel across the whole of the Ranger line-up; this is smaller than either the 2.2 or 3.2-litre units which have been available on the current model since its launch in 2012, which was met with groans – but if any manufacturer knows how to get more from less, Ford's recent record suggests it's the one.
Under the Raptor's bonnet, you'll find the range-topping bi-turbo version of the 2.0-litre engine. This has 210bhp and 369lbf.ft – figures that surpass those of the much-revered 3.2-litre from the previous Wildtrak.
You'll gain access to the engine's torque slightly later, with max shove coming between 1750 and 2000rpm. Peak power is reached further up, too, at 3750rpm (3000 for the 3.2). We like stuff to happen at low revs, but we like torque and power wherever we find them so Ford's downsizing may not be a case of doom and gloom after all.
And it isn't.
But it's not a roaring success either.
Sadly, we didn't have any dunes off of which to launch our Raptor. The track we were given to drive on was more like a green lane, with a few rough straights to fly down – and it was here that the power plant felt most at home.
Up and down various climbs, it felt like the unit was being worked hard. To us, certainly, it doesn't have the same easy-going nature as the 3.2. With a 10-speed automatic gearbox as standard, it takes a bit of a stamp on the pedal to eke any urgency out of the motor – it does respond with some decent poke, but you do need a heavy foot with which to extract it.
This translates on to the road too. The twin-turbo unit is more than comfortable at a cruise and is actually remarkably quiet, but the power still doesn't feel forthcoming from low down.
The suspension on the Raptor, however, is wholly impressive. The set-up is independent at the front, with a multilink solid axle at the back and truly wonderful Fox 2.5" internal bypass shocks on all four corners. These do result in a ride that is on the firm side, but the control and adaptability they offer is immense – and ride-wise, it refrains from ever crashing about and always keeps on the good side of your spine.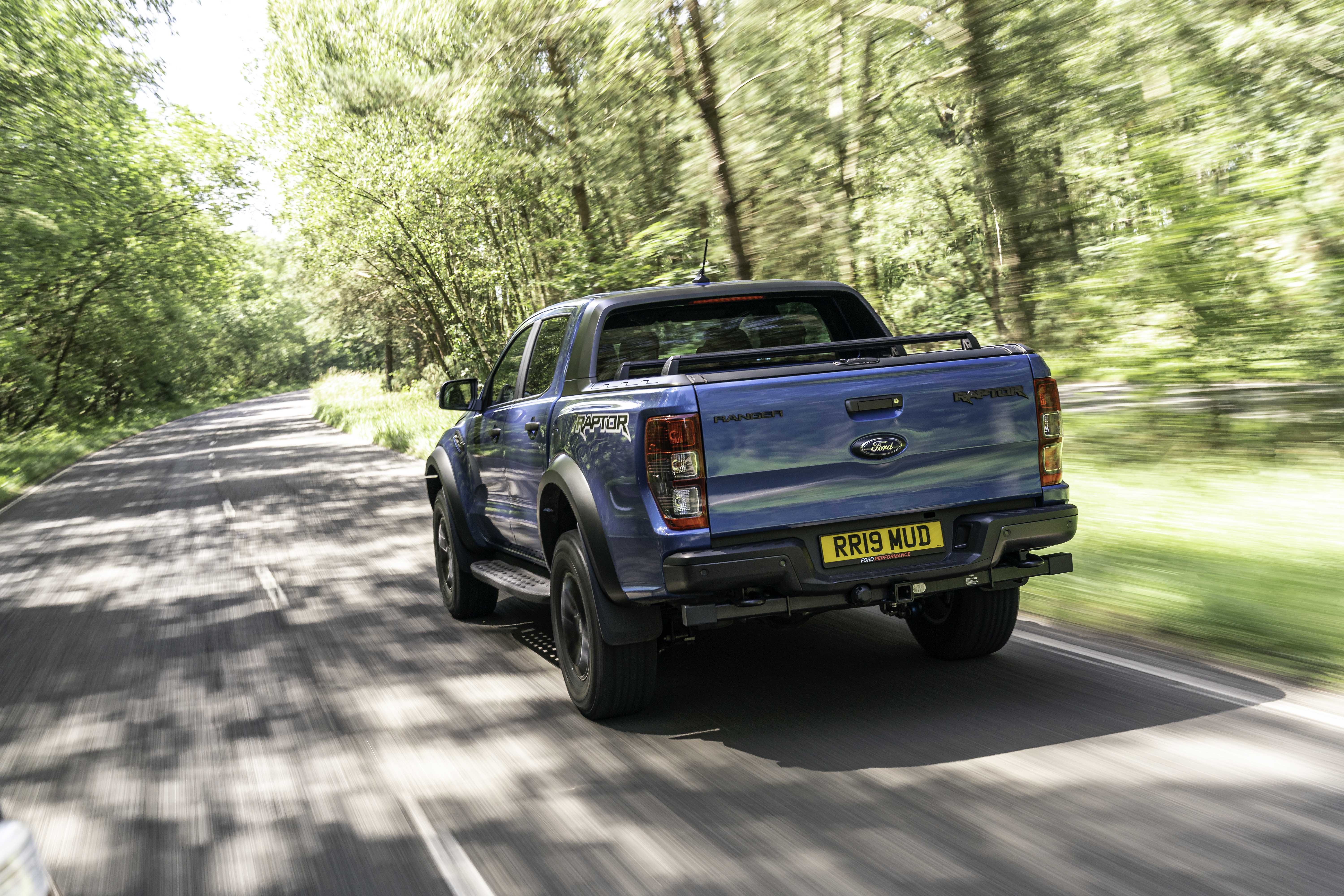 This is the case both on and off-road, where it's particularly impressive is when you're battering down a trail at the sort of pace you just wouldn't use on a green lane. You're well aware of the obstacles beneath you, but the Fox shocks revel in suppressing the impacts they create.
You're also treated to a comfortable time on the road, which is good because the Raptor cabin is a sophisticated place to be. You've got well sculpted suede and leather seats; Ford's latest SYNC3 multimedia system, complete with an 8.0"-inch touchscreen, adaptive cruise control and a FordPass Connect Wi-Fi modem.
It's difficult to make a conclusion on the Raptor as a dune-basher, as we didn't get chance to, well, bash any dunes. What we can say, though, is that with its strengthened chassis, and in particular those Fox shockers, it feels ready for anything. You can tell, even at low speeds, that you're riding on a sophisticated yet heavy-duty suspension set-up – which of course just makes you want to push it harder. As pick-ups go, it's a definite driver's truck.
The Raptor's suspension is outstanding, for sure – so much so that it goes a long way to making up for the vehicle's somewhat hot and cold engine. We do feel a bit harsh to be criticising the latter, however, as it does a good job overall. Certainly, had the old 3.2 not have been viewed so fondly for so long, there would be no complaints.
There's a suite of driver aids which means that piloting the Raptor both on and off the blacktop is a doddle. Adaptive cruise control, lane-keeping assist, cruise-managed hill descent control and hill hold are all worthwhile additions that go a long way to making the Raptor effortless to manage.
Without a more comprehensive drive of the Raptor, we can't yet deliver a complete verdict. It's a super-truck, however – that much is clear. And so too, to us, was the fact that after just the briefest of times behind the wheel, it's a pick-up that's capable of much, much more.
Read the full First Drive account in the September issue of 4×4, out 6th August.