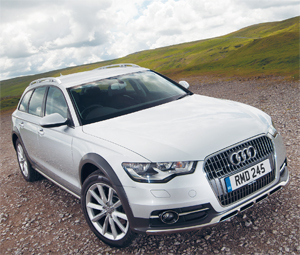 The quattro name is synonymous with all-wheel drive and there aren't many carmakers that can produce a practical 4WD estate like Audi. The brand's third generation allroad will certainly take some beating.
Words: Phil Weeden
Audi's relentless new model programme marches on with a fierce pace. The latest offering is the third generation A6 allroad – and, while it's not a direct competitor to the likes of Range Rover, BMW X5 and even closer to home rivals such as the Porsche Cayenne and Audi's own Q7, anyone looking to buy one of those leviathans might wish to consider one of these first. Sure, it won't climb Everest, but with its additional ground clearance afforded by the adaptive air suspension, protective under trays and all-wheel drive, the A6 allroad will tackle muddy tracks, snow-covered roads and other slightly challenging terrains – plus it can tow up to two and a half tonnes. Plus the top-of-the-range 3.0-litre BiTDI model we have tested here has a diesel under its bonnet so it's also fast and pretty frugal, with a claimed 42mpg.
This model is considerably more stylish, longer and wider, the new allroad would look equally good outside a Chelsea cocktail bar as it would on a Herefordshire smallholding.
Inside, the Audi's interior never ceases to amaze. It has all the technological wizardry that its German brethren from BMW and Mercedes offer but with more style and panache than those rivals put together. It feels well put together too.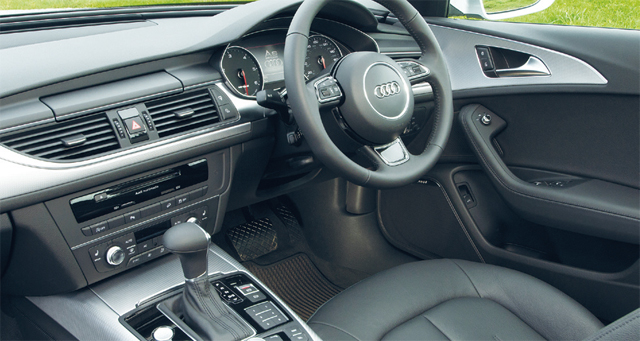 Firing up the astonishing 3.0-litre biturbo diesel, a purposeful burble presents itself. There's an eight-speed Tiptronic style gearbox, so we select first gear and head out from our sumptuous setting of Bovey Castle in the heart of the Devonshire countryside. There would be no off-roading on this test, so we have to make do with some leafy lanes instead. Traversing the speed bumps on our exit, one is immediately aware that the low profile rubber and optional 20-inch alloys may look good but they do nothing for the ride quality. It's firm, even a bit crashy at these speeds. The electromechanical steering is delightfully weighted: solid without being cumbersome and the feedback is pretty good. The brakes are instant, reassuringly consistent with a lovely pedal feel. This is a weighty car, albeit 70kg lighter than its predecessor, tipping the scales at 1910kg so it's good to know it has wonderfully effective ABS brakes to slow things down.

To read the full report, including tech spec, see the October 2012 issue of 4×4 Magazine. Buy the issue or subscribe here