February 2014 Issue of 4×4 Magazine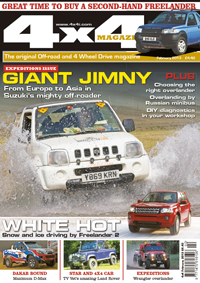 Well, here we are in 2014. If it's not too late, hopefully you will allow me to wish all readers and supporting advertisers a very happy New Year. Sitting in my office a few weeks before Christmas, such a comment seems ridiculously premature, but for that we can thank extraordinary printer publishing schedules. When I started as a journalist, we had manual typewriters. I thought myself jack-the-lad when I purchased a smart, slimline Olivetti portable version that allowed me to write my sports copy at an event. Typed pages, complete with Tipp-Ex corrections, were then sent to the printers. Rolls of film were developed (black and white, of course) so that galley proofs and pictures could be – manually – cut and pasted onto large design boards. Pasted with Cow Gum, which today would probably be classified as a Class B drug, such was its pungent aroma. Magazine production took forever.
Today, of course, it is all-instant; photos taken on smartphones are sent wirelessly to websites, to be live to the world in something called a nanosecond. Not so magazine printing, it seems. I am writing this long before Christmas, yet when you pick the magazine from the newsagent's shelf, it will be some days after Twelfth Night, turkey dinners and unwanted socks will be long forgotten. Christmas will be over, and if we believe what is being clarion called from the Daily Stupid tabloids, we'll probably be under several feet of snow.
I point this out only to cover ourselves should something dramatic have happened in the world of 4×4, and you hastily grab the issue to read what we think. Sadly, anything exciting announced after mid December will not be reported on. Of course, I could look into my crystal ball and give my thoughts on what might happen. Perhaps Jaguar Land Rover will have announced its new vehicle programme for the year, and more details will be released on a new 'baby' Discovery, the promised open-topped Evoque, or some new wondrous electric model. We have managed to get the initial details of the interesting new 'baby' SUV from Audi, the Q1, although we will have to wait until 2016 to see it in the metal. That's the year the madcap Bentley SUV is due, don't forget… prototypes of which will probably be seen on the roads pretty soon. Will Suzuki continue with the Jimny? Will anyone this year launch a prestige model that will get even close to the Range Rover Sport? Will Bob Cooke buy yet another Jeep Cherokee? Will you be able to buy one of Ford's Ranger pick-ups in the same calendar year? Will people finally realise the benefits of winter tyres?
Pleasingly, it seems as I sit awaiting the end of the year, that the SUV is showing absolutely no signs of fading away. Four-wheel drive vehicles have had such a mixed history, evolving from the rough and agricultural, to being public enemy number one, before being recognised as the most sensible method of transport both on and off the tarmac. When I used to manually type out stories on my beloved Olivetti, I would never have thought that something that was really just an enthusiast's pastime, with a passionate but limited following, would become so mainstream. How times have changed. Times maybe, but not printers' publishing schedules. Here's hoping we haven't missed much, and if we have, you can be assured that we'll make sure that we bring you up to date in our March issue.
Here's hoping you enjoy the issue and all the very best for 2014.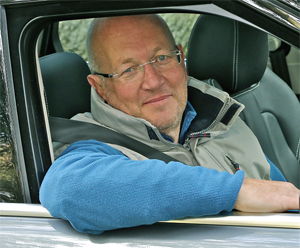 Nigel Fryatt, Editor

Buy your copy of the latest issue of 4×4 Magazine