March 2011 Issue of 4×4 Magazine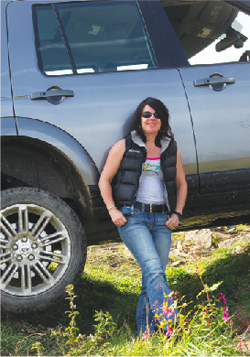 As we look out of the window at the continual grey skies and listen to the wind howling, we realise that there is another month to go of winter and possibly more snow and ice on the horizon. What better time, then, to turn to more positive thoughts, especially the mouth-watering prospect of jumping into a 4×4 and embarking on a great adventure.

So, to get you in the spirit of adventure, we have a special Expeditions feature.
For the 4×4 owner with a healthy appetite for exploration, adventure travel is the ultimate experience. For many, expedition travel conjures up an image of the desert or jungle; but the world is a very small place these days and there are plenty of other arenas to test your extreme driving skills and ability to survive in taxing and difficult terrain. To that end, we asked three of our regular contributors who also enjoy the envious privilege of being extremely well-travelled off-road experts to share their experiences. Their expertise embraces all forms of off-highway terrain. In this feature, we particularly highlight desert and ice and snow conditions, plus also offer a look at overland travel in general.
The adventure travel market is a growing, healthy business, as you can see from the many advertisers in this magazine offering trips and equipment, and the packed International Calendar section. All those listed are reporting excellent responses to their tours and it is highly encouraging that you guys seem to be taking to the adventure travel option and really getting the bug.
How you equip your vehicle is up to you. Some love bolting on the kitchen sink, while others prefer to keep it simple; but, whatever your choice, there's a trip out there waiting for you, and an experience to savour for many years.
So read from p54 onwards, absorb Toby, Wayne and Kev's words of wisdom and enjoy their stories of mishaps and incredible experiences. And who knows, later this year, it could be you!
Elsewhere, the theme of expedition travel is continued in the second part of our BBC correspondent's incredible drive from London to Mongolia in a Nissan Terrano II Van: A true testament that a bog-standard 4×4 can get through the most challenging obstacles – and that doesn't refer just to the terrain! Plus, we have as our feature 4×4 a beautiful example of an immaculately-restored ex Camel Trophy Defender Ninety that takes the meaning of adventure travel to a whole new level – this particular example tackled the immense Camel Trophy in Australia.
Of course, adventure can be equally satisfying on what's left of the greenlanes on offer here in the UK. So, to compliment the overseas travel adventure, we feature a superb day's greenlaning that we enjoyed in the mountains of Snowdonia with our impressive long-term Suzuki Jimny and Toby's rebuilt 1948 Ford Jeep.
The Ford Jeep is a true icon; the daddy of the modern off-roader. The 4×4 has come a long way since then…or has it? Is our Suzuki so very different from the Jeep? Turn to p48 to find out how they fare against each other; you may be surprised!
And, talking of Jeeps, we were hoping to bring you news of the arrival of the 2011 Wrangler to the UK, the launch of which should have happened by now. The latest news from Fiat is that it has 'been put back a few weeks'. I have no date for that launch, but my diary and permanent ink pen are keenly poised to record that important event. As soon as it arrives you will, of course, see it on these pages. So fingers crossed that we don't have to wait too long…
In the meantime, sit back and enjoy our March issue which, you will notice, has had a 'Spring Clean' to spruce it up. Hope you like the fresh look. Hils