October 2010 Issue of 4×4 Magazine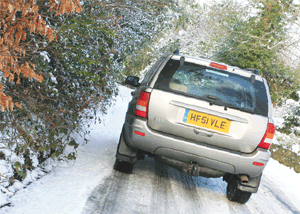 So, we're waking up to dew-dusted gardens and there's a fine mist on our 4x4s' windscreens to clear before we jump in and head off to earn the crust that keeps our off-roading hobby alive.
Yep, it's the first of the autumnal issues and Summer is officially over – well, that is until the traditional Indian Summer kicks in… although looking out of the editorial office window it doesn't look like we're gonna have much of one in 2010.
It's been a poor summer all told. The early promise in June and July never really materialised and many of the off-road shows were blighted with downpours and high winds which rather dampened spirits. But the 4×4-buying public is still out and about, as the traders will tell you, and their stands enjoyed a steady stream of business. And there are still some out there who haven't yet got the love of the 4×4. To tempt them in as the new 60-plate hits the road (seen one yet? No? Neither have I. Someone must have bought a new registration vehicle somewhere: even a non 4×4 will do) we have a special feature for those buying their first 4×4, or indeed anyone who is in the market to change or upgrade their 4×4.
There are tons of bargains out there and we highlight a good selection that we like and that fit into our price categories for new and used. For instance, if you look carefully you can bag a VW Touareg for under £10k or an early turbo-charged Porsche Cayenne for under £20k: now that really is worth a look.
The 4×4 is on the upswing and, with the winter months approaching again, no doubt there will be more erstwhile Doubting Thomases joining our flock.
This issue also sees the second and final instalment of the amazing Carbon Neutral Expedition across the states of Utah and Arizona. I was invited on this trip by an amazing bunch of guys who love their 4x4s. They repair, restore and even build their own vehicles and they really care about the planet, too, much to the disbelief of the anti-4×4 brigade. The second leg found our convoy of veggie- and biodiesel-powered vehicles crossing the stateline into Arizona and reaching the immense Grand Canyon. The sight of that as we approached the east rim left me breathless in a moment I will simply never forget.
It took us ages to get there, taking numerous wrong turns on the web of winding dirt tracks that kept ending nowhere. We finally asked a passing Native American for directions, and, wow, was it worth the wait! We camped on the very edge and woke up to the most amazing sight in the world: No tourists, no info-panels, no cafes, just silence; the Canyon and the majestic snow-capped mountains in the distance.
If you haven't already done so, fly to Salt Lake City, hire a 4×4 and drive through Utah and Arizona – you won't regret it and you will hardly see another soul. It's the stuff of overland dreams.
Another dream job this month was visiting the HQ of the brilliant Bowler team responsible for the iconic racing Tomcats, Wildcats, Nemesis and now the long-awaited road-going Nemesis EXR. Orders are being taken for this luxury on-road 4×4 that will still provide the best off-road pedigree in the world.
Drew Bowler and his right hand man Matt Lister allowed us a sneak preview of this incredible vehicle and a quick blast in it across the Bowler farmland. It looks fantastic, sounds awesome and will be the coolest, most desirable 4WD vehicle to own in the world. Look out for one booming along our highways in the hands of someone lucky enough to have £100,000-odd to spare. Get that lottery ticket now…