July 2010 Issue of 4×4 Magazine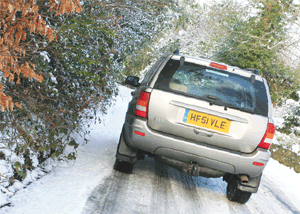 As I spend most of my time in vehicles that are generally not meant for speed – crawling over tricky obstacles or trundling along scenic country lanes admiring the view – my recent trip to a race track to have some fun at high speeds was a real treat.
The reason I was standing in the rain waiting to jump behind the wheel of an Austin Martin DB9 and then a flaming red Ferrari 360 at Prestwold Airfield was to take up my very belated birthday present of a race track day.
I've always wanted to blast a Ferrari to its limits and wallow in the sheer opulence of a DB9, so it was fun. But what was even more interesting at this particular track was the appearance on the tarmac of one rather large 4×4. Yes, there were the usual safety vehicles on hand, such as the old Ford Maverick the ambulance crew were hovering around in – not seen one of those for a very long time – and the trackside crew buzzing about in an Isuzu Rodeo pick-up. No surprises there. But what caused a few interested glances from my fellow hot-rod wannabe racing drivers was the bright yellow Hummer lapping the circuit at full tilt. Among all the Lambos, Porsches, DB9s and Ferraris, the brick outhouse looked very out of place but was, nevertheless, offered as one of the options to race around the track.
There is an off-road course available but not one person took the opportunity to show what it really could do – and therefore what it was built for – no, they all queued up to 'race' it around the track, among the real super cars.
Actually, I was rather proud of the Hummer as it squeezed itself into the corners, rolling around beautifully and leaning heavily into those tight bends. It didn't let itself down, although I felt very sad knowing that the Hummer breed is no more and shiny new vehicles like this are now a thing of the past.
The used market in Hummers will now become a hive of activity with enthusiasts scouring the ads for secondhand examples. There are a few around, but do get snapped up quickly by those who have been desperate to get their hands on one for some time.
One of those Hummer fans is the owner of our feature vehicle this month. An immaculate example of an ex-military Humvee is not something you see often in the UK, so feast your eyes on what is a rare beauty. It once served in the Gulf War and changed hands several times before winding its way to Yorkshire.
And, while on the subject of the military, this month the Help for Heroes European Rally gets underway on 19th June from Salisbury Plain. The huge convoy will be driving to Hitler's Eagle's Nest hideaway at Berchtesgaden in Bavaria. The event, organised by Keith Bowen and Tim Price Bowen, will cover 1650 miles visiting six countries in 10 days. Help for Heroes is a fantastic cause and deserving of all the 4×4 fraternity's support. There are several military teams taking part and we wish them the best of luck for a successful trip and trust they will continue to raise a lot of money for our men and women who have served overseas. Visit www.h4ralllyco.uk to find out details of how to donate and follow the rally.
A rally of a different kind is featured this month, with all the US has to offer on the annual Easter Jeep Safari. It's a mammoth event that takes over Moab, Utah, and if you can ever get out there, take our advice: hire a Jeep and join in. Why not next year? There are specialist companies which hire out Jeeps capable of tackling the trail, so if you're feeling adventurous, book now to avoid disappointment.
Our big feature this month is the camping special. As there are now a number of 4×4- dedicated options for the outdoor lover we thought we'd carry out a real life test on some of them that are available, pitted again the good old traditional Land Rover Carawagon to see which is the most practical for an off-roading camping trip. Has the modern equivalent totally superseded the original option available? It was a fun and very interesting exercise that just goes to prove that the modern way isn't necessarily the best.
Let's hope that tempts you to get and about and take advantage of the longawaited better weather and enjoy those highways and, more importantly, byways – well…those that are still open…
Use it or lose it…