September 2010 Issue of 4×4 Magazine
As you'll have seen from the front cover and our contents pages, our main feature this month is the amazing Carbon Neutral Expedition that set off from Heber, south of Salt Lake City in Utah and ended at the Overland Expo in Amado in southern Arizona.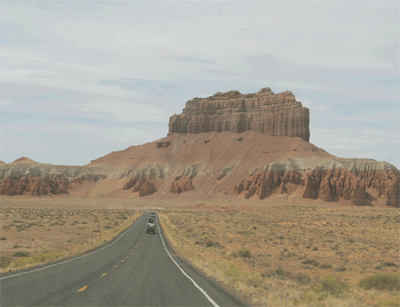 I was extremely lucky to be invited to tag along on this event in regular contributor Ann Lockley's Range Rover Classic. To be part of an environmentallysensitive global first was privilege enough, but to have driven through some of the world's most spectacular scenery while doing so was the true icing on the cake.
Anyone who has been to Utah and Arizona will appreciate what I am enthusing about. From cruising along the Buckhorn Wash Road where Butch Cassidy used to hang out, the spectacularly-coloured rock formations towering over us, to bouncing over rollercoaster tracks that looked like something out of a moonscape, against a backdrop of snowcapped mountains glistening in the distance, to camping beneath the most amazing rock structures imaginable was a breathtaking experience and something I will never forget.
The idea was to prove that overland travel could be carbon neutral and to raise awareness of how everyone, even we motorists, can help protect the planet. The majority of the vehicles were running on used veggie oil. Ann's Range Rover runs on petrol, of course, and there were other petrol-powered vehicles on the trip as well as a Ford F-250 pick-up that ran on a mixture of bio-diesel and standard diesel. So how can you call it a carbon neutral expedition? Well, as Ann mentions in the feature, the expedition bought carbon credits to offset its emissions.
Organiser Andre Schoumatoff worked out an approximate level of carbon output that the non-veggie vehicles would produce on the fi ve-day trip and bought a lot more carbon credits than was probably needed – via www. CarbonFund.org – at US$50 a time, to offset the entire carbon footprint for the trip. We were, officially, carbon neutral.
Apart from the amazing scenery and the fact that we were doing something really positive for the planet, it was fantastic to meet such a great bunch of guys who were really into their 4x4s; but these were not the stereotypical huge SUVs that I expected. No, these were real off-roaders driven by fans who didn't automatically think that biggest is best – unlike many of those we saw on the highways, driving what amounted to large mobile bungalows, lavishly equipped with all mod cons. The carbon-neutral guys modifi ed their vehicles themselves and loved classic European and Far Eastern 4x4s. Toyota and Land Rover were the preferred vehicles and I was amazed that there was not a Jeep in sight! So, enjoy part one of this feature – there's even more that blew the editorial mind next month.
Another place where you'll find modifi ed SUVs in abundance (and not too many Jeeps) and that continues this month's international fl avour is Australia. It's winter Down Under now but the summer approaches and, if you fancy some seriously challenging off-roading, Oz is the place. Our top guide explains what the 4×4 scene is about in Oz and how you can do it.
Our events also have an international theme this month, with two top hard-core competitions in the German Breslau Rally and Romanian Transilvania (sic) Trophy.
So sit back and enjoy what the rest of the world has to offer; then book those flights and hire those vehicles.