January 2012 Issue of 4×4 Magazine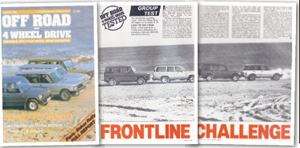 Welcome to a very special issue; known to all on the 4×4 team as, 'the big one'. It's our annual 4×4 Of The Year issue, when we get as many new models as possible together, in one place, put them through their paces, judge them scrupulously, and find a winner. So, what wins our 4×4 Of The Year 2012? I'll let you enjoy the magazine first, so you can see how we came to our decision.
Of course, awards' issues, 'best ofs' and 'mega' group tests are all the rage with motoring magazines these days, but there was a time when that wasn't really the case and proudly, this magazine can justifiably confirm to be the first to ever look at matching up a group of 4x4s, and deciding which is best. I can confidently claim that because, back in March 1986, we were the 'only' 4×4 magazine on the shelves! Oh how times have changed. Our name for one, and 4×4 is somewhat shorter than Off Road and 4 Wheel Drive!
Back then, we had never actually matched up different 4×4 models, tests had tended to be an individual thing, but we wanted to take it a step further and so matched up the then aclaimed 'best 4×4' the Range Rover Vogue EFi with a Mercedes-Benz G-Wagen 280GE, Mitsubishi Shogun 2600 Diamond and Toyota Land Cruiser. Interestingly, and remember this is 1986, we described the Range Rover as "entering middle age". What on earth does that make it in 2012?
We took them all on a 600 mile route on and off-road and ended up on the beach at Hemsby, Norfolk, staying at the pub my mum and dad ran at the time. You see, budget-saving is not a new phenomenon either. The Toyota got stuck in the mud on a farm, the Mitsubishi got stuck on the marram grass dunes and bits of the Range Rover fell off. The Merc cruised through, but was somewhat utilitarian, but tough as old boots. These days, the Toyota won't get stuck, the Mitsubishi hasn't changed that much, the Range Rover is considerably better built and the Merc? Well, oddly, Mercedes-Benz refuse to supply test vehicles. Make of that what you will.
So this was the start of an annual feature, which has developed into the well-established and well-respected event that we have today. It is, categorically, the original 4×4 Of The Year, so don't be confused by any other lame, similarly named, imitations. After all, you can't just create 35 years of heritage and experience overnight, and that is what this magazine has in its locker.
As for whether we are still doing a good job, that is for you to decide and we do value your comments. Last month's Top Ten Classic 4×4 caused some interesting reactions from readers, and we will be reporting on those in a future issue. All communications are valued, and where possible, replied to. If you have an opinion, please voice it – and remember to tell us what 4×4 you own, and why, and stick a couple of pictures in with your communication.
Here's hoping that 35 years later, this issue lives up to the high standard we have established. What won? Well, that's for you to find out.
Enjoy the issue.

Nigel Fryatt, Editor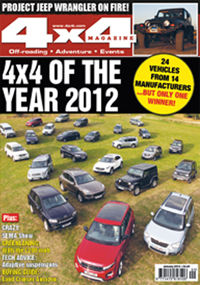 To buy your copy of the latest issue of 4×4 Magazine click here