What does the Toyota Land Cruiser have in common with veteran actress Maggie Smith? Dated chassis dressed to kill, basically long in the tooth, but still magnificent and totally reliable. Worth considering, obviously
TARGET RANGE:  £18,000 – £50,000
The updated Toyota Land Cruiser for the 2010 model year was in fact little more than a facelift and a rationalisation of the range, the significant improvements being the addition of all the leading edge electronic driving and off-road traction aids, necessary features to counter the advanced technology appearing on Land Rovers. Hence the structure of the car is the same as the predecessor in that it remains a body-on-chassis design with independent front suspension and a rigid rear axle, a dated design for a modern luxury 4×4. One improvement was the fitting of enhanced body-to-frame bushings to reduce the transmission of road and mechanical noise, but these can't quite match the refinement of a modern all-independent monocoque design, so even with coil springs all round or the air springs of the top model, the Toyota has a rather agricultural feel that's rather at odds with the sleek styling and the luxurious equipment specification. Toyota's thinking is that they want their Land Cruiser to remain a hard-core off-roader to satisfy demand in key markets such as Australia, where off-roading is a necessity rather than a pastime. Discerning buyers in more fashion-conscious countries will be happy to trade off this heavy-duty approach against long-term reliability, an area where the Toyota undoubtedly succeeds.
The base LC3 is a five-seater, but LC4 and LC5 are seven-seaters, with a neatly-designed Easy Flat feature that drops the rearmost seats down to floor level at the touch of a button – one set just inside the tailgate, another just behind the second row of seats. One significant advantage over the previous model is the amount of rearward adjustment available on the second row of seats, which can be shifted back to provide almost twice the legroom in the previous generation.
The key innovation for many will be the uprated engine, the 3.0-litre D-4D turbodiesel modified to meet Euro 4 emissions requirements, but at the same time offering 12bhp more and better fuel consumption, claimed at 34.9mpg for the combined cycle in the range-topping LC5. This is mated to a six-speed manual or, more commonly, a five-speed automatic.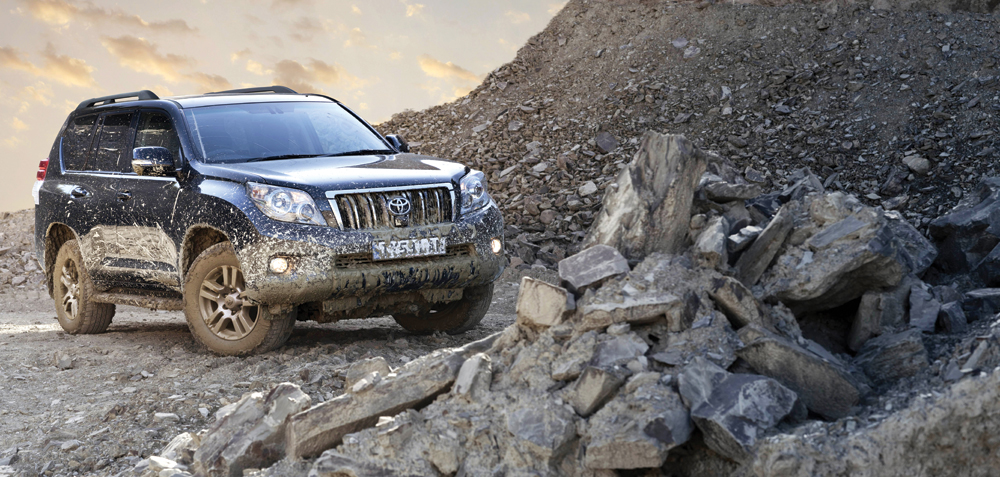 Four-wheel drive credentials are good throughout the range, all versions have permanent four-wheel drive with a driver-selectable centre diff lock, the LC5 also has a rear axle diff lock.
All versions have a good selection of electronic driving aids including traction, stability and hill descent controls plus hill start assist, but the LC5 includes the Multi-Terrain Select system, which adjusts engine torque output and transmission settings to suit a range of conditions. It can be set to mud and sand, loose rocks, mogul or rocks – the 'mogul' option presumably referring to awkward humps and ruts. There's also a 'crawl' function whereby you can set a suitable speed for traversing difficult terrain, which the car will maintain regardless of climbs, descents or rocky outcrops that it may encounter. One of the features that allows the multi-terrain system to work is the Adaptive Variable Suspension with three height settings, while LC4 and LC5 also have the Kinetic Dynamic Suspension System which works to limit body roll in fast corners, resulting in more positive steering feel in general driving as well as more stable cornering.
During 2011 a three-door version joined the range, this was only available in base LC3 trim with manual transmission and although it lacks the clever air suspension and trick electronic driving aids it still seems like the best bet as a more dedicated off-road plaything for anyone who prefers to apply personal skill to off-roading rather than letting the car do all the work – not every mud-plugging enthusiast will appreciate Toyota's claims for their LC5 that, "all you have to worry about is the steering."
The Land Cruiser was facelifted for the 2014 model year, the most significant outward changes being a more aggressive frontal treatment with a deeper bumper and sharper light clusters, and the engine was developed to meet Euro 5 requirements with a power increase to 188bhp. Electronic gadgetry was also updated to include – on top models – a new touch-screen media centre, lane change and blind-spot monitors and surround-view cameras.
Our verdicts
We were suitably impressed with the new Land Cruiser for 2010. Our debut report in the January 2010 edition commented: "Following in the Land Rover style of featuring a plethora of electronic wizardry the Land Cruiser, already a highly capable off-roader, just got even better. The interior is plusher and sports the aircraft console-type layout that is de rigeur these days. Exterior tweaks have created a more muscular stance, characterised by an oversize bumper, and the rear wheel arches flare towards the rear. This truly is an off-road machine that is vying with the Discovery 4 for on- and off-road dynamics."
With that last comment in mind, we had to pit the new Land Cruiser against a Discovery 4. The head-to-head twin test appeared in our May 2010 issue, and although the Toyota lost out to the Land Rover it was a close call. One of the factors that chipped some of the gloss from the equipment-packed Toyota was the complexity of its off-road features compared with the very intuitive set-up in the Land Rover. We wrote of the Land Cruiser's Multi Terrain System: "Without reading the instruction manual – a very handy separate off-roading guide – you would never know how to access the Multi Terrain Select. It is all rather fiddly in comparison. It was quite a faff to select low range – in Neutral – then if you want the impressive crawl function the selector has to be in anything other than Park or Neutral. To select all the extreme off-road functions, such as the manually locking centre and rear differentials takes a while and involves quite a number of different operations and switches." Nevertheless, once we'd managed to work out how it all operates we found the Land Cruiser well up to the extreme off-road task: "Engine braking in first low was perfectly adequate for the slippery steep descents on our test route. On really steep terrain it's advisable to use the crawl settings, although they are accompanied by the usual teeth-sucking graunching noises that these systems produce.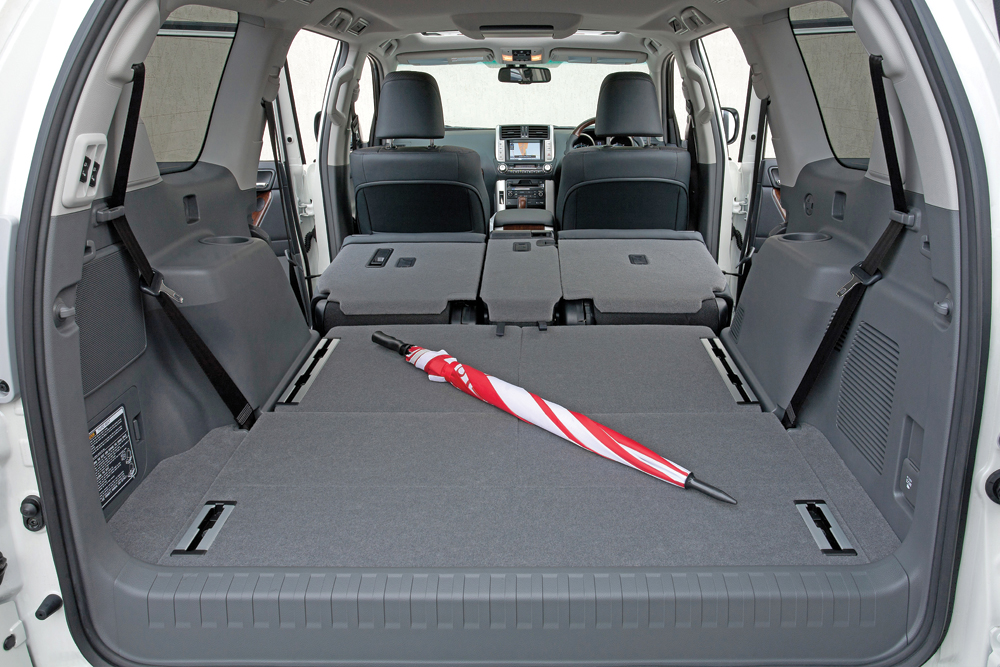 "In the axle-twisting rocky section we noticed that the Land Cruiser picked up a wheel quicker than the Discovery, and in deep, wet, greasy ruts it needed a bit more work to pull itself out of the mire. Not quite as smooth in operation as the D4, but still very effective." We felt the on-road ride was noticeably more wallowy than the Discovery, and we criticised the protruding rear bumper, which makes it difficult to load heavy objects.
Our 4×4 Of The Year comparison for 2011 gave us a chance to pit the Land Cruiser against all its key rivals. We wrote: "The LC5 is impressive, packed with enough toys and luxuries to keep gadget fans happy. It's certainly in a different league to the Mitsubishi Shogun, Nissan Pathfinder and the Jeep Grand Cherokee, but when pitched against the Discovery it's not quite good enough.
"The Toyota is a great off-roader and its systems are superbly effective once deployed, but the 4×4 selection procedure is complicated. There's a protracted system involving dials, buttons and scrolling menus. Some are dash-mounted, some are on the steering wheel and some are by your kneecap. In short it's a bit of an ergonomic mess that we hope someone at Toyota is fixing right now."
Someone did just that, on the facelifted range for the 2014 model year, which features a restyled dashboard with all the 4×4 controls grouped on a panel in the central console. We recorded that mid-term facelift in our 4×4 Of The Year for 2013, but weren't overawed, commenting: "The Land Cruiser reinvented itself last year and there has been no change." That was meant in general terms; one coincidental change was the shift to the more emotive Active, Icon and range-topping Invincible nomenclature, but in spite of the stronger styling and enhanced electronic gadgetry our experience with the car did no more than reinforce our overall feeling: "Reliable and conservative are words that tend to sum up Toyota's approach to their iconic off-roaders, values that may well excuse the reluctance to drag the Land Cruiser into the 21st Century. It's the last of the big players to cling to the concept of a separate steel chassis and while the engine has been tweaked to meet current emissions regulations it's an ageing design linked to a conventional five-speed automatic. It can't be helped, then, that the Land Cruiser feels like a bit of a lumbering brute in comparison with its more advanced rivals."
Which one to buy
LC3 is nominally the entry level and lacks the third row of seats, but nevertheless has the key electronic aids including hill descent, hill start and traction control, plus vehicle stability, Bluetooth, electric windows and mirrors, six-speaker stereo with CD player, front, side and curtain airbags, smart entry and smart start. The wheels are 17-inch alloys but no spare was included, just a tyre inflation kit – check, because some owners paid the extra for a full-size spare. Buy a high-mileage early example for £18,000, if it's in good condition, more like £20,000 for anything with no more than 50,000 miles. One of the keener deals we spotted was Arnold Clark of Ayr (01292 518703) asking £19,000 for a blue one-owner 2010 example with 57,000 miles; a clean low-mileage 2012 model will command at least £25,000 in mint condition.
Three-door versions might be a good choice for more serious off-roading, these haven't sold in great numbers so are rare second-hand but reasonably priced, Robinsons of Hillsborough (0289 221 0808) had a smart metallic grey 2011 example with 45,400 miles priced at £17,950 and a pearlescent white 2013 Active with just 11,000 miles at £25,950. There are quite a few nearly new examples around, as well as new stock with around £1000 knocked off the new list price – the same dealer was asking £32,900 for a new 2014 metallic silver one with 50 miles on it and £34,900 for a 2015 example with 100 miles on it.
The LC4 gets leather upholstery and three-zone climate control, with additional convenience features such as rain sensors and automatic lights, cruise control and an HDD sat nav. The stereo is upgraded to a 14-speaker JBL Synthesis Premium Surround Sound System with storage for 2000 CD tracks. The suspension includes the self-levelling TEMS system and the wheels are18-inch alloys – including a full size spare. Pay £24,000 for an early example with reasonable mileage, like the 60-plated metallic black 62,000 miler, with power sunroof, at Braidwood Motor Company in Livingston, West Lothian (01505 321910), though you could be asked £29,000 for a five-year old car with low mileage and perfect service record. Expect to pay around £35,000 for a low-mileage three-year old car with some of the original five-year warranty intact.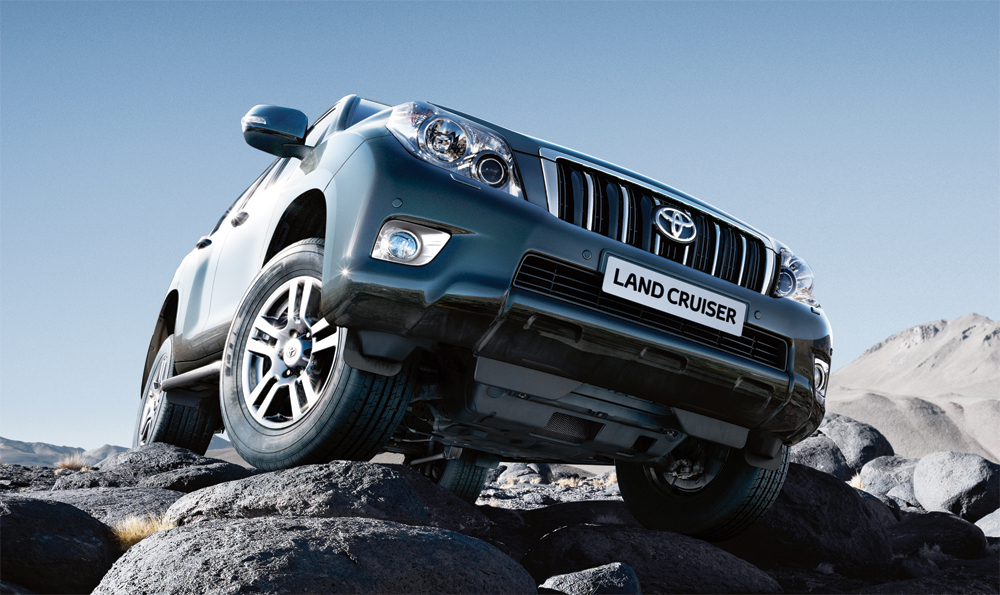 The LC5 is so luxurious as to be the least likely car to go off-road, yet it's the one that has the multi terrain select system with the four-camera multiview monitor; good news is that prices aren't stupidly higher than for the already well-appointed LC4. Lodge Motors of Yateley (01252 860900), for instance, were asking £28,990 for a 60-plated 49,000-miler, two-owner car in dark blue metallic with beige leather interior, while Stebbings Car Superstore of Kings Lynn (01553 387911) put a £35,500 tag on a 27,000-mile example in black on a 13 plate with up-to-date service history and clear HPI check. Look around for low-mileage nearly-new cars, Motorline of Horsham (01293 976737) were asking £39,995 for a 190-horse 2013 example in Astral Black with 13,000 miles, or keen price cuts on 2014 unregistered new cars, like the £49,975 being asked by Boss Performance of Bury, Lancashire (0161 763 3000) for a white Invincible with panoramic sunroof, remarkable since the listed new price for an Invincible is over £53,000.
For 2011 Toyota celebrated its long Land Cruiser history with a 60th Anniversary special edition, the upgrades being mainly cosmetic with carpet mats, walnut trim, chrome exhaust finisher and clear-finish rear light clusters, but still desirable. Saxton 4×4 of Chelmsford (01245 351234) had a 49,000-mile 2011 example in Astral Black priced at £31,950. Handpicked Cars were a bit over the top asking £44,495 for a 2012 example, but it is a pristine one-owner car, 28,000 miles with two main dealer services, sold with new tyres and a year's MOT, plus an additional three months warranty on the engine and gearbox.
ENGINE DRIVETRAIN CHASSIS BODY AND INTERIOR
The latest generation of the 3.0-litre common rail engine seems to be as reliable as it should be, nevertheless it's worth checking the quality of the oil in higher-mileage cars for signs of the sludging that seems to have been a problem in the earlier model. Otherwise look for general signs of neglect, squeaks or even water stains hinting at possible water pump failure, excessive black exhaust smoke and erratic running under acceleration which could point to a failing turbocharger or worn injectors.
Chances are you won't be able to check that the four-wheel drive systems are all working because they don't really come into play until you're all crossed up off-road. Nevertheless, play with the switches and satisfy yourself that nothing untoward appears to be happening. Transmissions are generally fault-free, though if you find a rare manual make sure the shift quality is smooth and engagement is positive and silent, reject any car where the shift feels baulky. This could be a wearing clutch, but even that's a costly repair; the clutch should release and come in smoothly without requiring heavy pressure or overlong travel before releasing. Reject any automatic that shunts on gearchanges, allows too many engine revs during shifts or refuses to kick down responsively. Even on an automatic that behaves well, it's always worth checking the level and condition of the fluid.
Higher-specification models can suffer suspension problems such as failed air struts and malfunctioning of the self-levelling system. Check that the height adjustment feature works properly, if it doesn't it could just as easily be a fault with the sensors rather than the air struts, but either way it will be an expensive fix. Check that the car corners steadily without too much body lean, you should be able to feel the active suspension units jacking the car level, if there's too much wallow and the steering feels vague reject the car. There shouldn't be any problems with the steering and suspension bushes, reject any car that clonks or rattles when driven over potholes. Check the power steering works smoothly and silently from lock to lock, groans or hisses could point to a failing pump.
Corrosion shouldn't be a problem in cars of this age, if the car's been used for towing check the tow bar mountings and the state of the rear section of the chassis for signs that it's been used to back a boat into sea water. The main thing to check is that all the electronic gadgetry is working properly, the downside being that there's so much of it, even in the LC3, that you'll need to work your way through the handbook to find out how everything works. If nothing else, check that the air conditioning works, rotting pipework can lead to failure that's costly to put right. Check carpets for signs of water ingress from the sunroof and in seven-seaters make sure the electric seat operation is working properly.
Or you could consider…
Land Rover Discovery 4
Mitsubishi Shogun
Jeep Grand Cherokee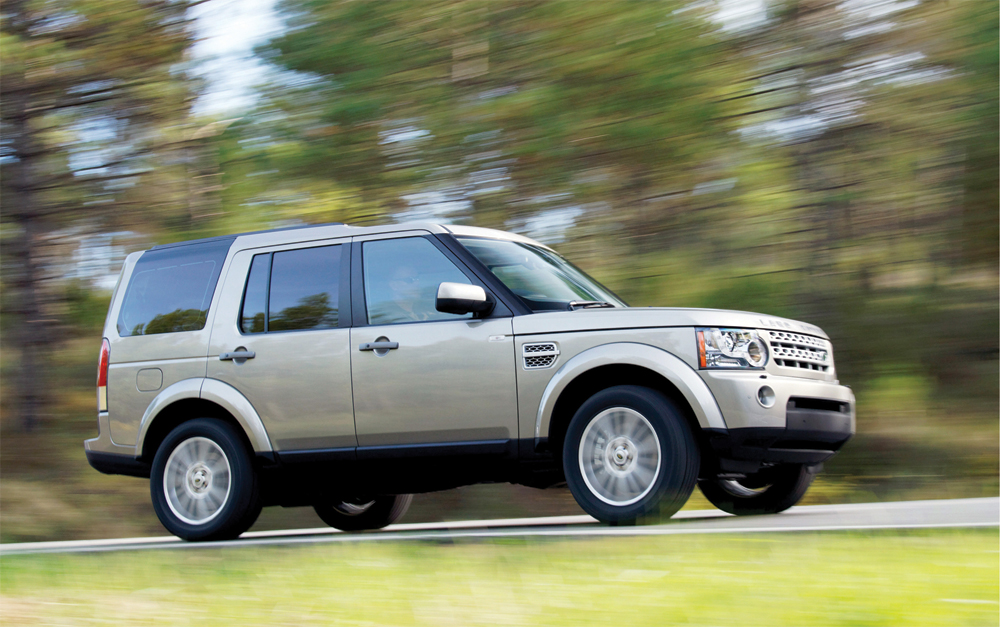 The brand value of the Toyota is such that it's unlikely that anyone considering a Land Cruiser would even look at a Discovery 4, especially since there's still a lot of "Japanese is better than British" feeling about, not helped by Land Rover's hardly pristine reputation for reliability. The Discovery 4 has shown itself to be a far more reliable product, however, and an enthusiast seeking a sort of ultimate refined on and off-road driving experience should really try a Discovery 4 because it might surprise. There's a good reason why it's proved to be such a popular premium SUV with its powerful 3.0-litre V6 turbodiesel, superb on-road ride and handling, class-leading electronics and virtually unstoppable off-road agility, not to mention the clever stadium seating arrangement that seats seven adults in comfort yet folds flat to give van-like carrying capacity. For some users, of course, the Discovery's impressive 3500kg towing ability alone might give it the edge over the Toyota Land Cruiser, which is rated to tow half a tonne less.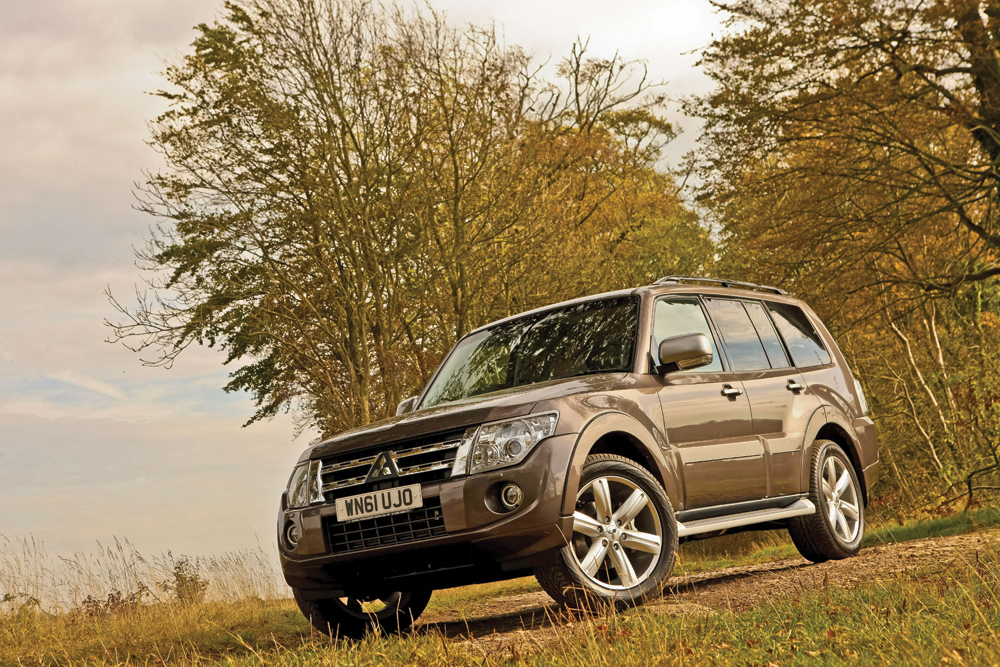 Another car that, like the Land Cruiser, is an uneasy mixture of old and new. Probably the nicest thing we could find to say about the Shogun is that it's a perfect example of the old adage, that if it ain't broke don't fix it. It can even (metaphorically) smirk at the complexity – and cost – of the electronic self-actuating four-wheel drive systems of its rivals, since Mitsubishi's tried and trusted Super Select system is as effective offering the full range of rear drive, four-wheel drive, low range and locking diffs at the simple shift of a lever. The modern Shogun has embraced keyless entry, parking sensors, Bluetooth connectivity and traction controls, but it hasn't yet reached the pinnacle of adaptive cruise control and collision mitigation systems. What's left is a reasonably-priced, reliable alternative with moderate power and a dated five-speed automatic, but good ride and handling from its monocoque all-independent construction, good towing credentials, child-friendly third row of seats and quite good off-road ability, which is all many SUV drivers actually want.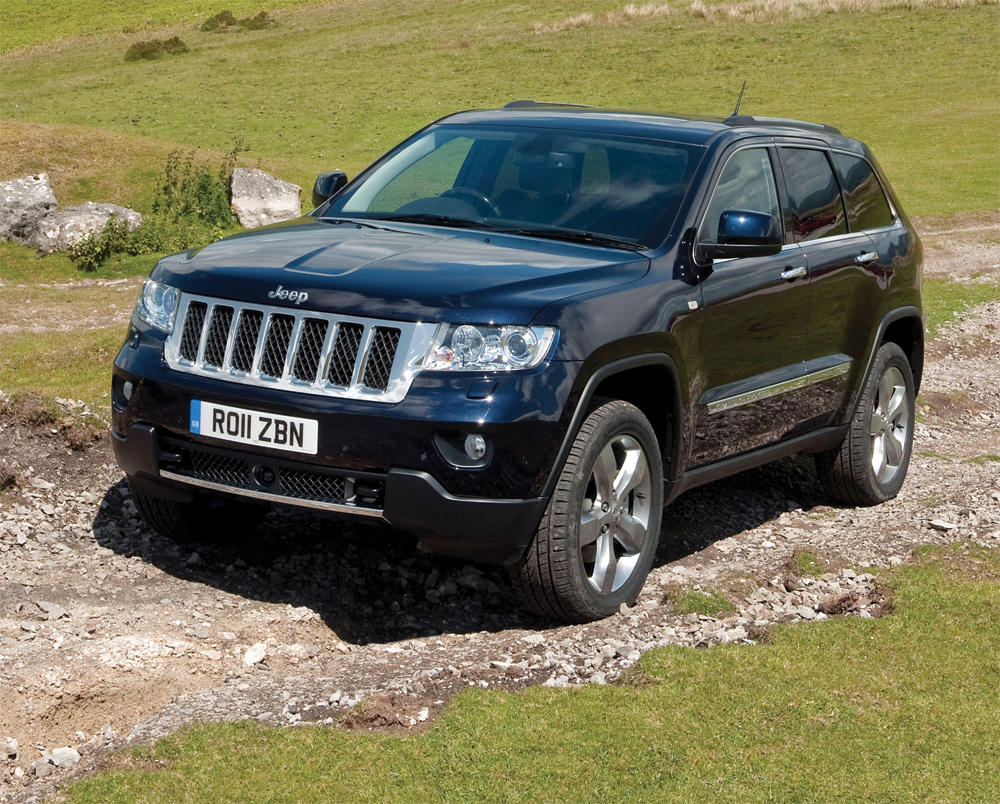 The bold American (though built in Austria until 2010) is still something of an outsider in a marketplace dominated by Eastern and European players, yet offers excellent luxury equipment in a good value package with good performance and more than adequate ride comfort and handling crispness. The range-topping Overland has a leather-wrapped dash as well as leather upholstery, concert-quality stereo and latest versions have all the important electronic driving aids. The Grand Cherokee lacks the seven-seater facility of the other rivals referred to here, but it has the advantage in having exceptional off-road ability courtesy of the Quadra Drive system which effectively gives it auto-locking front and rear differentials. So how is it better than the Discovery off-road? It isn't, but it's cheaper and less complicated, not to mention being less precious, so a better choice as a luxury family car that really is going to be used quite seriously off-road. Also, if you really don't care about fuel costs or keeping your driver's licence, there's the manic 5.7-litre hemi or 6.1-litre SRT-8 street racers to consider.