This stylish, high-tech Toyota has come a long way from its utilitarian roots, offering luxurious equipment for up to eight passengers, yet under this opulence lies a truly rugged and capable off-roader
TARGET RANGE:  £8,000 – £22,000
When the all-new Land Cruiser arrived in 2003 we praised it for its enhanced refinement and comfort, its improved off-road dynamics and its on-road performance. That praise did rather gloss over the reality that the new TLC was little more than a development of the Colorado model that preceeded it, the main visual change being the more curvaceous body styling with its bolder kinky-headlamped front end. The mainstream engine, the D-4D turbodiesel, was carried over from the Colorado, as was the transmission and permanent 4×4 drive train, the body still mounted on a separate chassis with rigid rear axle and independent front suspension. Anyone looking for the added refinement and handling crispness offered by rival Mitsubishi Shogun and Jeep Grand Cherokee courtesy of their switch to monocoque construction would have been disappointed; among the praise we heaped on the car in our first-drive report in the March 2003 issue was the comment: "There's no escaping the fact that it is a huge barge, both to park and to drive." On the plus side this conservative advance did at least ensure that the Land Cruiser remained a serious hard-core off-road workhorse, not to mention the feeling of occupant safety inspired by the use of that separate strong steel chassis. This does mark the short-wheelbase three-door version as an excellent off-road plaything, but for many users the most important feature carried over on the five-door estate is the eight-seater capability, and no matter if the interior appointments weren't much of an advance over those in the Colorado because even in this previous incarnation the levels of luxury and convenience equipment were impressive. The Land Cruiser is a big car, and although there isn't much leg and shoulder room, or luggage space to play with if there's a full complement of passengers on board, it still provides safe and comfortable transport for all.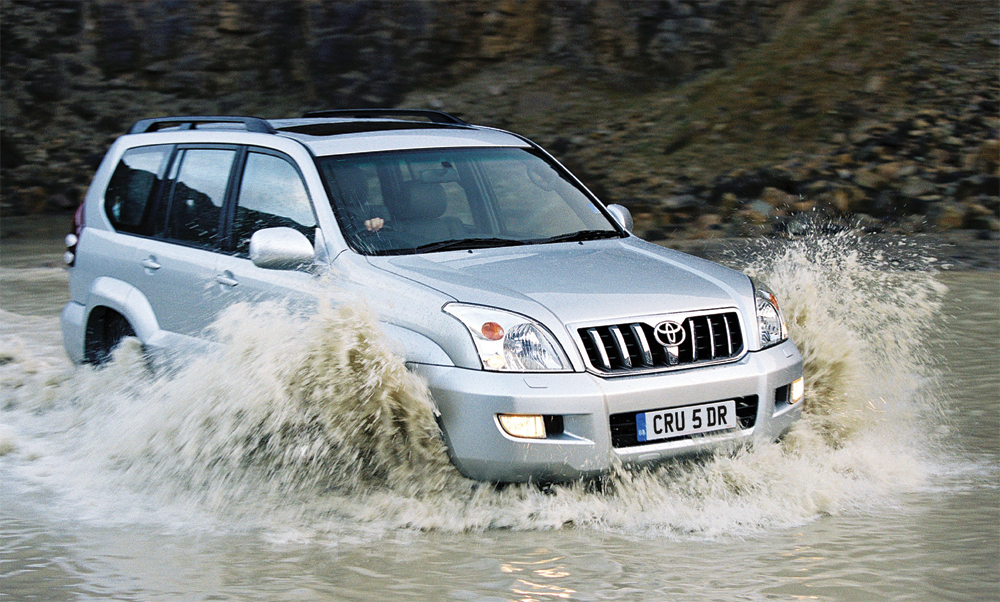 The major improvements featured in the new model centred on the additional electronic gimmickry including traction control, hill descent and hill start controls and electronically controlled suspension with height-adjusting air springs on range-topping models. This switch to greater electronic control allowed Toyota to do away with the locking rear axle differential, since the traction control is effective enough to cope with axle-twisting situations, helped by the Torsen auto-engaging centre differential. It seemed a little strange that Toyota should offer a 4.0-litre petrol V6 alternative to the impressively refined and powerful 3.0-litre direct-injection D-4D engine, considering that they'd dropped the 3.4-litre petrol V6 from the Colorado range quite early in its lifetime, mainly because most owners sought the better fuel economy provided by the diesel. Certainly most second-hand examples of the Land Cruiser are turbodiesels, but if you don't do a high mileage and prefer the quieter running and potentially better reliability of the petrol engine it's worth shopping around for a relatively low-mileage V6, which would almost certainly be more accessibly priced than an equivalent turbodiesel. First versions on sale in the UK came with a choice of five-speed manual or four-speed automatic transmissions, but by 2004 these had been upgraded to six-speed manual or five-speed automatic. One key reason for limiting your choice to a 2006 or later model is that the output of the D-4D was boosted to a more purposeful 170bhp, which not only offered better acceleration and more relaxed cruising but also better fuel economy and cleaner emissions, enough to switch the Land Cruiser (in 6-speed manual form) to a lower tax band – from £485 to £285 – so it's worth checking the tax liability for any vehicle you're thinking of buying. Also note that the Land Cruiser is badged Prado for other markets, and these might also have a 2.7-litre turbodiesel or 3.4-litre V6 engine; there's no reason to pay over the odds for one of these, especially as the equipment level might not match the UK-market equivalent; by the same token there's no reason not to buy one as long as you're satisfied that it's been properly maintained, has the engine and equipment you expect, and is road-legal for the UK.
Our verdicts
Despite its sleeker appearance the new Land Cruiser didn't really seem that much different from the Colorado; eye-catching new grille treatment aside, we commented: "The interior is comfortable, but not shockingly different from the Colorado." Understandable, then, that our interest focused on the new electronic driving aids, which included a significant innovation: "Just like Land Rover's Hill Descent Control, Toyota's Downhill Assist Control is pure magic in an off-road situation. Of even greater importance is Toyota's Hill-start Assist Control. A world first, HAC is available on automatic versions of high-specification models; it controls wheelspin when trying to initiate a hill start on s slippery surface. It also acts if the vehicle begins to slip backwards, braking all four wheels and allowing the driver to pull away with total control."
We were also impressed by the variable-rate suspension on the range-topping version, which included optional self-levelling air suspension on the rear axle: "The Toyota Electronic Modulated suspension offers four settings varying from sport to comfort. TEMS also enhances the Land Cruiser's on-road dynamics and ride comfort by enhancing cornering ability and incorporating anti-squat and anti-dive features."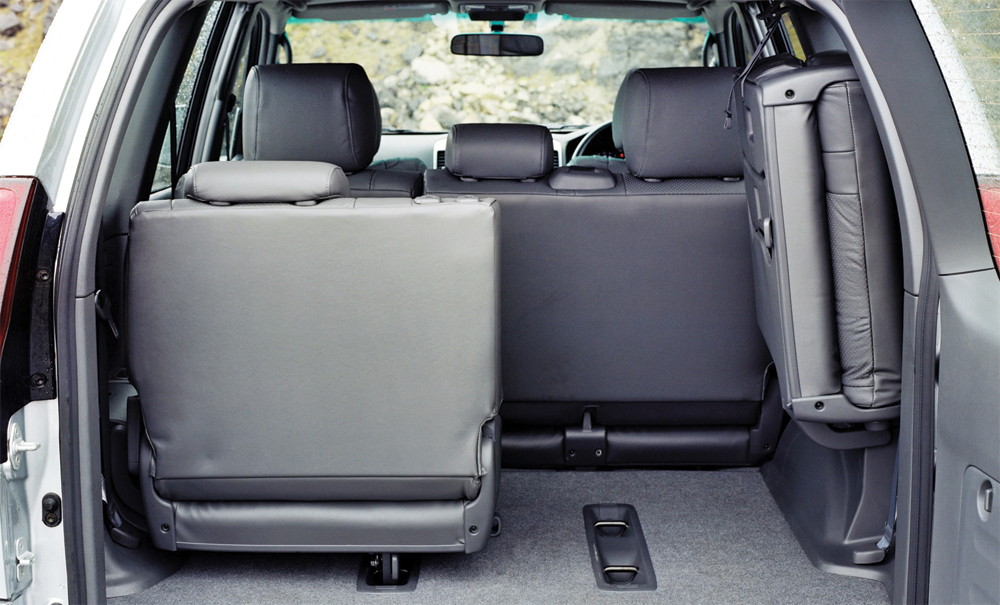 We were able to put those electronic features to good use when, as reported in our May 2003 issue, we pitted the new Land Cruiser in a three-way test against a Nissan Patrol and a Mitsubishi Shogun. Even before we reached our photo location we'd had a chance to sample the traction control systems: "A tractor, or something similar with heavily-lugged tyres, had churned a great hollow out on either side of the trail as it climbed up among the trees. This had the gleaming silver Land Cruiser well and truly cross-axled as it straddled the central hump, rocking uncomfortably with a front wheel hanging in the air over one of the hollows, while the rear wheel on the other side scrabbled for grip in the depths of the other. But the Land Cruiser hesitated for only a moment before the various elements of its comprehensive traction controls assessed the situation, fiddled the braking on individual wheels and adjusted the torque output of the automatic transmission to make sure that the wheels that did have grip got the right amount of drive to keep the car moving." That's one reason why the Land Cruiser won the test outright; we considered the Nissan Patrol to be a better, more purposeful, off-roader, and loved the superb growling torque delivery of the Shogun's 3.2-litre Di-D engine, but nevertheless gave the Toyota the big points for being a better all-round blend of off-road competence and on-road family-estate effectiveness.
In our April 2005 issue we enthused over the enhancements to the D-4D turbodiesel engine for the 2006 Model Year: "Although horsepower is only marginally up, it's the torque that counts – it now boasts the highest torque output of any four-cylinder diesel engine. The D-4D can dig deep for 302lb ft between 1800 and 2600rpm, a 20 per cent improvement. Fuel economy has improved to 31mpg. Part of the reason for this is the new lightweight six-speed gearbox." All the more reason now to resist the temptation to buy a pre-2006 example.
Which one to buy
The new Land Cruiser brought new trim designations with it. Even the base LC2 has the traction and hill-start controls, along with electric windows and electrically adjusting door mirrors, tinted glass, a six-speaker stereo, manual air conditioning, velour upholstery, heated front seats, front, side and curtain airbags and 17-inch alloy wheels. This variant quickly vanished from showrooms, and even though any example you find will date from 2003 or 2004 you can still expect to pay up to £12,000 for a low-mileage, well-maintained one; Autotrade Car Warehouse in Ayr  (01292 290212) had put a more reasonable £8000 price tag on the clean black 90,000 mile example including a new MOT.
The LC3 effectively became the entry-level version, the specification adding headlamp washers, cruise control and dual-zone climate control. An early high-mileage example could be yours for under £8000 but we'd prefer a 2006-on model, though the 78,000 mile silver six-speeder at the Diesel Car Supermarket in Southampton (0844 662 7479) asking £11,500 did seem a little expensive; it is at least in remarkably clean condition, and you could expect to pay at least £14,000 for a run-out 2009 model.
Leather upholstery features in the LC4, along with an electric sunroof and satnav, making it possibly the best-value mid-range choice, particularly in the case of the smart '06 blue example with full service history, not unreasonably high mileage at 123,000 going for £9500 at Longueville Car Sales of Peterborough (01733 233277).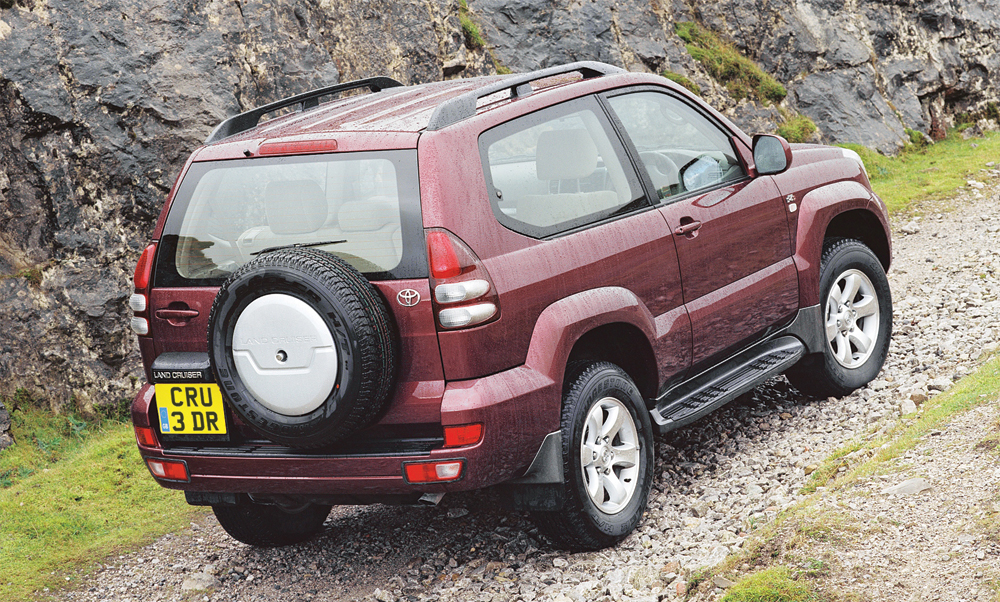 The range topping LC5 has an uprated satnav system, more speakers for the sound system and separate climate control for the front and rear of the car. We've seen a few examples at under £9000 but with high mileage and less comprehensive service records; we'd feel happier with something like the aluminium silver one-owner car with full service history, new MOT and 6 months' tax being sold by Ben Hodgson Cars of Carlisle (01228 899441) for £14,000, perhaps a bit much for a 120,000-mile car dating from 2006, but again it's in good shape and lower-mileage cars are asking upwards of £16,000.
The Invincible is of course the most desirable Land Cruiser, as much for the name as for the equipment enhancements, which includes Bluetooth integration and rear-seat DVD entertainment. This first appeared in 2006 as a special edition, but eventually joined the range as the new premium model. There's a good selection around – some asking as little as £10,000 from private sellers – but prices seem to vary more by what dealers imagine they can sell them for than by mileage and condition; typical is the silver one-owner 2006 car with 77,000 miles selling at £13,000 on an Arnold Clark forecourt in Edinburgh, while Inchcape Toyota of Basingstoke were selling a similar-age black two-owner 70,000 mile example for a fiver under £16,000. That makes it all the more important to shop around for a good-value purchase; in any case you shouldn't have to pay more than £22,000 even for a run-out 2009 Invincible.
ENGINE DRIVETRAIN CHASSIS BODY AND INTERIOR
It seems no matter how well a turbodiesel engine is built there's still room for problems, which in the Land Cruiser's case is the possibility of the engine seizing – in some cases possibly because injector seals have allowed fuel to contaminate the lubricating oil, in others possibly because of sludging of the lubricant after the failure of an oil filter. In either case it's more important than usual to make sure the car you're intending to buy has a full service history, and to use only top-quality lubricants. On higher-mileage engines check for excessive black exhaust smoke or dull performance suggesting an inefficient turbo or worn injectors, and on cars approaching (or just over) 100,000 miles make sure the timing belt has been changed. The petrol V6 is generally trouble-free, but again on higher-mileage cars check that the timing belt and the tensioner have been changed.
Pick a six-speed manual if you can find one, partly because the auto doesn't enjoy the lower car tax until 2009 run-out models, but also because this box seems to be trouble-free, just check for noisy shifts that could suggest synchromesh wear – possible on a car that's been used for heavy towing. If you prefer the automatic check that the box shifts smoothly and kicks down responsively and that there isn't excessive shunt when shifting between drive and reverse. In some cases cracks in the transmission oil cooler have allowed engine coolant to mix with the transmission fluid, leading to gearbox failure; check for signs of contamination in the coolant.
The main concern here applies only to the top-specification LC5 and Invincible with the TEMS suspension. Rear suspension height sensors are known to fail, as do individual air struts. Make sure the various settings of the TEMS system actually do work and that the car sits level. The chassis isn't known to have rust problems – any serious corrosion would in any case be noted at an MOT inspection – but it's worth checking spring and damper mountings to make sure they're sound. The Land Cruiser is rated to tow 2800kg, so shouldn't have been abused as a tow car, but it's still worth checking the state of the tow bar and its mounting points especially if there's a possibility the car may have been used to launch a boat in salt water.
On models with the spare hanging on the tailgate check that the door swings straight on its hinges. Also have a close look at the paintwork, if the car's been driven even quite moderately off-road the paint could have suffered significant scratching from undergrowth, faint marks that may not look serious but nevertheless can dull the overall appearance of the car and may have been disguised by a layer of colour polish. The interior is quite hardwearing, though the front seats may sag or lose their shape, so check that they provide the right comfort and support. Electrical problems aren't commonplace, but it's always worth checking that items such as electric windows, the stereo and satnav and electric sunroof do work properly.
Or you could consider…
Land Rover Discovery 3
Mitsubishi Shogun
Nissan Pathfinder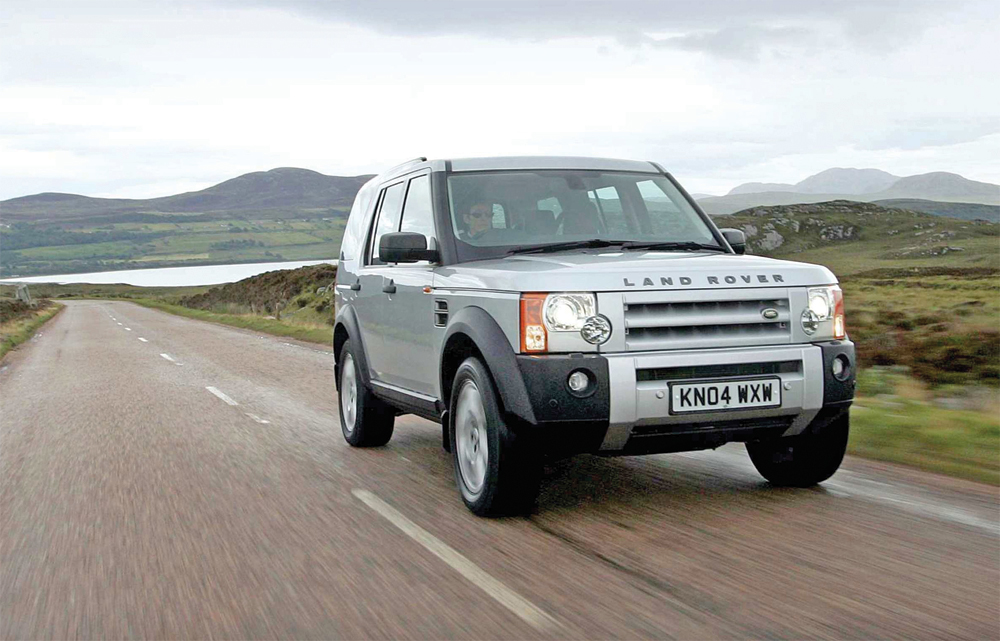 For many the Land Rover is the Land Cruiser's arch-rival, but apart from its dominating road presence it does have one area that anyone needing a seven-seater might like to consider – the rearmost seats in the Land Cruiser take up a lot of room, even when folded away, while those in the Land Rover fold neatly out of sight, as do the second-row seats, to give a remarkably flat load floor. Also when the seats are all in use the 'stadium' arrangement sits rearmost passengers high enough for them to have a good view of the road ahead so they don't feel as if they've just been bunged in the boot.  Reliability isn't a serious issue in this generation, and in any case there is a broad network of specialist garages that can fix problems for much less than you'd have to pay a main dealer. Packed with more electronic aids than the Toyota, top versions of the Discovery 3 are excellent to drive on the road, incredibly capable off the road and – for many a key advantage – it has a higher towing capability.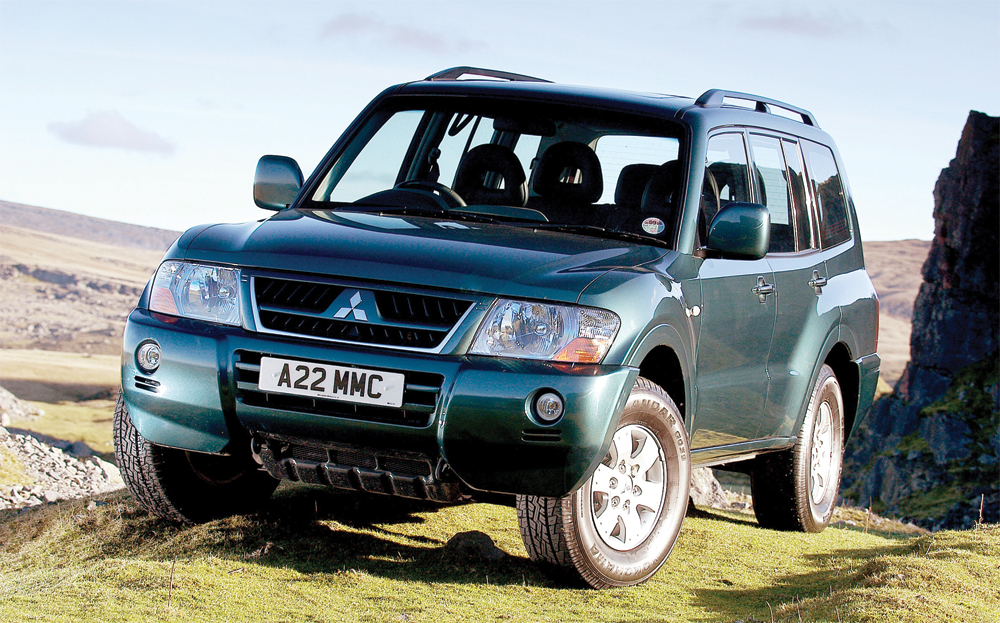 By this time Mitsubishi had already taken the plunge and produced a Shogun with monocoque bodyshell and all-independent suspension, with consequent gains in ride refinement and handling precision. The 3.2-litre DI-D engine – and the common-rail version in the latest generation from 2007 – may not have the ultimate torque of the Land Cruiser, but it delivers particularly refined performance for relaxed cruising. One consideration is that a well-equipped Shogun will offer as much in the way of luxury equipment as any Land Cruiser, but at a more accessible second-hand price; if there's a downside it's that the rearmost bench seat, which tucks away neatly into the boot floor when not in use, is not as substantial as those in the Land Cruiser or Land Rover and are thus suitable only for children. The Shogun does have excellent off-road credentials, courtesy of the Super Select permanent 4×4 transmission, but low ride height and the long rear overhang on the five-door versions limit ultimate off-road agility.
Being a somewhat simpler and less overtly luxurious vehicle the Pathfinder may not have the same cachet of more established mainstream rivals, but it is a big, roomy van-like estate offering comfortable seven-seater accommodation and, with all rear seats folded, gives a class-leading 2.8m long load bay. The four-wheel drive is simpler, a selectable system, but quite good enough to give the Nissan acceptable off-road ability. The turbodiesel has a mere 2.2-litres to play with but it develops similar power to its bigger-engined rivals, offering more reasonable fuel consumption into the bargain. Automatic transmission is an option, but we'd recommend picking the manual because automatics can be problematic. If the turbodiesel seems a little dull there's also a 4.0-litre V6. For seven-seater functionality you're looking at a higher-specification version, SE or SVE for an early model, later premium models are badged Adventura or Tekna, but you could acquire a low-mileage, well-maintained example for the price of an older, high-mileage Toyota.