It's become a mini-classic in its own lifetime, with cute styling that suits it just as well for the city as for hardcore mud-plugging. A true off-roader with separate chassis and low range gearing and a reputation for reliability that ensures continued popularity
TARGET RANGE:  £500 – £13,000
Oh, sure, we laughed at the Jimny when it appeared in 1998, far too small to be a useful SUV, too puny and low-slung to be a competent off-roader, surely it was nothing more than a nippy, traffic-dodging, easy-park city car, a little kinky in the styling department but hardly more desirable than a Mini…
Yet the Jimny has endured, and although its diminutive dimensions still can't make it a sensible family SUV, it's proven to be a great fun car for enthusiasts who wish to be part of the SUV lifestyle without having the need for a full-sized family off-roader. Meanwhile the Jimny's off-road ability continues to astound as more and more older examples find their way into weekend pay 'n' play off-road sites where they can be seen mixing it on equal terms with Jeeps and Land Rovers.
It is an oddball little car, boasting a rugged separate chassis and rigid axles at a time when even the most serious of off-roading SUVs were switching to monocoque bodyshells and independent suspension, in consequence of which, the Jimny is relatively heavy for its size and the ride quality isn't as good as it could be. Performance is hardly exciting, especially with the original 1298cc engine, which although seemingly right up-to-date at the time with its 16-valve head is a single-cam type that needs to be revved close to its 6000rpm power peak to deliver anything like meaningful acceleration, and works hard with much use of the five-speed manual transmission to keep the Jimny in touch with general traffic. Countering this is the fact that it was never intended to be a long-haul highway cruiser, and the uprated variable valve timing unit installed after 2005 sounds a little less frenetic and returns better fuel consumption.
From the start we were concerned that the Jimny, in spite of its all-terrain pretensions, would not prove capable enough to excite as an off-roader. For one thing peak torque in that original engine comes in at a rather high-revving 4500rpm, which we suspected would make it difficult to drive carefully in slippery muddy terrain. We were also worried by the relative lack of ground clearance and the fact that the mountings for the axle control arms hang so low that they'd almost certainly snag on exposed rocks and roots. However subsequent experience with the Jimny left us more and more impressed with its off-road ability, helped by the excellent approach and departure angles.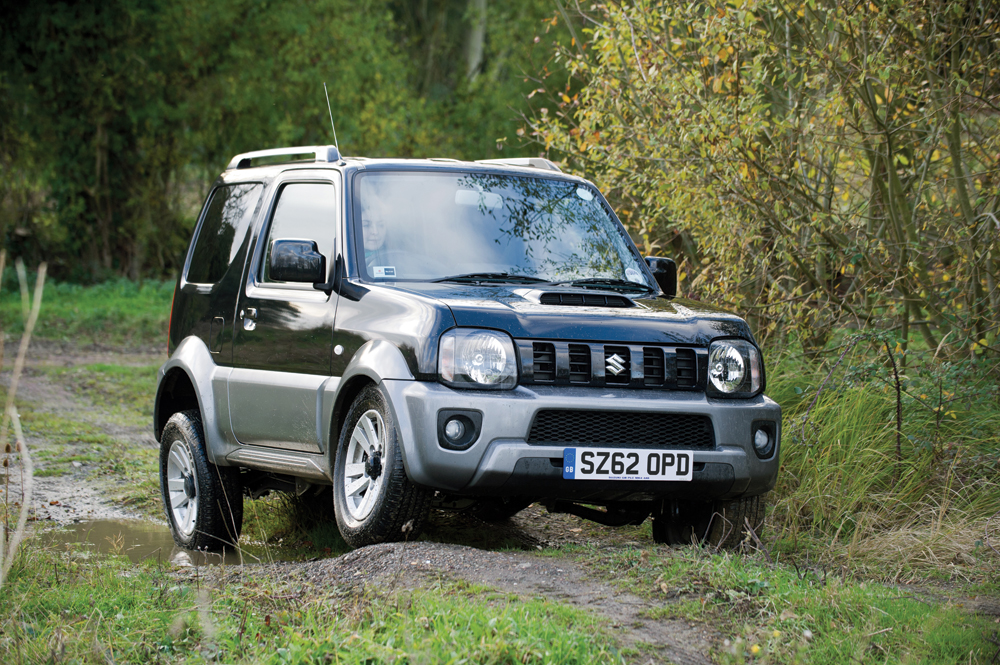 Ultimately it was the on-road behaviour that struck us as being more questionable, since the need to keep the engine on the boil, especially in hilly areas, resulted in lots of gear-shifting which led us to advise buyers to consider the four-speed automatic which would be a little less stressful to drive even though it meant higher fuel consumption.
The situation improved with the facelift of 2005, which included the installation of the twin-cam VVT engine. Though torque still peaks at a rather high 4100rpm, the variable valve timing spreads the useful torque band, making for more relaxed highway cruising as well as more effective low-speed off-road control.
The Jimny works as a cheeky city car, but its practicality is limited. The rear seats are fairly minimal and a squeeze to get into, so it'll seat four at a pinch with very little cargo space behind them – think of it as an economical two-seater shopping car. An older one even makes good sense as a high-fun and surprisingly competent little off-roader, and it's worth noting that there are suspension upgrades available to improve the ground clearance.
Our verdicts
Amused as we were at our first sight of the Jimny, we were quick to recognise its true values – albeit with a touch of sarcasm. The report of our first drive in the new car, which appeared in the December 1998 edition, said: "What couldn't a Jimny do? Take the family for a two-week touring holiday in Europe, spend all day on motorways and take the Two Fat Ladies anywhere? No – but for just about anything else the new little Suzuki 4×4 is the answer. The Jimny is small, light and agile, a really useful and practical off-road vehicle." Suzuki's slogan for the Jimny was "Smart in the city, tough in nature", and we agreed that it was a practical city car, easy on fuel, easy to park and easy to thread through busy traffic. If there was a downside it was the less-than-perfect ride quality, a natural consequence of the light weight and short wheelbase.
The first Jimny we had on test was a JLX with automatic transmission, arriving in time for inclusion in our 4×4 Of The Year comparison for 1999, featured in the February issue of that year. We wrote: "It's like a tough, bulky Tonka toy but manages to look cute at the same time. The design is modern yet retains a classic air about it. The Jimny is full of contradictions, but one thing Suzuki is sure about is that it's on to a winner."
Even so, we felt the Jimny's appeal would be limited: "Just as real men don't eat quiche, it's doubtful whether they'd want to be seen behind the wheel of a Jimny… it's a little town runabout for the women in their lives."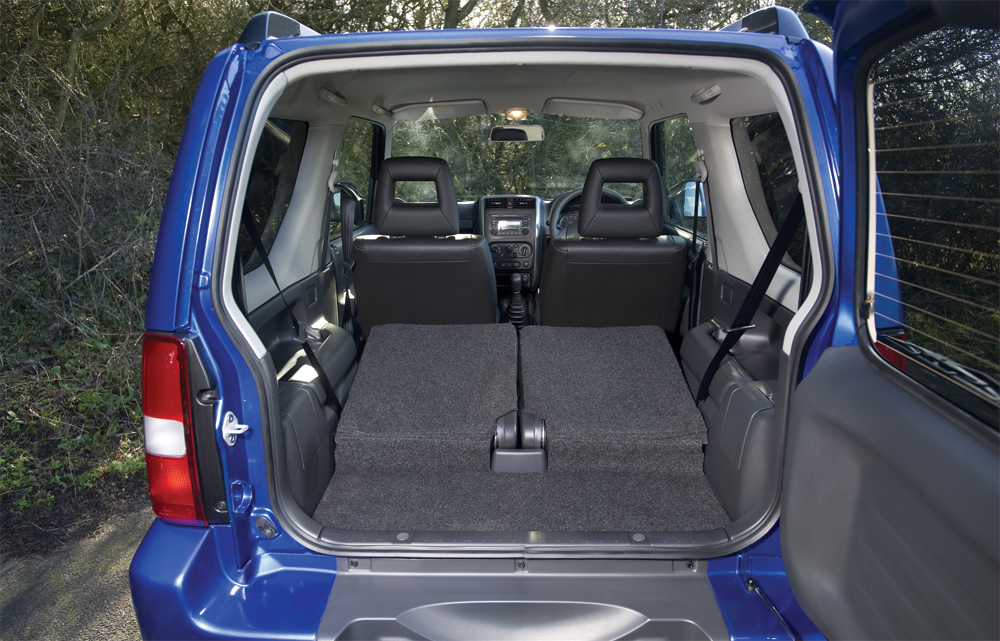 We were more instantly excited by the soft-top that appeared during 2000. Our road test featured in the September issue gave it a four-star (out of five) rating: "It's a super little car – it would have been five stars had the Jimny been a little more of a rough-and-tumble off-roader because it would be a cracking machine to tackle some summer rock crawling – never mind, it still looks good on the beach, or at least cruising the promenade." It was rather ironic in view of our reticence over the Jimny's off-road abilities that in the same issue we featured a JLX that had been given the Scorpion Racing treatment with five-inch longer coil springs, shocks and taller tyres to match.
One of the problems with a car that doesn't change much with the years is that we have little reason to feature it in subsequent issues, other than as a comparison for other cars of its type – and there just aren't many others that match the Jimny's specifications. In November 2000 we tested the Jimny against a Daihatsu Terios, the Terios winning on account of being a more practical five-door family estate. However, with passing time we'd come to consider the Jimny as such a worthy little gem that we featured a reprise road test in our October 2008 issue as a tenth anniversary salute – there was nothing new about the Jimny, but we wondered how it would continue as a part of the Suzuki range in which it had just been sidelined by the SX4 4Grip and a revamped Grand Vitara. We commented: "The Jimny's heritage should be given more credence, so it's a shame that a more up-to-date version isn't imminent. You can't beat the Jimny's value for money as a capable off-roader – you wouldn't want to rely on it for long motorway trips or as a luggage carrier, but it will make you smile."
Which one to buy
The cult-level popularity of this charming roadster appears to have ensured good retained value; although it's possible to buy an early high-mileage example for as little as £500, we've seen plenty of 2000 and 2001 JLXs asking well over £1000, including a 1999 automatic with 85,000 miles on it with a £2195 price tag on it at Wyke Motors of Huddersfield, seeming a tad expensive in spite of its metallic blue paint job and the year's MOT; call them on 01274 670555 if you reckon it's worth it. All versions of the Jimny have good equipment, the 'base' and most common model being the JLX, which has electric windows, electric door mirrors, central locking and a stereo. Several special editions appeared at various times, look out for a Mode which has leather upholstery, we saw a neat red 2003 example with 97,000 miles and a long MOT going for a mere £1495 at Budget Cars (07974 996559). The JLX+ has alloy wheels and heated door mirrors, fog lamps and headlamp levelling, we spotted a clean blue 2006 model with 89,000 miles on it, good tyres and a full service history going for £3295 at Aston Davenport of Telford (01952 256688). Mileage and condition are only part of the equation when pricing a VVT-engined Jimny; we've seen 2005-2008 cars going for anything from £3000 to £8000, presumably whatever the dealer believes he can get for it. If you are paying top money for one make sure it does have a full service history and low mileage, and be prepared to shop around if you think the seller's being unreasonably optimistic about the car's worth, especially since we spotted a 2011 SZ3 with just 22,000 miles on it being offered for £8000 by Arnold Clerk of Stoke on Trent (01782 580757), a one-owner car with the balance of its original warranty still covering it.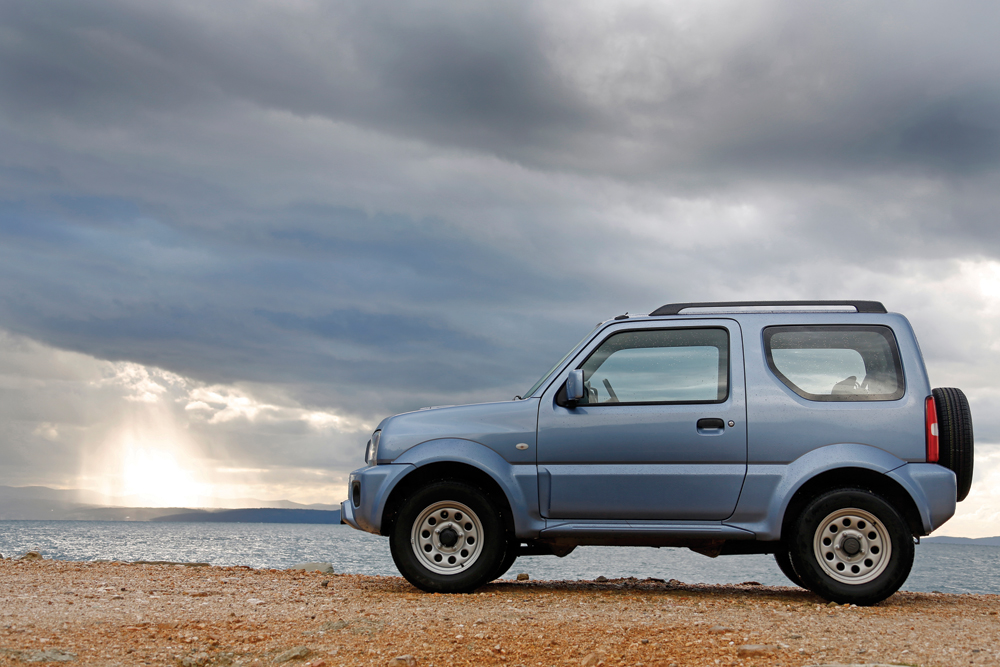 Our own favourite version of the Jimny is the soft-top which was only available from 2000 to 2005, its special desirability and rarity value ensuring that many will be overpriced; even so, it may be worth paying a little over the top for a good one, especially if it's one of the O2 special editions. Just check that the folding roof is in good condition and that the folding mechanism still works smoothly before handing over the money. We spied a 2002 model going for a heady £3995, but it did have only 27,000 miles on it along with full service history and long MOT, call Carz of Taunton (07831 187518). Meanwhile A5 Car Sales – on the A5 between the M1 and M40 – had a 2004 O2 convertible priced at just £2995, but it had covered 126,000 miles. Otherwise it's still in excellent shape, call them on 01327 811110 for more details.
When the badging changed the SZ3 largely reflected the equipment of the JLX with a few minor upgrades, while the SZ4 includes part-leather upholstery and air conditioning. If you're after something at this mini-luxury level it's worth looking out for nearly-new deals, such as the 2013 SZ4 automatic with just 15 miles on it being offered for £12,999 by Heathrow Suzuki (01784 229366), over £1000 below the new-car list price.
ENGINE DRIVETRAIN CHASSIS BODY AND INTERIOR
The 1.3-litre petrol engines have belt-driven camshafts that need to be changed at around 80,000 miles, so check when buying a car near or over that mileage to see if the replacement has been done, if not argue £200-£300 off the asking price. These engines also work hard in this application, which can be reflected in excessive wear to the cylinders and the valve train, so make sure the exhaust blows clean and that there are no untoward rattles and clanks under the bonnet. Worn thermostats and failed water pumps can lead to overheating so on a test drive make sure the engine runs cool, in severe cases the overheating can lead to head gasket failure, check for "mayonnaise" under the oil filler cap and make sure the engine runs smoothly and sweetly. Misfiring or erratic running can also be caused by a faulty crank sensor, while erratic intake and exhaust sensors can result in lumpy idling and poor accelerator response. This generally results from the engine running rich which can usually be confirmed by excessive soot deposits in the exhaust tailpipe.
Automatic gearboxes are generally trouble-free but it's always important to ensure that changes are smooth and that kick down response is good – if changes take too long or the engine is allowed to rev excessively during shifts or before the box kicks down, move on to another car. Manual transmissions will have seen much use just keeping the engine on the boil in general driving, but it is generally a strong enough box to take that punishment; just make sure that change quality is slick and that the synchromesh works smoothly in all gears. Listen for any whining or rumbling noises that might indicate excessive wear and check underneath for signs of oil leaks – or signs that oil leaks have been stopped up with mastics or fillers.
One common problem to watch for is wheel wobble, a vibration through the steering wheel at around 45-50mph rather like the effect of an unbalanced wheel. The cause could be something a bit more elusive, for instance worn kingpins, failing CV joints or disintegrating wheel bearings, all quite common problems. Check that there's no oil leaking from the ends of the axles, another sign that seals or swivel bearings are failing.
On manuals make sure the clutch engages progressively and strongly, listening particularly for any squealing indicating that the release bearing is excessively worn. Reject any car that shows any sign of clutch slip or excessive pedal travel. Check that the four-wheel drive system engages properly – if it doesn't, the cause could be nothing more than a cracked vacuum hose, easy enough to repair, but freewheeling hubs can seize if the car has been driven frequently through muddy water. 
The main thing to look for underneath is damage from excessive off-roading exuberance. The chassis is a tough framework and is not particularly susceptible to corrosion, but it's worth checking on older cars in case there's been some perforation or excessive rusting around joints and mountings. The heat shield around the rear silencer tends to corrode and loosen, listen for rattles or a buzzing sound indicating that it needs attention. Clonks and rattles can be the result of worn suspension bushes, which can also lead to vague steering, while excessively worn dampers can cause excessive body roll and vague cornering behaviour. Check that the power steering works smoothly, including on full lock, without excessive groaning, clonking or shuddering, replacing a failed pump could be expensive. Check that brake discs haven't been excessively scored by off-road grit.
The Jimny's interior is quite remarkably stylish for what might outwardly seem to be a simple car – much smarter and better-finished than the original Vitara, for instance, with good quality plastics on the dash and door facings that are less likely to pick up scuffs and scratches. Upholstery materials are also hardwearing, so even on an older car that hasn't been thoroughly abused there should be little sign of wear and tear. Even so, check for attempts to repair torn seams on leather-upholstered seats and satisfy yourself that the driver's seat hasn't sagged to an uncomfortable degree.
Carpeting can suffer from staining or scuffing from water or grit tramped in on off-road outings, a problem often hidden under accessory carpets or mats. Such wear won't matter in an older car you're buying purely for off-road use, but can help you to argue down the price. Because it is a rather low-riding car check the sills for off-road scuff damage that may have been hidden under filler or aftermarket paint. Otherwise the body should be in good shape as many panels are galvanised, but it's worth checking under the bonnet to see if trapped off-roading muck has set corrosion going on any less protected panels.
Or you could consider…
Mitsubishi Pinin
Fiat Panda 4x4
Daihatsu Terios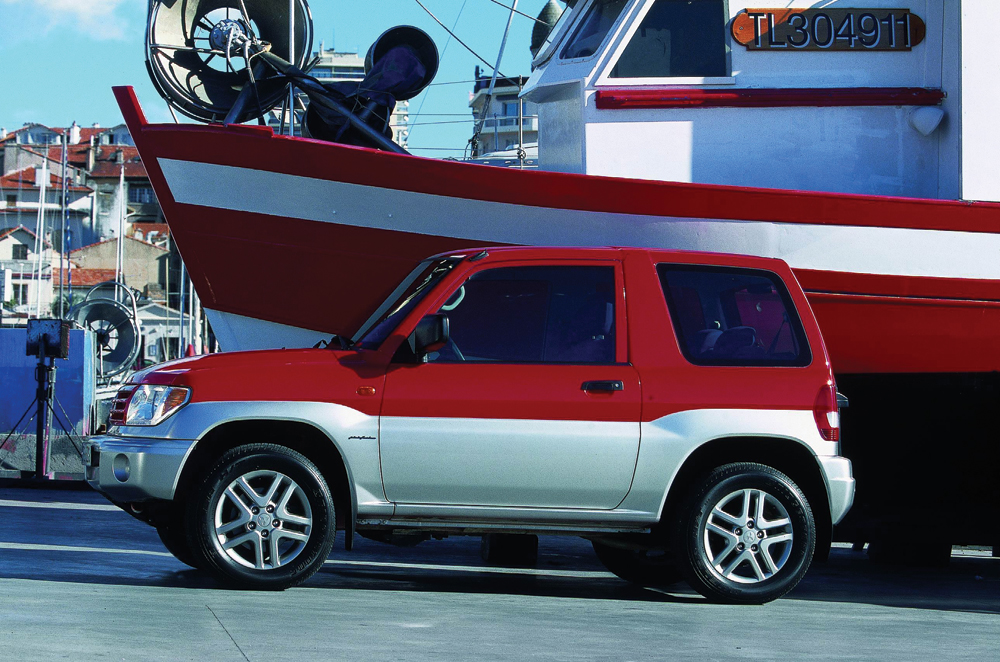 In its three-door form probably the only real rival to the Jimny as a true mini-off-roader, since it has mini-Shogun credentials with its low range gearing and super-select four-wheel drive system – which includes a locking rear differential – not to mention gutsier torque from its 1.8-litre engine. The Pinin never achieved the same cult following as the Jimny and disappeared from UK salesrooms in 2006, though it lives on in other countries as the Pajero Mini with a 659cc engine, not recommended for serious off-roading; nevertheless there are many used examples available from British dealers, expect to pay £1000 for an early 2000-2001 model to £5000 for a top-specification 2006 Elegance, and since most were bought for use as stylish city cars it's more than likely you'll find one that's never been off the tarmac. The Pinin is also available as a more practical five-door estate, which outclasses the Jimny as a useful all-rounder.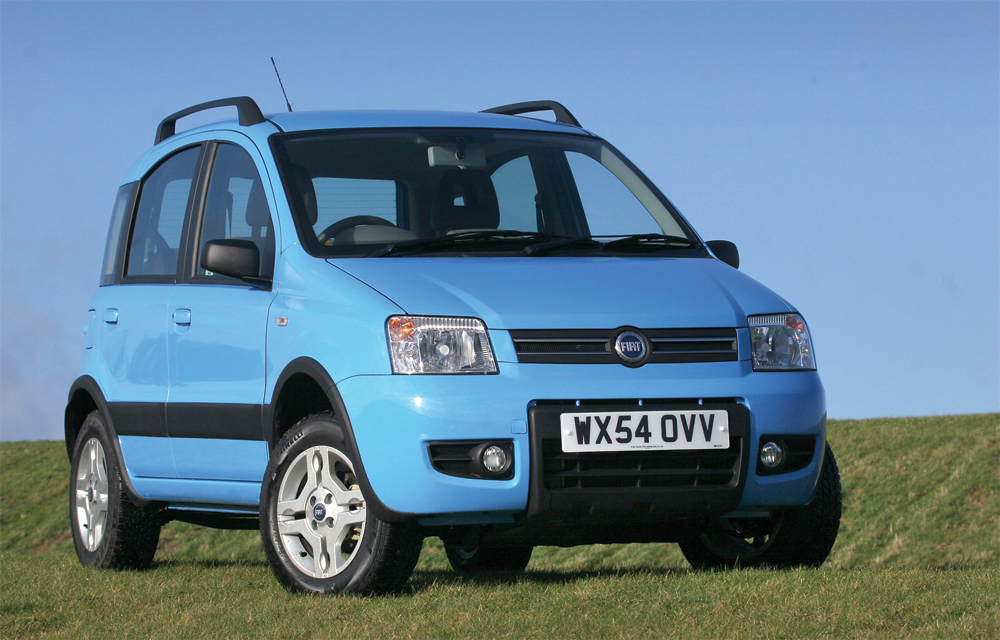 The previous generation of the Panda 4×4 may just have been too wacky to appeal to the masses, with the unfortunate result that the latest model is just another pretty little city car. If you're after something to play with off-road it will have to be an earlier model, which at least kind of looks the part although the low ground clearance and lack of low range gearing will limit the extent of your off-roading adventurousness. The Panda makes sense as a town car with occasional off-road capability, but even then it isn't quite as practical as other compact hatches, particularly in the limited rear seat-fold feature. The two-wheel drive Panda sold quite well – hence the large numbers of them available second-hand – but the 4×4 version was never that popular so you'll have to search for one; values are pretentiously high, so expect to pay £3000-£5000 for a 2003-2005 example.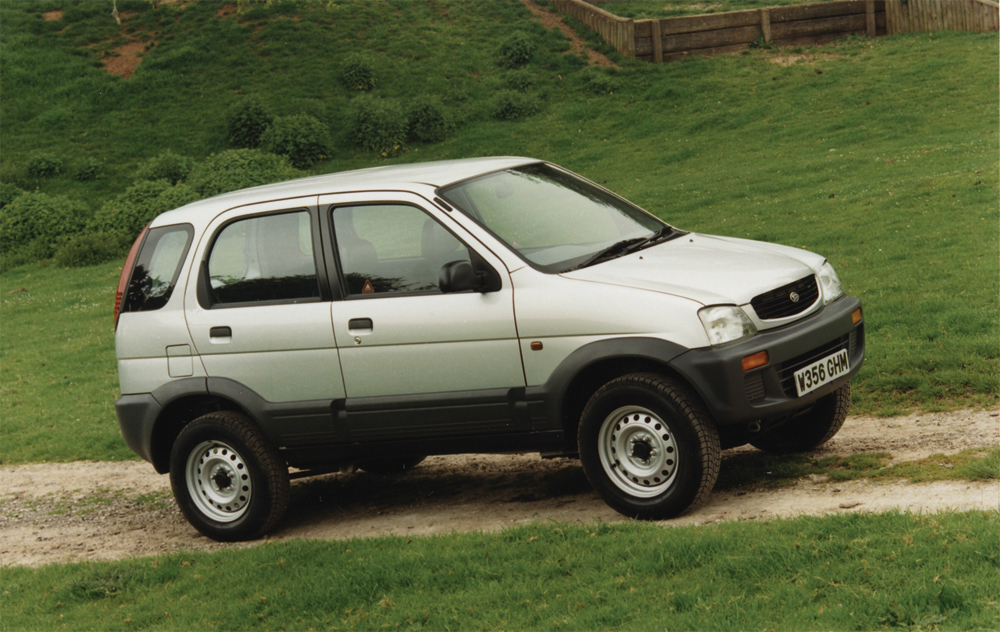 By no means a hard-core off-roader, but the original Terios never ceased to surprise us with its ability to cope with rough trails and muddy tracks. The latest version of the diminutive Daihatsu is a little too blandly styled to excite, and though the original didn't have an awful lot of chunky off-road appeal about it either, the styling is at least oddball enough to stand out from the crowd. It's a tall, narrow town car, features that make the interior seem airy even though there's not much elbow room and make it a doddle to thread through city traffic, so it does make sense as a small family car with occasional off-road capability. Expect to pay at least £1000 for an early example in good condition, we've seen several dating from 1998 and 1999, some with less than 50,000 miles, up to £3000 for a run-out Tracker of 2006 with under 50,000 miles on it.