The Grand Vitara may have given way to a smarter, smoother newcomer, but the veteran Suzuki still has value as a family car with true off-road ability
TARGET RANGE:  £3,000 – £20,000
Just as the Grand Vitara seamlessly replaced the original Vitara in 1998, a new Vitara has arrived to replace the Grand Vitara. The new Vitara is safer and much more efficient than the Grand Vitara, but it's also considerably smaller, so while anyone wishing to buy a modern compact SUV might consider a new Vitara as an alternative to, say, a Nissan Juke or a Vauxhall Mokka, there's still good reason why an adventurous family might prefer the more spacious – not to mention more off-road-capable – Grand Vitara. The original Grand Vitara was not the most refined of vehicles, but succeeded because it met its design brief as a logical step up for the young-at-heart enthusiasts who had so enjoyed the boy-racer Vitara and needed to move up into a more practical family car, yet one that offered similarly competent off-road capability. The rough edges were honed away for the all-new car for the 2005 model year, which brought the Suzuki more in line with key rivals with improved style, much better refinement and a more comfortable, capacious interior, though it retained the dual-personality approach of having a racier-styled three-door alternative to the more mainstream five-door estate, neatly appealing to younger buyers as well as family users. The new model did away with the separate ladder-frame chassis, opting instead for a lighter unitary body with integral underfloor reinforcement. This made it stiffer, combining with the all-independent suspension to give it a more comfortable and refined quality of ride, while losing none of its off-road ability. Safety features were also improved, all models incorporating side and curtain airbags as well as airbags for driver and passenger.
The engine choice was interesting in view of the moderate 1600cc capacity of the new Vitara; the 2005 model featured a 1600cc 16-valve petrol engine in the three-door, though with only 105bhp compared with the 118bhp of the modern Vitara engine. Fortunately the heavier five-door was equipped with a 2.0-litre petrol engine, developing an adequate 126bhp, and this could be chosen with a five-speed manual or a four-speed automatic. All versions had four-wheel drive, a more advanced system than the simple selectable arrangement in the old Vitara. It is a permanent system in that drive is normally directed to the rear wheels – it's an oddball arrangement in an era when most compact cars have transverse-mounted engines driving the front wheels – while a torque-sensing limited slip centre differential adds drive to the front wheels if a rear wheel loses traction. Oddly, although the three-door is styled for fun and adventure, a petrol-engined version isn't the best choice as an off-road funster because it doesn't have low-range gearing. Turbodiesel versions have the same drive train as the five-door which does have low range, with a dash-mounted turnwheel that allows the centre diff to be locked and low range to be selected.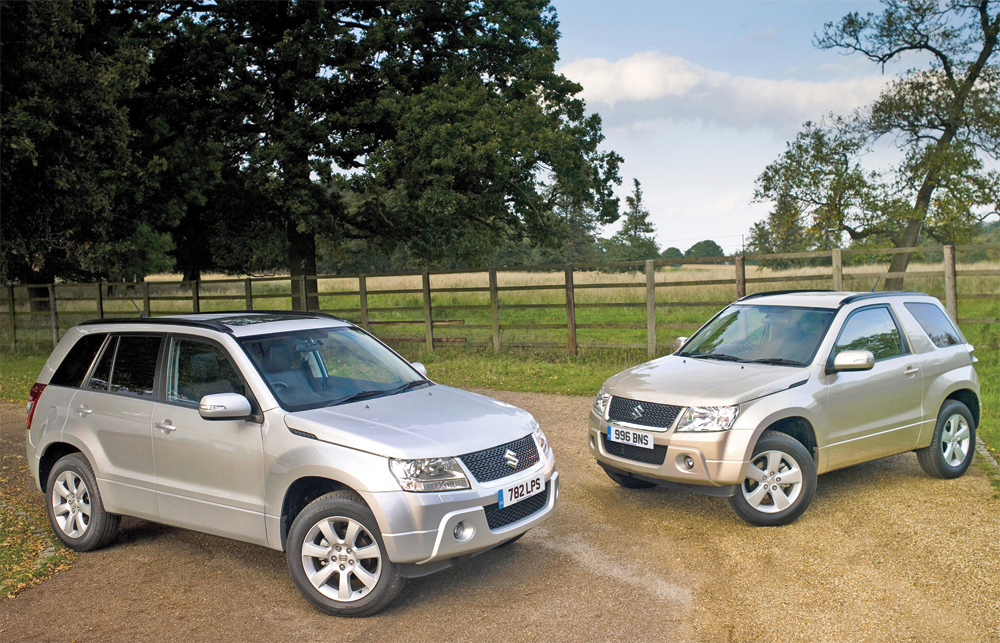 The DDiS turbodiesel became available in the five-door for the 2006 model year; this was a Renault-sourced common-rail unit with similar power to the 2.0-litre petrol engine, but more low-rev torque. The three-door gained turbodiesel power from 2007.
The first major upgrade was during 2009 when the turbodiesel engine was worked over to improve its efficiency, returning a claimed 41.5mpg in the five-door, compared with the 36.7mpg of the original, and CO2 emissions of 179g/km rather than the original engine's 205g/km. At the same time the 2.0-litre petrol engine was replaced by a more powerful and smoother-revving 2.4-litre unit, which had its refinement enhanced by a balancer shaft. An Electronic Stability Programme was also introduced to all versions.
This was followed by a 'facelift' during 2010 which proved to be more of a nip and tuck to the rear – the advertising blurb referred to the latest models having a cleaner and more sophisticated bodyline at the rear giving the Grand Vitara a more urban look together with a 200mm reduction in overall length.' What it actually meant was that they'd removed the tailgate-mounted spare – resulting in the 200mm reduction in length – and replaced it with 'a tyre repair sealant and inflationary device.' Obviously buyers looking at a car of this age will need to balance the lack of a spare against the possibility of buying an older car with a proper spare.
Perhaps the oddest development of all was the reinstatement of a 'proper' spare wheel for the facelift for 2013 – a temporary-use tyre on a steel wheel, not much use as a replacement for a mud terrain tyre damaged on an off-roading outing. This final upgrade, aimed obviously at improving the car's image to ensure continued popularity before the model went out of production, saw new front and rear bumpers and a slightly revised interior with new seat trims and a more sophisticated infotainment system.
Our verdicts
We were somewhat ambivalent about the new Grand Vitara on our first encounter. In our December 2005 issue our debut report on the car praised the tidier, sleeker styling and smarter, more comfortable interior but bemoaned the mediocre performance from the lacklustre engines. It may, even 10 years ago, have been an emissions thing but the lustier 155-horse 2.5 V6 wasn't officially imported to the UK. We said of the seemingly advanced VVT (variable valve timing) 1.6 16v engine in the 3-door: 'Although initially free-revving and lending a nippiness to what is a daily runabout, it feels more like a 1200cc, with the 105bhp struggling to peak at 5900rpm, and the lowly 107lb ft of torque reflected in a harsh tone through the revs.' We were no more excited by the 2.0-litre engine in the 5-door: 'Thankfully this has more refined acoustics, but propelling the extra weight of the 5-door it feels noticeably underpowered and, shown an incline, labours to find all its 138 horses.' Horses for courses, as ever, since we had no complaint about the fuel consumption, better than 30mpg in both cases, and we also liked the five-speed manual gearbox: 'A saving grace is the remarkably positive feel of the gearshift that helps unlock what little strength both engines might be hiding, unlike the optional four-speed automatic on the 2.0-litre which jumps between ratios in a demented fashion.'
We mostly liked the interior: 'The improvement in quality is pronounced, with a sharper, more youthful design highlighted by graphite-effect plastic trim on the centre console, around the three-dial instrument readout and on the door pulls. The shiny rectangular chrome bezel around the gear lever is singularly out of place, but the driving position is easy to get on with, with good knee clearance and plenty of pedal space.' Ultimately it came down to money: 'Suzuki's key element has to be its pricing, but with established rivals like the Toyota Rav4 and the Korean surge of cars like the Kia Sportage, it isn't going to be easy.'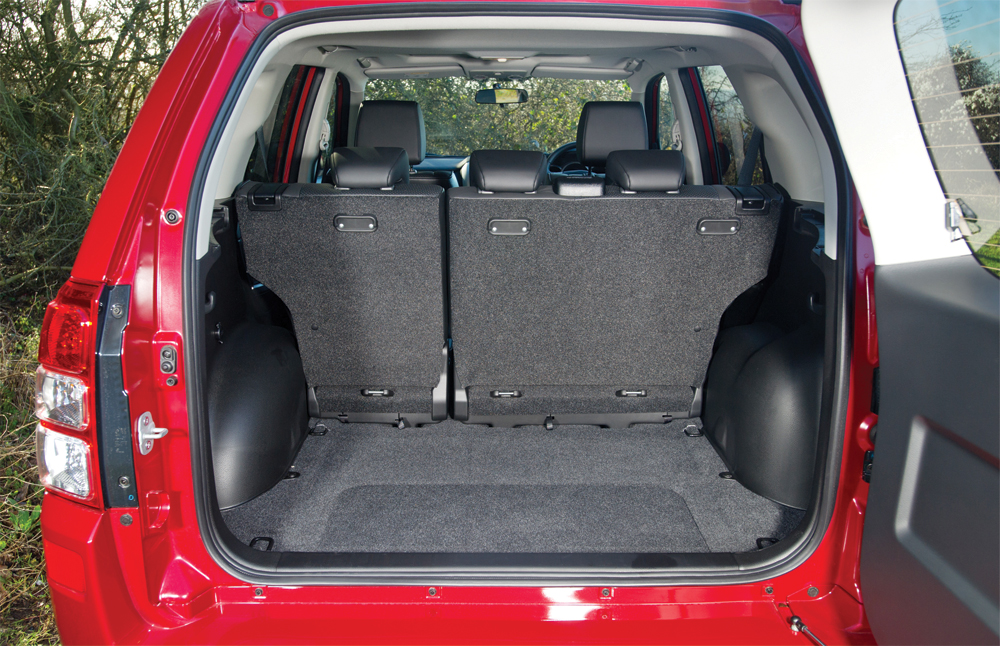 It was only natural, then, that we should put that comment to the test. When we eventually got our hands on a UK specification car, which coincided with the arrival of the DDiS turbodiesel engine, we pitted it in a three-way shootout with the RAV4 in XT5 2.2 D-4D form and a Sportage 2.0 CRD XE. And we were right to suggest it wouldn't be an easy match for the Suzuki. Bearing in mind that the Toyota was over £8000 more expensive than either of the others, our verdict said: 'The RAV4 is a great on-roader, but the price lets it down. The Grand Vitara doesn't offer quite the value for money you'd expect at around £17,000. After many years in limbo it's a shame how downmarket the new Suzuki feels. Top honours have to go to the Kia. It has the least power and the least desirable badge of our trio, but all-round performance is good, and practicality is unchallenged.'
We'd still rate the Grand Vitara as being underpowered and less refined than its class rivals, but that doesn't mean we dislike the car. In one area it proved its worth as a reasonably priced but competent alternative – off-road. In our January 2008 issue we reported on a Welsh off-road adventure with a turbodiesel three-door. We wrote: 'It was apparent that a potential weak spot is the large plastic front and rear bumpers. It would be so easy to catch one of these on an obstacle and cause some expensive cosmetic damage. On the upside, the air intake for the engine is at the top of the grille, meaning that water would have to be very deep to cause mechanical damage. Ground clearance looked limited but there was nothing vulnerable hanging down. With the Suzuki in low box we tackled the rutted green lane.
'Ground clearance was a limiting factor, requiring a careful choice of line especially through Land Rover-sized ruts where it would have been easy to become high-centred. Other than this, the Grand Vitara impressed on a tricky route on standard road tyres. Low range first gear allowed snail's pace driving around rocks and ruts without kangarooing. It was a practical test proving that if you want an economical diesel country car with more off-road capability than some of its rivals, the Grand Vitara is definitely one to consider."
Which one to buy
The original range was limited with the 1.6 16v three-door, from a pricing point of view, being the entry-level model, but like the 2.0 16v five-door it had impressive convenience and comfort equipment including remote central locking, electric windows, a stereo with steering wheel-mounted controls and climate control air conditioning. The '+' version has alloy wheels, heated door mirrors and driving lamps. The automatic, originally available only with the 2.0-litre petrol engine, added around £1500 to the purchase price. Though priced at a budget level to begin with, even the base Grand Vitaras have held their value well, so you could still be paying £2000 for a good-condition but high-mileage 10-year old example, more like £3000 for anything with under 100,000 on the clock; a rare find was the red 55,000-mile 1.6 SE 3-door, MOT to September, a bargain at £2650, priced to clear at Trade Sales of Bristol (07789 003322). Hut Green Garage of Eggborough (01977 661055) had a 2006 2.0-litre five-door, 89,000 miles but a well-maintained one-owner car with stainless steel bull bar on offer at £2990.
A high-specification model, the X-EC, joined the range for 2008, boasting cruise control, unique Azure Grey Pearl metallic paint with silver roof rails, 10-spoke 17-inch alloys, silver bonnet trim and black side mouldings. The Alcantara upholstery and leather-trimmed steering wheel added a touch of opulence, as did the enhanced satnav and the electric sunroof. Dubizzel of Wembley (07716 181816) were offering a pristine 2009 example, a well maintained 26,000-miler  – a real one lady owner car – for £8495, MOT to Feb 2016 and a three-month warranty.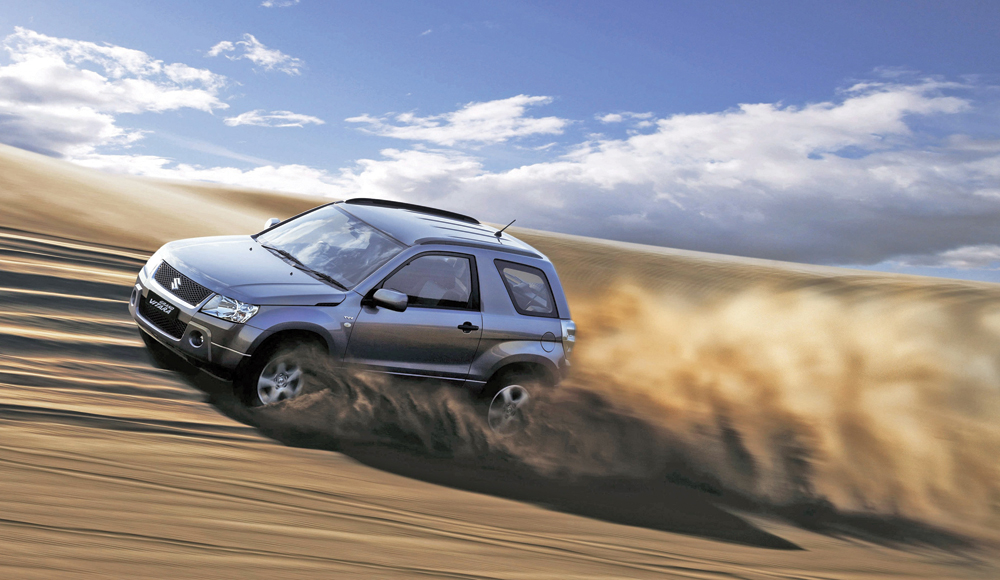 The range expanded with SZ3 as the lower-end trim, though this did include an enhanced stereo with speed-sensitive volume control; expect to pay around £6000 for a clean reasonable-mileage 2009 or 2010 3-door. The SZ4 and range-topping SZ5 have 18-inch alloys, front driving lamps, an in-dash 6-disc autochanger and heated leather seats. Farrell of Glasgow (01418 914999) were offering a metallic grey 2010 SZ4 with the 1.9 DDiS engine and 45,000 miles for £8700, a car in excellent condition with metallic paint and tow bar, full dealer history, a year's MOT and six month's warranty. The SZ5 also has cruise control, high-end stereo, electric sunroof and keyless start and used prices will be keen to match; Arnold Clark of Bishopbriggs (01413 059411) were offering a silver one-owner car on a 61 plate and 31,000 miles at a sale price of £11,500.
Look out for the limited edition SZ-T, based on the five-door 1.9DDiS but with a different design of 18-inch alloys, contrasting seat fabric, bonnet side vents and turn signal lamps built into the door mirrors. Significantly, this has a tailgate-mounted spare, along with the cruise control and keyless start features. Only 500 were made so they'll be rare second-hand, London Road Car Sales of Romford (01708 320310) had a black metallic 2012 example with 34,000 miles, in mint condition with a year's MOT and 6 months' warranty for £12,499.
Naturally the DDiS versions will be the most desirable if economy is important, but the 2.4 petrol version does add almost sporty driving excitement to the Grand Vitara SUV equation, pay £6000 for an early 2009 SZ4 five-door, £11,000 for a low-mileage 2012 3-door.
With dealers keen to shift the last remaining stocks of Grand Vitara to make way for the new Vitara, look out for good deals on nearly new cars, in particular pre-registered cars that haven't yet sold. There aren't that many around, but dealers are knocking around £1500 off the list price on some examples. Sturgess of Leicester (01164 161032) were offering a 2.4 SZ5 5-door, with just 25 miles on it, for £20,000 (list price £21,570), Heathrow Suzuki (01784 335969) were offering a three-door 1.6 SZ3, a pre-registered car but new with just 20 miles on it, for £14,499, again nearly £1500 off the list price, Norton Way of Letchworth (01462 754424) had a DDiS SZ5 with 50 miles at £20,495 against the new list price of £23,875.
ENGINE DRIVETRAIN CHASSIS BODY AND INTERIOR
One advantage of an engine that isn't tuned for performance is that long-term reliability is enhanced, so there aren't many common failures on any of the Grand Vitara power plants, though it's worth checking for leaks or squeaks from the water pump, particularly on the turbodiesel, because a seized pump can strip the timing belt and cause serious damage. On the diesels it's worth changing the water pump along with the regular timing belt change just to be sure. With newer diesels fitted with diesel particulate filters make sure the engine revs freely and pulls strongly, a clogged filter can be ridiculously expensive to replace.
There don't appear to be any common faults with either the manual or automatic transmissions, so it's a matter of general checks such as making sure the manual selects gears smoothly, any crunching suggests wear to the synchromesh – particularly on cars that have been used for towing, where the mild engine performance might have required many a snatched downshift under load. The clutch might also have taken a beating on a car used for towing – the Grand Vitara is rated to pull up to two tonnes, which is quite a lot for a small-engined compact – so check the clutch takes up progressively and there isn't excessive pedal movement. Automatics tend to hunt between gears to cope with the mild power output of the petrol engine, but the changes shouldn't be jerky or accompanied by significant clonking or shunting from the propshafts.
Check the brakes for excessive scoring of the discs, which might indicate that the car's been used off-road – not necessarily a bad thing since it's designed for the purpose, but there might be other damage to sills and bumpers that may have been disguised under filler and paint. The rear brakes on the 1.6 are drums, it's worth checking the condition of the shoes which may be well worn on an older car – an MOT will confirm that the handbrake works, but it won't tell you if the linings are down to their last useful millimetre. Reject a car that knocks or rattles when running over potholes, it could just be worn bushes but replacing ball joints can be expensive.
Some of the interior plastics were still of a cheap 'n cheerful nature, so may show more than average evidence of wear and tear – check for signs that scuffs and scratches have been disguised by colour polish. If you're going for one of the 2010-on models lacking a spare wheel make sure that the sealant and inflation kit is still intact – the previous owner might have used it and forgotten to replace it. On an earlier car with a tailgate-mounted spare, make sure the door opens and closes cleanly and hasn't sagged on its hinges. Check that all electrical items work properly.
Or you could consider…
Kia Sportage
Subaru Forester
Ssangyong Korando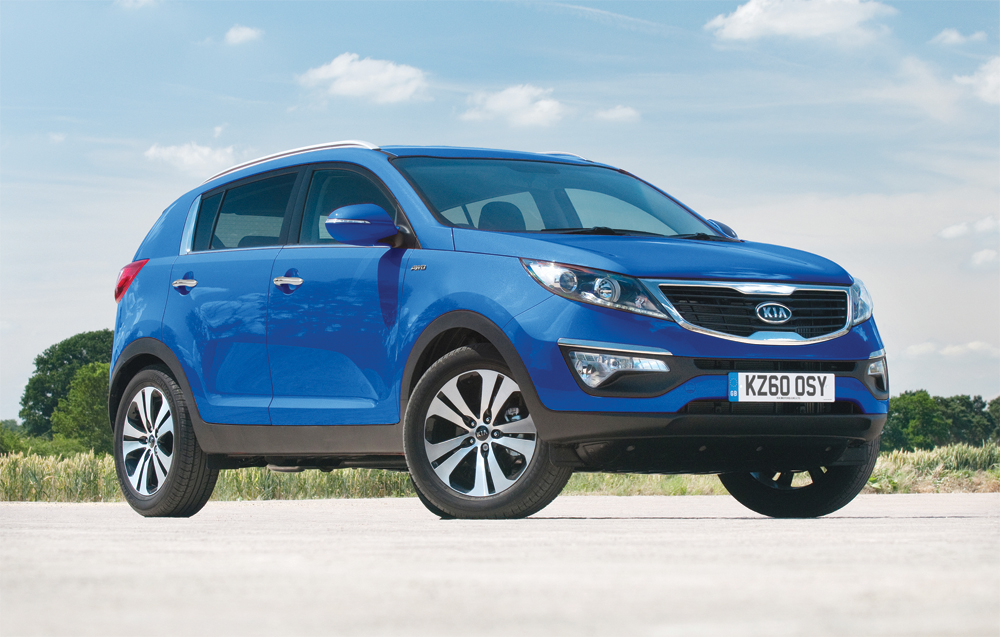 Even in its earlier guise the Sportage is worth considering, because it offered excellent value for money with good equipment and a comfortable five-seater interior, not to mention the seven-year warranty that should still apply to nearly new used examples. It's more practical than the Grand Vitara in having a clever 'fold and dive' arrangement that has the rear seats folding down to floor level, a failing in the Suzuki where the rear seats don't fold all the way. Pricing of second-hand examples is roughly at the same level as the Suzuki, a reflection of the Kia's growing reputation for reliability. The revised model from 2010 is more stylish in an urban SUV way, also bigger and with more powerful and refined engines. Not as competent off-road as the Grand Vitara since it lacks low range gearing.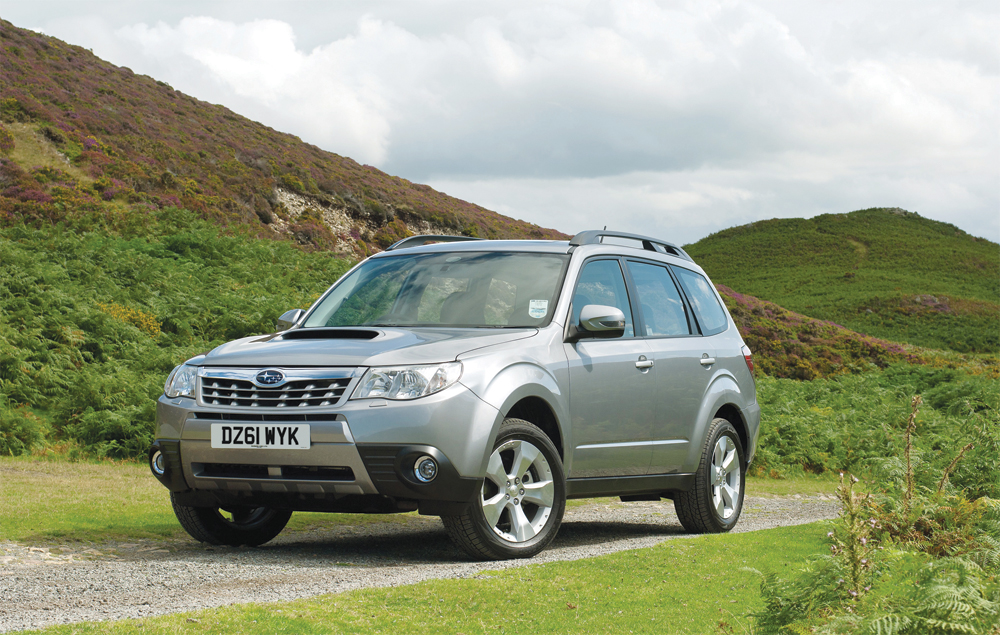 On the basis that anyone considering a Grand Vitara isn't necessarily looking for something with cutting-edge modern styling, may we suggest a Forester as a conservatively styled but much more practical alternative? With its boxer engines even without bags of power the Forester is also a good car to drive; refinement, build quality and interior appointments outclass the Suzuki even in the earlier generations. The new model for 2008 included a lusty boxer diesel engine, but reliability isn't as good as it should be so we'd recommend sticking with the tried and trusted petrol units. The Subaru is also very competent in off-road conditions, with particularly comfortable ride quality over rough surfaces. You might have to pay a bit more than you would for a Grand Vitara, but it could be worth it.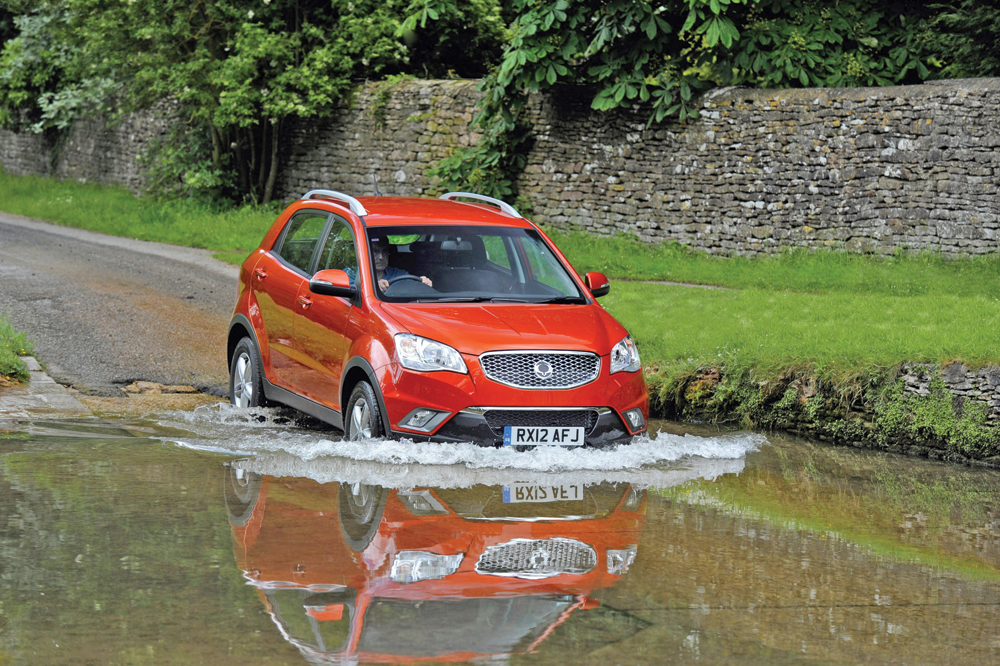 Perhaps unfair to include this as an option for anyone looking for a budget-priced older car to use as an off-road plaything, because it's only been around for five years, lacks low-range gearing and you'll need at least £10,000 to get into an early example. However, while it can't match the Suzuki as an off-roader the Giugiaro-designed five-door estate makes a stylish, comfortable, economical and good-performing road-biased family SUV; another positive point is the 250,000-mile warranty, something for the high-mileage user to take into account if considering a nearly-new car. Don't just jump into the first one you see in your price range, because most will be two-wheel drive versions, so do make sure you're getting one of the rarer 4x4s. Go for a post-2012 example with the revised more efficient 2.0-litre turbodiesel.