Once upon a time the reason for buying a RAV4 was to bring a grin to your face. The current model is a much more serious affair, but more spacious, refined and efficient with it. Which version you want depends on your mood
TARGET RANGE:  £500 – £29,000
In 20 years the Toyota RAV4 has developed from a playful motor show concept fun car to a mainstream mid-range SUV. So complete is the transformation that it's hard to see how the current model can justify retaining the Recreational Activity Vehicle nomenclature – indeed the last generation RAV4 was badged Vanguard in Japan. RAV4 is a title that suited the original car very well, because considering Toyota's generally very conservative approach to styling the original was remarkably funky, patently aimed at rivalling the staggeringly successful Suzuki Vitara as a high-fun runabout for the young at heart who liked the idea of a four-wheel drive but didn't need it to be a serious hard-core off-roader or a practical family estate. The RAV4 is slightly larger than the Vitara, with a more comfortable interior, more power from its 130bhp 2.0-litre twin-cam petrol engine and more ride comfort from its all-independent suspension; it raised eyebrows in off-roading circles because the body is of monocoque construction, rare for an off-roader at the time, and while four-wheel drive is permanent there is no low-range gearing. Nevertheless it has enough off-road ability to satisfy anyone who wants to leave the tarmac to access a picnic spot, and the recreational intention is highlighted in the cabriolet version.
It soon became obvious that the RAV4's appeal outstretched the capabilities of a two-door funster, resulting in the launch of a five-door version, which may have lost some of the funkiness but added enough practicality to start Toyota's new compact SUV on a rollercoaster ride to the big league.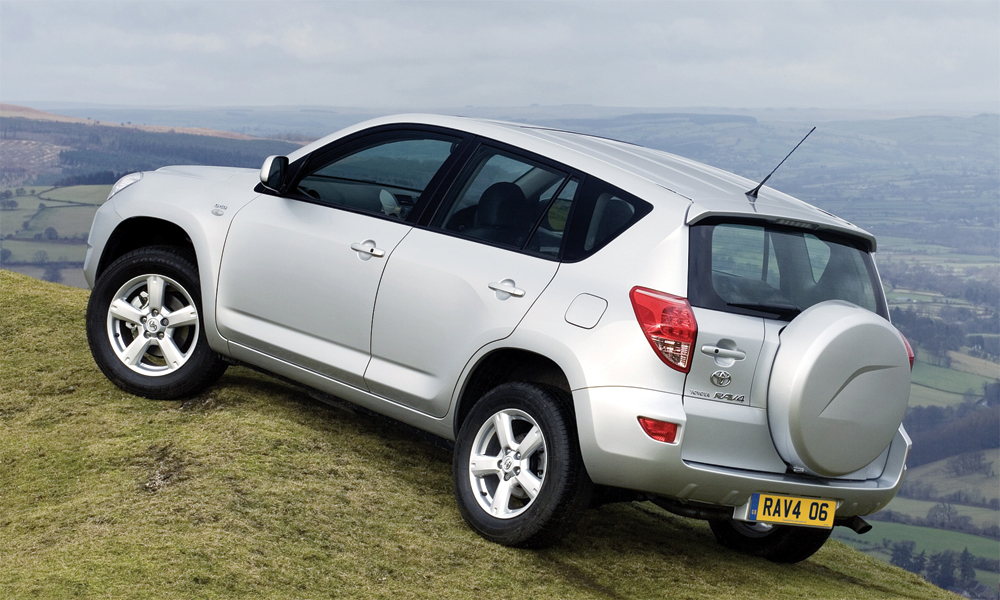 The first major change of direction came for the 2000 model year with an all-new and slightly more conservatively styled range. Any off-road appeal the original may have had is also reduced, with a lower ride height, tauter suspension and more powerful engines aimed at better tarmac performance and handling. There's also a more distinctive styling difference between the three-door, which is all about youthful roadster appeal, and the five-door, which has much more of an air of the serious family estate. The five-door has added practicality in the way the rear seats can be easily removed to increase luggage space. The 2.0-litre petrol engine delivers 148bhp, but from September 2001 there was also a D-4D turbodiesel offering nearly 40mpg economy.
By 2006 the RAV4 had shrugged off its frivolous origins, the all-new model for that year taking on a refined mainstream family estate persona, longer, wider and taller than its predecessor with more power and a new auto-engaging four-wheel drive system. Choose between a 156bhp 2.0-litre petrol or smooth new 2.2-litre D-4D turbodiesel engine, which could be specified in 138bhp or 174bhp form. The transformation from funster to family estate was complete, and although a three-door variant was available it was offered almost exclusively in the UK as a practical five-door. By this time the RAV4 was competing against some serious rivals, including the Land Rover Freelander and the Honda CR-V, so naturally the levels of equipment and technology are a match with features like six-speed manual or CVT automatic transmission, electronic stability controls, traction controls and hill start assist included in the specification.
The constant drive for efficiency meant an engine upgrade including a new Optimal Drive 2.2-litre turbodiesel combining a hefty 148bhp with frugal 48.7mpg and reduced CO2 emissions. The petrol engine was switched for the revised Valvematic type with 156 horsepower.
A facelift for 2010 improved aerodynamic efficiency with a new grille and headlamp design while the quality of interior materials and equipment was also enhanced. Note that this generation also included two-wheel drive derivatives, and some variants, such as the T180, have no spare wheel, opting instead for run-flat tyres or temporary repair systems, hence the lack of a door-mounted spare.
The all-new fourth generation RAV4 of 2013 further blurs the line between crossover and full-sized SUV. It's roomier than its predecessor with easy-fold rear seats and a capacious boot, a wider engine choice and excellent equipment in the top-specification Invincible. With a 20-year history to look back on, your choice of which RAV4 to buy depends on how much you admire the funky styling of the original compared with the improved driveability and practicality of the newer generations.
Our verdicts
We naturally approached the original RAV4 with some scepticism. At a time when we still weren't really sure about the role of the Suzuki Vitara – it seemed too much of a low-riding boy racers' street rod to appeal as a proper off-roader – the cheeky new Toyota with its monocoque body, lack of low range and its all-independent suspension struck us as being too much of a compromise to please anyone; it was too sluggish to be a sports car, not hard enough to be a full-on off-roader and not practical enough to serve as an everyday family estate. The buying public didn't seem to mind, so we compromised our own opinion. Typical was this comment from one of our team: "It's a clever concept, a lifestyle off-roader worth considering. It isn't for everyone, but it is a soft roader with a useful edge on the black stuff, stylish transport for those who don't need a full-on full-sized 4×4."  We were even grudgingly appreciative of its off-road ability, noting the effectiveness of the auto-locking centre differential and the Torsen-type limited slip rear axle differential.
We were a bit more upbeat about the second generation RAV4 for 2000, perhaps having become a bit more accustomed to the growing trend for road-only SUVs. We said of the new model: "Still recognisable as Toyota's off-road funster, the new RAV4 has been unashamedly tweaked to give it better on-road performance and handling and more high-street posing appeal. The striking new body styles bring the RAV4 right up to date." Noting that the base 1.8-litre engine is only available in 2-wheel drive variants, we skipped quickly to the punchier 2.0-litre unit: "This engine gets closer to GTi-type performance with a 10-second 0-60mph time and a 115mph top speed, the efficiency of the variable valve timing engine returning excellent fuel consumption of 32.1mpg." That seemed excellent at the time…
We did, however, conclude that the RAV4 was a superbly refined car, but with very little rugged off-road appeal. That trend continued, along with an inexorable increase in pricing. Our first report on the new model for 2006 commented that not only did the Rav4 come only in five-door form: "…but with prices from £18,995 to £26,995 the cost is sizeable too, but in a sector now awash with Korean pretenders Toyota sees the RAV4 as a rival to the BMW X3. Build quality is up to the BMW's standards, better in places, while space is excellent for both occupants and luggage." We were less impressed with the car's dynamic abilities. Of the 2.0 VVT-i we commented: "The RAV4 feels like a big front-drive MPV. The handling is stodgy and it will understeer excessively when pushed, despite impressive levels of grip. With low ground clearance, moderate wheel travel and conservative approach and departure angles the RAV4 is no great off-roader either, disappointing in a car that arguably defined this sector."
Our own view hasn't prevented the driving populace at large from taking to the RAV4 in large enough numbers to rank it as one of the most popular SUVs, in spite of the relatively high price – at least the equipment specification of high-end versions make the price seem easier to swallow, not to mention a tendency to hold its value well second-hand.
The mutation from funster to family car has reached its conclusion with the new generation introduced in 2013. Of our first driving experience our correspondent wrote: "The RAV4 has morphed into an aggressive-looking sharp-cookie that disappointingly blends all too well with the rest of the 19-strong mid-size crossover SUV pack." That's not to deny the quality and practicality of the latest model, which is also faster and more poised on the road than the earlier models, attributes that combined so well with the smart auto transmission and improved ride quality to earn the latest RAV4 a highly recommended accolade in our latest 4×4 of the Year contest.
Which one to buy
The original RAV4 has classic value, and even though you shouldn't have to pay much more than £500 for one in good condition some dealers are asking close to £2000 for high-specification examples with well over 100,000 miles. The range included base, EX, mid-range GX and range-topping VX trim levels, but here were also special editions worth looking for including Edge, Freesport, Heat, Reebok and Giant. One of the more attractive deals we saw was for a red three-door GS from 1996 with just 70,000 miles on it with an MOT and full Toyota service history going for £525 at Huzaifa Cars (07815 945949). The first RAV4 was funky, but with £1500 to spend we'd rather look at one of the neater, better performing second-generation which has less classic value but is a more engaging car to drive. These were originally badged NV, NRG, GX and VX, this changing from 2004 to XT2, XT3 and XT4 trim levels. Even the base model has air conditioning and electric front windows, mid-range includes electric sunroof and alloy wheels, high-end models include a CD auto-changer and leather upholstery. For £1500 you will be looking at a relatively low-specification version, but be aware that the base 1.8-litre NV was two-wheel drive. Keenest offer we spotted was the 2000 NRG 3-door, silver with air conditioning, 16-inch alloys and one-touch electric windows for £1500 at VTG Vehicle Supermarket of Nuneaton (01163 664066). Expect to pay £2000-£3000 for a high-mileage run-out 2.2 D-4D XT3, £3500 for a leather-upholstered XT4.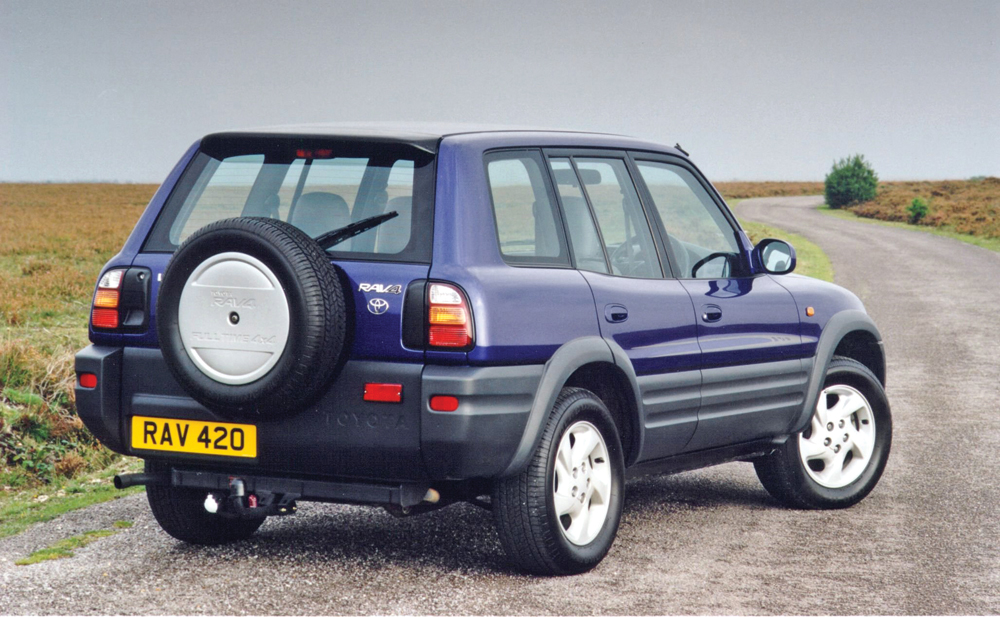 For family users most interest will focus on the third generation from 2006, featuring better performance, economy and safety features through the range. Badging ranged from a base LE through XT3 and XT4 to XT5, but with T180, XT-R and SR180 offering extra value equipment levels. The XT3 and XT4 were the most popular and therefore most numerous second-hand, you'll pay £4000 for a reasonable mileage early example, more like £5000 for a well-maintained one with low mileage. Note that the T180 has no spare wheel, check that the one you buy has a get-you-home or tyre repair kit. We spotted a smart green 2006 model with a long MOT and 84,000 miles going for £4995 at SW Trailers (07999 511732), full leather interior, electrically adjustable driver's seat and privacy glass.
The XT-R from 2008 is one to look for, the specification including electric sunroof, privacy glass, dual zone climate control, plus Bluetooth connectivity, cruise control, parking sensors and 17-inch alloys. Park Road Garage of Bedford (01234 843272) was offering a 95,000 mile example for £6490, silver with a full Toyota service history and a long MOT. Alternatively the sports-themed SR-180 with the higher-performance 2.2 D-4D engine has18-inch alloys, extended wheelarches, run-flat tyres and dark-tinted headlamps, Rycote Motor Company, Oxfordshire (01844 279000) had a smart grey 2009 model with electric sunroof, 99,000 miles but with a full service history on offer at £7990.
Naturally facelifted models for the 2010 model year are more desirable, these had the more efficient Optimal Drive turbodiesel and Valvematic petrol engines. The high-specification XT-R was also available in Style and Premium Nav form. There's a good selection of all of these around, Cargiant (08444 824110) were asking £11,000 for an XT-R in Decuma Grey with leather upholstery and a CD multichanger. Pay up to £17,000 for a run-out example of 2013, though this should be a pristine low-mileage example, like the silver 2.2 D-4D at Motorpoint of Peterborough (01733 737096) priced at £16,999 with 7000 miles, equipment including rain sensing wipers, auto headlamps, dual-zone air conditioning and Alcantare leather upholstery.
Meanwhile there's already a good selection of nearly-new examples of the current model on offer at Toyota dealerships around the country, some offering remarkable savings over the new list price – for example Oakmere Toyota were offering a top-specification Invincible 2.2 D in mahogany metallic with 3000 miles on it for £24,450, comparing well with the £28,500 showroom price on a new example.
ENGINE DRIVETRAIN CHASSIS BODY AND INTERIOR
Petrol engines on early models need a cam belt change every 60,000 miles, so be wary when buying anything with 120,000 miles showing, check if the work has been done and if you're not sure argue £250 or so off the price to allow for the cost of replacement. Check the state of radiator hoses, split hoses aren't uncommon and a sudden loss of water can lead to overheating and a failed head gasket. Even on later models with the VVT-i or Valvematic engines check for signs of leakage from the water pump, which can also lead to sudden overheating; even if there are no signs of leaks, listen for squeaks or shrieks from the pump pulley indicating bearing wear. With the VVT-i and Valvematic engines listen for rattles or clicking sounds that could indicate problems with the high-tech valve train. Check that the engine runs sweetly and all dashboard indicator lamps go out after start-up, exhaust sensor failures are not unknown leading to erratic running. The turbodiesels are generally reliable but water pump failures can lead to head gasket failure, so check for water leaks, also check for oil leaks around the timing chain cover. The D-4D consumes a lot of oil, check the level before you buy and also frequently thereafter. Clogged diesel particulate filters can cause problems on later models, excessive fuelling during the burn-off phase can lead to excessive engine wear.
Transmissions are generally trouble free, reject any manual with a notchy or baulky shift quality. The clutch action should be lights and progressive, if it's snatchy or there's too much pedal movement pick another car. Any juddering or shuddering from the clutch could point to impending failure of the dual-mass flywheel. The CVT transmission takes some getting used to, check on a test drive that it doesn't seem to allow the engine to over rev too much. Wheel bearing failure is not unknown, listen for a distant drumming or groaning noise, if you're not sure jack the car up and check that there's no excess sideways play on any of the wheels. Check for kerbing damage on the alloy wheels, not only from an aesthetic viewpoint but also to be aware that tracking might have been put out, leading to excess tyre wear.
Rust isn't unknown on the floorpans of early examples, or on bodywork under the plastic cladding panels. Don't buy an older car unless it has an MOT. Few RAV4s will have been used off-road, but it's worth having a look underneath to see it there have been attempts to hide sill damage under filler and paint. Make sure the car rides stably and doesn't wobble about too much in corners, suggesting excessive wear to the springs and dampers; anti-roll bar bushes can wear leading to similar cornering sloppiness. Steering column joints and track rod ends can wear leading to a vagueness in the steering, though knocking or clicking noises can also indicate worn CV joints. Check that the car brakes smoothly, especially on later models, where discs are known to warp after heavy braking and may need to be replaced.
Corrosion shouldn't be a serious problem on later models. One aspect to check on the third generation car is that the tailgate operates smoothly and hasn't sagged from the weight of the spare wheel. Note that the rear door on cars with door-mounted spares won't open fully; a checkstrap prevents the door opening far enough for the spare wheel to obscure the taillights. Many owners removed the checkstrap or replaced it with the one from the T180, which does not have a rear-mounted spare. Some will even have changed the entire door for one without a spare carrier, if so check that there's a tyre repair kit, or if the car was specified with run-flat tyres check that such tyres are still fitted. Electrical problems aren't unknown, so check that all electrical items, such as electric windows, stereo and, on premium models, the satnav, work properly.
Or you could consider…
Suzuki Grand Vitara
Kia Sportage
Nissan Qashqai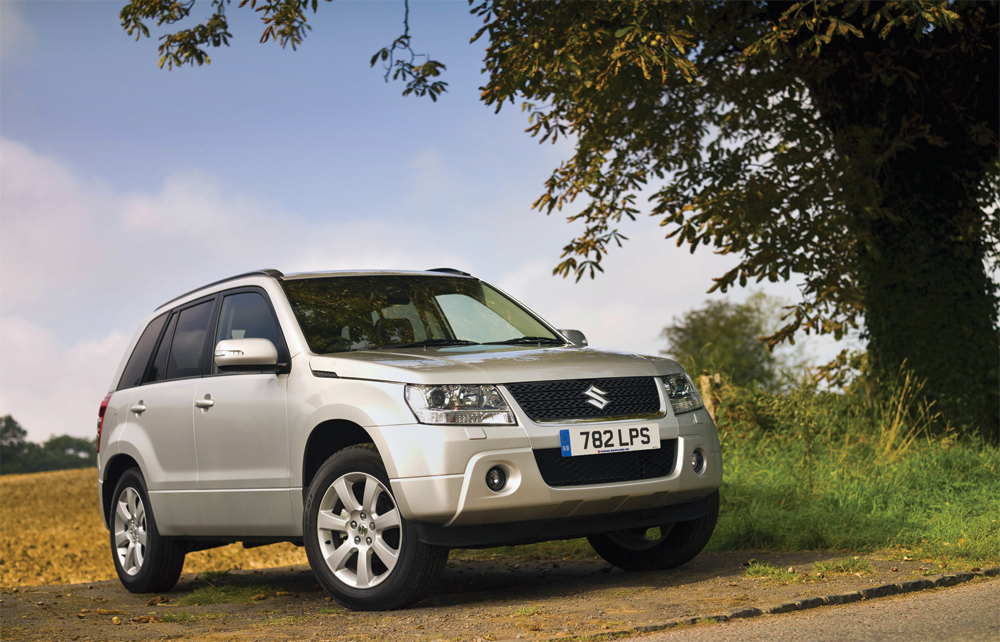 Suzuki was quick to follow Toyota's lead as the RAV4 developed into a family estate, launching the Grand Vitara in 1998 as a comfortable and road-friendly expanded derivative of the original Vitara. The Grand Vitara may be a little more compact than the RAV4 but it has an edge in off-road ability by sporting a dual range transfer gearbox, marking it as a better bet than a Toyota if you intend to do some off-road adventuring – the short-wheelbase version is ideal for that role. Engine options in the early five-door version include a 2.0-litre Peugeot diesel, a 2.0-litre petrol four or a lively 2.5-litre petrol V6. If you need more space the XL-7 offers seven-seater versatility. The new model from 2005 offers better ride from its all-independent suspension and more refinement from smoother and more efficient engines. Expect to pay around £7000 for an average-mileage 1.9DDiS from 2009.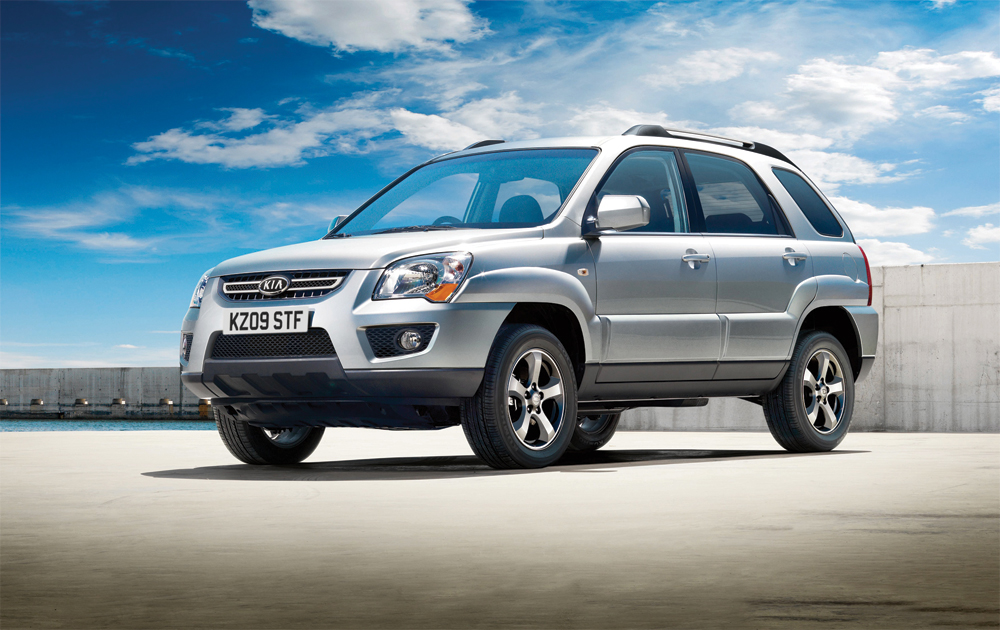 Originally something of a rough-edged budget plaything, the Sportage has grown into a serious competitor for the likes of the RAV4 with its smooth and powerful petrol and diesel engines, all-independent suspension and good-value equipment specifications. Even the rather dumpy-looking 2005 model is worth considering as a reliable low-cost family runabout, since the interior is well-appointed, comfortable and practical, and a high-specification run-out 2010 XE shouldn't cost more than £8500. The latest version launched in 2010 is a much smarter proposition all round, with striking modern looks and refined 2.0-litre common-rail turbodiesel, pay around £12,000 for a KX-2 of 2010 with part leather and a panoramic roof to £25,000 for a nearly-new 2014 top-specification KX-4 with just 400 miles on it.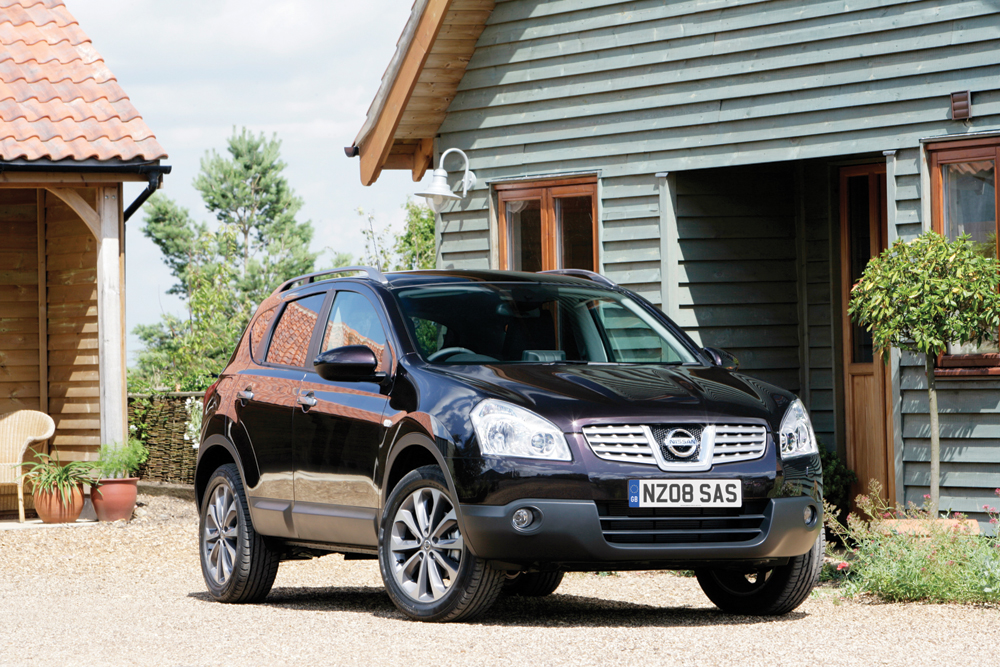 The Qashqai may well be an SUV in name only, shifting the off-road on-road crossover compromise almost entirely on to tarmac, but that's unlikely to be a concern for anyone considering a modern RAV4 either, so we can only point to the remarkable popularity of the Nissan as a reason to consider it. The styling isn't particularly striking and the interior a bit on the bland side, but equipment is good through the range and the 2.0-litre engines are smooth and responsive whether mated to manual or CVT automatic transmissions. Most buyers chose two-wheel drive versions, so make sure the one you're planning to buy does have the All-Mode 4-wheel drive system; note that from 2011 the 1.6dCi turbodiesel was made available with 4ED and stop-start technology for ultimate economy. Pay around £7000 for a four-year-old Visia or five-year-old Tekna.