When Porsche decided to enter the lucrative SUV market it didn't go half measures, even though it had to share the drivetrain with makers of more sedate vehicles. High performance versions of the Cayenne are as hot and spicy as the name suggests
TARGET RANGE:  £10,000 – £20,000
We weren't the only 4×4 enthusiasts who thought there was something faintly ridiculous about a legendary sports car manufacturer deciding to produce an SUV, and our lack of awe was hardly budged by the realisation that the Porsche crossover would be based on a Volkswagen and assembled in Bratislava. That, of course, was before we drove one.
In fairness to us, we were already familiar with the Volkswagen Touareg, which hadn't overly impressed us in spite of its build quality and opulent but rather sedate interior, it lacked off-road credibility, was a bit cumbersome to drive and we described it as looking like a bloated Passat; the only thing we liked about it was the superb V10 turbodiesel engine in the top model.
The Cayenne was different, even though from the rear the styling wasn't far off the blandness of the VW. The front had a distinct aggressive Porsche look to it, but what really counted was the feeling from behind the wheel – this was, as you'd expect from a Porsche, a driver's car with lusty performance from its 4.5-litre V8, even in non-turbo form, and crisp roadholding matched unusually to a superbly comfortable quality of ride. The Turbo was quite breathtaking, a car that in spite of its size had much of the feel of a two-seater roadster in the way it seemed to respond almost symbiotically to the thoughts of the driver.
Excited as we were about the Cayenne's on-road behaviour, we remained skeptical about Porsche's claims that the car was also an excellent off-roader, since the four-wheel drive system is similar to that used in the 911 Carrera 4 to enhance its on-road handling. It's a permanent system, with 62 per cent of the drive going to the rear wheels and 38 per cent to the front, but with an electronically controlled clutch that can add drive to the front whenever necessary. Allied to this is a stability programme that takes control of engine power and braking on individual wheels to keep the car on track even through fast corners on a slippery surface, making this a true high-speed long distance sports cruiser. Off-road the basic four-wheel drive system is as good as any other modern traction-controlled 4×4, in that it allows controlled progress over slippery or undulating ground, the only limitation being ground clearance. Even that, however, ceases to be a problem in a car with the height-adjustable air suspension, allowing it to go places where it actually needs the low range gearing.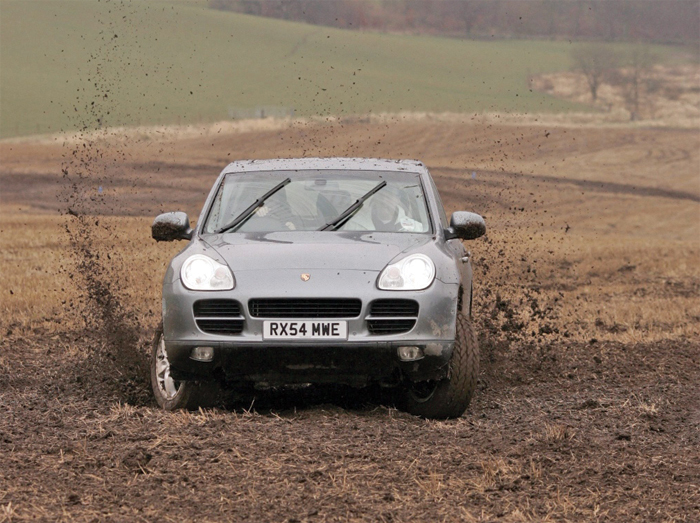 First cars into the UK had the 4.5-litre V8 engine, in normally-aspirated form producing 335bhp, enough to launch the Cayenne from 0-60mph in seven seconds, mated to a six-speed manual or automatic transmission; the Turbo upped the output to 443bhp, cut getaway acceleration to 5.4 seconds and boasted a top speed of 165mph, asking nigh on £70,000 for the privilege. For the less wealthy, Porsche introduced a 3.2-litre V6 'base' model shortly afterwards, but the racy heritage was not forgotten; during 2006 the Turbo S burst on to the scene with 520bhp from its bi-turbo 4.5 V8, followed a year later by a facelift and the introduction of the more efficient 4.8-litre V8 in the GTS.
With a completely new model due in 2010, the run-out range for 2009 included a 3.0-litre turbodiesel. With only 240bhp this was the dullest-performing Cayenne but it could return better than 30mpg if driven carefully. This proved popular enough with sensible drivers and there is a good selection of used examples available, though we – being enthusiasts – can't quite understand why anyone would want a dull-performing Porsche when for a mere £10,000 you could enjoy the full excitement of true Porsche lifestyle in a stonking 160mph Turbo. Whichever version you opt for, you'll find it a comfortable, well-equipped five-seater family estate with good luggage capacity, though the rear seat fold is a bit fiddly and an electric opening tailgate was optional. Many will have the optional metallic paint and big alloy wheels, but even without these the first-generation Cayenne still has eye-catching style and muscular road presence.
Our verdicts
The first chance we had to sample the Cayenne in earnest came when Porsche chose to launch the 3.2 V6 version on the icy roads of a wintry Finland. We wrote: "The key to driving well in these conditions is a combination of concentration and smoothness – no sudden steering or accelerative inputs, seamless gear changes and forward planning. In the Cayenne, however, there feels to be lots of grip, much of the credit for which goes to the Porsche Traction Management system. Sensors measure forward speed, lateral acceleration, steering wheel angle and the position of the accelerator pedal, and the system calculates the optimum amount of drive delivered to each axle. It works in conjunction with the Porsche Stability Management (PSM) which intervenes when the vehicle is close to its limit of adhesion, preventing the onset of oversteer or understeer." We were impressed by the Cayenne's off-road ability, first trying it on a hillclimb designed to show the Porsche Drive-Off Assistant, more sophisticated than the usual hill-hold system in that it will apply the brakes automatically on a steep hill if the driver releases the clutch after pulling away. A later ditch-crossing exercise showed off not only the efficiency of the Cayenne's traction control as it lifted wheels clear of the ground, but also the Advanced Off-road Technology Package consisting of side sill protection and a steel plate under the radiator, plus a locking rear differential and electronically demountable front and rear anti-roll bars.
Then it was on to an icy skid pan. We wrote: "With PSM activated, even a bootful of acceleration has the Cayenne obediently following its intended line, with only the occasional flash from the dashboard to show that the electronics are undertaking serious activity. The 350bhp S and 450bhp Turbo might have been more fun in this situation, but the V6 doesn't disappoint. In fact it's a thoroughly competent piece of kit."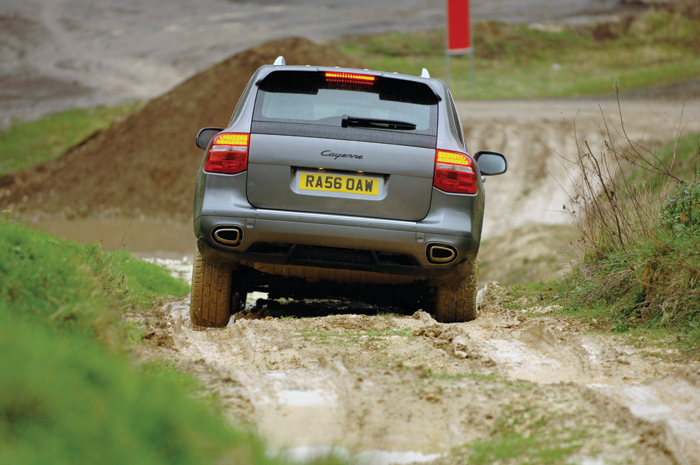 We put the Cayenne up against its key competitors in 2005. The report in the April issue of that year gave the Cayenne Turbo a clear win over its Touareg counterpart in 5-litre V10 form, the BMW X5 4.4i Sport and the Mercedes ML 500. Our verdict: "These German tourists flaunt the virtues of mechanical muscle and quality engineering, each seeking to establish itself as the master in its class. The Mercedes, even with big V8 power, is too mild-mannered to convince as a true iron-fist. In a straight duel between BMW and VW it's usually the Bavarian that delivers the winning lunge, but in this case even the big V8 BMW takes a points bashing from the mighty V10 Touareg – its engine has to be experienced to be believed. Nothing, however, can match the sheer exhilaration of a flat-out country-road drive in the Porsche Cayenne Turbo."
Porsche caught us by surprise a few years later, as recorded in our April 2009 issue. We wrote: "No spark plugs in a Porsche? Well, I'll be darned. The 2009 Cayenne is the first production Porsche to have diesel power." We quickly figured out why: "Last year 86 per cent of premium SUV sales were diesels, making the Cayenne's unleaded-only line-up sound thirsty and out of touch." We didn't mock the result. Using the same 3.0-litre V6 TDI used in the Audi Q7 and Touareg, tweaked with a variable geometry turbo, the Cayenne shows strong acceleration over a broad rev range and responds well driving through the six-speed Aisin automatic transmission. We did, however, note the fact that diesel wasn't something Porsche wanted to shout about: "Don't expect to spot any on UK roads – they're in disguise. Porsche says customers want their frugal form of propulsion kept hush-hush; the only distinguishing feature – apart from the audible rattle from the TDI engine – is the 6000rpm rev counter over the usual 8000rpm version."
Which one to buy
The choice of which Cayenne you want will depend largely on how much driving excitement you associate with the Porsche name. If you're of a frugal nature and feel uncomfortable at anything over 70mph the 3.0 TDI V6 might well be the car for you, though like drinking decaff coffee and chewing sugar-free gum you just won't know what you're missing. However, if you are on an adrenaline-free automotive diet you might like to call Brookside of Hildenborough on 01732 838866 in case they still have the metallic blue example with just 63,000 miles and complete with satnav, black leather interior, park assist, roof rails and 20-inch wheels they were offering at a reasonable £18,890 including a new MOT and 6-month comprehensive warranty.
The price of a used Cayenne will vary not only depending on the mileage, but also on the level of equipment. They all have the basis of a luxury specification including a stereo, a high-end 14-speaker Bose system in the Turbo versions, electric windows, central locking and such like, but the options list is a long one ranging from cruise control, mobile phone preparation, leather-piped floor mats, roof rails and automatic climate control at a few hundred pounds apiece to panoramic sunroof, uprated leather interiors and 20-inch wheels at over £2000 each, so if one 10-year old Cayenne seems ridiculously more expensive than another, check the spec and you'll find out why. Note that the 21-inch wheels could have cost over £4000 when new, you won't want to go off-road with them since there'll be very little flex in the low-profile tyres and you'll easily wreck the alloys. It really pays to shop around to find a car that has the specification you prefer at the price you're prepared to pay, check for that off-road package if you intend to do any mud-plugging.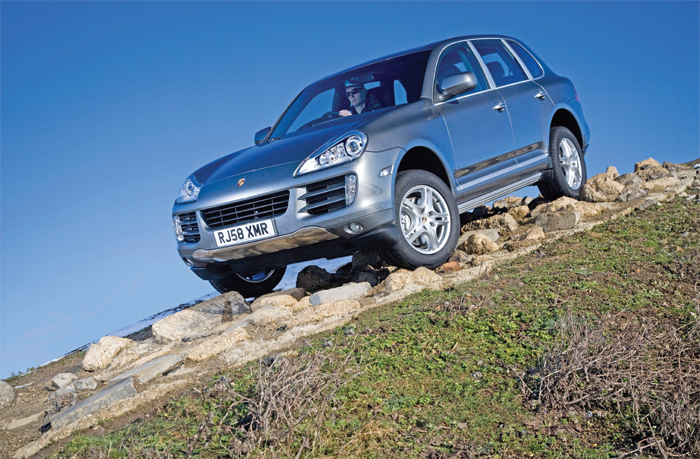 If you're a little more adventurous a 3.2 or later 3.6 V6 will provide more performance and significantly more refinement, you could pick up an early example for a little over £5000 though it will be a high-miler, closer to £18,000 for a pristine newer model, such as the 2008 Tiptronic S in black with full grey leather interior, satnav, electric tailgate, privacy glass and 20-inch Cayenne Design alloys, 65,000 miles and going for £17,450 at Saxton 4×4 of Chelmsford (01254 351234).
The least you should be looking for is a 4.5 S if you really want to boast about having a Porsche, though we'd be wary of picking up a £5000 high-miler, most will have well over 100,000 miles on them and several we've seen at that price have caveats about noisy tappets which could actually be a more serious problem like excess cylinder wear that would require a major overhaul or even a replacement engine. Better to pay from £10,000 for a well-maintained lower mileage example like the '05 automatic one-owner black 70,000-miler with recently replaced Continental tyres and new timing chain, with cruise control, 18-inch wheels, satnav and stainless steel skid plates, £10,495 at Select Cars of Harrogate (01423 202882); for £20,000 you could get into a later 4.8 V8 S, Hills of Lymington (01590 670777) had a 60,000 miler from 2009 with over £7000 worth of upgrades including the metallic paint, parking sensors, power tailgate, satnav and 20-inch alloys asking £19,990.
The same money could secure a reasonable-mileage GTS though a year older, Castle 4×4 of Castle Donington (01332 391771) were selling a stunning red one-owner example at that price with full black leather interior, 88,000 miles with a full Porsche service history and new MOT, £14,000 worth of extras including Bose sound system upgrade with rear entertainment, cruise control, power tailgate and 21-inch alloys.
If you have red blood in those veins, or at least a can of Red Bull to knock back before getting behind the wheel, it will have to be a Turbo. Little bit of a pity. The same money could secure a reasonable-mileage GTS though a year older, Castle 4×4 of Castle Donington (01332 391771) were selling a stunning red one-owner example at that price with full black leather interior, 88,000 miles with a full Porsche service history and new MOT, £14,000 worth of extras including Bose sound system upgrade with rear entertainment, cruise control, power tailgate and 21-inch alloys.
If you have red blood in those veins, or at least a can of Red Bull to knock back before getting behind the wheel, it will have to be a Turbo. Little bit of a pity that for £20,000 the later 4.8 Turbo might be out of reach unless it's a high miler, but our choice purchase would be the 4.5 Turbo S that ABC Cars of Ashton-Under-Lyne (01613 438211) had a £20,000 price tag on, a metallic blue 2006 model but with just 33,000 miles, in immaculate condition with new brakes front and rear, 20-inch alloys, satnav, sunroof, privacy glass and the Comfort Pack, forget the £500 road tax and 18mpg consumption, spur the 520bhp into five-second 0-60mph action and live the true hot 'n' spicy Porsche legend.
ENGINE DRIVETRAIN CHASSIS BODY AND INTERIOR
The Cayenne isn't the only Porsche model to suffer from ticking, clattering and rattling V8 engine problems, the main cause seems to be excessive cylinder wear or scoring blamed on a whole raft of possibilities, from overheating caused by coolant loss through cracked plastic conduits or poor shielding from the turbo, to poor lubrication from missed service attention or low-grade oils, or even claims that the high-tech aluminium-silicon cylinder material just isn't strong enough. Whatever the reason it's not a cheap one to repair, the usual remedy seems to be a replacement engine, all the more reason to insist on a full service record, avoid higher-mileage cars and listen carefully on idle for ticking noises that shouldn't be there. The turbodiesel may be the less exciting option but it's less problematic, though check for excessive exhaust smoke that could signal worn injectors.

The gearboxes are reliable enough, however it's always worth checking that a manual changes smoothly and that the clutch is progressive and doesn't require excessive pedal movement before releasing. A Tiptronic transmission should shift almost seamlessly and kick down responsively, reject any car that shudders or jerks when switching between Drive and Reverse. Paddle shifters on the steering wheel were optional on most models, if they're there, make sure they work. The main problem is the centre bearing on the propshaft carrying drive to the rear wheels, this has a habit of failing at around 80,000 miles so on a car of this age check to see if a replacement has been fitted, if not argue £1000 off the asking price because that's what a Porsche main dealer could charge to do the job.

High-performance versions will almost certainly have the air suspension, check that the car sits level and that the height adjustment function works, since compressors have been known to fail. Wheel alignment can be critical, check the front tyres for uneven wear; if the car has new tyres keep an eye on them since scrubbing to the inside of the tread could show up after 1000 miles or so. On higher-mileage cars listen for knocking noises from the front suspension, which may simply be worn bushes, but ball joints may need replacement; check that the steering is positive and has no free play. Check the state of the brake discs, pitting is quite common on early examples leading not only to excessive pad wear but to the possibility of 'grabbing' the pad resulting in erratic braking.

Build quality isn't always as good as you'd expect from a Porsche, so check that the door shut lines are as neat as they should be, that the bonnet opens and closes tidily, and that the tailgate operates snugly. It's unlikely that any Cayenne has been heavily off-roaded, but it's always worth checking the sills for signs that scratches have been hidden under paint or colour polish, and on a car with the 'off road' pack of steel skid plates, check that the steel remains scratchless and dentless as well as stainless. On the inside check the state of the leather, particularly on the rear seats, as seat belt buckles can snag the fabric when the seats fold down.
Or you could consider…
Volkswagen Touareg
BMW X5
Mercedes-Benz ML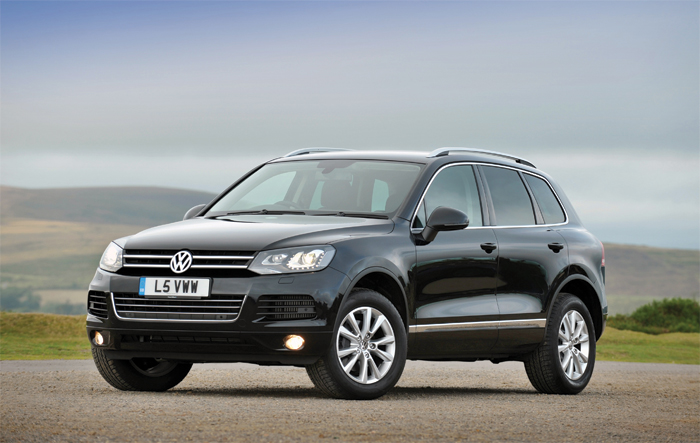 It's built on the same platform as the Cayenne, but with its soft and ultimately forgettable urban styling it's a very different type of SUV from the racy Porsche. Blisteringly quick in 4.2-litre petrol V8 form, economical with the 3.0-litre turbodiesel, the Touareg is an ideal choice for anyone who wants a prestigious car with good road manners and good towing ability, but without the 'look at me' highway presence of the more charismatic Cayenne. It's as good off-road as any other pretentious road-biased modern premium crossover. Latest models come only with turbodiesel power, even the base SE is leather-upholstered and features a fuel-saving coasting function on the eight-speed automatic. Best news is that £20,000 will get you into a reasonable-mileage 2011 model with the 240bhp 3.0 TDI, which is all you need in this luxurious Volkswagen.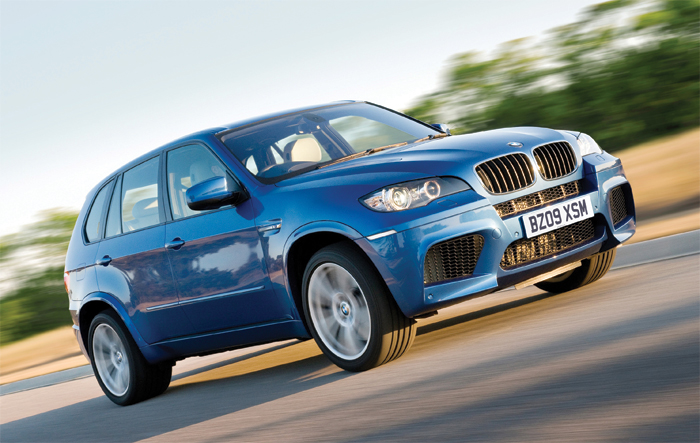 In terms of practicality there's nothing to set the BMW ahead of the Cayenne, so it may boil down to a simple matter of brand preference, with the BMW perhaps exuding a little less street cred simply because it hasn't tried to lift itself stylistically above other road-only BMW products. The X5, unless in M Sport form, isn't really the driver's car it should be, so we were only enthused by the high-performance V8 versions. The 3.0d turbodiesel is an exceptionally smooth and pleasant engine, making it the sensible choice, and the xDrive 4×4 system is adequately competent on and off the road. There is a huge selection of reasonable-mileage examples on offer second-hand, £20,000 could get you into a Porsche-baiting 4.8i M Sport with 65,000 miles on it or a milder but still luxurious and very refined 2010 30d SE; there are also seven-seater versions.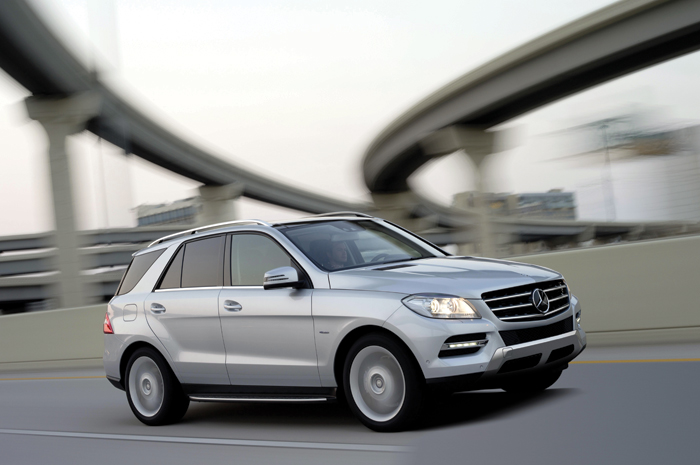 We've always considered this to be the blandest of the luxury 4x4s, but not short of performance in V8 and particularly AMG versions; even so a high-power ML can't excite the way a Cayenne does. The ML does have the advantage of being able to outperform both Cayenne and BMW off-road, so it's a better bet if you do want a car for some rough-country adventuring. It's a comfortable five or seven seater with a big boot, equipment is as luxurious as the first buyer's choice of extras makes it – shop around for one with the features you'd prefer. A sensible buy would be an ML350 CDI Blue Efficiency, £20,000 should secure a 2010 Sport with reasonable mileage, but if you're thinking of Porsche performance against Mercedes class and practicality there's quite likely to be an ML63 AMG on offer at the same price with under 80,000 miles on it, though probably a 2007 model.