The humble working five-seater pick-up continues to reinvent itself as an alternative to a mainstream SUV, with plush new models meaning prices rising in line with their luxurious trimmings – but what about the second-hand versions, is now the time to buy?
TARGET RANGE: £18,000
The pick-up war is getting fiercer. The recently released all-new Mitsubishi L200 and eagerly-awaited new Nissan Navara and Toyota Hilux promise to bring ever-greater levels of performance and refinement to these pretentious working trucks as, particularly in double cab form, they seek to join the ranks of mainstream luxury SUVs. Even the budget-priced Great Wall Steed and SsangYong Korando Sports attempt to pile on the charm with leather-lush interiors that are quite at odds with their very workmanlike mechanical underpinnings, with good-value claims centred more on the convenience comforts than on long-term maintenance costs and good fuel economy. It's interesting to note that used car dealers now commonly describe double cab pick-ups as SUVs, and quote prices that include VAT, rather than the pre-tax price normally applied to commercial vehicles. It's easy to understand the appeal of these alternative crossovers for the non-commercial user, since pick-ups have traditionally been surrounded by an aura of macho muscularity, enhanced no end by the increasingly aggressive styling, not to mention emotive model names like Barbarian, Warrior and Outlaw, and there's no question that the modern double-cab 4×4, especially when decorated by the essential chrome side steps, gleaming multispoke alloys and elegantly-styled truck tops, has every bit as much road presence as any boldly-styled SUV.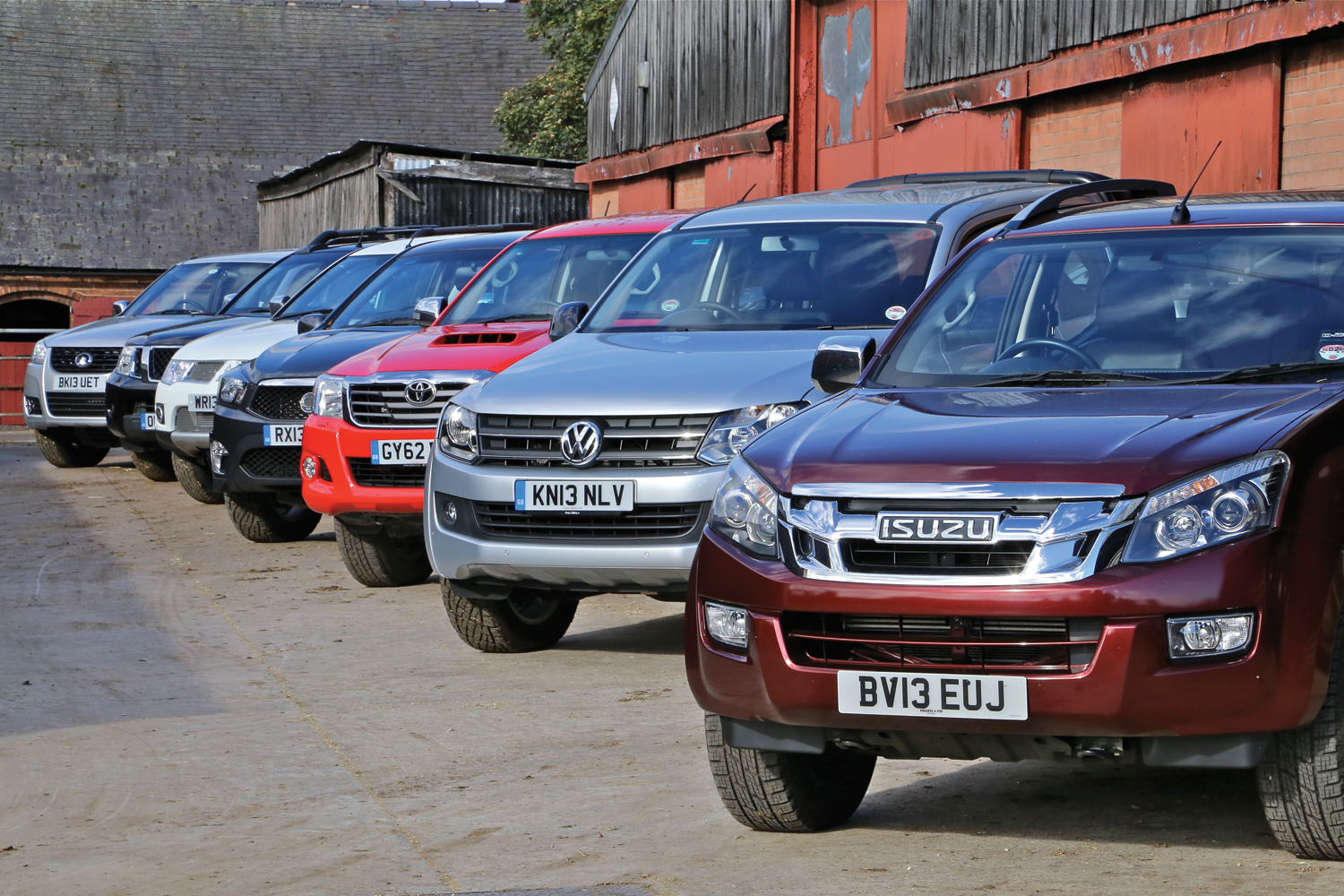 Does a pick-up really make a suitable alternative to a more conventional family 4×4 estate? The marketing men certainly seem to think so, to judge by the increasingly car-like styling of pick-up interiors (further underlined at the recent launch of the new Navara), not to mention the number of model variants available in some of the more popular ranges, with trim and equipment options based on the amount of comfort and convenience items involved rather than more commercially-oriented features like power take offs or winch mounts. There is certainly an argument that a pick-up is ideal for a family with outdoors interests, since muddy boots, wet diving equipment or damp camping gear can be safely stowed in the load bay leaving the interior clean and dry. One of the key attractions has traditionally been the more accessible pricing, though even this is now a questionable aspect since the list price of some of the range-topping modern pick-ups is right up there with the entry-level Discovery Sport, never mind premium versions of the very refined, comfortable and practical Nissan Qashqai. Glitzy trim and enhanced equipment aside, there are still practical aspects that potential purchasers need to check when considering a double cab truck. A commercial user, for instance, may need to check whether there's enough space between the wheelarches to take a full-sized pallet, that the load bed is long enough for their purposes, and that the vehicle has an adequate towing capability. Recreational users must make sure that the seating really is comfortable enough to carry the intended complement of passengers, since pick-ups with conveniently long load beds might leave rear passengers squeezed into a poorly-padded bench with little room to stretch their legs. With upwards of £30,000 to spend the ideal purchase would be a 3.0-litre Ford Ranger Wildtrak or a Volkswagen Amarok in emotive Dark Label specification, but with little more than half that to spend the choice becomes a little wider. Here's our take on the key double-cab contenders at a price that would allow a private buyer to step into a brand spanking new Great Wall Steed or SsangYong Korando Sports – or to bask in the high-image appeal of an older L200 Trojan, or the invincible reliability of a Toyota Hilux…
FORD RANGER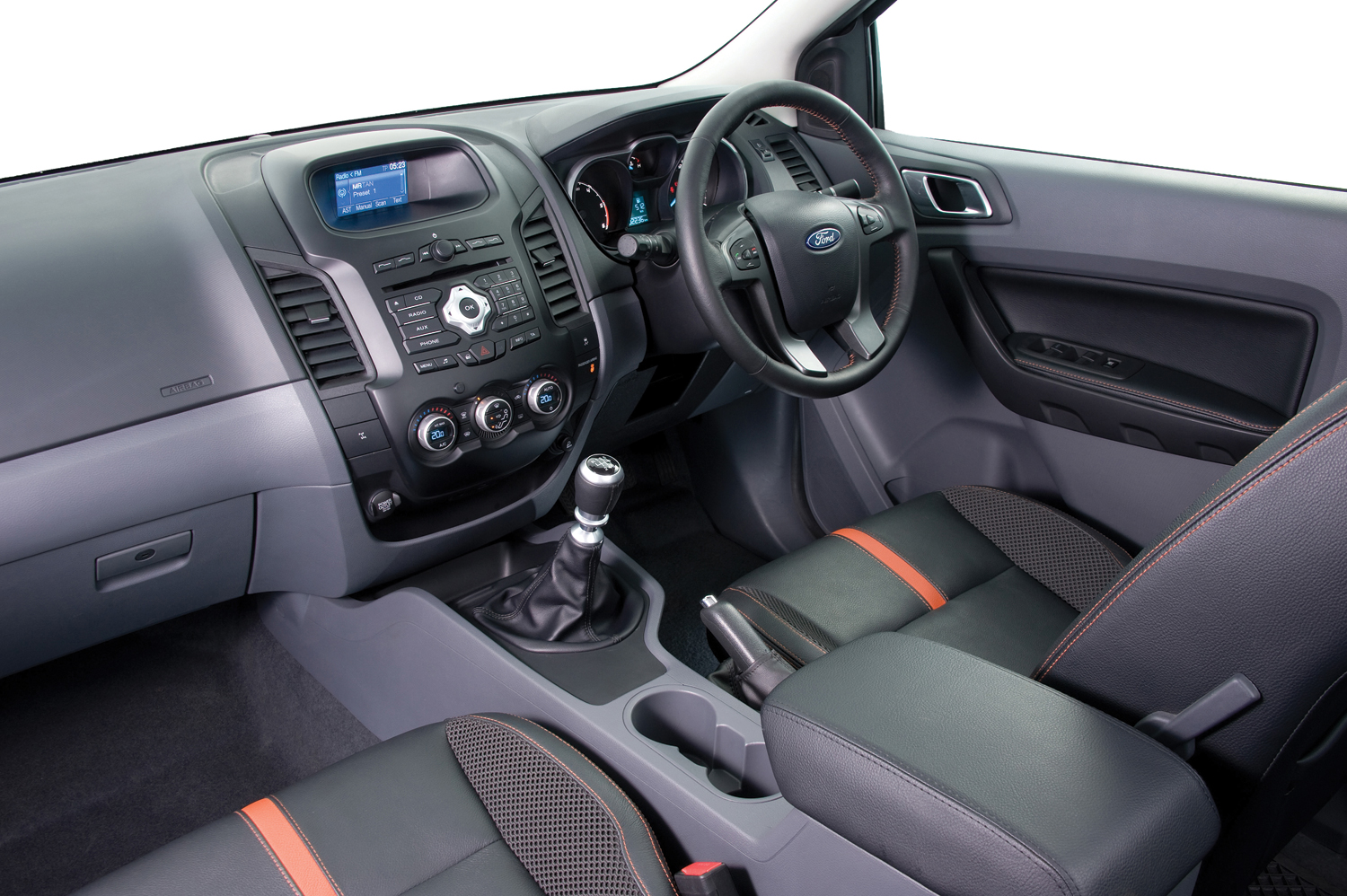 The Ranger proved good enough to win our 2015 Pick-up Of The Year contest, and although that was the high-spec Wildtrak with the lusty 3.2-litre turbodiesel engine we did also recognise the Ranger's excellent practicality, with its well-proportioned load bay that has little wheelarch intrusion, as well as the spacious comfort of the five-seater interior. The latest generation of Ranger was launched in 2011 and not readily available in the UK until last year, but some well maintained, reasonable-mileage examples are appearing on second-hand forecourts, with even well specified Limiteds sneaking in under our £18,000 budget. The all-new Ranger is a significant improvement over the previous model, not only does it have more modern styling, it has more power from the 2.2-litre or 3.2-litre Duratorq engines, six-speed manual or automatic transmissions and enhanced towing capacity. The Ranger was also the first pick-up to gain a five-star Euro NCAP safety rating. The latest update puts modern driver assistance technologies into top versions, including lane change warning, adaptive cruise control with forward alert, rollover mitigation and trailer sway control, though these will be out of range on our budget. Equipment is still good, since even the base XL, though fitted with steel wheels, has the electronic stability control, electric front windows, stereo with CD player, ISOFIX rear seats, front, side and curtain airbags and alloy wheels. Air conditioning is optional, unfortunately not fitted to the otherwise pristine 2012 metallic silver example priced at £15,594 at Cross Country 4×4 of Market Lavington (01380 818311), just 34,000 miles and with a new MOT. The XLT has alloy wheels, cruise control and smarter velour upholstery, but more common second-hand are the higher-specification Limiteds, which have leather upholstery and rear parking sensors, as well as automatic climate control. For a keen deal on one of these look no further than Hollybrook Car Centre in Southampton (02380 702090) who had a one-owner 50,000-mile 2012  automatic in moondust metallic silver with grey leather "baseball stitch" upholstery, multifunction audio system with Bluetooth and voice recognition, reversing camera, roller shutter for the load bay, exterior chrome pack and 17-inch alloys, tow bar, winter pack of heated seats and door mirrors, convenience pack of auto headlamps and wipers, everything you could ask for in a modern SUV at just £17,988. The Limiteds can also be specified with the 3.2-litre engine, perhaps a better choice for recreational users is the 2.2, although by no means a dull engine, doesn't really give the SUV-emulating Ranger true SUV-style performance. The 2.2 does promise better than 33mpg, the 3.2 returns a still reasonable 29mpg considering its   extra performance benefits and easier towing power.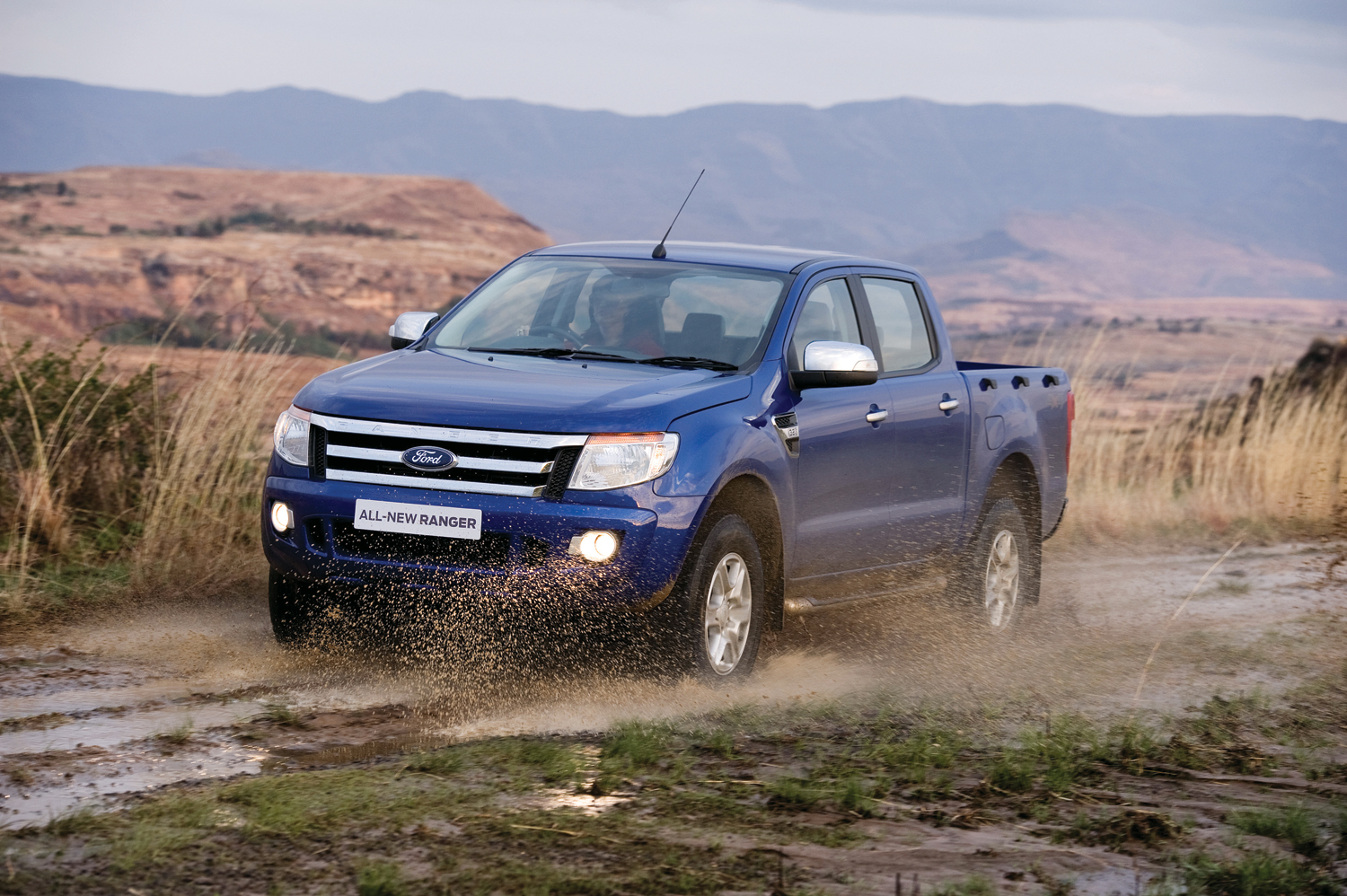 The top-specification Wildtrak has satnav as standard, plus a reversing camera and side parking sensors, but at over £30,000 new these are naturally still thin on the second-hand ground within our budget, but the high image and higher power could still be enjoyed by opting for one of the earlier Wildtrak or Thunder variants. The Australian-designed post-2009 facelifted models still boast an interior that offers car-like comfort with ergonomically shaped seats, climate control and MP3-compatible audio, with a body stiffened and bushed to isolate road noise. Like the current model it has a comfortably natural driving position and relaxed performance, is one of the best compromises between passenger comfort and cargo capacity, and has a 3350kg towing capacity. The Wildtrak has the 3.0-litre TDCi engine giving it the power to match its street presence, enhanced by the sports bar and roof rails, Alcantara leather and 18-inch alloys. Select Cars of Sheffield had a selection of Wildtraks dating from 2008, but including a smart 2010 model priced at £9989, a high-miler but still in top condition.
Do insist on a test drive, because some Rangers are known to suffer misfires, juddering automatic transmissions and prematurely worn CV joints, also check that the stereo and satnav work properly.
GREAT WALL STEED
If a new Steed looks like a bargain with a starting price of under £18,000, you do need to recognise why it's so cheap. Built in China to serve the needs of that country's industrial and agricultural workforces, it's made to be tough and practical above all, with occupant comfort and driving refinement very much secondary considerations, so even in double cab form it's a workhorse rather than a serious alternative to a luxury SUV. Certainly in an attempt to appeal to European tastes even the base S model has been equipped with electric windows, air conditioning, leather upholstery and an Alpine stereo with MP3 and Bluetooth connectivity, giving it a rather undeserved air of sophistication. In fact there's little of the mechanical refinement that you'll find in any of the more established pick-ups; the ride quality is harsh and the steering is vague and lifeless. And while the interiors may at first appear smart and well-appointed, a closer look reveals cheap plastic and fittings of doubtful quality – none of which makes the Steed an unworthy vehicle, just one that's excessively pretentious. With its leaf-sprung rear end and torsion-bar independent front, it emulates a traditional set-up long shunned by its premium competitors, more effective as a rugged suspension for a hard working commercial and hardly conducive to the levels of ride comfort expected from a modern SUV. Business users might nevertheless appreciate the high levels of convenience equipment, and may not mind the mild performance from the 2.0-litre turbodiesel which produces a not unreasonable 140bhp, but it does get noisy when pushed to its limits, which happens a lot when the truck's fully loaded; the six-speed manual has a long, rather vague throw but the transmission does at least give a good selection of ratios to cope with the mild power output. Take with a pinch of salt Great Wall's claims that the Steed is the most economical pick-up – there's nothing particularly exciting about 34mpg fuel consumption.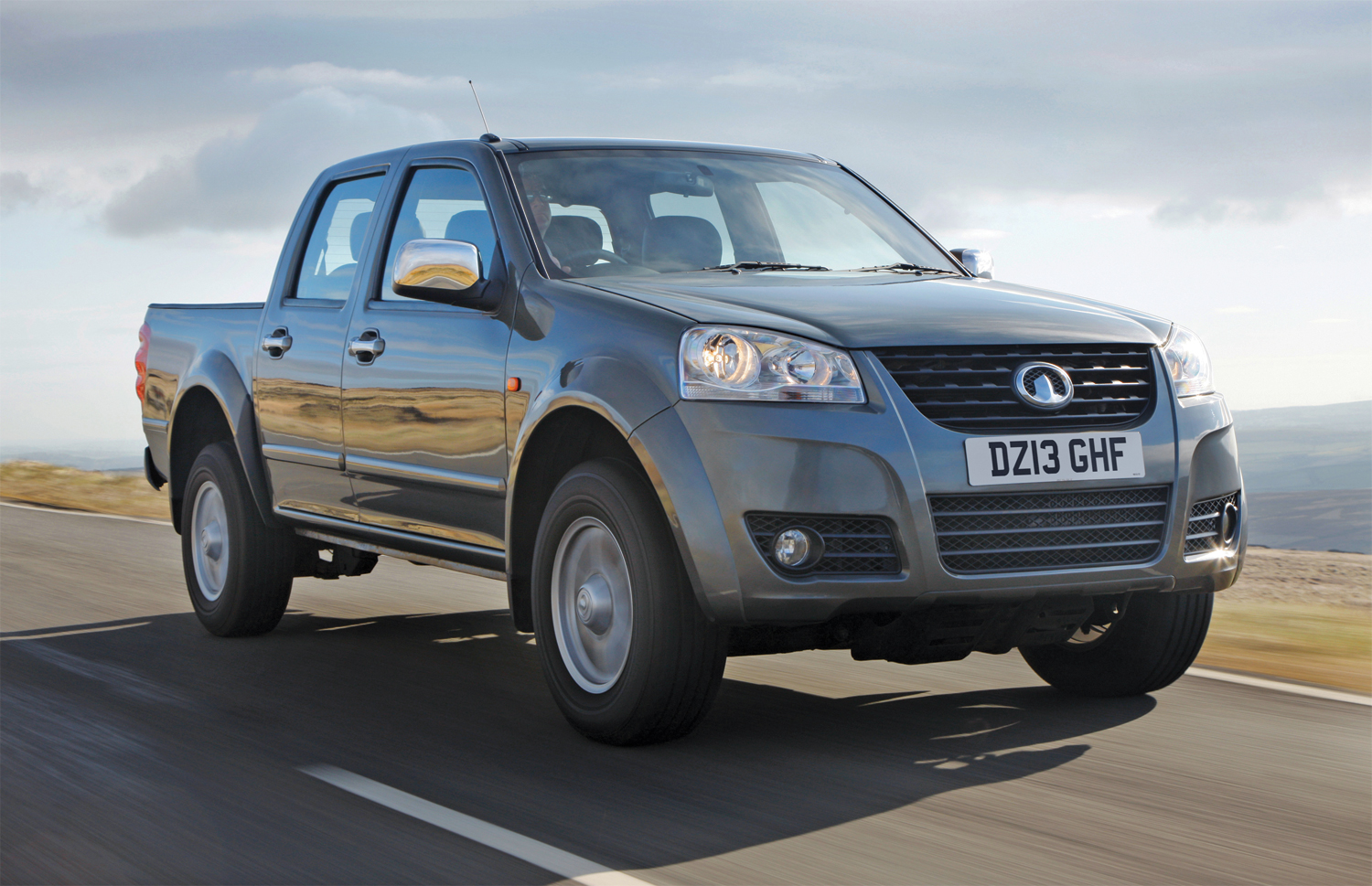 While there's no reason to question the Steed's long-term reliability, even business users need to consider the relatively low towing capacity of 2000kg and the relatively short 10,000-mile service interval. Access to the cargo area is by means of a solid-feeling drop-down tailgate, though it can't be lowered completely because of the bulky rear bumper, which can make it awkward to load large objects. The bumper incorporates a step with a non-slip rubber tread. The load bay has four tie-down points, but there is no ladder rack behind the cab, something that really ought to be standard in a vehicle that's so obviously meant to be a working truck.
A new Steed S is listed at £17,941 including VAT, but check for good deals – Edward Johnson of Otley in West Yorkshire (01943 463007) put the price at £16,797 including a colour-coded leisure canopy worth £1500. Second-hand you can expect to pay around £10,000 for a 2012 S with 40,000 miles; Autovillage of Cheltenham priced a metallic silver 30,000-miler at £10,788 including load liner, aluminium load cover and tow pack. Better bet is the higher-specification SE which includes the body-coloured hard-top, along with rear parking sensors, chrome side bars, hard-top roof rails and daytime running lights, the metallic black 24,000-miler at Autorama of Tring (01442 493848) had the same £10,788 price tag. Look out for an extra-shiny Chrome special edition, Woodleigh of Chesterfield (01246 494792) had an immaculate black one-owner truck with under 18,000 miles, tinted windows and chrome side steps, for £13,194.
ISUZU D-MAX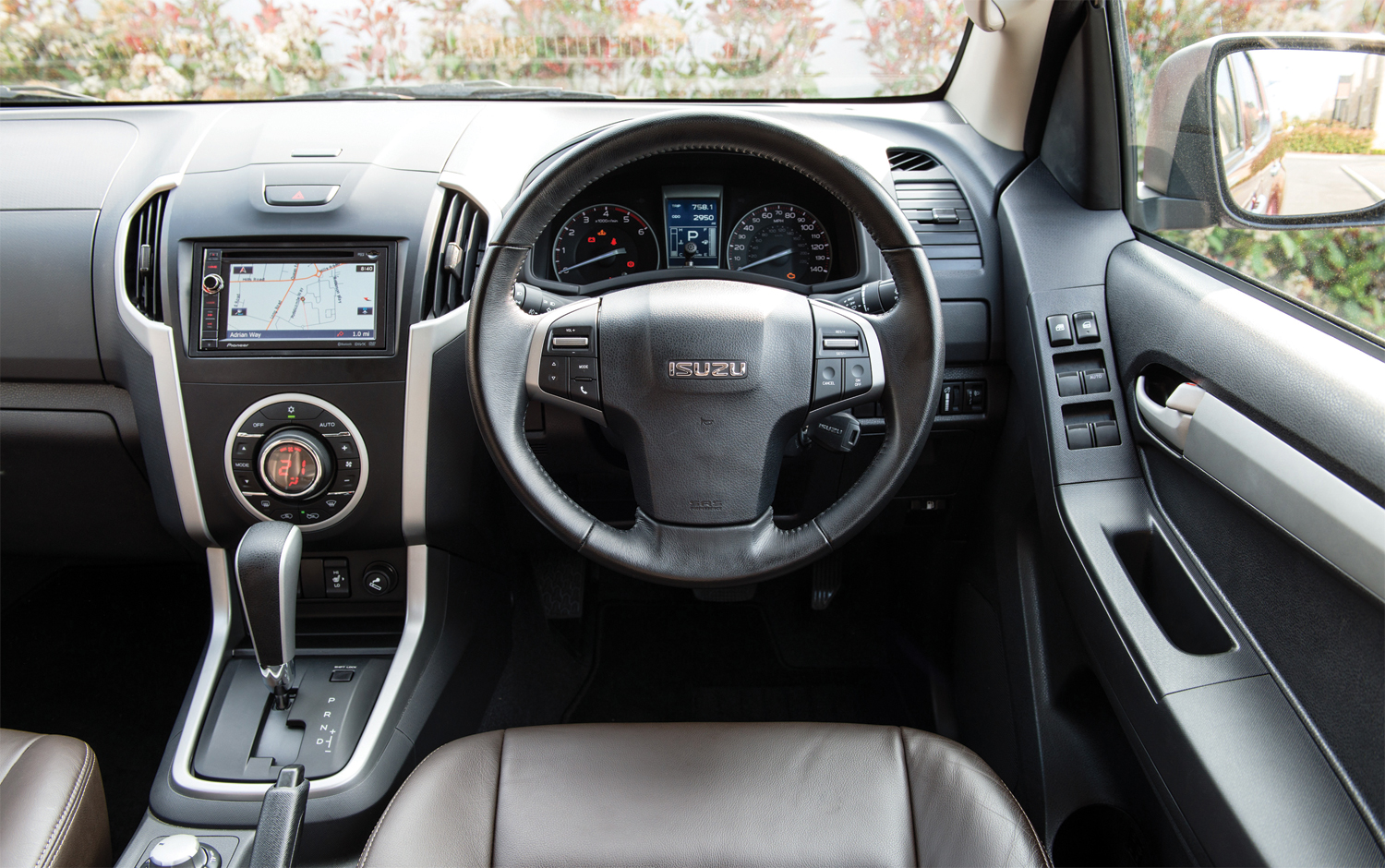 We can't help thinking that Isuzu missed the boat in one sense when they launched the D-Max in 2012, since the truck, in spite of its inherent big, laid-back American appeal is still very much a working vehicle rather than the SUV its rivals aim to emulate. While it's true that the high-specification Blade and the Fury special edition have since tried to close that gap, they still lack some of the high-tech gadgetry and driving refinement being introduced by its newer rivals – not that any of this has affected the popularity of the D-Max among working users, with soaring sales figures continuing to suggest that not everyone needs those luxury playthings in their trucks. There is, of course, one other advantage in having just that little less in the way of non-essential luxuries – the D-Max is also just that little bit cheaper than its mainstream rivals.
Not that the D-Max is totally raw, it's just that the interiors appear a little bland considering the bold exterior styling. Basic luxuries and safety features are included even in the entry-level model, such as air conditioning and electric windows, central locking, front and side airbags and stability control, but the stereo is an AM/FM set and the wheels are steel. The Eiger gets electrically adjustable door mirrors, a CD player and alloys, and the mid-range Yukon specification adds cruise control, 17-inch alloy wheels, chrome grille and rear bumper, heavy-duty side steps, a six-speaker surround-sound audio system with roof-mounted 'Exciter' speaker, as well as high-visibility projector headlamps and LED rear light clusters. The Utah is the original range-topper, with leather upholstery and rear parking sensors, while the Vision pack adds a rear view camera.
The Blade special edition of last year has become the current top-of-the-range model, but at over £30,000 is out of our reach; the newer Fury special edition is an upgrade to the Eiger and is almost within reach of commercial buyers with a commercial vehicle price just over £19,000 – possibly worth stretching the budget for except that most of the upgrades – metallic red paint, grey alloy wheels, Pirelli tyres – are more cosmetic than practical.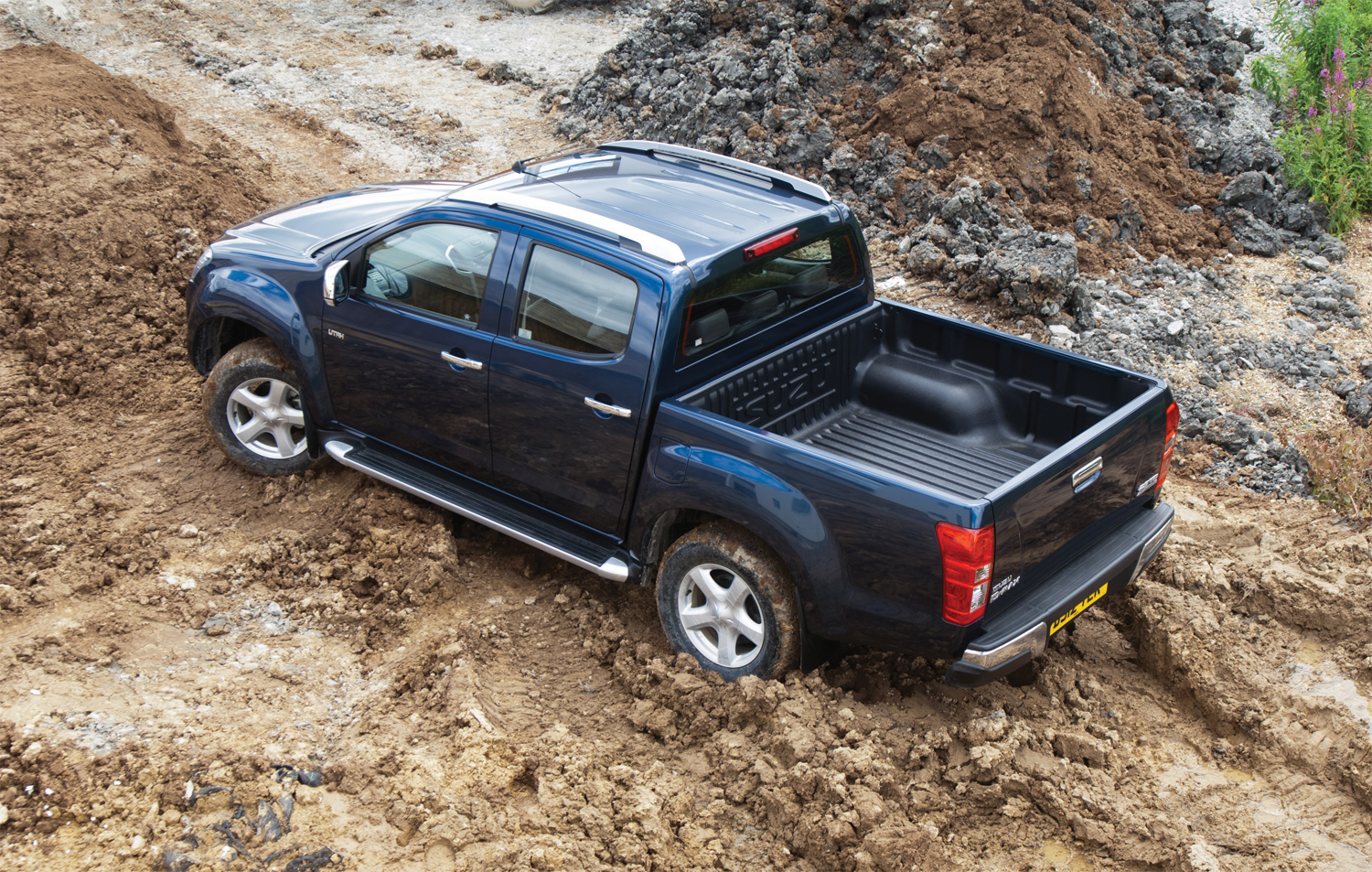 Mechanical refinement isn't the strongest D-Max feature, since the 2.5-litre turbodiesel, powerful enough with 161bhp on tap, has an agricultural rattle to it that sets it apart from its rivals, but it does at least feel strong enough to handle the heavy loads it's rated to haul and carry. Transmission is either a six-speed manual or a five-speed automatic.
Meanwhile the fact that the Isuzu makes good sense as a working vehicle is reflected in the decision  in 2013 to increase the truck's towing limit from 3000kg to 3500kg; a point to consider when buying a car of this age for towing purposes is that, although there was no actual alteration to the truck's specifications, the increased tow feature only applies to cars registered in the UK after July 1 of that year.
Since the D-Max is a relatively new model there aren't that many available second-hand within our budget price, one of the best deals we saw was at Eaglesham Garage in Glasgow (01355 385958) where a metallic silver 2012 Utah automatic with brown leather interior and 85,000 miles on it was priced at £16,000. Meanwhile anyone interested in the purely base model, Derek Slack of Middlesborough (01642 966716) were offering a new 2015 one in white with black cloth upholstery and the six-speed manual, with just five miles on it for £16,995. Riverside Eastern of Scarborough (01723 645043) had a 2014 Eiger, a one-owner 33,000 miler with full service history, at £17,399 and John Kemp of Hethersett (01603 508333) were selling a 26,000-mile Yukon manual from 2012, metallic black cloth interior, full service history and chrome sports bar for £16,995.
MITSUBISHI L200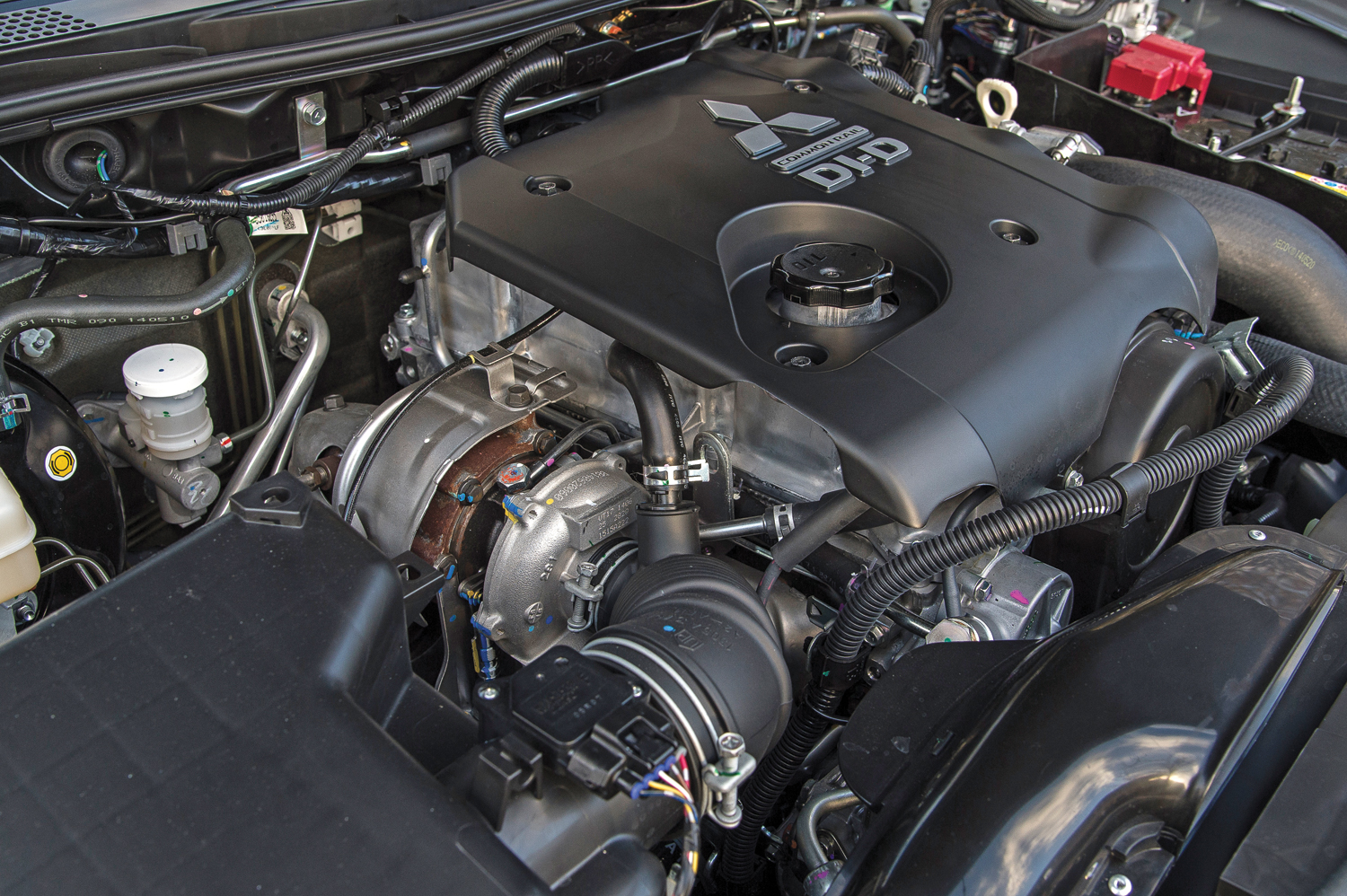 Symptomatic of the continuing rise of the double cab pick-up is the lack of a theoretically harder-core 4Work version of the latest L200, the base model being the 4Life which at nearly £24,000 is out of reach of a private buyer within our budget. It's a pity, because the new L200 would appear to have a lot going for it – a claimed 42mpg which allows 700 miles between refuelling stops, best-in class safety features with seven airbags, best total load (payload plus trailer) in the class and the versatile Super Select 4WD system, not to mention modern electronic aids such as electronic speed limiter and lane change warnings, along with trailer stability and hill start assist. The new 2.4-litre engine is smoother, more economical and significantly more powerful than the older 2.5. However, the arrival of the new model will see an influx of older models on second-hand forecourts and a consequent easing of prices making run-out examples of the previous generation more affordable – for instance £18,000 would be enough to secure the immaculate red 2014 Trojan, complete with rear canopy, side steps and tow pack, and with only 10,000 miles, from Portland Autos of Bawtry (01302 457728).
The L200 double cab was designed to favour occupant comfort over load capacity, so the passenger compartment will comfortably seat five adults, with a compact load bay seemingly shaped to hold nothing more than camping gear, mountain bikes and the like. In reality the standard load bed is only some 18cm shorter than the class average and still quite capacious for most purposes, but Mitsubishi later introduced a long-bed version – at 1510mm it's well up to class standard – so it is important when buying an older used L200 to check which load bed you're getting.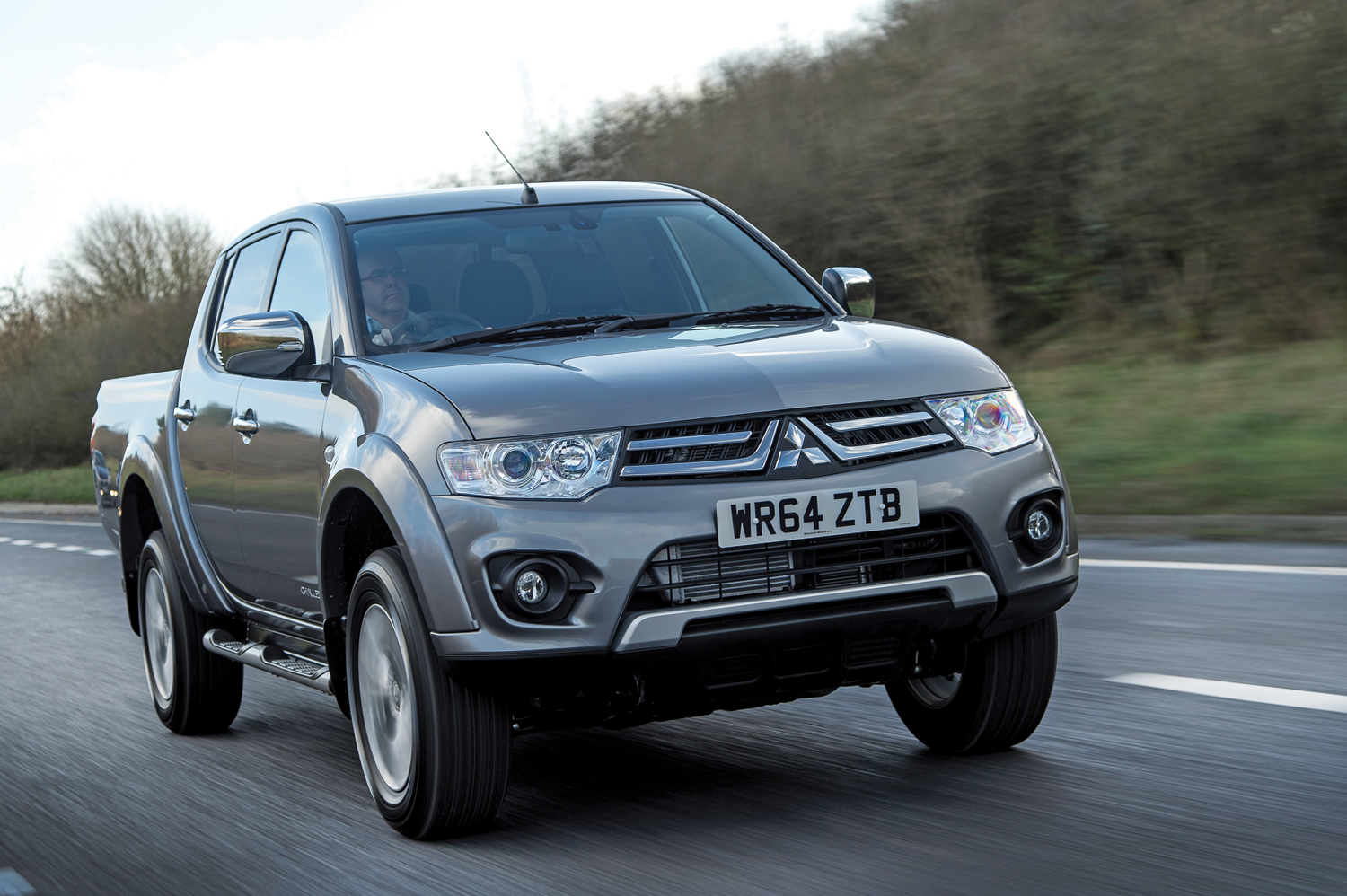 The passenger compartment has well-shaped rear seats with more comfortably reclined backrests than in key rivals, marking the L200 as a clear favourite for an outgoing family, with the reservation that the driving position isn't as comfortable as some, so check that you're happy behind the wheel before buying. Look out for Trojan and Warrior models with leather upholstery, originally a £1350 option, and some will have the automatic transmission that would have been a £1400 option. Standard equipment in these top models includes air conditioning, electric windows and a CD player.  Also be aware that the base 4Work and 4Life have the lower-power 134bhp version of the 2.5-litre turbodiesel, which in premium models is tuned to produce a more user-friendly 175bhp. The 4Work and 4Life versions lack the refinements of central locking, air conditioning and satellite navigation.
Look out for good deals from suppliers eager to clear low-mileage nearly-new stock, Luscombe's of Leeds (01134 279238) had a 'last one like this' cool silver Challenger with the 'black' pack of matt black alloys, roof, mirrors, bonnet protector, sports bars and load liner, a new 2015 model with just 16 miles, priced at £16,999, while SMC Hillingdon (01895 540615) were offering Challenger models with under 500 miles with the standard five-year warranty and a year's road tax for £17,994.
If image is as important to you as a comfortable and luxurious cabin, seek out an older range-topping Walkinshaw special edition with power boost and equipment to match, including 20-inch alloys, leather sports seats, DVD satnav and upgraded sound system; Motor Seeker of Chesterfield (01246 269013) had a blue-grey 2010 example with spoilered trucktop and black leather interior going for £13,995 with a three-month warranty.
The L200 is generally considered to be very reliable. While there have been reports of engines overheating and water leaking into the cab, these appear to be isolated instances, but it's worth checking for water stains on the headlining and carpets, and make sure the engine stays cool on a test drive.
NISSAN NAVARA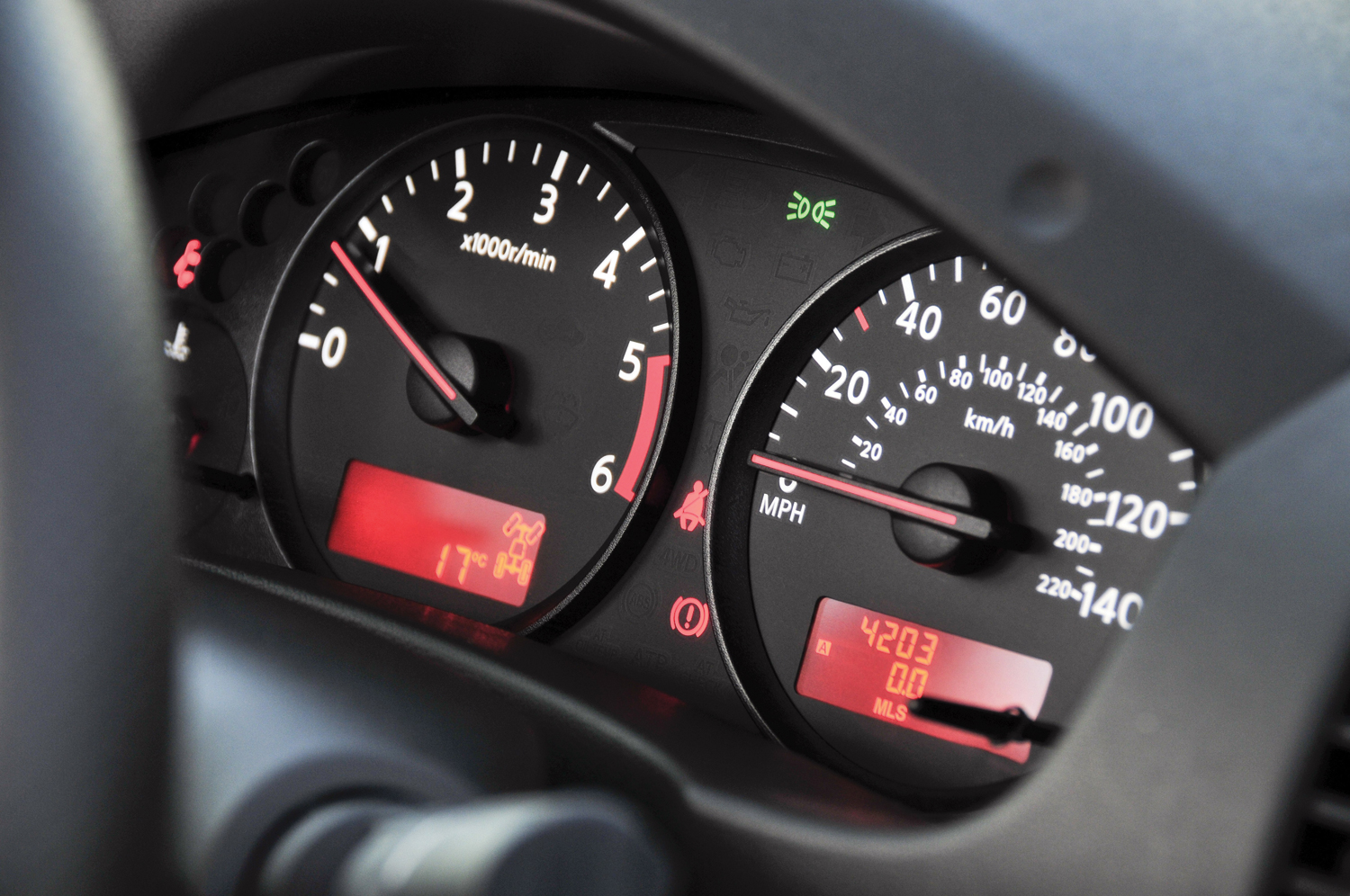 Nissan boldly describe their all-new Navara as a 'crossover', and not only because more than ever it crosses over the boundary between commercial and road car, it's as much a suggestion that the pick-up now ranks alongside the Juke and Qashqai as a fully-fledged SUV. The new model, due here later in the year, boasts car-like refinement, more power and economy than the previous model and levels of technology more usually reserved for premium road cars, such as around-view cameras, LED headlamps and forward emergency braking. It's no less practical, with a bigger payload and 3500kg towing rating as well as a load bed extended by 67mm to 1578mm, more than 100mm longer than the new L200 has to offer. Unfortunately, all this refinement and technology must come at a price, leaving those of us with tighter budgets to look for bargain-priced or 'nearly new' examples of the previous generation.
That's not necessarily a great hardship since the Navara has always appealed to us as the quickest truck on the block and great to drive with it, not to mention the racy styling that adds image punch to its sharp road behaviour. That is very much the case with the range-topping Outlaw with the 229bhp 3.0-litre V6 turbodiesel, the neatest of these highway dominators we've seen is the gleaming black one-owner example dating from 2012 and with 77,000 miles asking £14,650 at Select Cars of Sheffield (01442 552255), it has pristine grey leather upholstery, touch-screen satnav and electric sunroof.
Most Navaras have the 2.5-litre engine, uprated for the 2010 model year to 188bhp, though the older engine still produces a meaningful 165bhp. Driving is particularly pleasurable with the six-speed manual, though some will have the optional five-speed automatic.
The Nissan has a pleasingly spacious passenger compartment, so with its pace, refinement and good road manners it would make an excellent practical recreational family carrier, and the rear seats can also be folded away to provide extra in-cab storage. In giving more space to the passengers the carrying capacity of the load bay is compromised, enough to edge it out of the running as the best choice as a working vehicle, but it does have the advantage of the clever C-Channel load-locking system in the load bed, providing a whole range of points for securing straps to hold cargo of all shapes and sizes.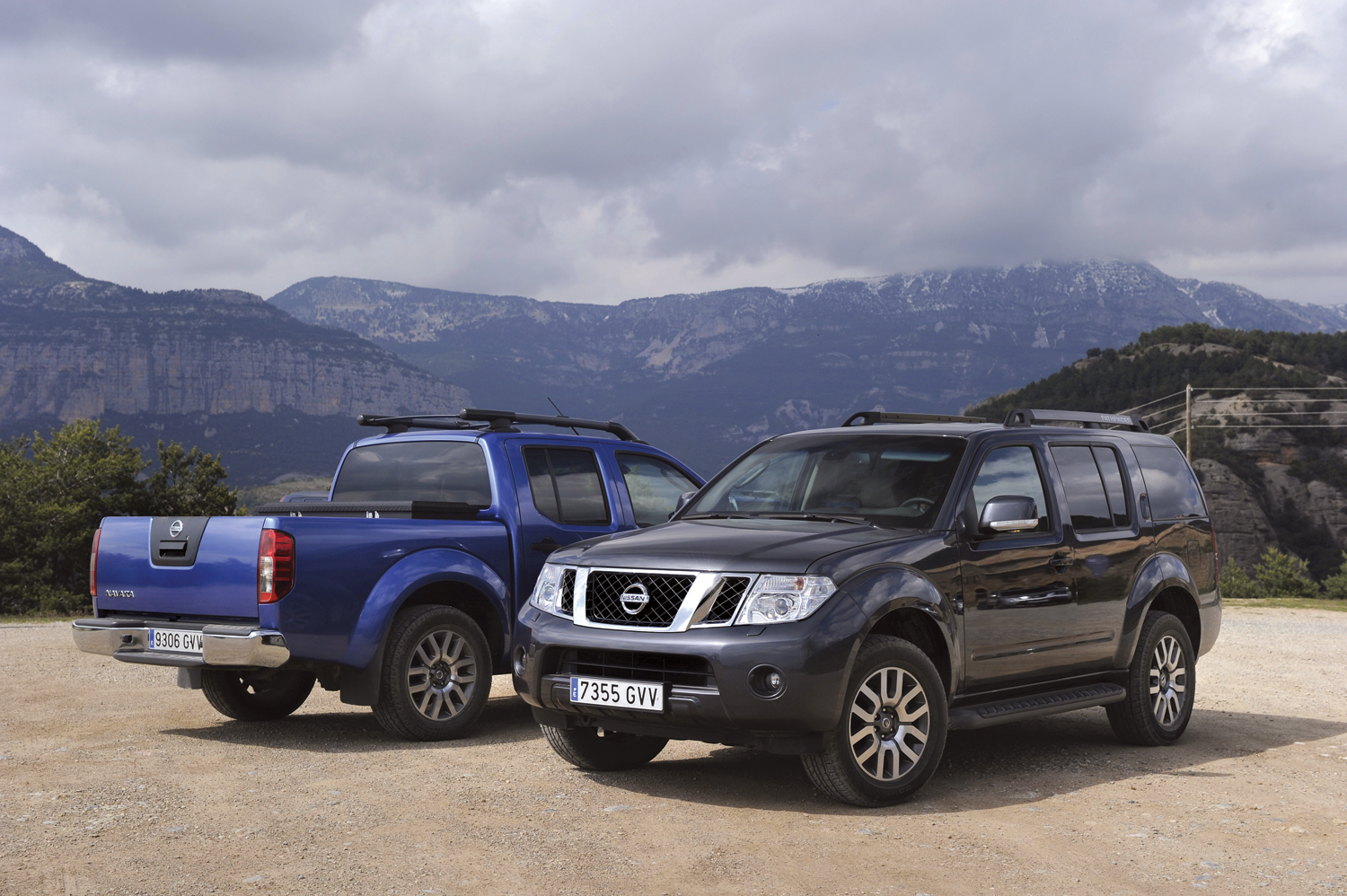 For £18,000 you could be looking at a high-specification Tekna of 2012 or 2013 vintage with reasonable mileage, one of the keenest offers we saw at that price was the metallic grey one-owner manual from 2012 with just 30,000 miles, the specification including alloys, heated seats with leather upholstery, air conditioning, CD player, electric windows and door mirrors and a sunroof at Watford Vans (01923 908954). Meanwhile Dartford Car and 4×4 Centre (01322 225480) were advertising a 2011 Tekna for £17,154, an immaculate one-owner 42,500 miler with full service history, including a snugtop, full leather interior, dual zone climate control and Bluetooth connectivity plus side steps and a load liner, sold with a new MOT.
Settle for a lower-spec Visia and you'll still enjoy the comforts of air-conditioning, antilock brakes, central locking with keyless entry, CD player, electric door mirrors, electric front windows and Bluetooth connectivity, and at a good price – HQ Auto and Leisure Centre of  Penrith (01768 862376) for instance, were offering a run-out 2015 model with just 100 miles for £14,995 – originally listed new at over £22,000.
Reliability is better than earlier Navaras, but listen for excess rattling from the front end to ensure the chain tensioner isn't slacking. Rear wheel bearings can wear prematurely so listen for a groaning noise on a test drive, or jack the rear of the truck up and feel for any slackness in the wheels. While examining the underside look for signs of oil leaks from the transfer gearbox and differential, some Navaras may have had poorly installed seals. Make sure the four-wheel drive system engages and disengages properly, a malfunction could mean the truck won't come out of four-wheel drive when returning to tarmac, resulting in possible transmission damage.
SSANGYONG KORANDO SPORTS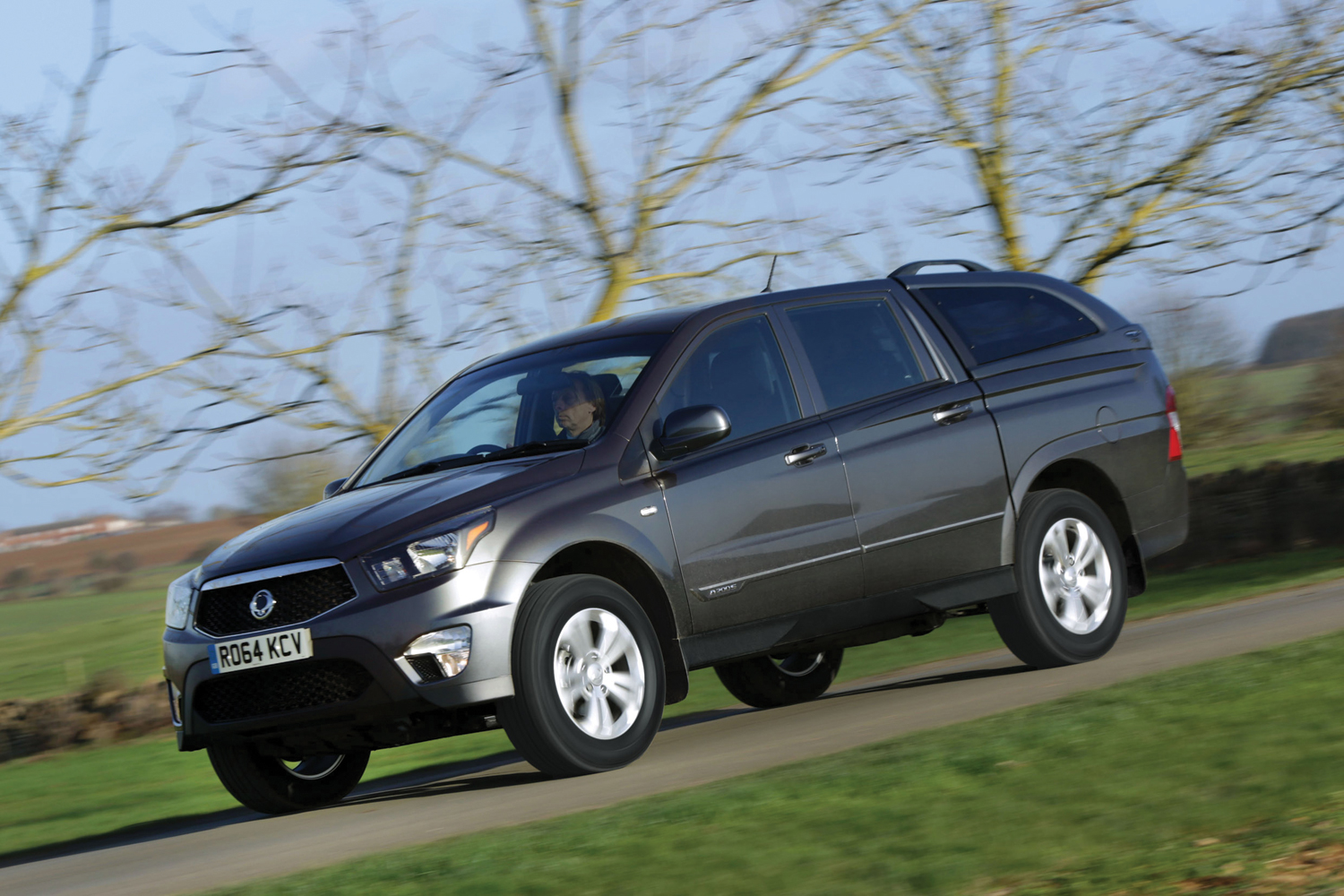 Spurred by the burgeoning demand for luxury SUV-emulating double cab pick-ups, SsangYong hurried on to the scene with this modern-looking vehicle that, especially in its high-specification EXT form fitted with the neatly styled-in rear canopy as standard, looks more like a smart family estate than a working vehicle – not really surprising as it is a development from the Korando SUV. The car was patently aimed mainly at private owners since, with a payload well under the 1000kg threshold it couldn't qualify as a commercial. It hasn't taken them long to recognise that many double cab users have been claiming them as commercials – even if only in name – so for 2015 the Korando Sports gained heavier-duty rear suspension and the elusive 1000kg payload along with a more useful 2.7-tonne tow rating. The keen pricing and luxurious specification of the Korando Sports makes it look like a particularly good-value buy, with the entry-level SX at £17,938 on the road,  sneaking under our budget limit, and choosing the base model won't be a particular problem since equipment is excellent through the range, with the SX boasting air conditioning, central locking, electrically adjustable door mirrors, electric windows, a stereo with Bluetooth connectivity and headlamp levelling.
The EX also features leather upholstery and electric adjustment for the driver's seat, with cruise control if you pick the automatic, but is priced accordingly, at £16,715 excluding VAT attainable within our budget by commercial users, but not private buyers. The top-specification EXT appears to have been dropped from the range, so the fitted canopy is no longer a standard perk on the top model, and now stars in the options list as a £1995 extra; for £1655 you can choose a hinged flip-up load cover instead. That full canopy is such a desirable feature with its heated rear window, sliding front glass, interior light, pop-out side windows and roof rails that it's much more sensible to look for a low-mileage EXT rather than buy new – and while you're about it look for examples that have had the £999 Kenwood touch-screen satnav integrated with the DAB radio and Bluetooth, and perhaps also the £198 rear-view camera and £460 dealer-fitted towbar. As it happens there aren't many of these range-toppers available second-hand, and one we saw didn't have the canopy. Wolverhampton SsangYong (01902 351153) had an appealing offer on a nearly new 5000-miler (with the 1-tonne payload) including the canopy and with the T-Tronic automatic transmission, £1643 off the normal retail price and at £22,995 accessible within our budget by a commercial user. Older cars can still be excellent value for private buyers looking for a keenly-priced highly-practical family car, Said Motors of New Malden (07930 308101) had a one-owner 2013 automatic with only 13,000 miles, full service history and still pristine in its gleaming black paintwork, at £14,000. If you'd be happy with a base SX County of Bicester (01869 600600) had effectively cut £1000 off the list price of an unsold metallic silver 2014 model with just 11 miles on it on offer at £16,788, while T.I.M. UK Motors of Ilkeston (01159 440300) were selling 'the cheapest Korando Sports in the UK', a metallic silver EX with just 5 miles on it priced at £18,070.
Is there a downside to this entry-level double cab? The steering of the earlier models is rather vague and the ride unrefined, but the 153bhp output from the 2.0-litre engine is impressive and endows the car with quite nippy acceleration and overtaking ability, performance and to some extent driver enjoyment being aided by the six-speed manual transmission.
TOYOTA HILUX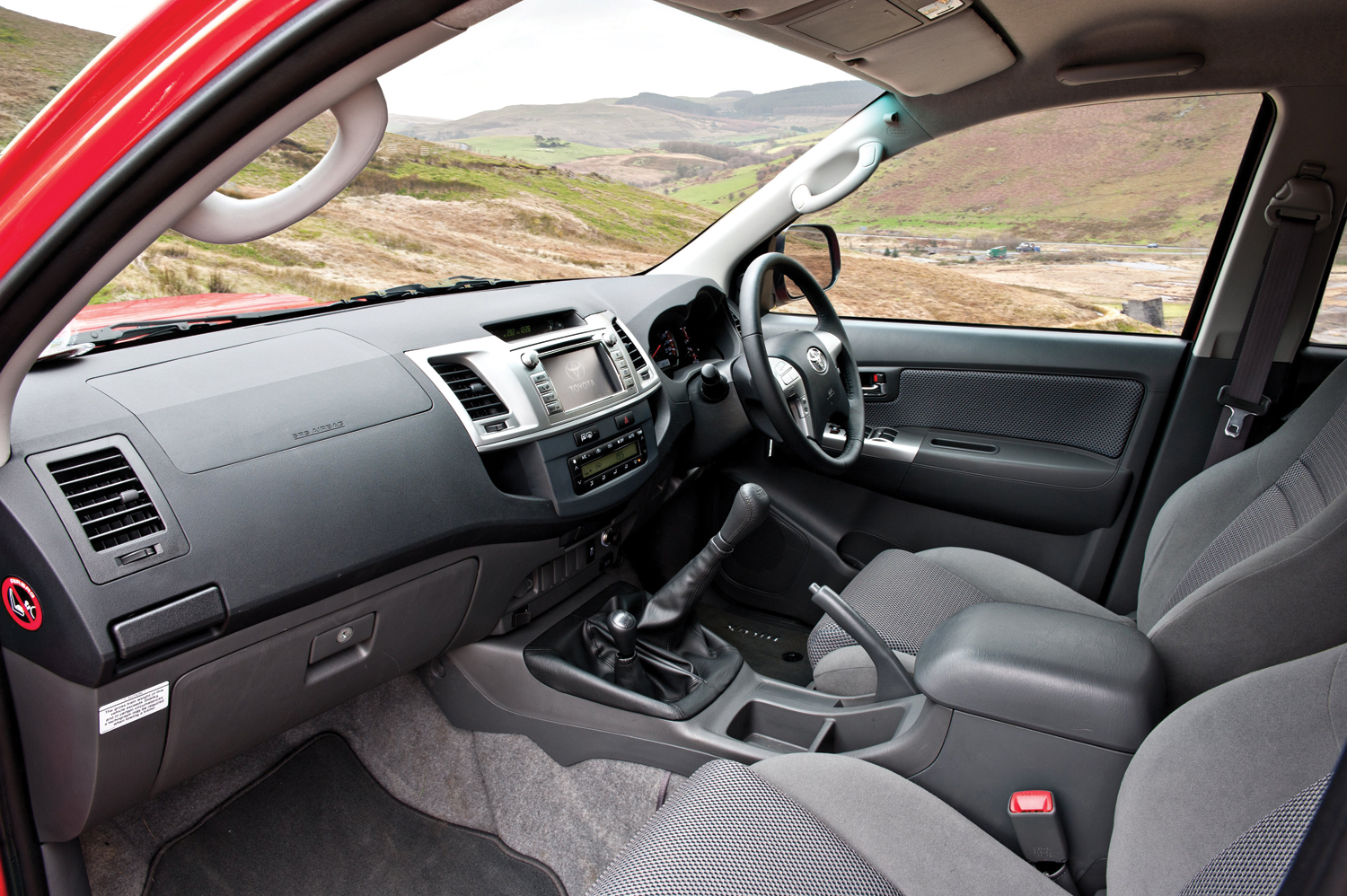 Those who can afford to wait for the all-new Hilux probably should do so, because it promises more power and better fuel economy as well as more comfort, technical gadgetry and driving refinement than ever before. However, for anyone who needs a good truck now, the run-out Hilux is still a good bet. The vehicle's reputation for invincibility is generally reflected in the second-hand prices, but £18,000 could still get you into a 2012 Invincible, for instance the  pristine dark blue metallic truck complete with colour-matched canopy on offer at that price at Chandlers of Grantham (01476 218904). The current Hilux dates from 2005, and compared with some of its newer rivals the styling is rather conservative while engine power output, apart from the lusty 3.0-litre unit in the Invincible, has lagged behind the opposition. From a practicality point of view the main weak point of the Hilux is the relatively low towing capacity of earlier examples, though this was upgraded for 2012 to allow trailers up to 2800kg, still not competitive but the upside is that engines and transmissions won't have been strained by seriously heavyweight towing.
Otherwise the Hilux has a good payload allowance, though the load bed is little more than average in size – not particularly wide and others offer more space between the wheelarches. The cabin is spacious, and the rear seats, which fold-up to allow extra in-cab stowage, are more comfortable than most others. Standard transmission is a five-speed manual, though Invincibles may have the optional auto box, and the four-wheel drive system is refreshingly old-style in that it is a straightforward selectable type engaged by means of a second gear lever. Invincible models also have a limited slip rear differential.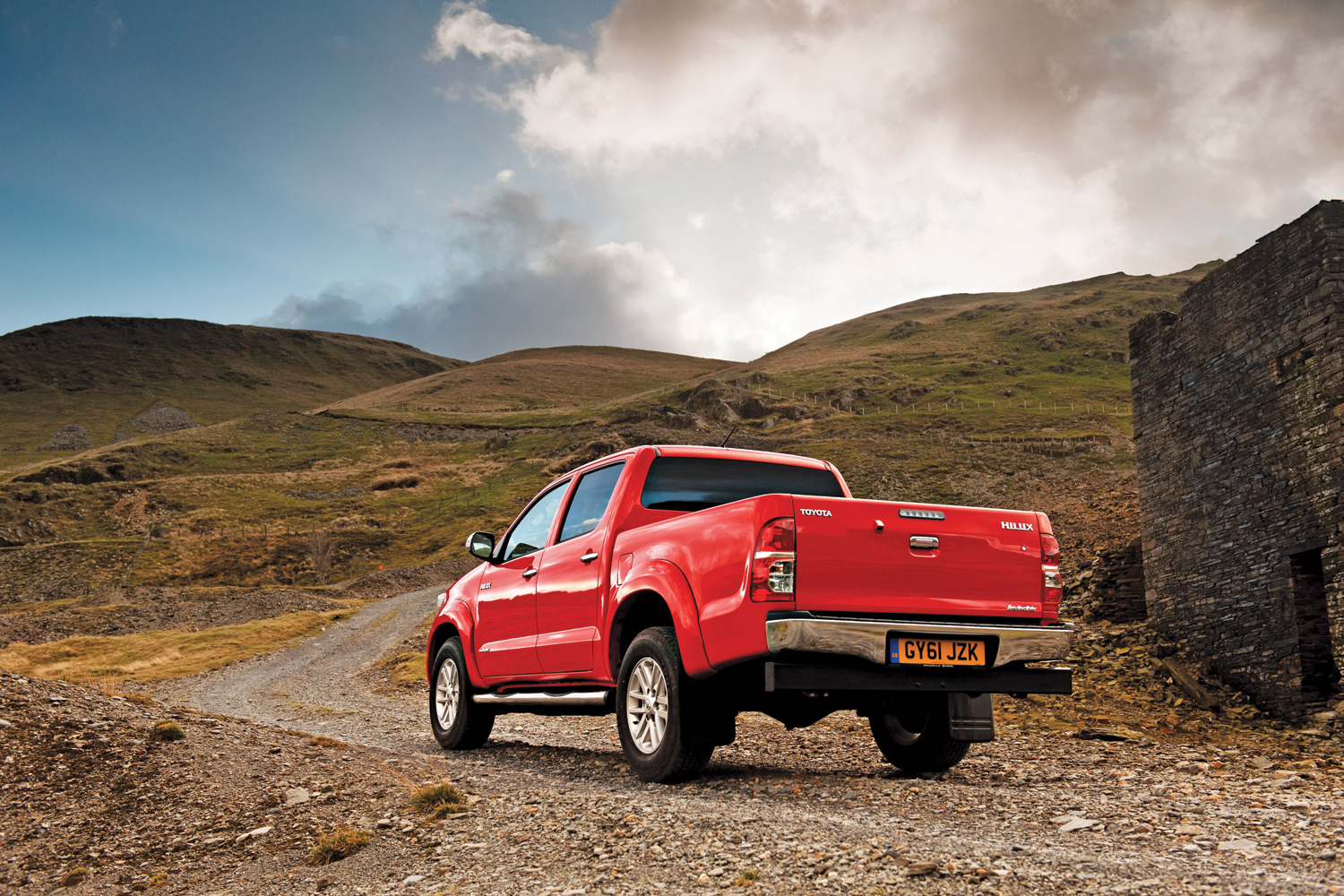 Although there are many cheaper examples of the earlier HL2 and HL3 available, it's worth looking for trucks dating from after the 2010 model year, because the 2.5 turbodiesel was uprated to 142bhp from the previously mild 118bhp, while for the 2012 model year the Hilux was restyled from the windscreen pillar forwards, with a new bonnet, radiator grille, headlamps and bumper, plus new wheel designs and new side bars and steps for the Invincible. There was also a new upper dashboard design featuring a touchscreen multimedia unit for HL3 and Invincible models that includes Bluetooth and a USB port; these will be rare at the price though accessible for commercial buyers who can reclaim the VAT. The engines were also upgraded with particulate filters to comply with Euro 5 emissions. The current Hilux range has the Active as the entry-level model, air conditioned with electric windows and door mirrors, central locking, vehicle stability system and a locking rear differential, steel wheels are standard, but these are rare second-hand, as is even the midrange alternative Icon which adds 17-inch alloys, touch-screen multimedia system and a reversing camera, headlamp washers and fog lamps. Unsurprisingly it's the range-topping Invincible with automatic air conditioning, cruise control and optional leather upholstery that has proved most popular and therefore feature more commonly on used car forecourts – look out for versions that have the optional satellite navigation and Bluetooth connectivity installed. There's also an 'urban pack' worth looking out for – it includes scuff plates and parking sensors front and rear.
One of the keenest deals we spotted was the £17,500 being asked for a white 2011 model with just 33,000 miles, with full leather upholstery, touchscreen satnav, sports bar, roll and lock tonneau cover and front and rear parking sensors, at Portland Autos of Doncaster, (01302 457728). Meanwhile Platinum Group of Bath (01225 288672) were offering a similar-age metallic graphite grey 52,000-miler with full grey leather interior and satnav, load liner and sports top for £17,394. Hilux reliability is legendary and there should not be any problems with a truck three or four-years old, but listen for a noisy rear differential or groaning rear wheel bearings, and squeaking from the front of the engine hinting at a failing water pump.
VOLKSWAGEN AMAROK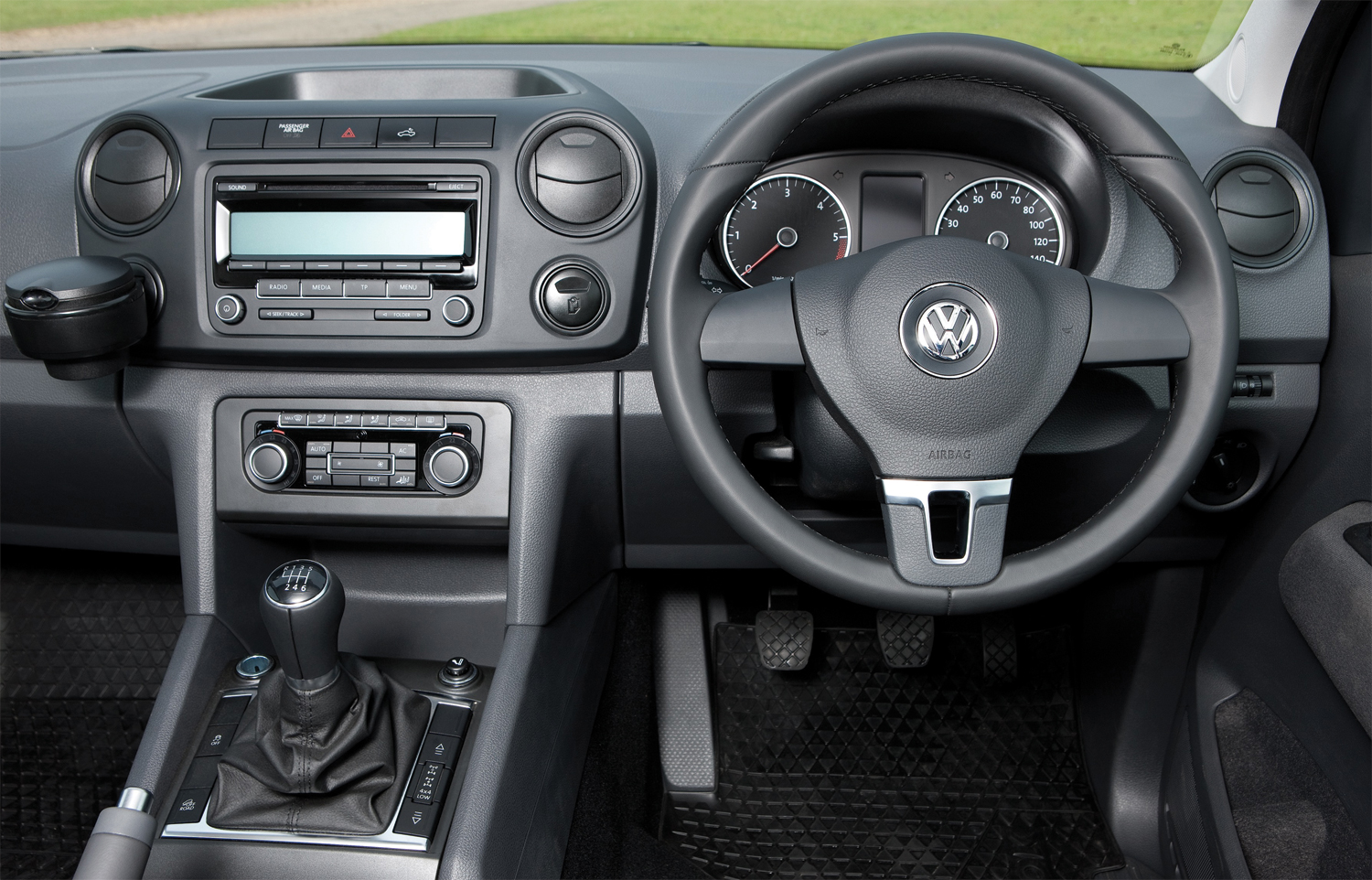 You won't find any nearly-new bargains here, certainly not within our budget, most examples priced at under £18,000 date from 2011, though we did see a one-owner 2012 Trendline in metallic blue with just 40,000 miles priced at £17,488 at Used Car 123 of York (01904 215123). It's worth noting when looking at a 2011 model that these first examples into the country had disappointingly dull engines, the base Startline delivering only 120bhp, the 160-horse biturbo being reserved for the higher specification variants, with a 2800kg towing limit to match. Tuning company Revo released a tuning upgrade that boosted power of the biturbo engine to 200 horsepower; this is a switchable system so you can flick back to the normal power level, though why you'd want to is questionable – the high-performance package also reduces fuel consumption because the engine requires fewer downshifts and cruises more easily in top gear. It's obviously worth looking out for examples with this fitted, not an easy task since some dealers might not flag it as a desirable feature.
The Amarok may not have lane-change warning or collision mitigation technology, but it is well-equipped with anti-skid and trailer stability systems, along with hill hold and hill descent control. Volkswagen also claim the Amarok is the only pick-up that can take a standard euro pallet sideways between the load bay wheelarches.
Unfortunately the super-efficient Bluemotion technology, which includes engine stop-start, didn't appear until the 2013 model year, when engine power was also addressed with power rising to 138bhp for the Startline and a more useful 178bhp from the biturbo. Early models came with a six-speed manual transmission, with a gear change indicator to help improve fuel economy, but later models could be specified with an eight-speed automatic. The manual gearshift might feel a little notchy in action, but should feel precise and positive in engagement; make sure the clutch disengages and takes up smoothly, any vibration could hint at a potential problem with the dual mass flywheel.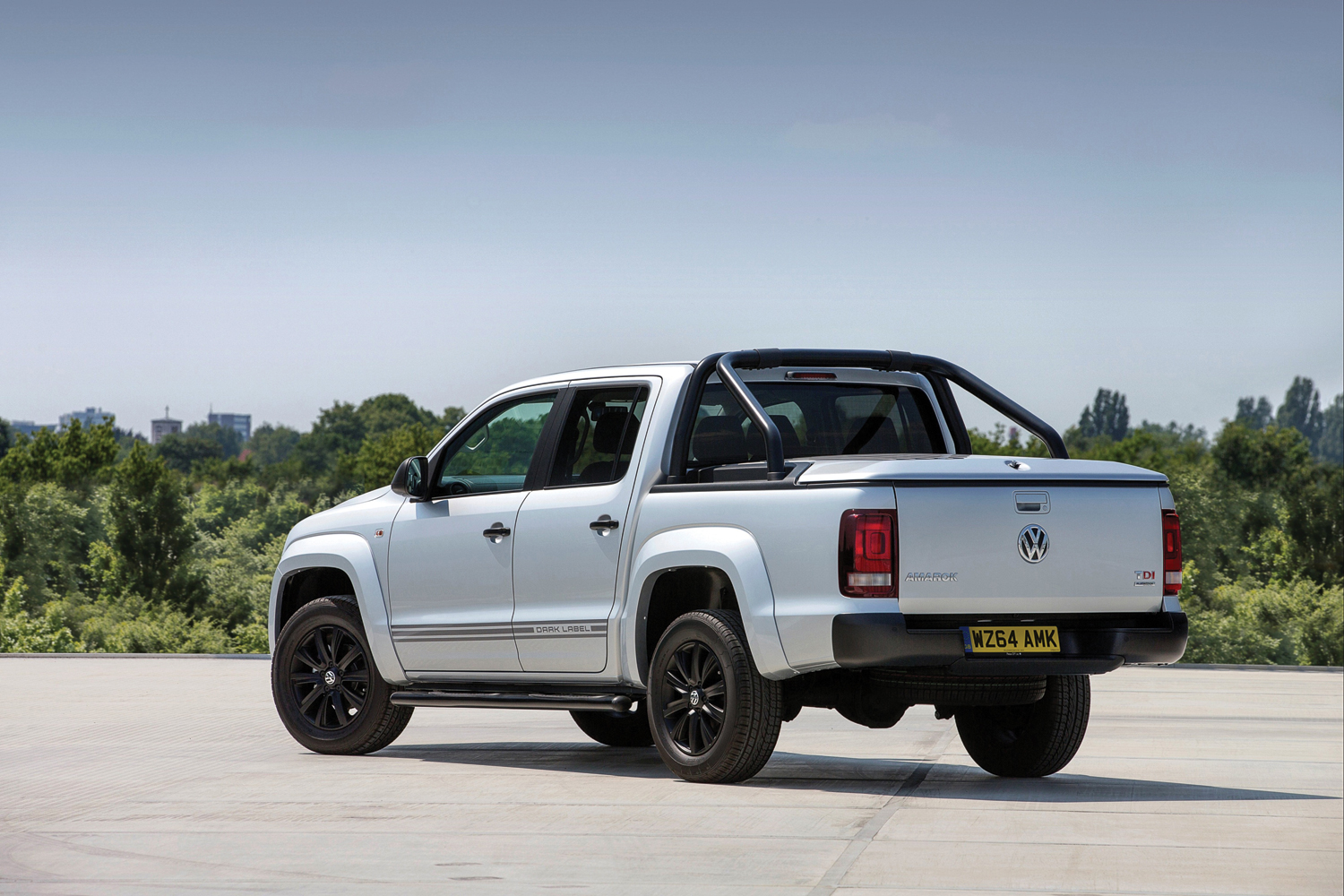 The Amarok's styling is conservative compared with its brasher Eastern rivals, but the interior has a more European car-like feel to it and if it seems like an expensive choice at least the build quality is good and the equipment is excellent through the range with even the Startline boasting climate control air conditioning, electric windows, 16-inch alloys and electronic aids such as traction control and trailer stabilisation, not that we've seen any of these being sold second-hand. The Trendline gets a stereo upgrade with a six-speaker system, cruise control, trip computer, under-seat storage trays, extra 12V sockets and 17-inch alloys, you could get into one of these for under £15,000 but it would be a high-miler – Lancashire Commercials of Morecambe (07956 268338) were asking £16,995 for a 114,000-miler with roof rack, tow bar and upgraded alloys.
The Highline has proved the most popular choice with its leather upholstery with heated front seats, parking sensors, stainless steel side bars and 18-inch alloys, but these are also the highest priced and you'll be lucky to find a second-hand dealer offering a well-maintained low-mileage example for under £18,000 – two 2012 models we saw that came close were a 41,000 miler in candy white with chrome sports bars outside and grey Vienna leather inside, a one-owner truck asking £19,949 at Platinum Marques of Reading (07957 253022) and a 25,000 miler at Gregory Garage 4×4, white with black leather and including a hard top canopy, full service history and new MOT, priced at £18,995.
Things to watch for are which four-wheel drive system is fitted, the Highline has permanent four-wheel drive with a Torsen centre differential, other versions have selectable 4×4. Also the payload varies depending on the suspension – trucks fitted with the 'comfort' springs may not qualify as commercials, so won't have reclaimable VAT or commercial BIK benefits.
---
WHICH ONE WOULD WE CHOOSE?
Brand values count for much in this sector, you'll hear nothing but praise for their vehicles from owners of L200s and Hiluxes even though the Ford Ranger offers better comfort than either, the Isuzu D-Max is by far the better load-lugger and the Nissan Navara a more involving car to drive. Take into account the inexorable transformation of the double cab from working vehicle to luxury SUV and the choice becomes more difficult, because now we're pretty much ignoring practical factors and looking for which car offers the best in the quality of upholstery, the coolest air conditioning, the most functions in the multifunction ICE and the best electronic driver assist package. If it's the refinement and performance of a modern mainstream SUV that we're after, we can instantly eliminate the Great Wall and SsangYong – a three-year old well maintained Hilux or L200 will be more refined, economical and practical, and will probably hold their value better after two or three years of use. Our own choice as a great all-round practical, comfortable easy-driving car would be a new Ranger Wildtrak, if we could afford one – but with just £18,000 to spend we're left to play our own brand value game and pick a car that's well made, packed with useful rather than frivolous technology and likely to hold its value well – the Volkswagen Amarok.