For many, the appeal of this stylistically unremarkable Nissan is something of a mystery, but it's rapidly become the world's favourite SUV. You'll have to work hard to find a four-wheel drive as versions are rare, and you probably won't want to drive it very far off-road, but there are other reasons to consider the ubiquitous Qashqai
TARGET RANGE:  £5,000 – £25,000
The Qashqai has to be one of the most surprising success stories of our age. Not only has it been the only SUV to consistently feature in the top ten best-sellers list in the UK, demand worldwide has been so great that the Sunderland factory has been churning them out at the rate of nearly one a minute, with over half a million of the latest-generation models built in less than two years since its launch.
What is it that makes this car so popular? The styling is as mainstream as it gets and we've always considered the interior to be the most uninteresting we've ever been in, but then we are off-road enthusiasts and tend to look for the traditional off-road hints that nowadays are really only visible in Land Rovers, Jeeps and a few hard-core Toyotas. As with most other modern SUVs, four-wheel drive is no longer the essential requirement, so most versions of the Qashqai, particularly those with the smaller, more efficient engines and transmissions, are front-drive only. Even so, it's hard to see the Qashqai appealing to everyday motorists on account of its styling alone, so we're left with the feeling that it's just plain good marketing with eye-catching advertising, wide availability and keen pricing that have won this car so much favour. Whatever the reason, the popularity of the Qashqai means a huge selection of second-hand models to choose from – just check that the one you've laid eyes on at that local dealership actually does have four-wheel drive.
When it was launched in 2007, the Qashqai was a conventional five-door five-seater, but a year later the Qashqai+2 appeared, with a longer wheelbase and longer body to incorporate a third row of seats, though in fairness these are only big enough to accommodate children. Otherwise the Qashqai+2 is mechanically identical to the original. Either version could be specified with 1.5 dCi turbodiesel or 1.6-litre petrol power, but 4WD versions were available only with a choice of 2.0-litre petrol or turbodiesel engines. These in turn could be specified with either six-speed manual or automatic transmission, a conventional six-speed type in the dCi turbodiesel or a CVT type with the petrol engine, this latter combination promising to be more economical than the manual. The four-wheel drive system is amusingly described as All Mode, which is a lie since it doesn't have the key off-road feature of low range gearing; however, the system does mean the Qashqai drives through the front wheels when the going's good but seamlessly adds drive to the rear wheels when required in slippery conditions; there's also a lock function that engages 4×4 permanently at low speed to help with more tortuous off-road conditions.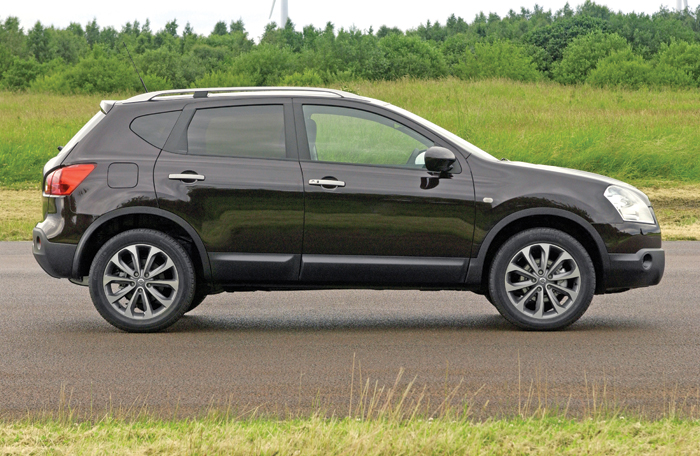 A facelift for the 2010 model year saw a front-end restyle aimed at giving the Qashqai a better air of sophistication and enhanced street presence. The bonnet is restyled, along with the bumper, grille and headlamp treatment, while the rear features red LEDs in the tail light in place of the conventional bulb of the original. The dashboard design is also better, with more oddment storage. Top models get a speed limiter and the Tekna gets quality Bose speakers.
One of the more controversial enhancements for 2010 was the installation of diesel particular filters in the exhaust systems of turbodiesel variants. While undoubtedly effective in improving the quality of diesel exhausts the DPF has an annoying tendency, especially in cars used almost exclusively for short city drives, of clogging up and disrupting engine performance.
More significantly in late 2011 the 1.6 dCi engine was made available with 4WD offering improved economy, especially when specified with the stop-start system. Ultimately only this and the 2.0-litre dCi were offered.
The current model from 2014 is available only with the 1.6 dCi unit, and brings the Qashqai right up to date with the latest technological driving aids. Nissan's 'Safety Shield' features on high-specification versions include forward emergency braking traffic sign recognition and parking assistance. What it doesn't offer is the seven-seater option since it's built on a new compact floorpan, but refinement is better and the braked trailer rating is up from 1400kg to 1800kg.
Our verdicts
Nissan is only one of many manufacturers who've claimed to have invented the crossover concept. The Qashqai was something of a late arrival in that respect, but we still felt the need to explain Nissan's thinking in replacing the conventional but nevertheless popular Almera and Primera hatches with a more unconventionally-styled car belonging in the more niche-like SUV corner of the market. In our introductory report on the new car, in the April 2007 issue, we explained: "Nissan's research shows drivers of mid-range family cars want something other than a traditional hatch, saloon or mumsy MPVs. Nissan decided they'd like something that looks like an SUV, but doesn't necessarily need a 4×4 drivetrain. This is that car." Were they right in shrugging off the traditional hatch image? The best-selling cars in the UK last year were the totally traditional Ford Fiesta, Vauxhall Corsa, Ford Focus and Volkswagen Golf – but the new Qashqai was right in there in fifth spot. We didn't foresee that level of success at the time, mainly because we weren't sure about the styling. We wrote: "The snub nose, raised haunches, well-defined wheel arches and protruding bonnet 'muscles' set the Nissan apart from its dumpy Korean 4×4 rivals. The rear three-quarter view even has more than a whiff of Audi Q7 or Hyundai Santa Fe about it. Shame the effect is spoilt by the flowing waistline terminating at such bug-eyed headlamps."
We summed up the situation in the March issue of 2008, when we published our first road test of the Qashqai: "The ever-changing face of 4×4 motoring has never been so eclectic…", which made it quite difficult at that time to find suitable rivals for the Nissan: is it a crossover? An SUV? A soft-roader? The answer is none of these, though the 4×4 version has SUV pretensions. Hence in our comparison we pitted it against another oddball city pose vehicle, the Jeep Patriot, and the slightly more off-roady Hyundai Tucson. We decided the Jeep was affordable and spacious but didn't like the plasticky interior; the Tucson was cheap but dated with a dull interior, which left the Qashqai an easy winner with its quality feel and practical loadspace. We said: "It drives as smoothly as a premium sector saloon with a smooth ride, sharp handling and refined engine performance." It fared less well as an off-roader – the best we could say about it was that, "it's no greenlaner." In October of that year we welcomed the arrival of the seven-seater Qashqai+2; We reported Nissan's claims that the +2 is not geared for adventurous off-roading: "The All-mode 4×4 system provides enhanced 'family-safe' traction on icy or mud-covered tarmac roads."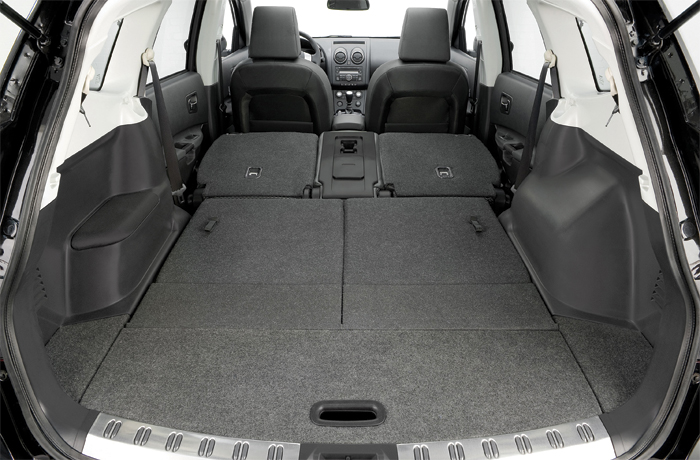 We damned the Qashqai with faint praise when it featured in our 4×4 Of The Year comparison for 2009. We described it as, "another crossover variation that's introduced the term 'urban SUV' to the UK 4×4 market. The Qashqai is selling like hot cakes thanks to keen pricing, though most of the range is 2WD-only. Though a tad dumpy in appearance this city-friendly 4×4 is roomier than a des-res flat in Knightsbridge and can carry a lot more luggage than a hotel bellboy, while build quality and equipment count is closer to prestige levels. Not expected to tackle anything more than a soggy field or a stony track."
In the Winter 2013 issue our 4×4 Of The Year feature included the 360, the last significant addition to the Qashqai range before the arrival of the all-new 2014 model. Apart from describing the all-round parking-assist view afforded by the four-camera setup, we at last made our true feelings about the Qashqai's interior known: "We can't help wondering if the popularity of the Qashqai has something to do with the understated interior which must appeal to the many who can't cope with having lots of gadgets and switches to play with. The styling of the interior is ordinary to the extent of being quite dull, particularly in the mass of plain plastic of the heavy-looking dash panel."
Our final comment on the latest model may suggest we're out of touch with motoring reality, considering the sheer public popularity of the Qashqai. It's partly because we are – to repeat the point yet again – off-road enthusiasts so can't take the Nissan seriously as a 4×4, but it's also partly because we're driving enthusiasts, and the Qashqai doesn't kick our butts there, either. In our 4×4 Of the Year comparison for 2016, published in the recent Winter edition, we commented: "With the lusty 128bhp engine the Qashqai performs well, but it can hardly be described as a car that's exciting or memorable to drive. It's a car you drive because it's a requirement for efficient family transport rather than one that demands to be taken out on a Sunday afternoon just for the thrill of it."
Not saying we're wrong, but the many thousands of satisfied Qashqai drivers can't be wrong either, so if a popular, well-equipped, practical and roomy family car is what you want, a Qashqai might be the ideal choice.
Which one to buy
There were originally three equipment grades, all well-equipped with electric windows front and rear, electrically operated and heated door mirrors, Bluetooth integration, air conditioning and remote central locking. Even the entry-level Visia has a trip computer and stereo, front, side and roof airbags and automatic door locking. Hard to say how much you'd pay for an early one of these, since we haven't seen any on sale anywhere, but around £3000 for a well-maintained one would be a fair guess. The mid-range Acenta has rain sensing wipers and automatic headlamps, cruise control, rear park distance sensors and remote controls for the stereo. The air conditioning is upgraded to a dual-zone system and there's a six-disc autochanger in the dash. Expect to pay up to £10,000 for a reasonable-mileage later example with a good service history, earlier examples are significantly cheaper, we spotted an '08 model with 86,000 miles on it but with a full service history on offer for £4993 at GP Cars of Hatfield (01992 843852).
The range-topping Tekna gets the panoramic sunroof as standard along with Xenon headlamps, front fog lamps, 17inch alloys and an added touch of luxury in the leather upholstery with heated front seats. Brand Trading of  Westwood, Nottingham (01773 607808) was offering a 73,000-mile 2010 metallic silver car with the 2.0 dCi engine, full service history, four new tyres and a year's MOT for £9750.
The facelift for the 2010 model year saw the arrival of the N-Tec, the key equipment upgrade (shared with the Tekna) being the Nissan Connect system which integrates Bluetooth connectivity with a five-inch touch screen satnav and upgraded stereo with MP3 and USB connectivity and a colour reversing aid camera. The N-Tec also has 18inch alloys to offset the rear privacy glass and satin silver roof rails. What you'll pay for one will depend on condition and mileage: we spotted a 2011 2.0 dCi with just 23,000 miles going for a smidgeon under £14,000 at KC Jones of Oswestry (01691 721964).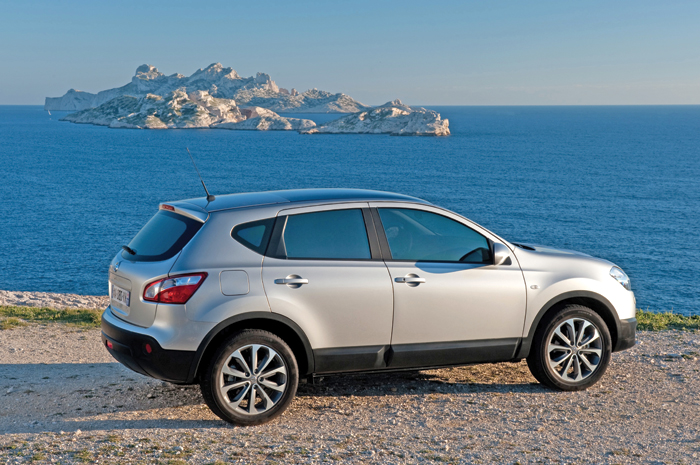 Petrol examples are rare, but potentially less troublesome than an older turbodiesel – no turbocharger or DPF filter to go wrong – so worth considering if you don't do a high annual mileage; we saw a smart one owner 2010 Tekna in creamy-brown Caffe Latte with 32,000 miles on it, with the CVT transmission, going for £12,000 at Available Car of Cannock (0800 804 6503). Whether you'll choose a 360 over an N-Tec or Tekna is almost purely a matter of whether you need the gimmicky all-round camera parking aid; there are dozens of used 2013 360s around, but very few are 4WD versions; we did see a Storm White example at MJA Car Sales of Walton (01932 509944) for £18,000.
Best buys must be the many nearly-new models being offered at good discounts by dealers nationwide – many of them 4x4s ordered in expectation that four-wheel drive versions would have more appeal, but ending up 'on the shelf' as 2WD versions proved more popular. Look out particularly for ex-demonstrators, many of which will have had optional extras fitted and will therefore be better value than their face-value price may suggest. High-specification versions are particularly worth looking at – we've seen several 1.6 dCi Tekna models, original list price over £26,000, going for anything from £20,000 with under 5000 miles on them. One of the keenest deals we saw was the £27,290 being asked for a red 2015 Tekna, an ex-demonstrator with 5000 miles and over £3000 worth of extras, including the protection pack, 19inch black alloys, detachable tow bar, hood deflector, illuminated side bars, sports pack and chrome design pack, a Nissan Cared4 vehicle on sale at Trenton of Hull (01482 763997).
ENGINE DRIVETRAIN CHASSIS BODY AND INTERIOR
The 4×4 versions of the Qashqai all have engines with chain-driven camshafts, so won't suffer the fate of so many of the 2WD 1.5 dCi versions that experienced premature cam belt failure. However, it pays to beware of higher-mileage 2.0 dCi cars that have an air of hard use about them, as it seems that consistently revving the engine to the red line to get the best performance from it can lead to premature main bearing failure. Some cars have had the chances of this reduced by an adjustment that reduces the power and torque output, which in the longer term might be a good thing. An extended warranty was applied from late 2013, if buying a nearly new car check that this warranty still applies. Otherwise make sure the car idles and drives smoothly, later models with diesel particulate filters can suffer from clogged filters if used purely as urban runabouts – the DPF needs a regular long run on a motorway to burn out the collected carbon deposits. Also listen for excessive whistling or whining noises from under the bonnet, accompanied by excess black exhaust smoke on acceleration, which might indicate a failing turbocharger.
If the car has manual transmission make sure the changes are smooth and baulk-free because linkages can wear prematurely. Also reject any car where the clutch does not release and engage smoothly or requires excessive pedal movement to release. The high torque of the 2.0 dCi engine can cause excessive clutch plate wear if you're in the habit of letting it slip as, for instance, when waiting for a gap in traffic or waiting for the lights to change. The automatics are generally more reliable though the high sixth gear may not actually engage automatically when cruising around at city speeds and may need to be selected via the manual mode; if top gear doesn't engage fuel consumption may suffer. Rear differentials can be problematic, listen for excessive whining or clanking from the rear end, more importantly make sure the car proceeds smoothly in a tight turn without any jerky feeling through the steering or scrubbing of the wheels, which might indicate that the vehicle's All-Mode four-wheel drive system is actually engaging unnecessarily, which could be the cause of damaging strain on the rear differential.

A common fault on early cars is premature wear to the rear damper bushings, resulting in a rattling noise when driving on a less-than-smooth road. Replacing the bushes need not be an expensive job but have it done before you pay for the car or look for one that's already been repaired. The causes of this problem were supposedly sorted for the 2010 facelift, so ought not to affect later models. Check the brake discs for excess wear or scoring, on a test drive make sure that the brakes work smoothly with no juddering, as warping of the discs is fairy common.
Some cars seem to suffer from excessive condensation on the inside of the windscreen, possibly as the result of a poorly sealed screen. If there's a damp smell inside the car reject it. Check that the air conditioning works effectively, failure caused by a deteriorating condenser matrix is not unknown. Check for any sign of cracking on the windscreen or the panoramic sunroof. The boot is a good size, check that the plastic panel over the latch is properly secured, using it as a lifting handle can break it. Also note that the folded rear seats don't give you the completely flat floor that you'd expect from a practical SUV. If you're regularly going to carry three passengers on the rear bench, make sure whoever gets lumbered with the centre position is comfortable there – most people find it awful, because the bench is so clearly shaped for two. A hi-tech problem that could apply to many modern cars is that the Bluetooth system may not work properly with android or Windows phones, worth checking before buying.
Or you could consider…
FORD KUGASKODA YETITOYOTA RAV4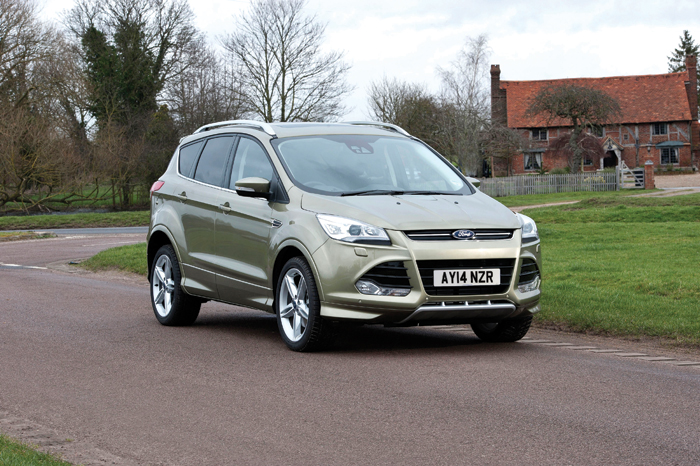 The latest generation Kuga is an impressively high-tech car, with a surprising feel of quality about it, while the superb traction and stability controls combine with good performance and excellent road manners to make it one of the more engaging SUVs to drive. All versions have the Ford SYNC system offering voice activation to make phone calls, select a CD track or have a text message read out to you. Equipment levels are excellent throughout the range, with extras including the clever 'kick-ass' boot release, which opens the tailgate when you wave a foot under the rear bumper – as long as you have the key on you, of course. Four-wheel drive is an 'intelligent' self-acting system, like the Qashqai aimed more at on-road traction than off-road adventuring, but the styling is arguably more adventurously SUV and the interior is far more interesting.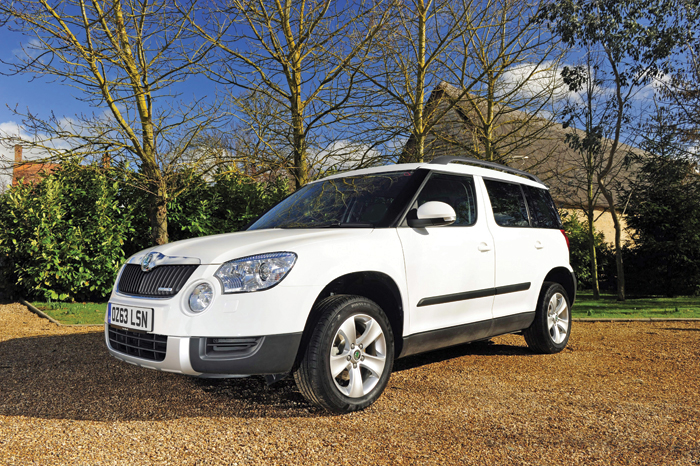 The styling may be a little off the wall but there's no doubting the practicality of this more estate-like urban SUV not to mention the value-for-money pricing. It may be a dated design but the facelift of 2014 included more efficient engines and up-to-date technology, plus the introduction of the Outdoor version with enhanced off-road features. Build quality is good, it has impeccable road manners and if specified with the 167bhp 2.0-litre turbodiesel it has more the feel of a Golf GTi than an SUV. Look out for high-specified versions with electronic park assist, a useful feature in any city-bound car. The Yeti is hardly designed or styled for hard-core off-roading but it's worth looking for examples with the 'rough road' package installed, which includes a thermoplastic tray designed to protect the engine and transmission and covers for the fuel and brake lines.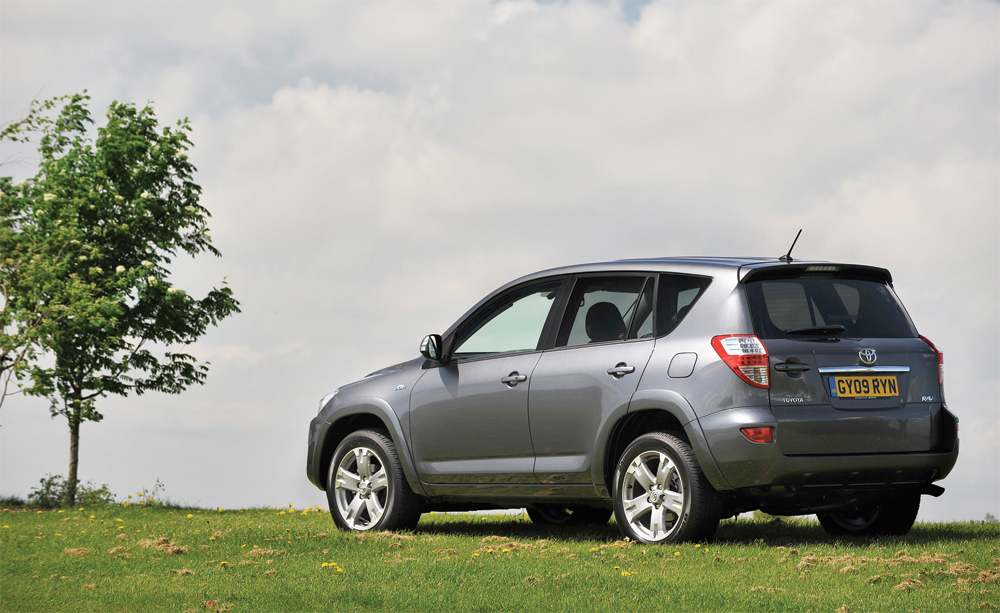 Once a niche-market fun car, the RAV4 has transformed itself into another mid-range crossover-cum-SUV clone, but then it's not a car you buy for its looks, its appeal is the promise of the traditional Toyota strengths of  good build quality and excellent reliability. It's as big and comfortable as the Nissan, possibly more practical with its easy one-movement rear seat fold giving a completely flat load floor, and it has a more interesting interior if you don't mind the excess of chrome trim on the higher-spec versions. With four-wheel drive you get the 2.2-litre turbodiesel or a 2.0-litre petrol engine, neither of them offering exhilarating performance, but the Toyota is at least a bit more involving to drive than the Nissan Qashqai. However, a used Toyota RAV4 will probably be more expensive than a similar-spec Qashqai, but should also hold its value.