The race is on to create the most refined, road-friendly SUV. Fortunately off-road enthusiasts are still able to lay hands on the one car that holds true to the original concept of the recreational off-roader, the spiritual successor to the charismatic CJ-7
TARGET RANGE:  £2,000 – £10,000
Some 4×4 enthusiasts might be excused for thinking that most manufacturers of four-wheel drive cars have lost the plot, putting the emphasis on sleek style, comfort and refined road manners at the expense of off-road capability. The truth is they've written a new script in which the SU of SUV stands for Significantly Upperclass rather than Sports Utility, with very profitable results. Even Jeep, the company that set the whole recreational off-road ball rolling 60 years ago, has succumbed to the lure of the mainstream big buck by aiming their new Cherokee squarely at socialite suburbia with none of the genuine utility of the original Cherokee.
Jeep has at least clung to one small element of its iconic past, in the form of the Wrangler. The Wrangler had a tough act to follow – it was the replacement for the CJ-7, which back in the 1970s in Renegade form with punchy V8 power, launched the whole concept of the high-fun Recreational Activity Vehicle. In reality the first Wrangler, developed and produced under AMC ownership, was a bit of a cost-cutting compromise, basically fitting CJ-lookalike panels to a shortened Cherokee uni-body frame and hanging the axles on leaf springs, so although the stated aim was to make it a more refined, driver-friendly car, it actually had little more refinement than the CJ-7 and significantly less off-road ability in its standard road-safe low-riding form.
Enthusiasts were therefore over the moon when in 1996 Chrysler upgraded the concept with the TJ Wrangler, reverting to a separate chassis, reinventing the iconic styling cues of the CJ-7 while also achieving the double-whammy of better on-road refinement and enhanced off-road performance by adopting long-travel coil springs all round. This car is, unquestionably, the true conceptual successor to the CJ-7.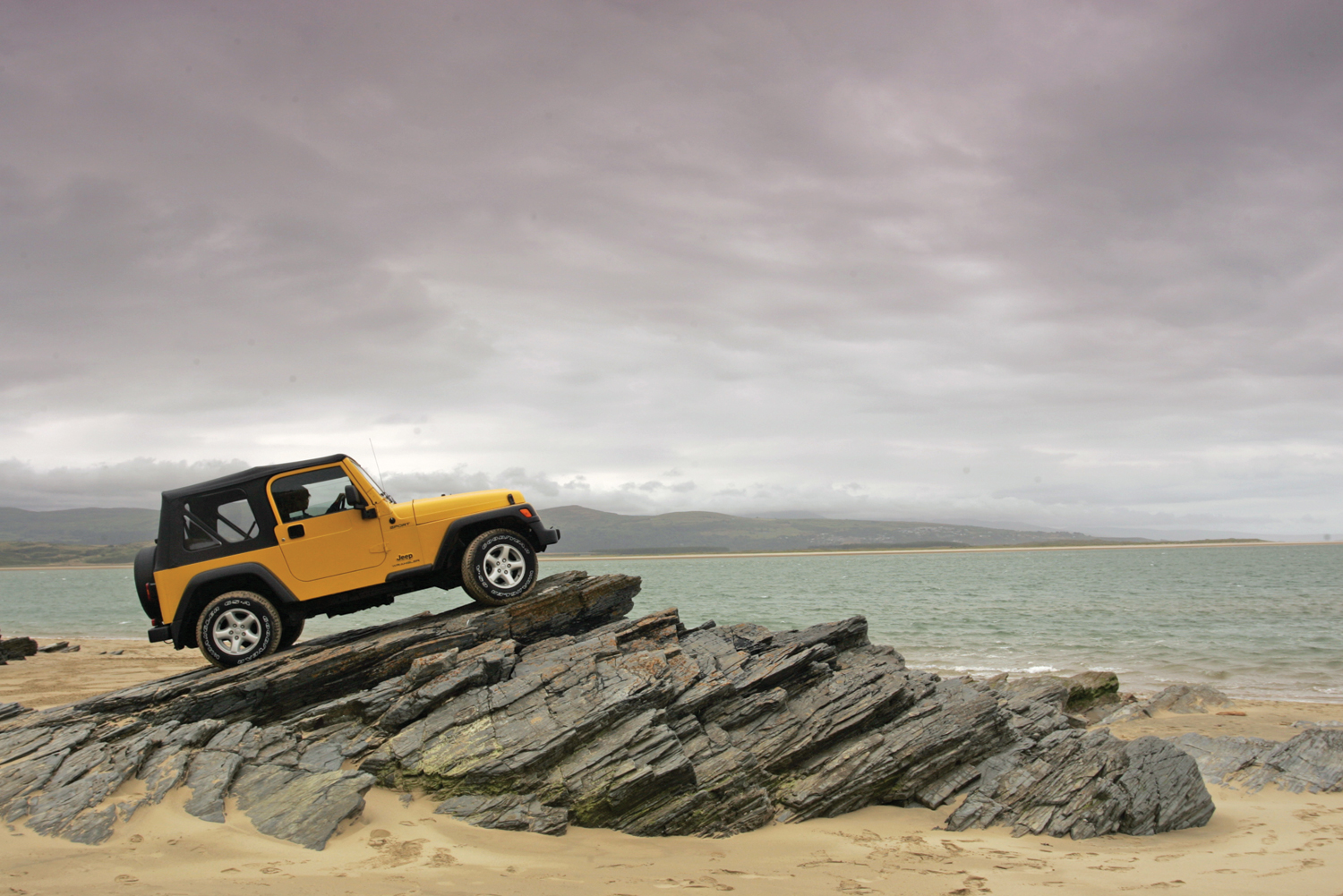 It couldn't last; by 2006 Chrysler couldn't ignore the need to upgrade this historic but dated pattern with a more family-friendly body, including four-door format, along with more economical and environmentally friendly engines. The current Wrangler is still a very capable off-road vehicle, but no one can deny that it's lost some of that soul-lifting fun for fun's sake image of the CJ-7… and the TJ. The change had to happen, though, as evidenced by the worldwide sales figures; where the TJ sold at an average of 80,000 units a year through its 10 year lifespan, the new Wrangler instantly upped the ante to an average of 130,000 units a year. To put this in perspective, Land Rover proudly announced their millionth Discovery in 2012, after 23 years of production; Jeep sold nearly a quarter of a million Wranglers in 2013 alone. That popularity is being echoed in the UK; at a recent Jeep Owners' Club meeting, Dean Stogdon, sales executive for a Surrey Jeep dealership, turned up to put the new Cherokee on display. He told us: "I sold seven Jeeps last week – six of them Wranglers."
Desirable the new Wrangler may be, but anyone wishing to experience the emotional high of owning and off-roading in a car that more genuinely reflects the all-American panache of an iconic Jeep need look no further than a TJ Wrangler.
As a sop to the health and safety overlords the TJ in its basic form sits low on relatively small wheels to enhance on-road stability. However, the massive popular appeal of the TJ as a recreational off-roader has spurred many specialist companies to produce upgraded components to improve the off-road ability, mainly in the form of suspension lift kits allowing bigger wheels to be fitted, along with underbody protection, locking differentials, winch bumpers and the like. With a little lift and some grippy off-road tyres under its iconic flat fenders, the Wrangler is a truly uncompromising go-anywhere 4×4 that cannot help but provide total off-road satisfaction.
Our verdicts
We were fortunate indeed that one of our first contacts with the TJ Wrangler took the form of one of the most technical hard-core tests we could have hoped for – an opportunity to drive one on the famous Rubicon Trail, a 22-mile route that crosses the Sierra Nevada between Georgetown in northern California and Lake Tahoe. To call it a "trail" is an understatement – although it was once a made-up road it's fallen into such disrepair that much of the route simply rides over the base rock of the mountain, with stretches of exposed boulders, sharp outcrops and loose rocks to be traversed. Our opening description, published in the December 1997 issue, said: "There was a rock the size of a double-decker bus off to the right, another the size of an elephant on the left and between them a gulley that looked deep enough to swallow a horse and cart. But there was an old Californian mountain man up ahead gesturing us to keep on moving, and the bright blue Wrangler squeezed through without a squeak from scraping underbody or a scratch from the gleaming paintwork."
In spite of that completely standard car's competence, we'd right from the start considered it to be too low-riding, badly in need of a suspension lift and taller tyres to give it an edge over the only other vehicle that could match it off-road, the Land Rover Defender. We didn't have to wait long, because Jeep's UK distributors, eager to emphasise the Wrangler's off-road credentials, had engaged Surrey Off-Road to provide the necessary modifications. With a three-inch lift and running 35-inch tyres, Rubicon II was born, a car that has since inspired many copies. We took the car on the Milles Rivieres off-road event in France. Our account of the event in the January 1998 issue gives some idea of the treacherous nature of some of the sections, which had my navigator squealing in fear on more than one occasion, but notably we ended the report with: "Rubicon II was also a great car to drive home in. We cruised the French motorway at 10mph over the official limit, the bucket seats giving incredible long-distance support – after 20 hours of driving, with one brief lunch break and a few coffee stops we never felt fatigued."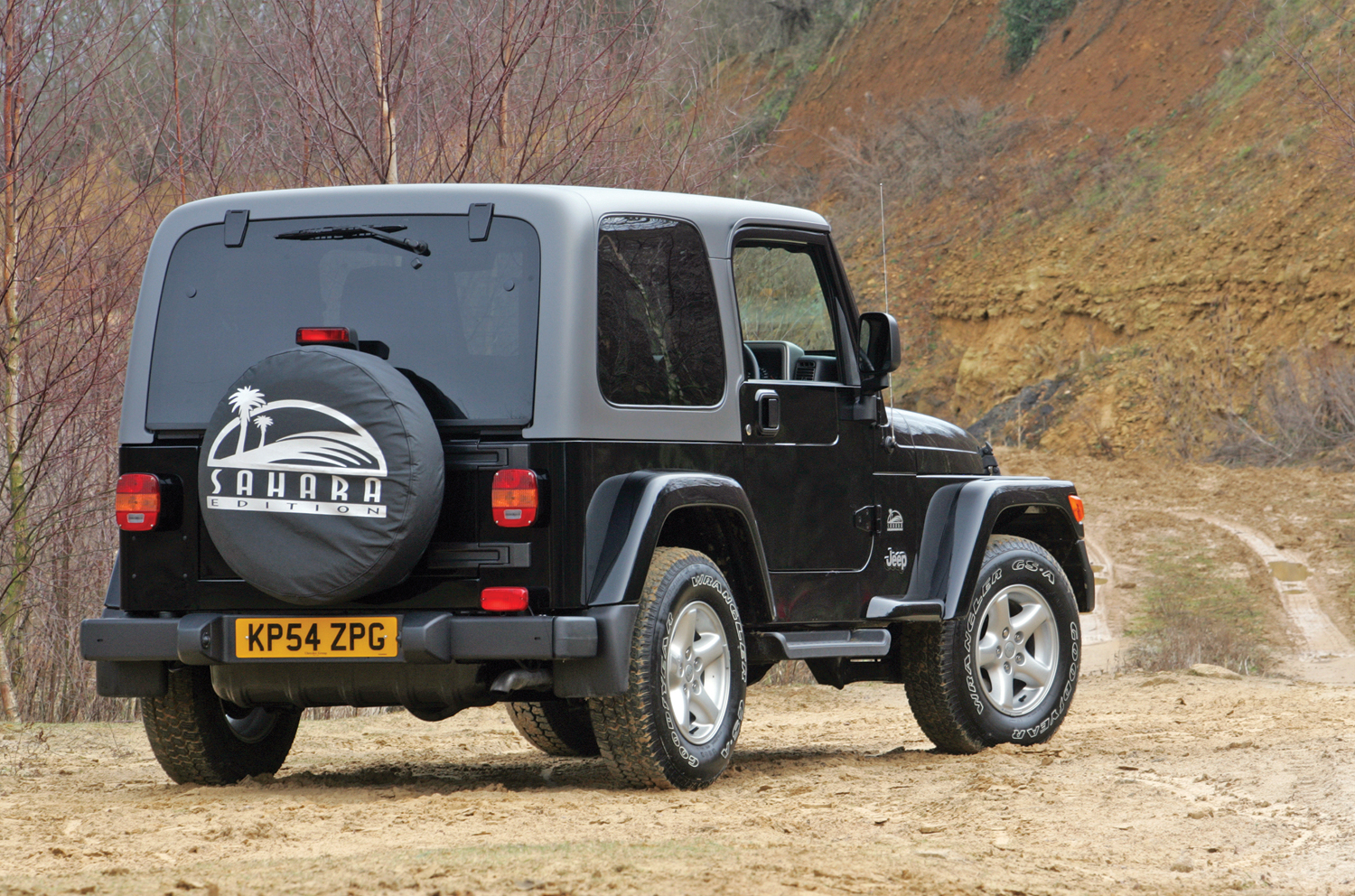 Our first serious comparison test of the Wrangler pitted it against a Suzuki GV2000 and a Land Rover Freelander. Our verdict was a no-brainer: "With the sun bleaching the sand and a cool breeze blowing over the dunes we weren't in the mood for choosing the most practical or the most refined car of this group. It was sheer fun that mattered and ultimately only one of the threesome had the character to excite our senses. It wasn't the Vitara; the Freelander at least looked the part; but with the roof tucked away so we could enjoy its fully-open configuration, the Jeep was just the business."
The Wrangler appeared in our 1998 4×4 Of The Year extravaganza, vying for favour against Suzuki Vitara, SsangYong Korando, Nissan Terrano and Vauxhall Frontera Sport in our 'funster' class. Because we were taking practicality and refinement into account, the class winner was the Nissan Terrano, but in any case we weren't that impressed with the Wrangler's plasticky dash and old-fashioned switchgear. We'd got more used to it by the following year, when we gave it the 'best funster' award. If we'd had any reservations about it, it had to do with the low ride height of the standard car. As we said of the 60th Anniversary model featured in our 4×4 Of The Year for 2003: "With its big torquey engine and classic styling the Wrangler ought to be the best off-road funster money can buy. On paper it has all the right statistics, with its coil-sprung beam axles and selectable 4WD system, but in practice it runs out of ground clearance too readily when the terrain gets tortuous. The 60th Anniversary special we tried looked simply superb – all it needs is a four-inch suspension lift." The story continued right up to the arrival of the replacement new Wrangler in 2007; each year the TJ Wrangler came second to the Defender (except for the 2007 edition, when both Jeep and Land Rover were trounced by the Hummer) and in each case the low ride height let it down in extreme conditions.
The only other significant report we carried on the TJ Wrangler was in the July 2005 issue, where we tried the new six-speed manual version. We said: "It's impossible to avoid the impression that the switch to six speeds is more to enhance the on-road behaviour than off-road prowess. Where the five-speed had wide ratios with a long overdrive fifth, the six-speeder closes the ratios so it behaves more like a sports gearbox. Top is still an overdrive, but not as extreme as on the five-speed, so the Wrangler can now hold motorway cruising speeds more easily on long power-draining inclines."
Which one to buy
There isn't much of a choice, first toss-up being between 2.5-litre four-cylinder or 4.0-litre straight-six power. If you're after something charismatic to use as a road-only car or aren't going to do anything particularly exciting off-road, then the 2.5 might be a sensible choice only because of the marginally lower fuel consumption – in theory it should use a lot less fuel but it works hard in the heavy Wrangler. It doesn't really have the torque to cope with more serious off-roading, especially if you're planning to enhance the car with a high-riding suspension upgrade, winch bumpers and the like, all of which add weight. Check the power output of the 2.5-litre example you're planning to buy – early examples had a softer 117bhp engine, during 2001 this was uprated to 140bhp. In spite of that improvement the 4.0-litre, in spite of its heavier consumption, remains the engine of choice since it has plenty of power and big torque delivered in a delightfully laid-back manner. Most 4.0-litre versions have automatic transmission – three speed on some early models, so look out for one with the more efficient four-speed – but a manual is a better bet since this will ultimately give better control in difficult off-road conditions as well as taking the edge off fuel consumption. Note that during 2005 the manual switched from a five-speed to a six-speed, though the advantage of the extra ratio off-road is difficult to quantify.
Equipment in all Wranglers is somewhat basic. Interestingly some of the base Sport models will have had tinted glass and a four-speaker stereo, some with CD player, while others made do with a simpler two-speaker radio. Hence it's worth checking the specification of the ICE and also be prepared to find that previous owners have fitted aftermarket systems. All TJs have headlamp levelling and airbags for driver and front seat passenger.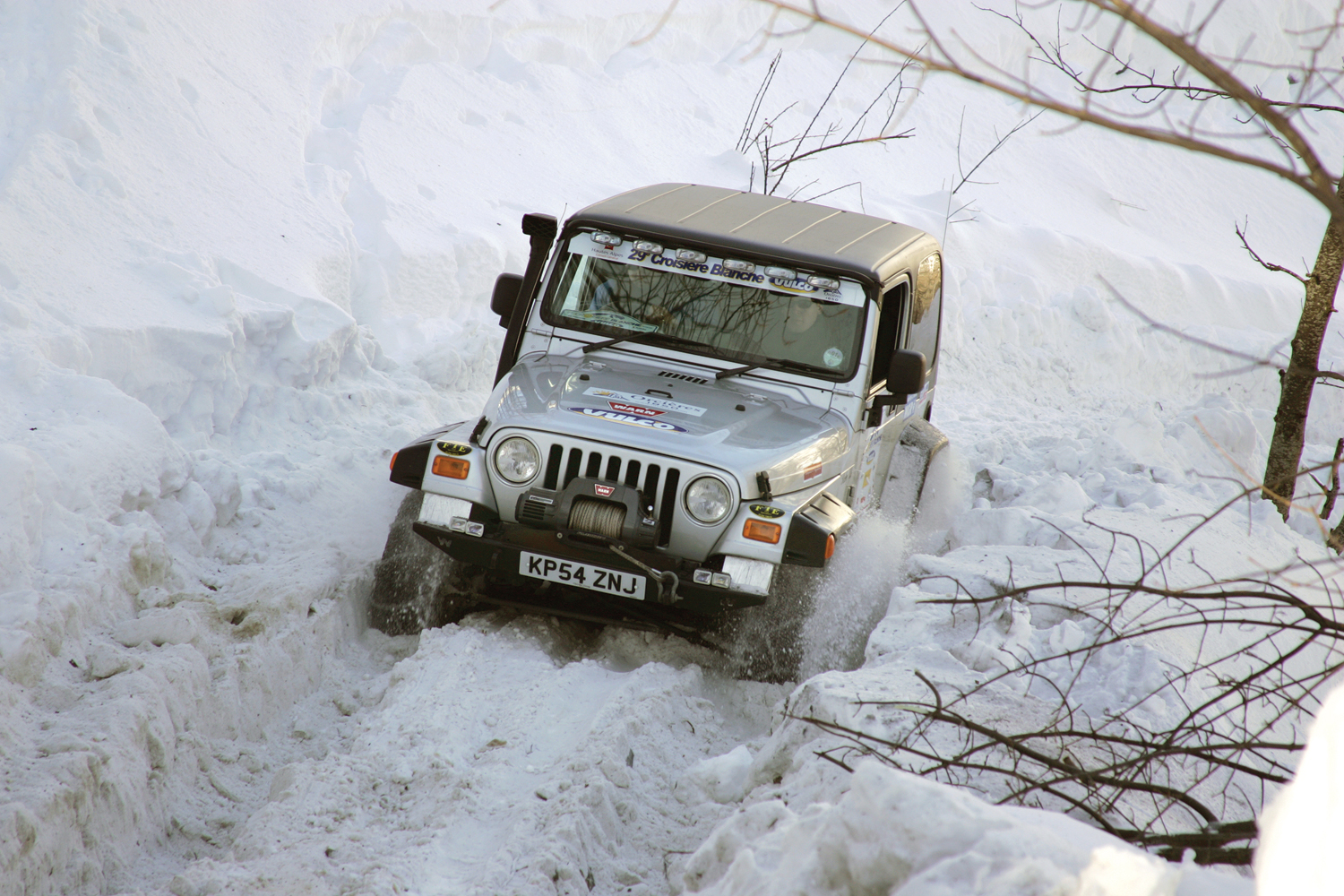 A well-used early Wrangler Sport shouldn't cost more than £2000; a good value offer we spotted was a well-maintained bright blue 4.0-litre Sport manual dating from 1997 with under 80,000 miles going for £2695 at Datom Motors (07838 001134). Low mileage does enhance the asking price, we spotted a particularly desirable blue '97 Sport with just 57,000 miles going for £4995 at Affordable Cars of Rochester (01634 649304).
The Sahara features enhanced equipment including air conditioning, cruise control and an uprated stereo, along with 15-inch or 16-inch alloy wheels, but needn't cost much more than a similar-age Sport, for instance the '97 Sahara 4.0 manual with 140,000 miles asking £2998 at Bucks Auto House of Chesham  (01494 783891).
Expect to pay around £8000 for something from 2002-2003, condition possibly more important than mileage. Different Class Cars of South Woodford (0208 989 0001) were asking £8495 for a gleaming black '02 4.0-litre Sport with 43,000 miles while GP Specialist Vehicles of Manchester (0161 797 7552) wanted £8285 for an '03 Sahara with 39,000 miles. Look out also for an Extreme Sport from 2004 on, we spotted a Pacific Blue example going for £7000 at CCM Vehicle Sales of Bradford.
We've commented at length on the need to give the basic Wrangler a bit of a lift to get the best out of it as an extreme off-road funster, and it's as well to be aware that many owners will already have gone that route. In consequence it may make sense to seek out one that's already had some modifications, such as the 4.0 Extreme Sport, a 2004 model with four-inch lift and 35-inch tyres being offered at £9750 by Atlan Motors of Lancing, West Sussex (01903 765780) with a three-month warranty, just begging you to embark on a life of off-road adventure.
ENGINE DRIVETRAIN CHASSIS BODY AND INTERIOR
The 2.5-litre petrol engine is a reliable enough unit, but it's likely to have been thrashed in this heavy car, so listen for rattling from the bottom end suggesting worn bearings and clattering from the top end hinting at excess cylinder wear, which might also show up as grey oil smoke in the exhaust. Squeaking or groaning could spell wear problems with the water pump or the power steering pump. However, the AMC 2.5-litre engine, which shares design elements with the 4.0-litre six, is good for well over 200,000 miles if treated with respect. The same can be said of the 4.0-litre straight six, which delivers its performance in a relaxed but quite muscular manner, and is generally considered to be 'bulletproof' – though with higher mileage examples, check under the oil filler cap for any sign of 'mayonnaise' that might hint at impending gasket failure. Oil leaks are not common, but water pump failure is always a possibility, so check for excessive front-end noise or any signs of water leakage.
Probably the first thing to check on any pristine-looking car is that the transfer box works properly, the mechanism has a tendency to seize if four-wheel drive isn't used, as may well be the case in a car that's been used purely for road transport. Check that manual shifts are smooth and positive, crunching changes suggesting excess synchromesh wear means a car to be avoided. Automatic transmissions do need to be serviced with the proper enhanced grade of fluid, reject any higher mileage car if the gears don't shift slickly and quickly without allowing excessive revving in the process. Also check that the kickdown is not unduly hesitant. Listen for whining or groaning from the differentials, a car that's been used off-road or towing boat trailers in and out of water might have contaminated fluids. Excessive shunt during gear changes could also be caused by worn universal joints.
Check that the ladder-frame chassis is in good condition; any excessive corrosion should have been noted at MOT time, all the more reason to buy a car with new or long MOT. Sagging springs or soggy dampers might actually be a welcome feature if it allows you to argue down the asking price, since the main reason for buying a Wrangler will be to replace these items with higher-riding replacements; by the same token if you're looking at a car that's already been modified satisfy yourself that the work has been done properly and professionally. Listen for groaning from the steering, particularly when on full lock, as this could be pointing to a failing power steering pump; squeaking on full lock might be no more than a slipping drive belt, but even that is something to have sorted before you buy. Vague steering, knocking or excessive kickback are all pointers to problems from worn ball joints to ineffective steering damper. The brakes are conventional with ventilated discs in front and drums at the rear, but overstretched cables can render the parking brake ineffective. Check for excess scoring of the discs that might indicate hard off-road use; not a problem in itself in this hard-core vehicle, especially if you mean to off-road it yourself, but something to have treated before you buy.
A TJ that's had the doors removed looks really cool – but if that's what attracts you to buy it make sure you do get the removable doors that should come with it. Even the hardtop TJ is designed to have its roof removed when the weather's good, so if you're buying one make sure that the roof is still properly seated and has all its securing fixtures in place, a badly-fitted roof can cause noise and water leakage issues. Also check the interior for signs of water staining on the seats and carpets, a sign that it's been left out in the rain without its roof on. Naturally the same applies to the soft-top. Check that the soft-top roof fits properly – it's a complex arrangement that needs strong fingers to clip neatly into place, the zipper securing the rear screen can snag or come adrift. That rear panel has to be unclipped and rolled up out of the way before you can open the tailgate, so make sure the grip rail is in good condition. Corrosion shouldn't have affected the bodywork, again excessive rust ought to have been picked up at an MOT inspection, but it's always worth checking for staining at seams or signs that paint has been sprayed over dodgy repairs. The alloy door mirror housings may show signs of corrosion, but this is generally no more than a cosmetic problem. Also make sure you have the stereo code.
A little lift here and there works wonders!
Old Man Emu
Teraflex
Rubicon Express

This Australian kit takes its name from the flightless bird that runs across the outback, its powerful legs absorbing the impact while its body remains perfectly level. The OME suspension systems are individually designed and specified to suit each type of vehicle, giving an exceptionally good quality of ride as well as a superb blend of roadholding and articulation. Their replacement springs and dampers for the TJ gives the Wrangler a lift of around 2.5 inches, but there's also a 'Trailblazer' kit giving a full 4-inch lift.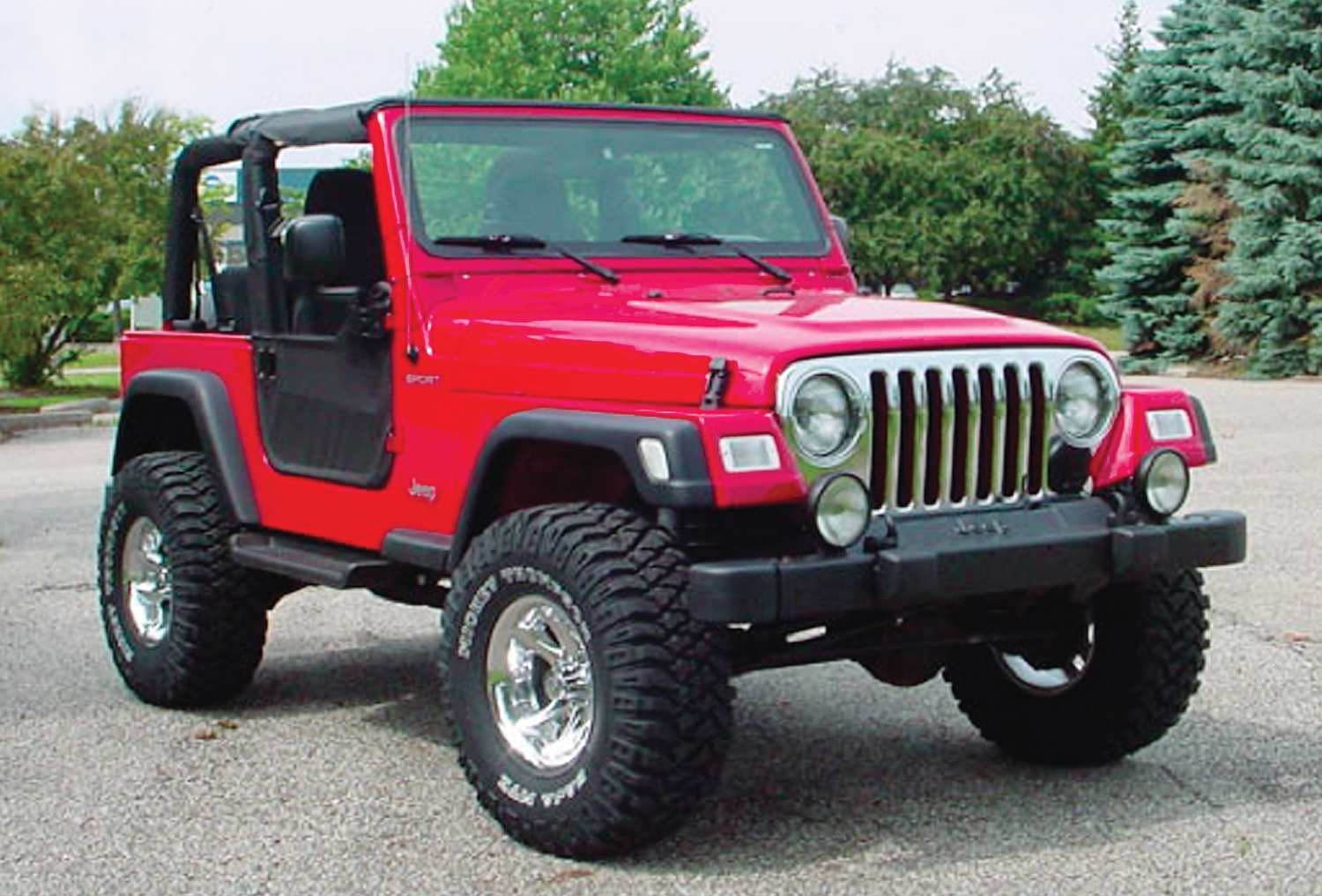 A full range of well-engineered upgrades for the TJ Wrangler, including the most basic of lifts – raising the body an inch above the chassis makes space for taller tyres. Products include two-inch, three-inch and four-inch suspension lifts involving replacement springs and dampers, with longer control arms for higher lifts, with all the necessary bracketry and bushings. Consider anti roll bar disconnects, steering and braking upgrades, the soft-ride Speed Bump bump stops and underbody protection plates.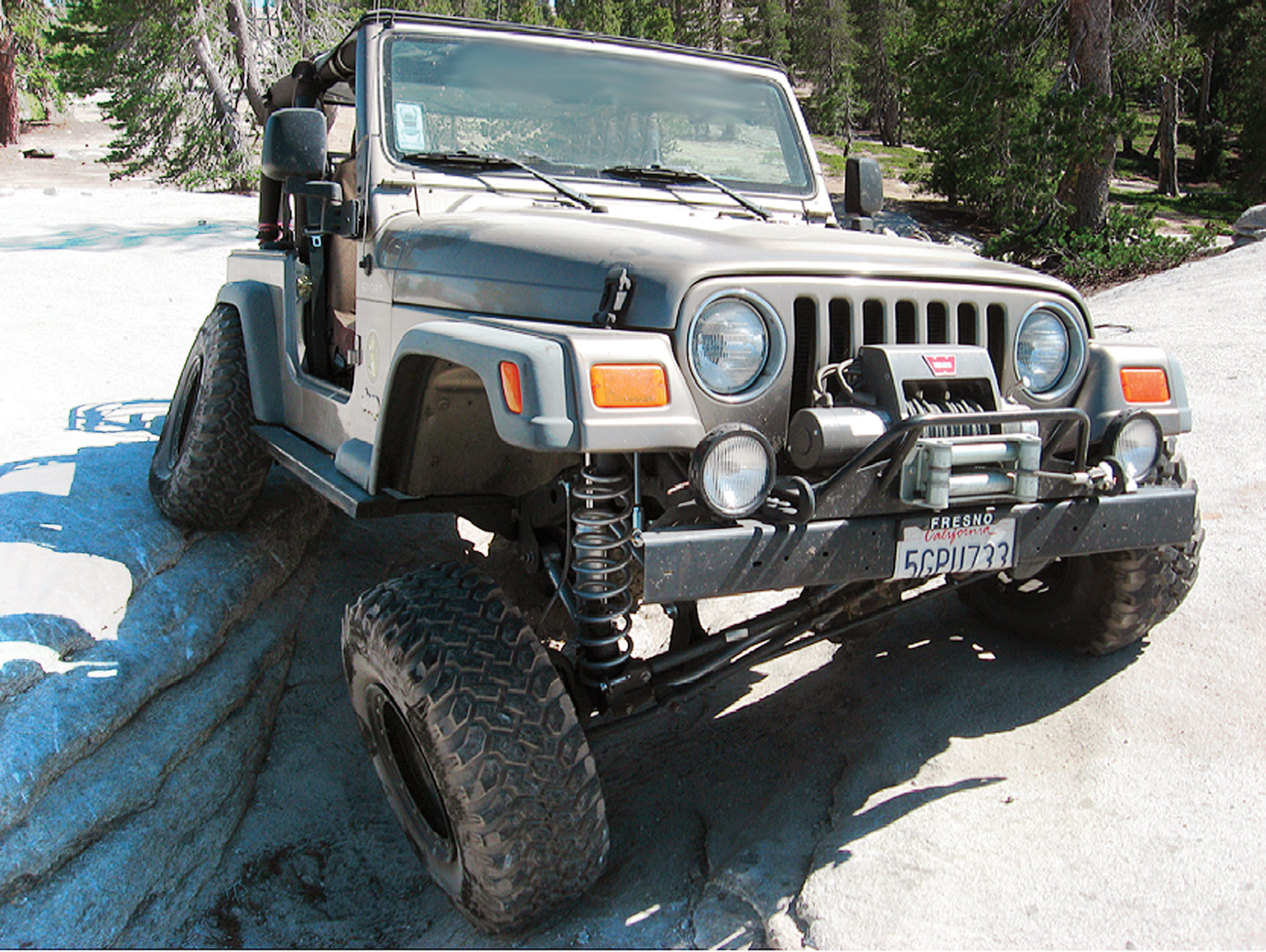 The first company to offer a long-arm suspension system for the TJ – to the uninitiated 'long-arm' is a means of allowing more than usual axle articulation, which in conjunction with the 5.5-inch lift kit they offer makes the Wrangler as unstoppable as it's possible to get. Happily for less extreme types they offer a whole variety of lifts starting at a moderate 2.5-inches. They also offer a range of other enhancements such as sway bar disconnects, replacement track bars and transfer case lowering kits.