August 2012 Issue of 4×4 Magazine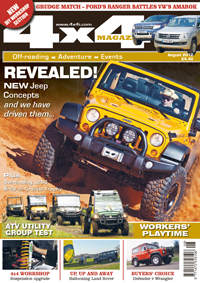 It's been a case of from the sublime to the ridiculous this month. One highlight was sitting on the top of an exposed Kent hillside, in a 4×4 ATV, sans windscreen, doors or roof, in freezing rain, wondering if we should cancel our group test. Thankfully, the weather god's humour improved and we had an excellent day driving these amazing little 4x4s, in proper farming conditions, culminating in an extremely rapid blast in the Can Am Commander; unnecessary perhaps, but great for the soul and reminding you why you love the world of 4×4.
And that was a fact reinforced when I got a brief off-road drive in the amazing Unimog U500 SWB. You know it's going to be an experience when you have to climb 'up' into something. At a cool £115,000 it had all the bells, whistles, horns and klaxons you could want, and many you hadn't even thought about yet. Obviously 4×4, with portal axles, three diff-locks, magical hydraulic systems and a staggering 856lb ft of torque. It had a transmission system that had gears for road use, gears for 'working' and then it had low down in the basement crawler gears, all driven by a 6.3-litre turbo diesel engine. Oh, and while you were climbing, descending, pulling or pushing it has a stereo CD player and Bluetooth connectivity. And this was the 'baby' Unimog of the fleet. My sincere thanks go to Mercedes-Benz for letting me loose with this majestic 4×4 monster. A further request… Can I have another go, please?
Unimogs make a second appearance this month as we report on the Croatia Trophy and would you believe that competing with all the hi tech Land Rover, Toyota and bespoke rock-crawling buggies was a 1957 Unimog? And wait for it, the little beast is still using its original 55-year old engine! Actually, having now experienced the latest Unimog, we can indeed believe that. The one I drove has every chance of still going strong in 55 years time… whether there's any diesel left in the world is another story.
Here's hoping that you enjoy the issue. Give me a shout if you think we are missing something as we try to cover all the bases, from diminutive ATVs to outstanding Unimogs! Cheers.
Nigel Fryatt, Editor

To buy your copy of the latest issue of 4×4 Magazine click here