April 2015 Issue of 4×4 Magazine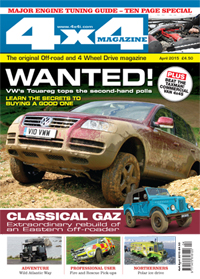 Well, who would have thought? While this is the time of year when many 4x4s are purchased by people seemingly caught by surprise that the winter months mean poor weather and difficult driving conditions, meaning 4×4 sales rise dramatically, finding the Volkswagen Touareg as top of the second-hand sales league table is still something of a surprise. The claim is made by the respected Glass's Guide, the largest vehicle data provider in Europe, traditionally 'the book' that keeps tabs on all UK second-hand vehicle prices. According to these guys, the Touareg was top, with the Skoda Yeti also in the 'hot five' fastest selling cars in January. Our decision to have the VW Touareg as the Buying Guide for this issue can therefore be considered as an example of how we have our editorial finger firmly on the pulse of 4×4 second-hand sales in the UK, or merely a coincidence. We will let you decide on that one.
There's no denying, however, that the Touareg – especially the earlier models – is an excellent, large, family, off-roader. My memory of turning the ignition key on an early V10 model is still strong. Come on, a V10 diesel engine in a family SUV! Astonishing. Rupert Pontin, head of valuations at Glass's Guide describes the Touareg as offering "fantastic build quality, superb engines, great handling and subtle looks. This is the thinking man's Porsche Cayenne." We're not quite so sure of the last bit, but agree with the rest, especially the 'subtle looks'. To support this month's Buying Guide, we have also been able to drive the very latest model (First Drive on page 26) and one thing that disappoints is the way that the design has morphed into looking like every other VW. One amusing, and surprisingly accurate, description of the design of the latest Touareg is that it looks like a 'bloated Passat'.
We have commented before on our disappointment that so many SUVs all look the same, and it seems that today even within one manufacturer's own model range, the idea of having a 'family resemblance' or 'brand affinity' basically means that all models look similar and lack any individuality. When the Range Rover Evoque arrived, its design turned heads, and surprised. Can you still say that when it's parked alongside a Range Rover Sport or the new Discovery Sport? And if you want a real brainteaser, check out a Nissan Qashqai, new X-Trail and new Pathfinder. It certainly makes you wonder, given all the money spent on market research and super cerebral social media campaigns these days, has anyone ever asked the public: 'would you like all the models in this manufacture's range to all look the same?' Unlikely, we suspect. Just as it is unlikely that if asked, the answer would be yes. Thank god for the Skoda Yeti we say!
It's always refreshing, therefore, when we discover an interesting oddball 4×4, and an owner who is dedicated and prepared to spend time, a lot of effort and no little money rebuilding and keeping a rare 4×4 alive. So, in the interests of bucking the dreadful trend of uniformity and bland SUV design we salute Dutch 4×4 enthusiasts Leo and Josien Leijssen and their excellent GAZ-69AM. Never heard of it? Check out page 60, you'll love it. It's great that there are still individuals like this around. Mind you, after checking the prices in the latest Glass's Guide, a V10 Touareg is a tempting proposition…
Here's hoping you enjoy the latest issue, designed to cater for all tastes.

Nigel Fryatt, Editor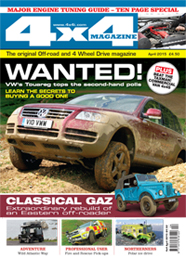 Buy your copy of the latest issue of 4×4 Magazine