April 2014 Issue of 4×4 Magazine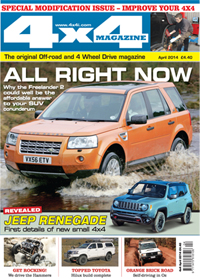 This month's Oddball feature on the Maruti Gypsy got me reminiscing. A lifetime ago, well it was 1987, I was reporting on the Himalayan Rally in northern India. The main aim of my visit was to report on the exploits of two British female rally drivers competing in a near standard Unipart-sponsored Land Rover 90 (more than a quarter of a century before the recently announced Defender Challenge rally series, please note). At the time, foreigners – like me – were not actually allowed to drive hire cars in India, so we had to have a local driver. Not unsurprisingly, however, this did not go down well with us journos.
The solution involved in us leaving the poor soul with a fistful of Rupees in a hotel somewhere in the foothills of the Himalayas (I often wonder if he's still there, awaiting our return). This meant that myself, plus a British photographer, and another two journalists – one British and one Belgian – could drive the 'Press' Maruti Gypsy alone. Our Belgian compatriot had arrived in India with his belongings in a large brown 1930s style suitcase and insisted on carrying it with him at all times. Given that the snapper, the late and great, Hugh Bishop was something of a big lad and that he came complete with a lot of photo gear, things were cosy in the Gypsy.
As you can read on page 92, the Maruti was a Suzuki SJ (then badly) built under licence in India, and we had a particularly grimly constructed and wheezing machine, which flat out, preferably downhill, could manage a top speed of 50kph. Sometimes.
During one night rally stage in Kashmir, we discovered we were running out of petrol, and this in an area where we had been told not to stop for any reason because of the potential of outlaws and dangerous ambushes. As the gauge dropped below zero, things quickly became very tense in the Maruti, until we were overtaken, at some speed, by a brand new white Ford Transit van… with UK plates! Bearing in mind it is pitch black, deserted and we hadn't seen another vehicle for hours, it was immediately obvious this glorious apparition could be our lifeline and we pursued the Ford with as much vigour as the Maruti could muster, since it was obvious this must be a service truck for the official Ford rally team who were debuting the Group B RS200 supercar. Obviously a service truck would carry fuel.
The chase could have been fruitless given our lack of speed, but thankfully the Transit slowed at a junction in the next village, we caught them and were able to persuade them to allow us a precious tankful of fuel. The result was a revelation. Back on the road, the little Maruti Gypsy was transformed. Now, instead of the asthmatic 50kph, the 1-litre engine would roar our 4×4 to 90kph plus. We flew along the narrow tracks, laughing hysterically, while our Belgian compatriot nervously hung on to his suitcase. I never found out what kind of 'fuel' we had been given, but if it was good enough for a Group B rally car, it was obviously the mechanical elixir of life for the little Japanese designed, Indian built, jeep. When later we re-fuelled with 'standard' Indian petrol, the Maruti returned to its sluggish worst, and the previous lightning speed of the jeep became a distant memory. It is, however, a great memory of the Maruti Gypsy, which despite its many faults allowed me to complete my Indian adventure and my Belgian mate, to keep his suitcase.
Here's hoping you enjoy the issue.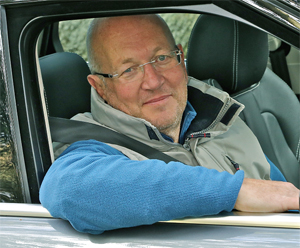 Nigel Fryatt, Editor

Buy your copy of the latest issue of 4×4 Magazine