April 2013 Issue of 4×4 Magazine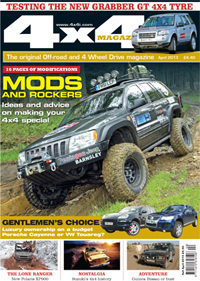 In the last 12 months or so, I have had the privilege of being asked to test a number of new tyres from some major tyre manufacturers. This has ranged from driving in deep snow to race circuits, driving on ice, rock, tarmac and a mixture of all three. Different manufacturers will obviously portray why their particular rubber is the best available, market-leading in one area or another.
If anything, my personal conclusion is that there are now some superb tyres on the market for the 4×4 enthusiast. Which is best? Well that depends on what you want the tyres to achieve; what are your specific requirements. So much of this is a compromise, and it always will be, and that is not a criticism of the tyre producers. If you want a tyre to give maximum mileage, then its construction may mean a compromise on wet weather grip and resistance to aquaplaning. Then again, you probably don't want something that gives you limpet-like grip in the torrential weather we experience, if it wears out within a few thousand miles. So, which is best?
Perhaps you should consider the new European labelling to compare tyres and find the best for you. That, in my humble opinion, is a complete waste of time. Laudable though the labelling regulations concept might be, they only cover three areas; rolling resistance, wet grip and noise. And remember, each tyre manufacturer self-regulates and decides which grading its tyre deserves. Fair enough comparing tyres across a manufacturer's own range perhaps, but is it really to be trusted as a comparison between different tyre manufacturers? More significantly, it will not answer that question; which is the best tyre for me?
At the new Grabber GT tyre launch (see page 20), I discovered one amazing fact from a major supplier in the UK. Across all his outlets, on average, 50 per cent of customers arrive on illegal tyres… Take a moment to let that sink in; these guys are driving about on the same roads as you and me. Actually, it doesn't bear thinking about, does it?
Tyres are probably the most significant single item on any vehicle, and not just to allow you to have fun mud-plugging your way through a great Pay 'n' Play afternoon. These things are carrying you, your friends and family, around safely. They have to perform in such varying conditions, especially in the UK. And when you want them to work, for that dramatic motorway lane change, the sudden loss of grip as road conditions change, or that emergency stop, you expect a lot. Are you taking enough interest in making sure you have the best available for your needs, matched to your vehicle? If your parameters for tyre choice are limited to which tyres are the cheapest, then you are simply an idiot, and a potentially dangerous one at that. So, which tyres are the best?
The first step in new tyre selection is to talk to the experts. Reading this magazine is a great place to start, since we have some of the very best tyre suppliers advertising in these pages and all of them will be well prepared to talk through what you need. Listen to what the experts say, get their experience on your side when making the choice. Of course cost is a criteria, but it's not the only one and it should not be the deciding one. Which is the best tyre? Ask the experts before you make any decision.

Nigel Fryatt, Editor

To buy your copy of the latest issue of 4×4 Magazine click here