April 2012 Issue of 4×4 Magazine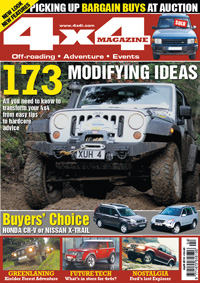 Here's hoping that I'm not about to put the mockers on it, but it seems we are finally dragging ourselves out of the winter season. As this is being written, the temperature has just notched up a few degrees, the snow is thawing slowly, and milder weather is forecast. For me, once you get over the grim month of February, spring is here. The month of March may well be wet and windy, and of course it can still snow, but there's a much more positive air to get out there and have some fun! And no more so than with your 4×4.
What are you going to do this year? Perhaps for the first time try a Pay and Play site, or maybe join a club, maybe try some greenlaning? Planning that off-roading camping holiday? Perhaps it's just the plan to add some interesting accessories to your off-roader for no other reason than you can… And why not? And we make no excuses for trying to encourage this and this month we make some suggestions of what you can do with your 4×4 – at the last count there were 173, probably more! But it's not all about spending a great pile of cash, either. Not everything needs to cost that much and we have tried to cover all budgets, and all tastes. As ever, we would really love to hear from you, and so tell us what you have done, send in some words and pictures to the usual address.
Of course, you may even consider that maybe it's time for a completely new 4×4, or perhaps you are considering buying an off-roader for the very first time. If that's the case, why not look at our Auction feature on page 27. Admittedly, it can be a little daunting to buy at an auction, but it could also be well worth the effort. There are a lot fewer dodgy characters in sheepskin coats than there used to be. Mind you, if you spot one with a beard and pony tail, that could well be our contributor Ian Seabrook! Ian can't keep away from the second-hand market and so we will be asking him to keep an experienced eye on 4×4 prices each month in our new Marketwatch section, page 88. And if you are not sure which model is right for you, don't forget the regular Buyers' Guide series we run, and that back issues of older Guides are always available. We are refreshing the Buyers' Guides from this month, and comparing two 4x4s in each issue – twice the advice in the same issue!
Spring is always the time when we all consider a bit of a tidy-up, a clear out and new plans… Magazines are no different and we have had a good spring clean with 4×4 Magazine. Hopefully, you'll like the new look, but far more important are the new sections and ideas that we are planning. Do let us know what you think, what you like about the magazine, anything you feel is missing, and even the bits you don't like! We can't please everyone, but we'll listen and we will try.
As for me and my 4×4, there is a new ARB underbody protection kit from Arbil in a great big box in the garage, plus four other boxes with some new steel wheels. Once I've go some new rubber to put on those wheels, it'll be time to get the spanners out and get busy. When that's done, the Hilux will be out there enjoying some off-road fun. Perhaps I'll see you out there…
Take care and enjoy the issue.

Nigel Fryatt, Editor

To buy your copy of the latest issue of 4×4 Magazine click here