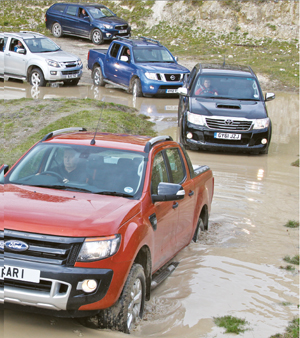 The UK's pick-up market is varied, and highly competitive – from bargain basement, to high tech, high end. But which represents the best option? Our comprehensive group test offers some answers
Words: Nigel Fryatt Photography: Wayne Mitchelson
For anyone in the market for a new pick-up, the choice is truly global. We have seven models on test here, models built in China, Korea and Japan. We have another Japanese model built with heavy US influence, and then we have an Australian designed, South African built model for an American host manufacturer. And for the eagle-eyed regular reader, you may even notice that there's a German competitor missing from the party. The 2013 UK pick-up market is a multi-national affair, that's for sure.
Last year's 4×4 Pick-up Of The Year had Volkswagen's Amarok as our overall winner. Disappointingly, VW was unable to supply an Amarok for this year's test. The timing of our test was too early for the new automatic version of the Amarok, which is a shame, but we have included the new model's details into our spec tables so you can see how it compares.
No less than four of the seven pick-ups tested here are new to the competition this year, and as a result have produced an intriguing and complex group test. It couldn't be more varied, with a budget model from China in the mix, up against other pick-ups as much as twice that model's basic price.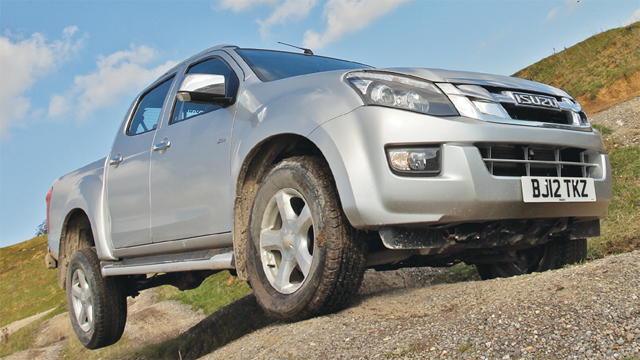 As with our 4×4 Of The Year test in last month's issue, we used the same judging criteria; off-road ability, on-road competence, value for money and fit for purpose. But these are also working vehicles, so towing ability, Gross Vehicle Weight, and the all-important grunt from the engine hold significant sway when making the final choice. As with any competition, there can be only one winner. But that's actually only half the story. There was much to credit all seven pick-ups here individually. For some prospective owners, some criteria, like towing ability, will be more important. For others it could be price, or even something simple like availability. In the end, however, we had to make a choice, so just which pick-up is top dog?

To read the full report, including winner, see the January 2013 issue of 4×4 Magazine. Buy the issue or subscribe here