It's hard to believe that we are now into our third decade of publishing this magazine's annual 4×4 Of The Year mega test. Needless to say there isn't another magazine that can claim anything close to that kind of experience and dedication to its subject. The knowledge and experience that such a heritage creates cannot be easily matched, and it's fair to say we are proud of what we achieve; especially in today's more frugal times, which limits the resources available. Or to put it another way, this group test is produced by a small, dedicated editorial team. At all times, our testers are as objective as possible; of course we are all human, we love our 4x4s, and so include some necessary subjectivity to our test regime.
As before, we have split the 30 vehicles tested into groups, each of which has its own class winner and a Highly Recommended, runner-up. Those winners are then matched together for us to decide an overall titleholder for 2014. To get to our final decisions, we look at each vehicle's on and off-road ability, its overal competence, we consider value for money, and whether the machine is fit for purpose. This later category is how we match a £15,000 Fiat Panda 4×4 with a £100,000+ Range Rover, to surprising results at times!
This year's event was held at Peckforton Castle in Cheshire, a fantastic venue (full details on page 80). It's also the base for Cheshire's Land Rover Experience and we have to thank the guys there for all their help, and the numerous cups of tea we had in the kitchen!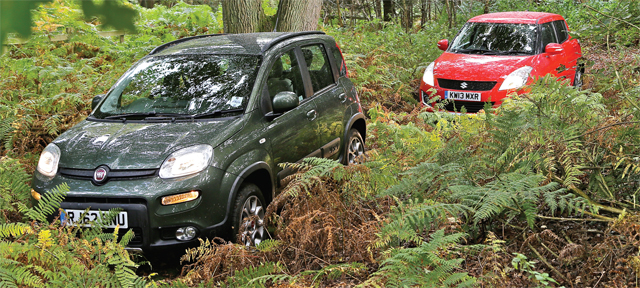 Of course, we couldn't do such a challenging event without the full support of the manufacturers who go to great lengths to make sure they can provide us with the vehicles, and deliver them to a castle lost in rural Cheshire. The comments from many delivery drivers of, 'where exactly am I?' was a common theme this year. Since we are such a small editorial team, to get great support from the manufacturers makes all the difference. Cheers, all.
And that just leaves you, the reader, to enjoy what we have produced. Hopefully, it will indeed be an enjoyable read that will lead to those thoughts 'now if I won the lottery I'd have a…..' Of course, not all the vehicles tested here are at premium price levels. More than ever this year, there's a seriously good collection of SUVs available, and if we help you make a decision as to what to buy, then we've done our job. And if that's the case, do let us know. Even if you disagree with any of our comments or our decisions, we would like to hear from you!
---

To read the full report see the Winter 2013 issue of 4×4 Magazine. Buy it here