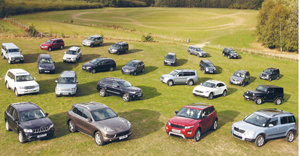 Welcome to the 2012 4×4 Of The Year group test – our prestigious and highly rated review of the best 4x4s on the UK market.
Words: Kev Baldwin, Hils Everitt and Nigel Fryatt
Main photography: Wayne Mitchelson
Additional photography by Hils Everitt, Phil Weeden, Matt Carson and Nigel Fryatt
Last month we gathered the best SUV/crossovers together, but this month we get far more serious with proper off-roaders. We have no less than 24 vehicles ranging from the budget Suzuki Jimny right up to the glamorous Range Rover, which tops the scales at over £80,000, and the increasingly impressive Porsche Cayenne. In between we have the newcomers like the Range Rover Evoque, the Compass and Grand Cherokee from Jeep, matching up against some established regulars from the likes of Toyota, Suzuki, Audi, BMW, Mitsubishi and more, including for the first time in this magazine's 4×4 Of The Year, the Skoda Yeti.
This year, we have split the vehicles into four groups, to get four class winners for a final battle for the coveted top prize. Our team of experts reviewed every vehicle using the same criteria; off-road ability, on-road competence, value for money, fit for purpose and gave their personal views on just how desirable each model is. All the scores were added together and then averaged to iron out any personal bias, or wayward scoring! The results, shown here with each vehicle and on our final table on page 72, is therefore an overall percentage figure. As you can see, in many cases, it was a close run challenge and led to much discussion among the test team. But we finally managed to agree on the four class winners, and then the 'discussions' really began as to just which would take this year's crown…
For all pick-up enthusiasts, fear not, but due to lack of space they do not make it in this issue and will have their own group test in next month's issue.
All that is left is to thank all involved in what is a massive organisational challenge for our small editorial team. And we would like to thank all manufacturers who helped to supply such a fantastic range of vehicles for us. It's now left to you, dear reader, to get stuck in and see if you agree with our results!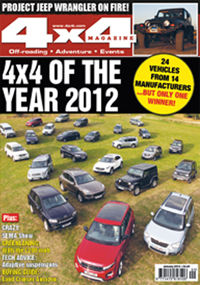 To find out the winners see the January 2012 issue of 4×4 Magazine.