The Touareg brought Volkswagen into the world of the luxury SUV with a bang and a mighty roar from its V10 turbodiesel power pack. It may since have eased itself back into the mainstream with less off-road appeal, but its popularity just keeps growing
TARGET RANGE:  £500 – £29,000
If you're genuinely thinking about buying a Touareg, you'd better act quickly – used car expert Glass's Guide says the Touareg was the best-selling second-hand car at the start of this year, which will certainly have the effect of easing up second-hand values. The only thing helping to keep the used values of late models sensible is the stunning cut-price offer from main dealers nationwide who until the end of March are knocking £5000 off the new car price for any Touareg – adding up to a saving of around 10 per cent, which means you could buy a new one for less than some specialist dealers are offering low-mileage nearly-new examples.
The Touareg is one of those split-personality cars, which boasts good off-road capability yet strives to look no more exciting than a large road car. At least it does have a good four-wheel drive system, although even this depends on whether it's an original, a more modern fuel-efficient 4Motion type or the current 4XMotion of the Escape.
The Touareg shares much of its basic mechanical structure with the Porsche Cayenne, so you'd expect it to be a good driver's car with lively performance and crisp handling. Certainly as far as the first version into the UK was concerned, all this was true, with the added cachet of having one of the most stunning turbodiesel engines fitted to a road car – the mighty and muscular 5.0-litre V10. This isn't a high-revving racing engine, but then it doesn't have to be because with the help of its turbocharger it packs over 550ft lb of torque at an easy 2000 rpm, enough to accelerate to 60mph in 7.5 seconds and reach a 141mph top speed. So it doesn't return much better than 20mpg, but surely anyone buying a £50,000 sports car couldn't be that bothered about fuel consumption – especially since you can now buy a well-maintained reasonable mileage early example for around £6000. The V10 sold well, but VW quickly became aware that their Mercedes-Benz ML/Range Rover competitor would prove even more popular with a more sensible engine and better consumption, though we always wondered why they chose to go to the other extreme by fitting a puny 2.5-litre unit with only 171bhp, giving it sluggish 12-second 0-60mph acceleration. Fortunately the range quickly expanded to include a lustier 3.0-litre turbodiesel and a choice of petrol engines topped by the 4.2-litre V8 with over 300bhp, a smooth and spirited performer compared with the V10, but even thirstier. The higher-power versions all have a six-speed automatic transmission, the 2.5 TDI a six-speed manual.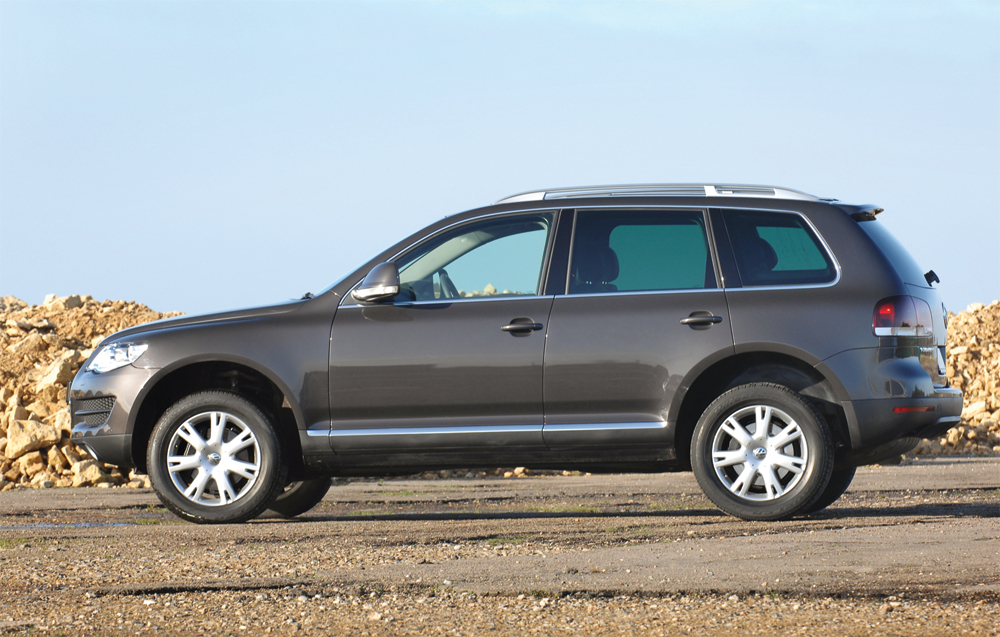 Four-wheel drive is permanent with low range, the original versions using a gear-type differential to share drive equally between front and rear axles, the diff locking automatically if any wheel loses traction, or it can be locked manually to improve off-road progress – a locking rear axle differential was an option, so if you're planning to use one as an off-road plaything look for one that had this option installed. All versions have Hill Descent Control and traction and anti-skid features.
Considering its performance potential, the styling of the Touareg always struck us as being overly conservative – it was intended to take on the Range Rover, but there's no way it could do so when it looked little more exciting than a rather swollen Passat. Nevertheless the Touareg does offer comfortable five-seated accommodation in a luxurious cabin, in its high-specification versions boasting all the leather and wood-trimmed opulence expected in a premium SUV.
A facelift for 2007 saw it looking even more like a mainstream VW road car, but the advertising blurb surrounding its launch spoke of 2300 improvements including limiting the engine range to a single petrol unit, the 3.6 V6, and three turbodiesels, the V10, the 2.5 and a new 3.0-litre V6. As so often happens as manufacturers rush to expand a popular range, the 3.0-litre engine was replaced only a year later with a much more efficient and economical common-rail unit with enough extra power to boost 0-60mph acceleration to 8.3 seconds from the 9.2 seconds of the previous engine. When buying a car of around this age it's as well to make sure you're getting one with the uprated engine.
The facelift for 2010 saw Volkswagen toning down the off-road cues even more, with a revised frontal appearance linking it stylistically with mainstream models like the Golf, at the same time reducing its weight by some 200kg. Otherwise the main improvement was to the interior, more stylish and more opulently trimmed. The net effect was to distance the Touareg so far from its SUV roots that it needed a specific model to recapture some of that character, in the form of the Escape. Where other models have a version of VW's 4Motion four-wheel drive using a Torsen centre differential, the Escape has a conventional locking centre differential and a locking rear axle differential as well, which along with variable-height air suspension suits it exceptionally well to off-road use in spite of its bland, road-car appearance. Other models could be specified with a similar set-up as a "Terrain Tech" option.
The 5.0-litre V10 was dropped, no real loss since it was replaced by a 4.2-litre V8 TDI with even more power and torque plus better fuel economy, theoretically capable of returning 31mpg. Other options are limited to the 3.0-litre V6 TDI, though offered in entry-level 201bhp and premium 241bhp form. The automatic was also upgraded to a smoother shifting more efficient eight-speeder.
This generation also saw a hybrid, combining an electric motor with a 3.0-litre supercharged petrol unit, offering low-cost electric motoring for short distances at city speeds but with sports car acceleration available when required since the total output adds up to over 370bhp. It didn't prove a popular option and has been dropped from the current range.
The latest upgrade for 2014 sees a sharper frontal appearance and even more car-like styling, the engine range reducing to two versions of the 3.0-litre TDI, the entry level still with 201 horse, the premium version's output rising to 258bhp.
Our verdicts
Our first experience with the Touareg was of the V10 TDI, and we were suitably impressed, stirring our tester to comment: "Oh, my god – never in my life have I driven a diesel with as much performance as the one under the bonnet of the new Touareg. It's the most powerful passenger car diesel in the world, and definitely the most fun." That was on the launch reported in our June 2003 issue; by the September issue of that year we'd had a V10 Touareg on loan for a full test, which included some demanding off-road action. We wrote: "The slope was steep, long, rutted and slippery, and it turned upwards so sharply off the boggy trail there was no room to take a run. The Touareg pointed its snout upwards and with a rumble of gutsy torque strode to the top as if on a Sunday afternoon cruise."
We liked the performance, too: "Any car with a speedometer that reads to 200mph is an exciting proposition, even if the figure is optimistic. The six-speed automatic is close to ideally geared so with the power-peak speed of 4000rpm showing in top gear the road speed is 140mph. A maximum of 158mph would be possible if the Touareg could be nudged to the red line on a downhill run."
In the December issue of that year, we compared the Touareg in 3.0 V6 TDI form with a couple of its premium rivals, a Range Rover Vogue and a Toyota Amazon VX. Predictably it came second to the Range Rover, which exhibited much better off-road ability with equally stable and comfortable on-road behaviour, the Toyota coming third because of its dull interior and dated appearance. We said of the Touareg: "It's a brave effort from VW, a manufacturer with little off-road heritage, and it will undoubtedly sell well in the urban jungle, but it doesn't impress as an off-roader – it neither looks nor feels the part."
It fared better when pitched in V10 form in our April 2005 issue against other powerful road-biased SUVs – we considered it better than the Mercedes ML500 and BWM X5 4.4i Sport, but it lost out – again, hardly surprisingly – to the Porsche Cayenne Turbo. Our reasoning was that when bending the concept of Sports Utility Vehicle so far away from Utility towards Sport, you might as well do it properly. We said of the Porsche: "Nothing can match the sheer exhilaration of a flat-out country-road drive in the Cayenne Turbo." We nevertheless liked the Touareg: "The V10 engine has to be experienced to be believed. The styling isn't as adventurous as it should be, but it still has crowd-swaying road presence."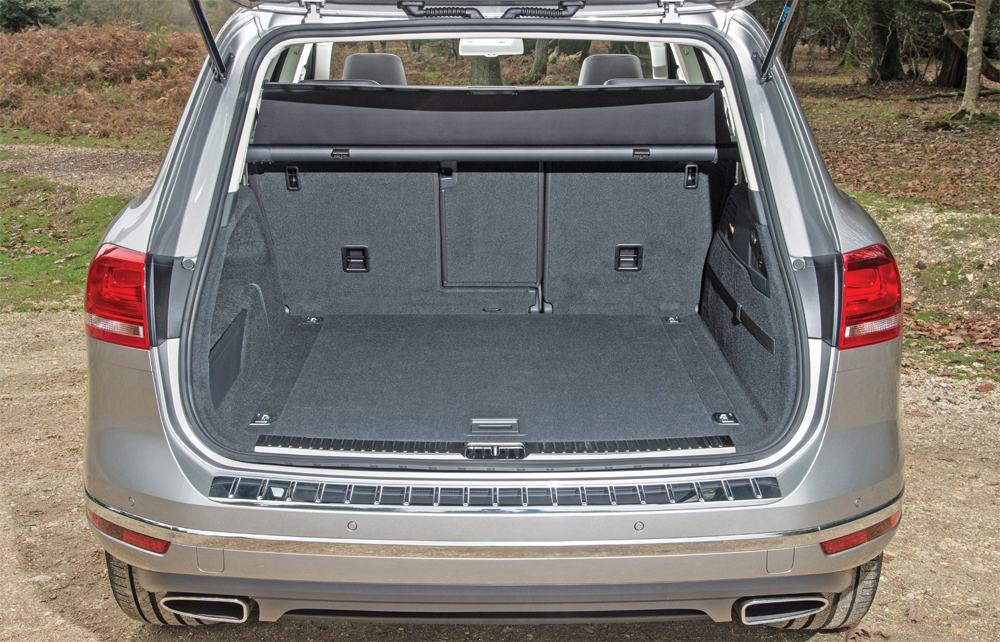 We recognised that the Touareg and Cayenne share a basic platform, but we felt a more critical comparison should follow the launch of the Audi Q7, also built on the same mechanical foundation. It might seem unbelievable that the Audi won, but that was by half a point, which it scored because it had seven seats and therefore had a family-car advantage over the sportier Cayenne and Touareg, which shared second place. We were, however, a bit scathing about the Touareg, commenting: "Ridiculous number of models to choose from, straight-laced interior and overgrown Passat looks."
While we do accept that a whole sector of premium 4x4s exist purely as expensive on-road fashion accessories, we are off-road adventurers at heart so we just had to reassess our first comparison this time with a Range Rover TDV8 and a Toyota Land Cruiser V8 D-4D going up against a V10 Touareg, but in a purely off-road challenge. The result, published in our July 2008 issue, was that the Range Rover simply outclassed the others with its refined traction controls, excellent articulation and the then novel but very effective Terrain Response system. The Toyota proved almost equal, but the Touareg lagged in spite of its adjustable ride height and locking rear axle differential. Its main downfall was the lack of axle articulation, which in practice was only partly overcome by the locking differential because, along with the very stiff air suspension on its highest setting, it still made for lurching behaviour over undulating terrain, uncomfortable compared with the much smoother progress of the others.
Our final Touareg experience was to welcome the facelifted 2010 model, although our enthusiasm was beginning to droop as we surveyed the softened, blander styling and realised that this once mighty SUV had simply become a premium large family hatchback. Even the Escape, for all its off-road features, just doesn't have the aggressive styling to stir adventurous thoughts.
Which one to buy
Depreciation is always a significant factor with luxury cars – dealers are unlikely to offer a sensible price, particularly on an older car, unless it's part of a trade-in on a new high-value replacement. Hence here are lots of older Touaregs advertised at reasonable prices by private sellers. As ever, when considering buying from a private seller, it's worth paying the £20 to do an HPI check to make sure the car doesn't have outstanding finance and is being sold by the rightful owner; HPI checks reveal around 30 cars a day as having been stolen; many others turn out to be insurance write-offs or have mileage discrepancies indicating that they've been clocked. Also if buying privately it's more important than ever to take the car on a test drive, and to make sure it starts easily from cold.
We'd be tempted by a V10 – from our enthusiast point of view the main reason for buying a big bland family car would at least to be able to enjoy the stirring sound and performance of that magic muscular turbodiesel – especially since early examples are quite accessible. You should be able to acquire a high-mileage 5.0 V10 TDI from £5000; pay more for something with lower mileage, though most we found with under 100,000 miles were being offered by private sellers. Evelyn Car Sales of Birmingham (07875 423199) were offering a grey 2003 5.0 TDI with 129,000 miles for £5690, we might have been more tempted by the similar-mileage 2005 two-owner model in Black Magic with Cayenne alloys and full service history being offered by TVS Cars of Bridgnorth (01746 326980) for £6984. Expect to pay up to £5000 for a well-maintained reasonable mileage early 2.5 TDI or 3.2 V6, we'd say pay a little more for the 3.0 TDI, Quay Cars of Tyne and Wear (01914 897585) were offering a 2005 grey Sport with full service history, a year's MOT, some tax and a 3-month RAC warranty for £6795.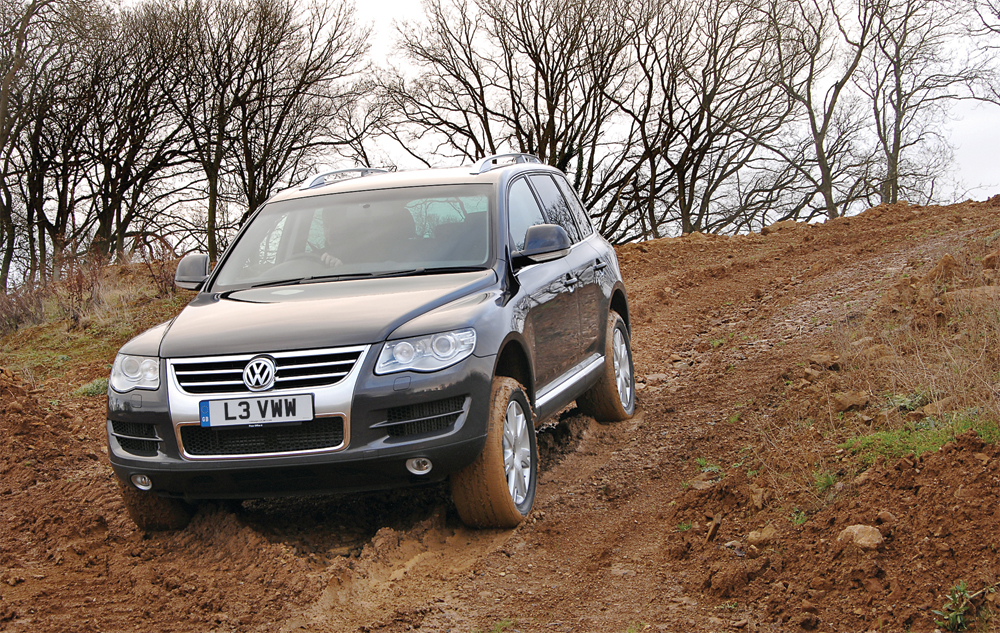 The V10 was always a range-topper, available with SE or Altitude trim, but there were cheaper alternatives. Entry-level equipment included 10-speaker stereo, electric windows and air conditioning, though many examples may have been enhanced with extras from the expansive options list, so do shop around for cars with leather upholstery, parking sensors, electric tailgate closing, DVD system, sunroof and the like, while off-road enthusiasts might be interested in examples with the decoupling anti-roll bars (a £1300 extra) and the rear axle diff lock.
The mid-range SE has satnav, a six-disc autochanger, dual-zone air conditioning, cruise control, leather upholstery and 18-inch alloys, though ultimately difficult to compare with the higher-specification Altitude because most will have been fitted with a range of options enhancing the levels of luxury. Expect to pay at least £9000 for a reasonable-mileage 2008 3.0 V6 TDI, closer to £11,000 for an SE; we spotted a gleaming black 82,000-mile example of this age with full service history and new MOT at the Motor Company of Bawtry (01302 710403) going for £11,495. Pay more like £15,000 for a 2009 Altitude, TCS of Oldham (01706 527162) were offering an 82,000-miler with full service history, 19-inch alloys and upgraded comfort leather seats with 12-way electric adjustment for £14,850.
Hybrids are rare, we saw only one early example being advertised, a tungsten silver 2010 TSI with 75,000 miles on offer at £19,950 at Audi specialists Fontain of Iver (01753 650909). Before getting excited at this apparent bargain, the Touareg isn't a plug-in hybrid, it needs to run the petrol engine to recharge the batteries and overall fuel consumption at 34mpg would make a straightforward 3.0 TDI a more sensible option.
The post-2010 models are more desirable; there are lots of 2.5 TDIs about in SE and Altitude trim, pay around £15,000 for a well-maintained low mileage example. We'd suggest the 3.0 TDI because it's an easier drive and ultimately just as economical if driven considerately. One of the cheaper deals we saw was the 2011 Altitude on sale at £18,989 at Motorhub of Keighley (01535 288640), full service history but it had done 111,000 miles.
If you are considering a nearly new car the top-specification model is the R-Line, introduced in 2013 and offering £4000 worth of extras over the Altitude spec for just £750 extra. Additional equipment includes 20-inch alloys, bi-xenon headlamps with dynamic curve lighting and daytime running lights. It also has a panoramic sunroof and electrically powered tailgate. The R-Line with the 201-horse 3.0-TDI engine retailed at over £45,000, the higher-power version cost £47,000 and with the powerful 4.2 V8 was priced at a heady £61,655. Ridgeway of Reading (0845 1646587) were offering a pure white 34,000-miler for £32,490. Take care – you could be asked over £40,000 for a run-out pre-facelift car on 2014 plates, when the latest brand new model could be yours for the same money (if you take up the most recent dealer offer). As an example Halifax Volkswagen were offering a 2014 pre-facelift R-Line, sold as a new car with only 50 miles on it, for £39,995; Inchcape Altringham were asking the same for a facelifted car in canyon grey metallic with 10 miles on it. If you are after a low-mileage nearly-new model, act quickly – the fact that main dealers are will be knocking £5000 off the normal list price of a Touareg could mean paying less for a new car than a low-mileage second-hand one. Lookers of Darlington were asking £42,999 for a 200-mile 64-plated one-owner SE, while Northampton Volkswagen wanted £41,975 for a new 2015 SE with 5 miles on it. Taking advantage of the cut-price offer on a new car could mean a new off-road-ready Escape for £40,415.
ENGINE DRIVETRAIN CHASSIS BODY AND INTERIOR
The engines are generally reliable and capable of running well over 100,000 miles. However, these do require regular servicing with quality lubricants. On diesels sticking swirl flaps, possibly caused by the build-up of carbon deposits, can cause rough running and will require expensive manifold replacement, so make sure the engine runs sweetly through the rev range on a test drive. Water pumps can fail, particularly on the 2.5 TDI, so check for any signs of water leakage or any tendency to run hot. On the 3.0 V6 listen for the rattle of a loose timing chain. Older diesels may also have clogging particulate filters, again a good reason for checking for smooth running on a test drive.
Common problems on older Touaregs include failing prop shaft bearings, so it's worth checking if a replacement has been fitted; either way reject any car that exhibits any kind of vibration or rumbling noises through the drive train. Grumbling noises could also point to impending failure of the front differential. The six-speed automatic should kick down smoothly, though on the V10 and V8 versions it may take a little longer than you may expect, that's just because it won't transmit the massive torque from these engines too suddenly. Either way the downchange should be smooth. It should also change up seamlessly; any thumping or clonking noises will eventually mean an expensive repair.
Check for even tyre wear, since wheel alignment problems are common, to the extent that it's worth having the alignment checked even if there's no immediate outward sign that anything's awry. Check the state of the brake discs, pitting is quite common on early examples leading not only to excessive pad wear, but to the possibility of 'grabbing' the pad resulting in erratic braking. On a test drive it's always worth trying an 'emergency' stop, but only on a clear road and only after satisfying yourself that there isn't an inherent problem by building up to it with a few less hectic brakings. Erratic braking can also be caused by seized calipers. Make sure the electrically operated handbrake works properly; if it makes grinding noises or doesn't actually hold the car walk away, repairs are ridiculously expensive. Air suspension failure is quite common on older models, this should be obvious by the car's general stance, but even so make sure the suspension provides the necessary variations in ride height and stays in the required position. Failure is commonly due to corrosion of the air hoses, something that you could have checked before you buy. Also reject any car making grumbling or groaning noises from the steering on full lock, suggesting impending failure of the power steering pump.
Corrosion should not be a problem since body panels are mainly galvanised steel, the bonnet is aluminium and the front wings are in flexible dent-resistant plastic. The main concern is that electrical problems are fairly common, so make sure everything works as it should – electric windows, air con, stereo and the tailgate if it's the self-opening type. Check that you have the stereo code and that the keyless entry (which may not apply to all early models) works properly.
Or you could consider…
Porsche Cayenne
BMW X5
Mercedes-Benz ML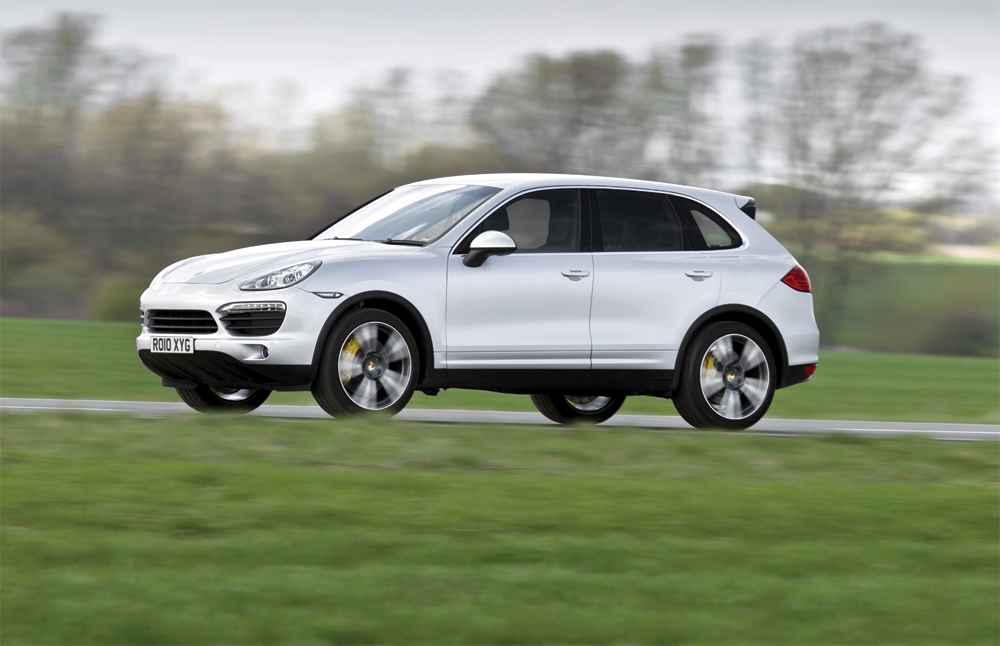 We've already made the comment about the Touareg – if you want an SUV with the accent on the Sport rather than the Utility why not go the whole hog? Where the Touareg is a conservative family car, the Cayenne is an out-and-out enthusiast's roadster, with charismatic looks, excellent roadholding and even in its milder forms a peppy performer. Where the current top model commands a premium of over £100,000, just £6000 should suffice to get you an early 4.5 V8. For sheer excitement it has to be a Turbo, pay £9000 for an early example though at that price it will have well over 100,000 miles, but then £20,000 for a 2009 model with under 50,000 miles sounds like a lot of exhilarating high performance motoring for the money.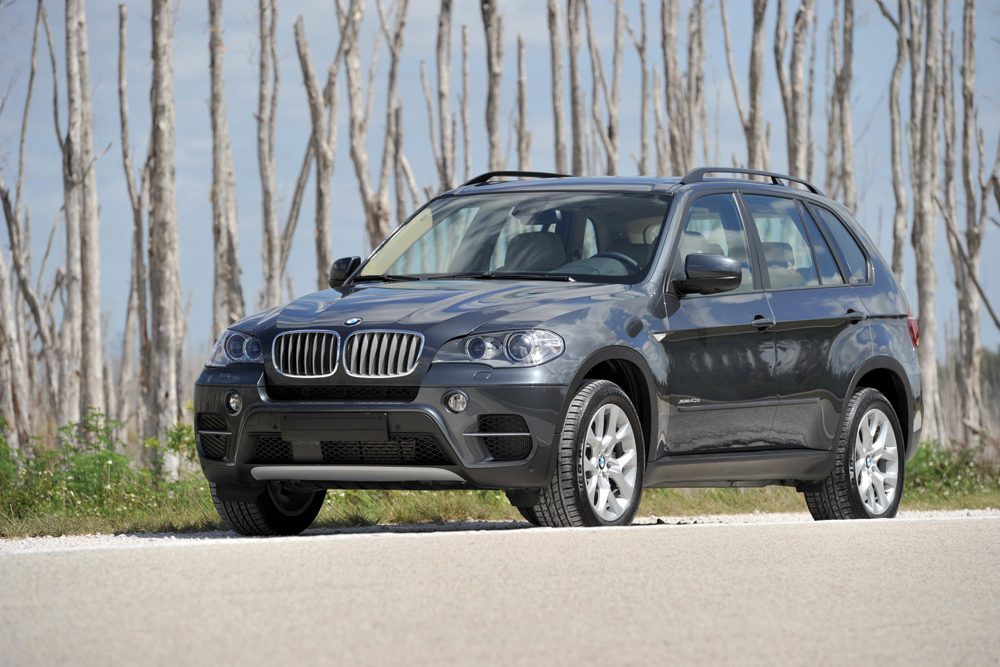 In terms of practicality there's nothing to set the BMW ahead of the Touareg, so it may boil down to a simple matter of brand preference, with the BMW perhaps exuding a little more image and street cred simply because, unlike the Volkswagen, it hasn't tried to hide itself  shyly among other road-only BMW products. The X5, unless in M Sport form, isn't really the driver's car it should be, so we were only enthused by the high-performance V8 versions. The 3.0d turbodiesel is an exceptionally smooth and pleasant engine, making it the sensible choice, and the xDrive 4×4 system is adequately competent on and off the road. There is a huge selection of reasonable-mileage examples on offer second-hand, pay from £18,000 for an SE with under 100,000 miles, but there is also a good selection of 2014 nearly-news including M Sports at around £53,000.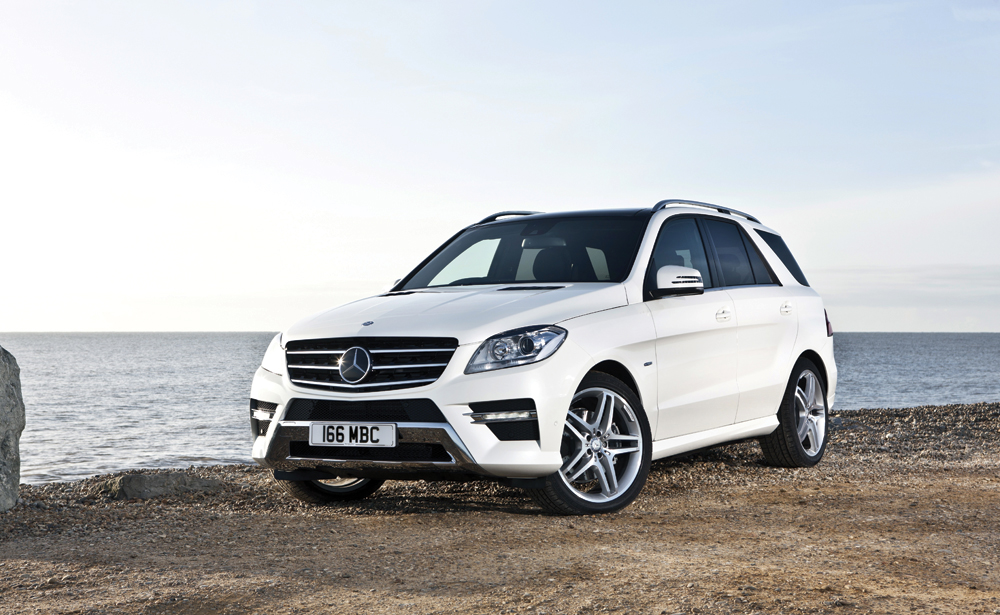 This is certainly one to consider, especially if you're looking for family practicality and aren't all that excited about high-performance driving. Of course the AMG versions add that aspect to the mix, but a high-power ML can't excite the way a Cayenne does, so don't bother. The ML will also outperform both Cayenne and Touareg off-road, so it's a better bet if you do want a car for some rough-country adventuring. It's a comfortable five seater with a big boot, equipment is as luxurious as the first buyer's choice of extras makes it – shop around for one with the features you'd prefer. A sensible buy would be an ML280 or ML350, around £15,000 for a 2009 example with reasonable mileage, £43,000 for one of the many nearly new ML250 or ML350 models on offer at dealerships, though if you do hanker for something special you could pay up to £80,000 for a nearly-new low-mileage ML63 AMG.