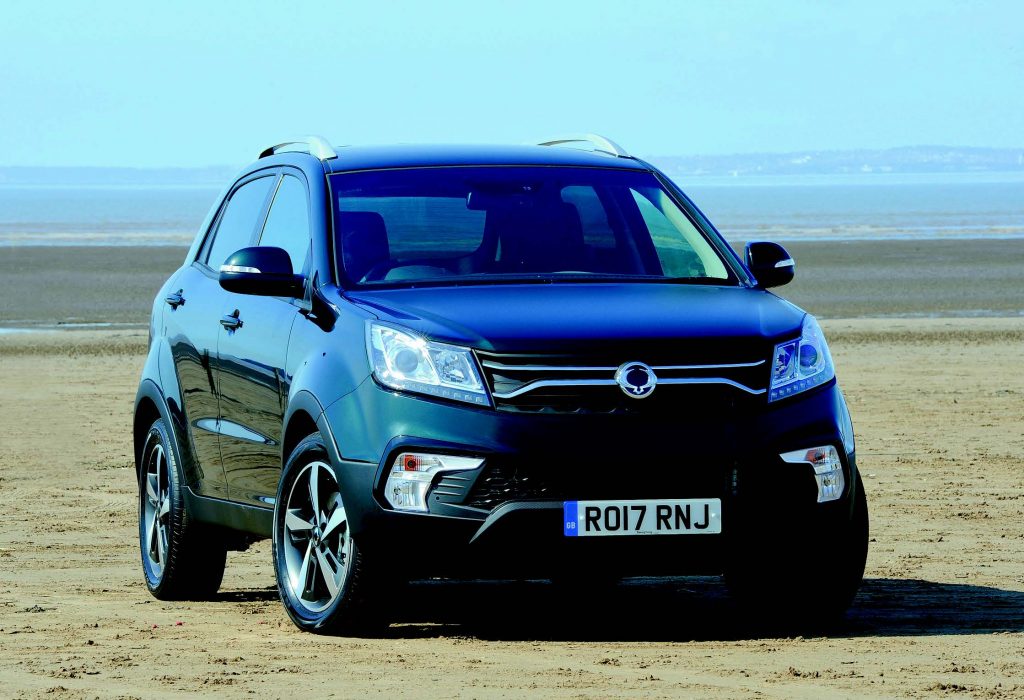 Once seen as a byword for crumminess, Ssangyong is making huge leaps forward with every new model it brings out. The 2017 Korando is a final facelift for a vehicle that's been around for half a decade – but even this might surprise you if you still assume the Korean 4×4 specialist is stuck in the last century.
As facelifts go, it's a mild one. The front-end styling has been revised to bring it into line with more recently introduced members of the Ssangyong family, and there are new designs for the alloys and steering wheel.
Yet the difference between this vehicle and the last Korando we drove (way back in 2011 when it had just arrived in the UK) suggests not a mild tickle-up but a quantum leap forward. There's been some evolutionary change during that time, not to mention the arrival of a far superior diesel engine, but the improvement is still startling.
In the cabin, the dash plastics have just enough texture to feel pleasing and it doesn't creak, groan or squirm when you lean on it. The new steering wheel feels good in your hands, and the controls it carries are clear and unfussy.
That goes for the whole of the cabin. Finding the button you want is always easy, as is operating the infotainment system – and so too is getting a comfortable driving position, thanks to a seat with a huge range of adjustment. If you're used to sliding it as far back as possible in whatever car you drive, first time you get in one of these you might find yourself sitting too far from the wheel.
Stowage is generous, too, with a big glovebox and cubby as well as two useful bins in the centre stack and floor console. It all adds to the feeling of this being a vehicle you can use without having to fuss about anything being awkward.
In the back, you'd have to be sitting behind someone pretty immense not to have enough knee room. Again, it's easy to get comfortable – and if you're carrying cargo rather than people, the 60:40 rear seats fold flat with a light and easy one-shot action to create a floor that's as long as possible and as good as completely flat. There are more recent arrivals on the SUV scene that don't come close to being as good – especially as the lip at the back is nice and low.
The Korando we tested was the range-topping ELX model, whose already high standard kit list is augmented by leather and heated front and rear seats. For those in the back to get that luxury remains unusual even on a premium vehicle, so it's an impressive touch – as is the fact that the leather itself feels like leather, not plastic.
Other kit on this model includes a heated steering wheel, front and rear parking sensors with a rearview camera, sat-nav, Bluetooth, a 7" touch screen and 225/55R18 tyres on diamond-cut alloys. Plenty of good stuff for your money, then.
Those big rims do bode ill for ride quality, however. And when you pilot the Korando across the sort of broken surfaces we have to endure all too often in the UK, things do at times verge on the crashy. There's a certain amount of vibration through the drivetrain, too, so refinement is hardly its strongest point.
Overall, however, for what is ultimately a budget vehicle the Korando drives very acceptably. More than that, in fact, it can be quite enjoyable to hustle through corners – and the 2.2-litre engine has no shortage at all of shove.
Mated to the optional automatic gearbox, a six-speed Aisin unit adding £1125 to the price of the car, the engine is quite vocal but, more than that, very willing to get you moving. It doesn't take off like a scalded cat when you floor it from the lights, but it builds speed steadily – and we found that for overtaking moves in the 30-45mph band, it's very effective indeed. Waiting patiently for the national speed limit sign to arrive as we exited a village on the test route, we banged in the throttle and, for a moment, had to check to see that we hadn't accidentally driven off in someone's V8 instead.
Not all versions of the Korando have four-wheel drive, but all the versions we're interested in do. To this end, you can add £1500 to any 'prices from' stuff you see about it, though the ELX model tested here comes as standard in 4×4 form.
This helps add peace of mind to a 2000kg towing limit, and while it's no Rexton off-road the Korando does have a good degree of capability. Obviously, ground clearance will be a limiting factor, and you wouldn't choose such low-profi le tyres for this kind of work either, but the engine's torque supply is admirably suited to hauling it up steep hills from tickover, even without the benefit of low box.
Something else it doesn't have is hill descent control, and even with fi rst gear selected manually on the auto box it was necessary to use cadence braking to avoid a runaway ride. For this reason, we'd say the Korando could be a viable choice if you need something to use regularly on sandy or gravelly terrain, but mud, ruts and slippery hills are less likely to suit it.
Overall, this is a very credible SUV. Without laying it on thick, it ticks almost every basic box, and while it does feel a little last-generation in places it's certainly not last-century – and for Ssangyong, that really does represent a step forward on the path it's taking from joke brand through also-run and left-field choice to part of the mainstream. It's well on the way. Certainly, it's still a left-field choice, with low prices – and a five-year, unlimited mileage warranty, don't let's forget – key to what it offers.
Ssangyong dealers don't offer the sort of discounts some of its rivals' do, however. That helps bring some excellent cars closer to the £23,500 on this car's screen – and when you factor in the likely effect of depreciation, and of the relatively high emissions the 2.2-litre engine produces, it's less cut and dried.
But as it was with Hyundai and Kia, Ssanygong is moving from a price-based offering to one that leads with its products.The Korando has made up ground during its time – and though this fi nal facelift is a mild one, it helps suggest that when the next model comes along, it will represent another quantum leap forward. For now, it's a better bet than ever.