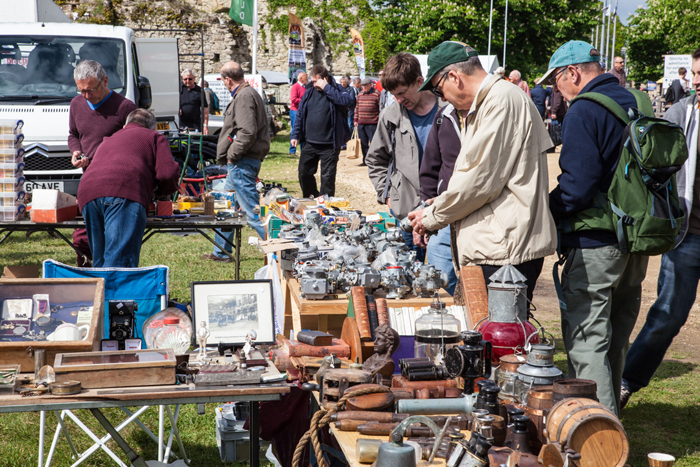 Back in 1967, what was then the Montagu Motor Museum held a jumble sale with a difference. One of the fields at Beaulieu in Hampshire was given over to dozens of stalls selling hard-to-find old car parts and spares, motoring books, mascots, brochures, advertising signs and petrol pumps – essentially anything with a motoring theme.
It was christened an autojumble and now, 50 years on, the Beaulieu Autojumble is acknowledged not only as the first but also the biggest this side of the Atlantic – the International Autojumble, held every September, covers three fields, has at least 2,000 stall holders and more than 38,000 visitors looking for those elusive parts. It's said that if it can't be found at Beaulieu, it doesn't exist.
To mark that 50th anniversary, a flavour of autojumble fever is coming to the capital as Beaulieu partners with events organiser Brand Events to stage a Pop-Up Autojumble at the London Classic Car Show on 25-26 February 2017 at the ExCeL Centre in London.
Regular Beaulieu Autojumble exhibitors have been offered 60 stalls to sell all types of automobilia. If you're missing an issue of a motoring magazine needed to complete a collection, or you're looking for an obscure part for an equally obscure classic car, there's a good chance you'll find them here.
"Beaulieu created the autojumble movement a remarkable 50 years ago and we are very excited to have the very first Beaulieu Pop-up Autojumble at the London Classic Car Show, the first time it has left Hampshire. It underlines how significant our show has become in the classic car world," said Event Director, Bas Bungish.
"In its entire 50 years, this is the first time our Autojumble has ventured away from Beaulieu and while we obviously can't recreate the entire event at the London Classic Car Show, the Pop-Up Autojumble will give a real flavour of the world-famous events we hold here," said Jane Riddiford, PR Manager at the National Motor Museum.
"We are sure our presence in London will entice more visitors to Beaulieu for this year's two events, the Spring Autojumble (13 & 14 May) and the International Autojumble (2 & 3 September). Come along, you'll be amazed at the treasure trove on offer."
The Beaulieu Pop-Up Autojumble will be held on the Saturday and Sunday of the London show and will be staged alongside Car Club Square, which will be packed with classic cars owned by members of the country's leading one-make clubs.
Visitors to the show are also promised a huge variety of classic machinery, ranging from early veterans to supercars, many of which will be put through their paces inside the halls of ExCeL. The show's centre piece – The Grand Avenue, a motoring catwalk inside the central hall – will play host to 50 of the world's most desirable classics under the banner of the 'Perfect Ten'.
Five of the best saloons, coupés, convertibles, sports cars, supercars, hatchbacks, shooting brakes, sports racers, single-seater and streamliners will all be driven along The Grand Avenue, allowing visitors to see and hear their favourite classics in action. Other show highlights include a glittering celebration of 70 years of Ferrari road cars.
Entry to the show also gives entry to a sister exhibition, the inaugural Historic Motorsport International (HMI), which is being held in an adjacent hall at ExCeL. Devoted to all aspects of historic racing and rallying, among the celebrations at HMI will be the 50th anniversaries of both the all-conquering Ford Cosworth DFV Grand Prix engine and the birth of Formula Ford.
The London Classic Car Show and HMI will be held at ExCeL London, on 23-26 February, with access to both shows included in the entry price. Historic Motorsport International will open its doors at 12pm on Thursday 23 February, while the London Classic Car Show will burst into life at 3pm that afternoon.
Tickets are now available from the show website – thelondonclassiccarshow.co.uk­ and start at £24 for single adult entry (£27 on the door on the day).