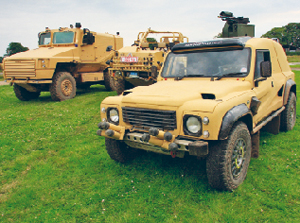 The highly successful motor sport off-roader the Wildcat, has been developed into a military version in a joint venture between owners QT Services and experienced armoured vehicle producer Supacat. The recent announcement follows a 12-month development programme between QT Services and Supacat and will provide military personnel with a tough, high-speed vehicle, capable of being used for reconnaissance, border controls and Special Forces missions.
Weighing in at 2,580kilos, the Supacat Wildcat is 3.8m long and 1.75m wide, which means it fits military air transport demands. It will be available with three engine options, one of which is Land Rover's 4.0-litre V8 petrol, which will give the vehicle a top speed of over 100mph. An optional roof-mounted 'weapons station' will allow the Supacat Wildcat to carry a 7.62mm machine gun. Interior air conditioning is also fitted to minimise crew fatigue.
Supacat's sales and marketing manager, Jamie Clarke was particularly complimentary about the Wildcat's motor sporting prowess when the announcement was made, saying: "Compared to other 'Modified Off The Shelf' vehicles, the Wildcat is on a different level in terms of performance and durability. It has the race results to prove it can perform in the desert and other environments, it is light and agile yet big enough to carry the sub-systems required on operations. As military vehicles have become heavier and more expensive due to increased protection requirements, we perceive that there is a gap in the market for a platform like the Wildcat."
This is an exciting development for both Supacat and QT Services, and only emphasises that motor sport does indeed improve the breed, and give manufacturers invaluable knowledge and experience that can be turned towards commercial success.