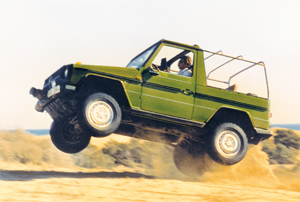 It is appropriate that we should have a test of the Mercedes-Benz G-Class on this month's front cover, as the company can rightly claim to celebrate its 105th anniversary of the very first commercially available 4×4 vehicle. Given the amount of celebrations that are recognised by other major players like Land Rover and Jeep, it's worth remembering that the German company has a rightful place in the pantheon of 4×4 greats.
For those who don't know (and that included your Editor, I have to admit – NF), the first commercially available 4×4 was the Dernberg-Wagen (top picture) and this not only had four-wheel drive, but also a centre diff and four-wheel steering – you can imagine how difficult it would have been to alter direction! It had a 32cm ground clearance and a monster 6.8-litre engine producing a modest 35bhp at a lackadaisical 800rpm. Mind you, it did weigh some 3.6 tons. It seems that Paul Daimler, son of Gottlieb Daimler, had a hand in the construction of this epoch starting machine, allowing Mercedes-Benz to 'claim' the vehicle for its own 4×4 heritage.
A mere 40 years later and the company produced the first Universalmotorgerat, which means Universal Motor Vehicle or as we have come to recognise it, the very first Unimog. Once again, this machine had the Mercedes 'signature' diff locks and what would become known as portal axles. Today, the Unimog range is highly specialised and vast and has changed enormously in what is nearly 75 years.
The original G-Class on our cover, was first called the G-Wagen – something that is strangely ignored now by the company when announcing that 'the G-Class began production in 1979'. The need to re-write history, notwithstanding, it is great that the 'G' is still in production and still has the fully engageable differential locks; front, rear and centre. It was not, as many believe, designed for military use, merely to be a tough and robust commercial 4×4. Something it achieved with some aplomb. And to be honest, like us, there are many who still like the 'square box' utilitarian design.
The one millionth ML-Class rolled off the production line back in 2009, plus there are commercial van and industrial ranges of Vario, Sprinter, Canter and Zetros. The Mercedes-Benz 4×4 heritage is well and truly established. Happy 105th, we say!