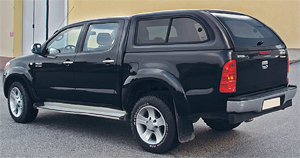 Up Country 4×4 Accessories has launched a range of new products. First up is the Fullbox PU 2011 pick-up tonneau cover, suitable for a variety of vehicles including the Nissan Navara, Toyota Hilux and all-new VW Amorak.
Made from polyurethane plastic, the Fullbox can be colour-coded to match your vehicle. It's environmentally friendly and should provide rugged service well into the future.
Also new is the Star-Top pick-up hardtop, which has side opening windows and a large rear door. The Star-Top is available for the Hilux, Navara and Amorak, and you can have it in a colour of your choice.
With the Amorak's arrival imminent, Up Country has introduced an entire range of accessories to suit it. No fewer than 17 different hardtops are available for the new VW, and other items include a sliding loading tray.
Finally, Up Country has updated its range of Antec stainless steel styling accessories, which includes front protection bars for a range of SUVs. www.upcountry4x4.co.uk