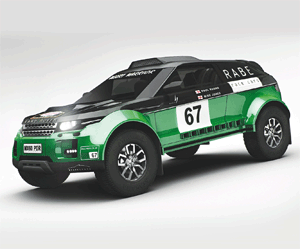 After many years perfecting the D4_WN1 version of the Desert Warrior at Dakar and many other races, Rally Raid has announced the 2011 version of the Desert Warrior the D4_WN5.
This car is intended for the same class of competitors as the original and benefits from many subtle upgrades and evolutions to produce the toughest production racer. The original design dates back to 1999 and the major update, and most obvious, is the body, styled on the new Range Rover Evoque.
Beam axles ensure excellent dune driving and there is greater cabin space. A very low centre of gravity for stability at all times, high ground clearance especially on the sills for dune crossings, large areas for easy access storage, simple wiring and control systems, off the shelf parts from major manufacturers, and a keen eye on cost control ensure that the vehicle can race off-road in the wide open deserts around the world.
Production of the new car will start in early 2011 and will be delivered ready for customer testing in September/October in preparation for the 2012 Dakar.
The production run is limited and the cost of the car ready for scrutineering at Dakar is 130,000 Euros (£114,000). For more details contact [email protected]/07970 76 36 11 or [email protected]/07833 43 94 36.