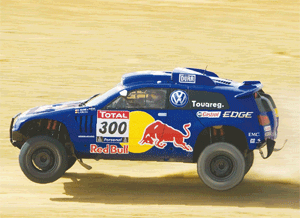 Replacing the Race Touareg 2, twice winner in 2009 and 2010 of the Dakar Rally and the first diesel-powered vehicle ever to win the event, the new Race Touareg 3 promises to be faster and more efficient while retaining the immense strength and durability of the outgoing vehicle.
Wind tunnel testing has led to changes being made to the carbon fibre and Kevlar bodywork with particular attention to improving the cooling systems around the roof of the vehicle while minimising disruption to the airflow at high speeds. At the same time the changes have meant the Touareg has adopted a fresh look with new LED lights, a new grille, window line, rear clamshell and wheels.
Beneath the bodywork the twin-turbocharged 2.5-litre TDI engine has been optimised to allow greater economy while still producing 296bhp and 442lb ft of torque. It has also been revised to cope with the severe altitude changes incurred on the Dakar with the vehicle climbing to heights of over 15,000 feet above sea level.
The 2.5-litre engine channels its drive through three limited-slip differentials via a newly upgraded fi ve-speed sequential gearbox and a ZF-Sachs three-plate ceramic clutch.
The new racer can accelerate to 62mph in 6.1 seconds before reaching a top speed of 117mph in nearly any conditions.
As a result the Race Touareg 3 is based on a high-strength steel spaceframe chassis with a pair of springs and damper units fitted to every corner in order to protect the vehicle against severe impacts. A set of specially developed BFGoodrich 235/85 R16 tyres provide the grip while a pair of wheels and tyres are carried by the vehicle at all times.