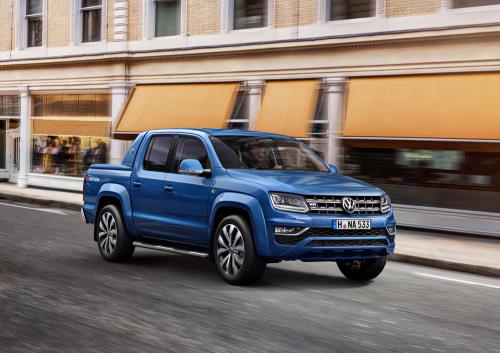 Volkswagen Commercial Vehicles has revealed the first images of its new Amarok on the move, as well as the interior which offers customers a number of new features. These include an attractive cockpit, with a colour multi-function display for the Aventura launch model and state-of-the-art radio/navigation systems. For the driver and front-seat passenger, the Amarok also provides 14-way adjustable ergoComfort seats, which have already won awards for their back-friendliness.
Superior and robust: at home both on and off the road, the Amarok, with its new 3.0-litre V6 TDI engine achieves 550 Newton metres of torque and 165 kW / 224 PS at his highest power output level. It can reach a top speed of 193 kilometres per hour (120 mph) and accelerate from 0 to 100 km/h (62 mph) in 7.9 seconds.
The pick-up is an attractive alternative thanks to its high seat position, good all-round visibility and high-quality interior, making for a comfortable ride both on- and off-road. And, despite its impressive size, getting into the Amarok is easy, with doors that swing open wide and – depending on the design variant – grab handles on the A and B-pillars to help you climb into the cab.
Prices for the new Amarok in Germany start at €25,720 net for the rear-wheel drive Trendline version with double cab, the V6 TDI and 120 kW (EU6, available from the second quarter of 2017), making them just €940 more expensive than the previous entry-level model with a with double cab and 103 kW TDI four-cylinder engine. The top-of-the-range Amarok Aventura with the V6 TDI and 165 kW engine, 4Motion all-wheel drive and 8-speed automatic transmission comes to €46,525 net and will be launched at the end of September 2016.
New Amarok sales in the UK will begin before the end of the year. There are currently no plans to sell the launch Aventura model in the UK. Full pricing and specification details will be released closer to launch.