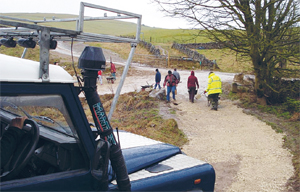 When the Peak District National Park Authority asked for volunteers to help with its Black Harry Trails Project, a motorised user group stepped forward first.
The Black Harry Trails Project is intended to 'improve and create routes for horse-riding and mountain-biking and increase recreational opportunities for the less able, elderly and those with young families', but the volunteers came from the 4×4 driving and motorcycling clubs of the Peak and Derbyshire Vehicle Users Group.
A comparatively small group of volunteers from clubs, including the Green Lane Association, Buxton & District Land Rover Club, Trail Riders Fellowship, Peak 4×4 Response and the Land Rover Series II Club laid over 50 tonnes of graded stone onto the surface of Black Harry Lane; an unclassified county road near Stoney Middleton, just south of Eyam.
Working in conjunction with officials from the National Park and Peak Park Conservation Volunteers, the group was able to effect repairs using hand shovels and wheelbarrows without destroying the character of the stone track, which is open to all classes of user, including road-legal trail bikes and 4x4s.
Speaking for the Vehicle Users Group, David Sparkes said: "Numerous walkers and cyclists passed by and some even stopped to watch, but all of them declined my invitation to lend a hand with a few minutes' work.
"I found this very surprising, as one of our volunteers was a trail rider who had brought her two children along to help. In fact, the only passer-by to help at all was a lady passenger in a 4×4.
"Given the apparent sincerity with which groups who claim to speak for walkers and cyclists express their concern about the unsurfaced roads in the area, and the amount of time that they spend talking to the media about damage that they allege is caused by what they wrongly term 'off-roaders', we were disappointed by this reluctance to weigh-in with a little physical work for the benefit of all."