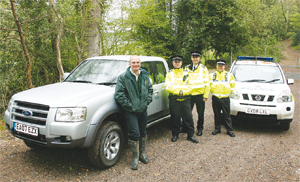 National Trust Wardens and the Police teamed up in early May for an offroad crime prevention campaign day in the Surrey Hills, targeting Wolvens Lane at Coldharbour, the Drove Road off White Down and Hogden Lane, Ranmore.
If anyone was caught without insurance, their vehicle would have been seized and potentially put through the crusher. They distributed lea_ ets to 4×4 drivers, motorcyclists, walkers, bikers and horse riders explaining the rights and responsibilities of people using BOATs.
These greenlanes are legally accessible to motor vehicles as well as people on foot, bicycle and horseback, but the rules of the road apply with regard to MoT, tax, insurance, seatbelts and safely helmets. Vehicles are not allowed to go off the track into the woods and the police and wardens have been working hard to prevent irresponsible off-roaders from causing criminal damage by trespassing in the woods, careering over ancient boundary banks and creating mud wallows.
Since their campaign began, many vehicles have been caught without registration plates, tax or insurance, but the team was relieved on this occasion to _ nd that most people had correct documentation.