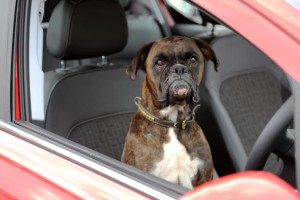 It seems you really can teach an old dog new tricks, as Vauxhall Motors put its all-new Vauxhall Corsa in the hands of a capable canine to test its latest Advanced Park Assist technology.
Step aside Jeremy Barkson and enter Gerty the Boxer, the star of Vauxhall's new #ParallelBarking video. The minute-long clip features the daring dog execute the paw-fect parallel park, with no human assistance, leaving passers-by on Wimbledon High Street dumb-hounded.
Sitting in the driver's seat of the red Vauxhall Corsa SE, Gerty shows off the advanced technology of the new easy parking feature – from how it detects a parking space to automatically computing the perfect manoeuvre into the slot – demonstrating that parallel parking can be a walk in the park.
Advanced Park Assist is now available as an optional extra in the all-new Vauxhall Corsa, available from £8,995.
To view #ParallelBarking, visit po.st/parallelbarking.