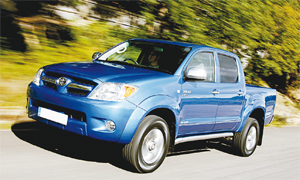 With a pedestrian 0-60mph time of 12 seconds and a 105mph top speed, the 1830kg 3.0-litre D4D Toyota could benefit from a power boost, but the problem, until now, was that the Hilux has been viewed as 'unmappable,' using traditional OBD-based methods.
But Unichip Europe has now launched a new Uni-Q upgrade for the Toyota, designed to put a spring in the Hilux's step. Manufactured in South Africa, the Uni-Q is a piggyback ECU that refines and increases performance of any petrol or diesel vehicle.
For the Toyota Hilux application, Unichip Europe has developed an off-the-shelf 'U-Connect' wiring loom, so that customers can easily install the Uni-Q unit on a DIY basis in a matter of minutes. The Hilux 3.0 D4D Uni-Q comes pre-programmed with the specially-developed ECU map settings for fuelling and turbo boost settings – it's simply a case of 'plug, play and drive away'.
And on the 3.0 D4D Hilux the results show peak power increasing from a measured 155 to 184bhp at 3500rpm, and peak torque jumps by 40lb ft from a dyno-tested 254 to 295lb ft at 3000rpm.
Suitable for all Toyota Hilux 3.0-litre D4D models produced from 2005 onwards and carrying the part number PPTOY15.1, the U-Connect package is available now, either directly from Unichip Europe or from one of the 28 Unichip dealers located across the UK, and priced at £465.30 including VAT. Log onto www.unichipeurope.co.uk for more details.