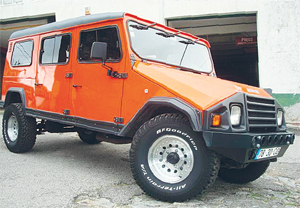 In our May 2011 issue, we remembered the Portuguese off-roader, the Uniao Metalo Mecanica, better known in the UK as the UMM. We have a soft spot for this 'ugly duckling' off-roader, not because of its looks, but because of its ability. We tested a number of these vehicles, in the Alter model range, during the late 1980s and in certain circumstances it was even a match for the equivalent Land Rover. Trust us, it was not to everyone's taste, but it was a highly competent off-roader. In the feature we asked if any readers still owned an UMM – well the response was surprising…
We have actually been contacted by Carlos Pires, himself Portuguese, now living in the UK and something of an UMM expert. Apparently there is one guy in the UK who has no less than 25 UMMs! In Portugal the factory is still open to the public for spares and general advice. Indeed, there is a very active Clube UMM with around 300 members keeping this off-roader very much alive.
We were also pleased to hear that the UMM has 'developed' into the Protummble for European off-road events. This is a serious spaceframe off-road racer, still looking like the UMM thankfully, and there is even a possibility that there will be a road version in the future. What this means is that we will have to be following this story further and get to know more about what is happening with the UMM. It only goes to show that you cannot keep a good off-roader down, even one that is perhaps not the best-looking in this smooth, sophisticated 4×4 market. Watch this space.