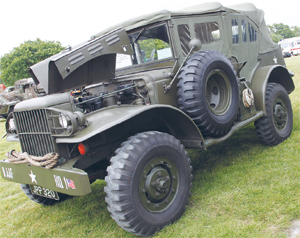 Beaulieu is world famous as a motoring museum, and it is also a fantastic venue for holding other events.
One of which is the annual 'Trucks 'n' Troops' show that attracts some superb vehicles every year and is organised in conjunction with The South Hampshire Area of the Military Vehicle Trust. The show celebrates the development of military transport, combat vehicles and soldiering through the ages.
This year's show paid particular attention to celebrating the Home Front, ie those civilians left in Blighty supporting the war effort. One lovely touch was a recreation of a village Parish hall with wartime cookery demos and decorated how it all would have been in the 1940s.
The vehicles ranged from push bikes to armoured and tracked vehicles; original Willys Jeeps to modern-day Land Rovers; everything from pre World War II to the Gulf War. And, of course, there were plenty of men and women dressed in appropriate uniform and civvy street dress of the time; there were even a few SS personnel spotted being rounded up by the Home Guard.
The admission to the show included all the attractions, including the National Motor Museum and World of Top Gear. We couldn't resist popping into Top Gear to see The Hamster's Land Rover 'Cottage', Clarkson's motor boat Nissan pick-up and the Suzuki Vitara police car, as well as the main attraction, the incredible 4WD combine harvester – 'The Dominator' that bulldozed through Norway clearing the snowy roads.