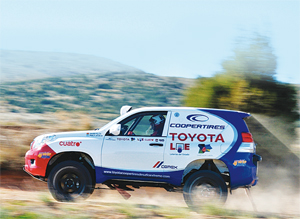 How did the team we featured in our Dakar preview special in the February issue fare?
Well, the Toyota Cooper Tires team's lead vehicle claimed an admirable 19th position overall. As one of the most experienced Dakar racers in the contest, Xavier Foj, as featured last month, and co-driver Pablo Jaton steered their Toyota Land Cruiser safely through one of the toughest Dakar's in recent history.
Huge dunes, stones and exceptionally dusty stages took their toll on the vehicle's mechanicals, with the suspension, exhaust and brakes suffering damage along the way. Various incidents came close to halting the pair's progress but with the experienced Foj – competing in his 20th Dakar – at the helm, together with the navigational and mechanical skills of Jaton, they made it through.
Rather than competing in the T2 class, the production specification Toyota Cooper Tires Land Cruiser was forced to race against highly-tuned vehicles piloted by works-backed drivers such as Carlos Sainz and winner Nasser Al-Attiyah, after minor alterations weren't verified in time.
"I've completed 20 Dakars now and this was spectacular. The racing was tough and the heat was almost unbearable at times, but nothing can match the excitement and adventure of competing in this contest," said Foj after arriving back in Buenos Aires.
The second pair competing for the Toyota Cooper Tires team, Jesús Calleja and Ignacio Santamaria, were unfortunate to suffer irreparable radiator damage while tackling large dunes on stage seven, and were forced out of the competition.
Cooper Tire Europe managing director Julian Baldwin said, "This was a massive challenge for the team and we finished with one vehicle right up there in the rankings. Jesús and Ignacio were doing really well but had the misfortune to pick up some serious damage to their Hilux, which ended their race."